In the spirit of the LGBTQ History at Virginia Tech and the Black History at Virginia Tech exhibits, I've been part of a project working on another underrepresented community for quite some time now. Working with the Women's Center at VT, faculty, retired faculty, students, and other volunteers, since 2015, the History of Women at Virginia Tech (http://vtwomenshistory.lib.vt.edu/) has been a digital humanities project in the making. We started back in 2015, digging into the history that we knew, and went from there. Over the course of the last few years, contributors on the project have begun collecting oral histories, dug through boxes of former administrators' papers, flipped through photographs, digitized and described items, and learned A LOT! This March, in honor of Women's History Month events on campus and the celebration of the 25th anniversary of the Women's Center, we are excited to launch the site! As we move toward the 100th anniversary of the admission of women to what was then VPI (which occurs in 2021) and the 150th anniversary of the university (coming up in 2022), we will be adding more content and features to the site, including integrated oral and video histories. Here's what it looks like now: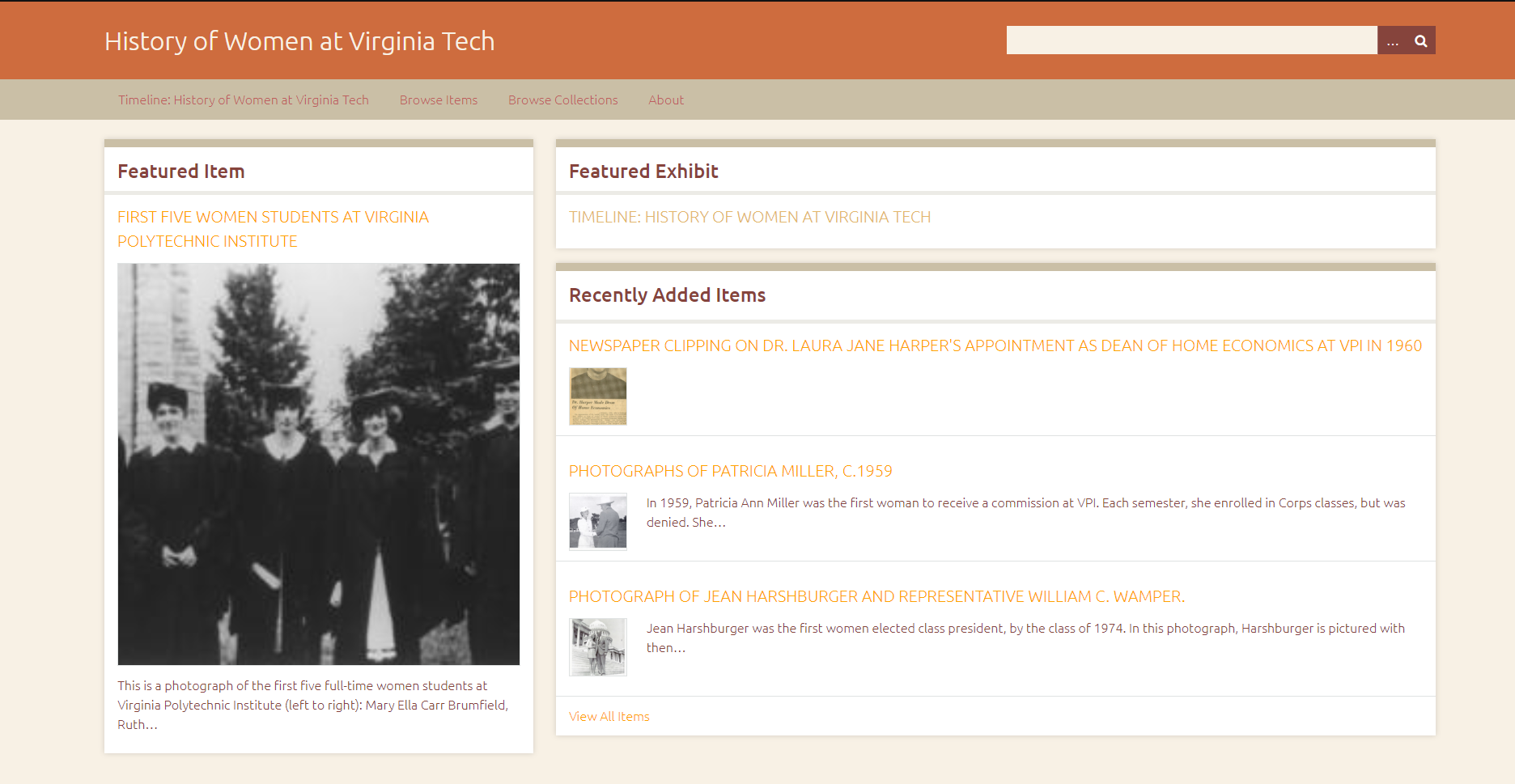 At the moment, the site contains more than 75 items (many of which include multiple photos, documents, clippings, and other files). The homepage (pictured above), shows recently added items, a rotating gallery of "featured" images, and a link to the interactive timeline. There are also ways to browse and search items. There are a few collections of materials where we have grouped items. For example, there is a collection forThe Tin Hornthat contains pdfs of the yearbooks created by women students for themselves in 1925, 1929, 1930, and 1931 (women students did not appear inThe Bugle until 1941). Another collection brings together items digitized from Special Collections' Historical Photograph Collection. We expect, as we add to the project, that new collections will be needed to help organize materials, too.
While we are trying to highlight many of the "firsts" for women on this campus, this project has wider goals. We are using primary sources to tell the story of the many roles that women have had in the history of Virginia Tech, both before they were students and since then! We'll also use primary sources to help contextualize events, places, and people connected to women in VT history. (There are a LOT of stories to tell!) One way we are doing that–other than through the items themselves–is through an interactive timeline (screenshot below, but you can go to it live here: http://vtwomenshistory.lib.vt.edu/exhibits/show/timeline/timeline-womens-history):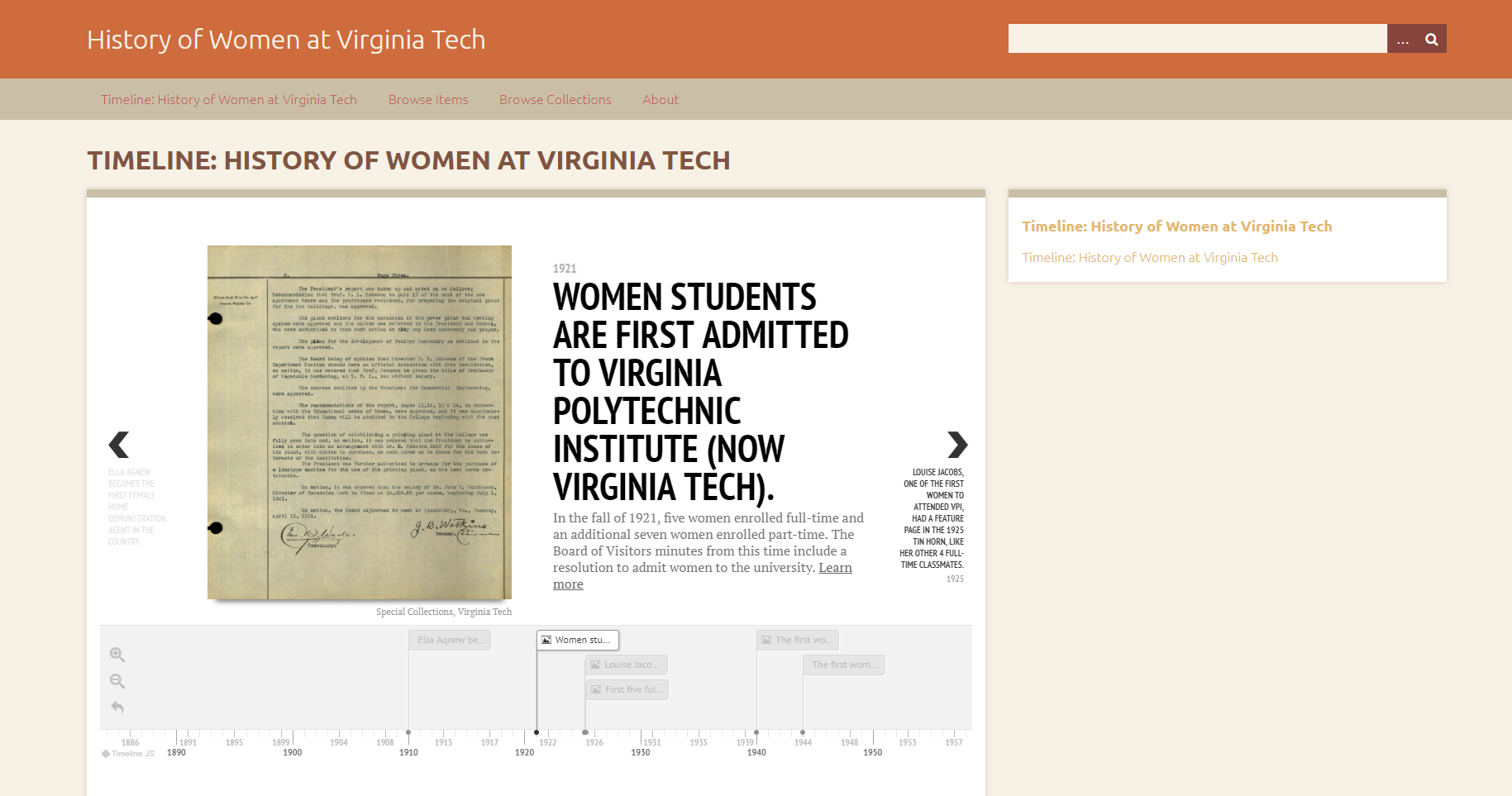 The timeline is something we will continue to expand, but for now, we've added about 20 events, some of which contain links to digitized content and more information, like the excerpt from the Board of Visitors minutes pictured above. Timeline points with a related item or items have a "learn more" link in the description to take you to those resources.
Our hope for this project is that people will learn some new things about campus history and women's history and perhaps be inspired to learn more. Did you know that although women were admitted in 1921, there was not a dedicated women's dormitory on campus until the opening of Hillcrest Hall (aka the "Skirt Barn") in 1940? So, where did women live between 1921 and 1940? (Hint: Some of the documents in the project site might have some answers!) We encourage you to explore now, help spread the word, and to come back and visit the site often, as we continue to expand the project. In addition, if you are a part of the VT community and you have history you think belongs in the project, we welcome your input! We are happy to talk about donations to the project and/or to Special Collections, to hear your stories, and to learn about women's history on campus together!
On a related note, if you want to know more about what's happen on campus for Women's History Month 2019, "Celebrating Milestones," the full calendar of events is online. Other than our project launch, there will be presentations, discussion groups. film screenings, exhibits, and performances.