Hokies know that each year their activities are chronicled with a Bugles call, but how many know that The Bugle, Virginia Tech's yearbook, was once accompanied by a Tin Horn.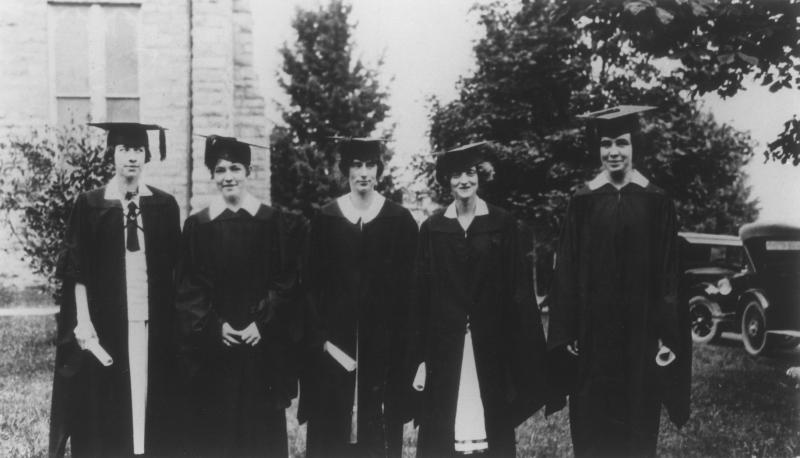 Women were formally approved by the Virginia Agricultural and Mechanical College and Polytechnic Institutes Board of Visitors to be admitted to all courses of study excluding the military on January 13, 1921. This motion was approved, unanimously, due in large part, to VPI president, Julian A. Burruss persuasive arguments that VPI was in a unique position to economically provide the technical and agricultural training needed by Virginias women in the new arenas available to them in the post-World War I society.
Although, the motion to allow women to attend VPI was accepted unanimously by the Board acceptance among the cadets (and some professors) took a bit longer. The co-eds who arrived ready for classes in September 1921 faced cadets whopubliclyprotested their admission and professors who actively doubted the womens intelligence. Acceptance in extra-curricular activities was nonexistentso the co-eds organized their own groups: a basketball team (at various times called the Sextettes and the Turkey Hens); a Womens Student Organization; special science, chemistry, business, and biology clubs; the Coed Dramatics Club; and their own yearbook The Tin Horn.
The 1925 Tin Horn, published when the women who entered in 1921 would be seniors, consisted of hand-drawn pages and pasted-in photographs dedicated to the spirit of fun. Although, billed as the first and only volume, subsequent publications of The Tin Horn followed in 1929, 1930, and 1931. The latter two were professionally printed. It would not be until 1941, 20 years after the arrival of the first female students on campus, that The Bugle would represent women equally alongside the men in their pages.
Special Collections has digitized all four volumes of The Tin Horn. They have also been pulled as part of our celebration of Womens History Month and are available for viewing in our Reading Room. Whether you visit with The Tin Horn online or in Newman Library make sure to spend some time with Virginia Techs leading ladies.