On this page, we will present digital exhibits of materials held in Special Collections. The hope here is to not just present materials in digital formaccess that is becoming increasingly available via finding aids for individual collections at the Virginia Heritage Projectbut to offer added value to those collections, the result of work done by Special Collections staff members or by staff and members of the university community working together.
---
---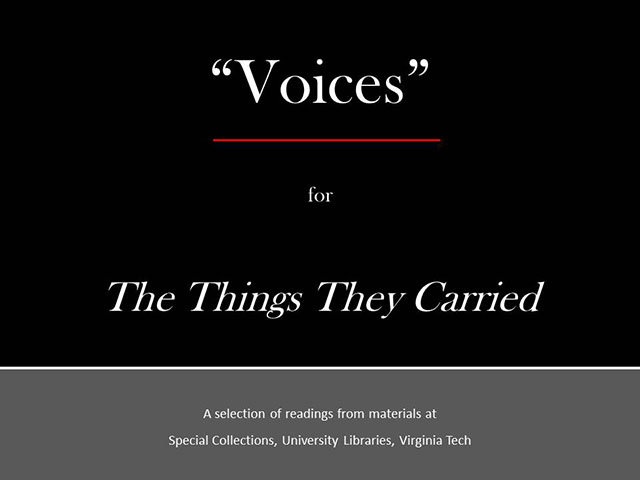 As part of the Big Read NRV, a series of events occurring locally this fall (2015) and culminating with a talk by Tim O'Brien, author of The Things They Carried, Special Collections put together a movie that featured readings from letters in the collection, all of which demonstrated some aspect of the burden of war. Ten different collections, representing wartime from the Civil War through World War II are included in this
45-minute video.
---
---
The fifty letters in this collection cover the period from July 1861 to February 1865. The four writers were sons of Alexander Smith (180793), a prosperous farmer living at Pine Creek in Carroll County, Virginia. The brothersStephen, William, James, and Bartonwere members of the 29th, 50th, and 54th Virginia Infantry Regiments; their letters are concerned with events on several fronts: fighting in northwest (now West) Virginia in 186162, the siege of Suffolk in 1863, the Battle of Chancellorsville and the retreat from Gettysburg in 1863, and skirmishing in the New River Valley in 1864. They also concern events in Carroll County: recruiting, desertions, and an obscure family conflict between the Smiths and the Shockleys of Hillsville that culminated in the deaths of Barton Smith and his uncle John (Jack) Smith in 1863. . . .

(Note: After arriving at the Smith Family Letters website and reading the Preface, click on the Chronology link to find the letters. Once a letter is chosen, a regularized version will appear. Links will also lead to actual transcriptions, views of the letters themselves, and to the other letters in the collection.)
---
---