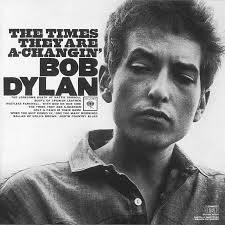 Did you hear? (Of course, you did.) Bob Dylan won the Nobel Prize in Literature a few weeks ago. As the Nobel committee wrote, it awarded the prize to Dylan "for having created new poetic expressions within the great American song tradition." That is a mighty step up for an already valued and valuable tradition that is even more varied than are Dylan's songs themselves. Political, personal, complicated, narrowly topical, broad and metaphorical, silly, stupid, catchy, maddening, romantic, lyrical, sentimental, commercial: Whatever human emotion, quality, or experience you may think of, there are songs to go along. And when it comes to reflecting, initiating, or participating in social trends, songs are certainly there, too. So, although the occasion of Dylan's winning the Prize didn't, by itself, make me think about the sheet music collections we have here at Special Collections, specifically, collections of "popular" music, it did provide some of the impetus that leads me to write just a bit about some of them.
Sheet music has a long history. Printed sheet music goes back almost to Gutenberg, at least in the West, to about twenty years after his printing press. The variety of printed music is nearly endless–church music, orchestral music, opera, dance music, tunes, lieder–so much so that the best definition of sheet music has to do with its description as a physical object. The Rare Book, Manuscript, and Special Collections Library at Duke University offers the following:
On this basis then, sheet music is best described as single sheets printed on one or both sides, folios (one sheet folded in half to form four pages), folios with a loose half-sheet inserted to yield six pages, double-folios (an inner folio inserted within the fold of an outer folio to make eight pages) and double-folios with a loose half-sheet inserted within the fold of an inner folio to produce ten pages.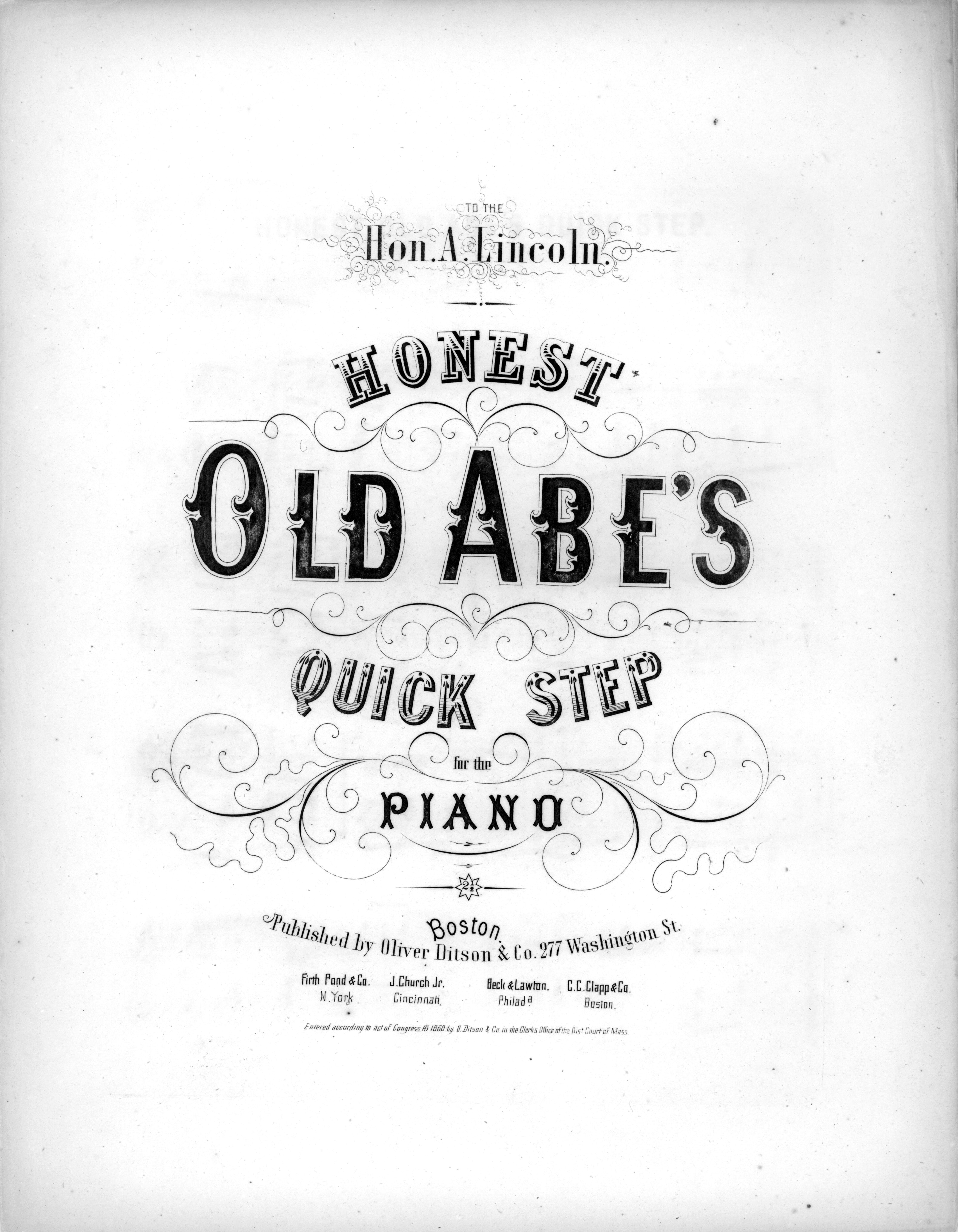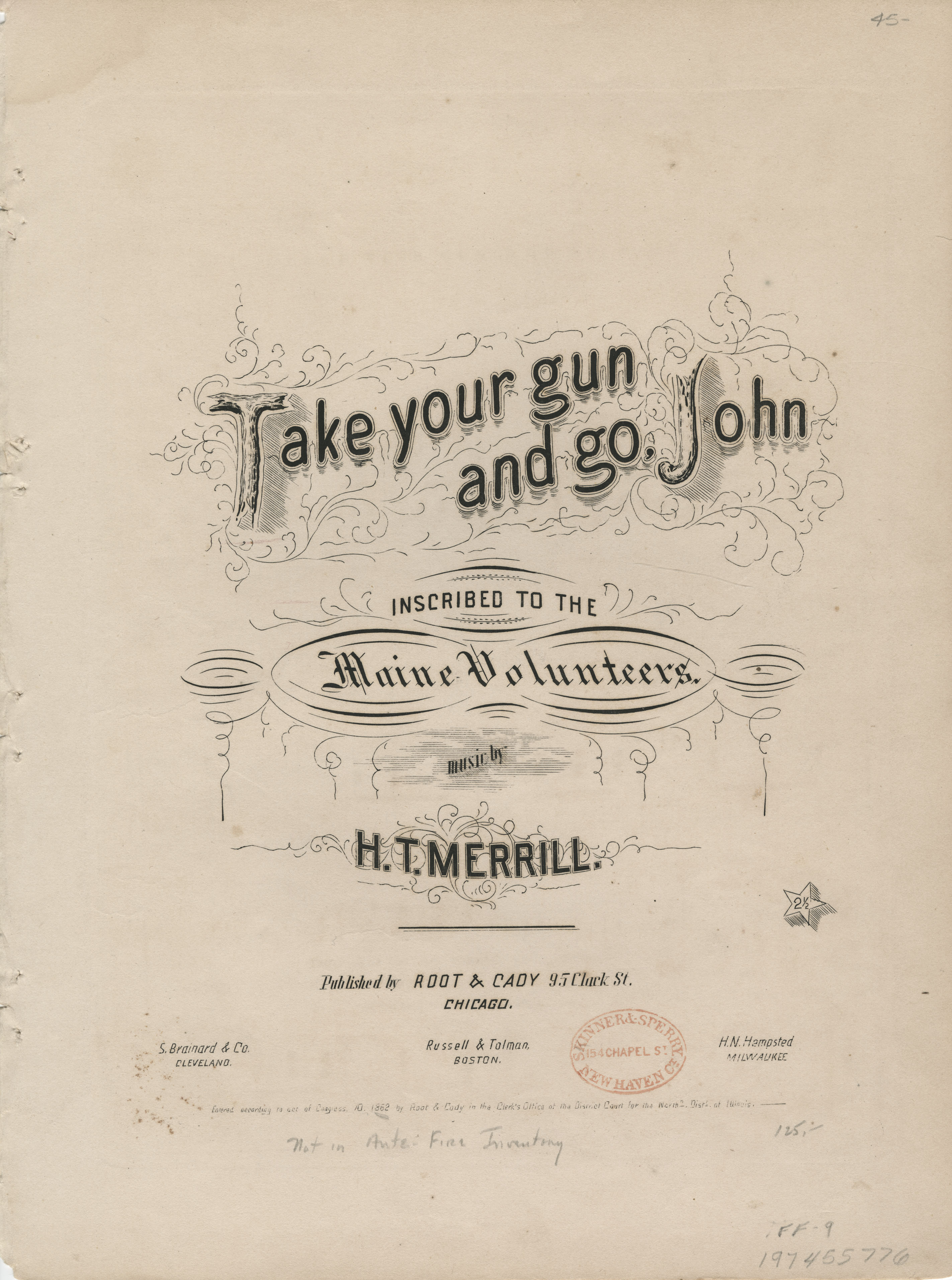 Some of the earliest popular sheet music we have in our collection dates from around the American Civil War. On the left is a tune published in 1860 for Abraham Lincoln's presidential campaign, Honest Old Abe's Quick Step. On the right, from just a couple of years later is Take Your Gun and Go, John, a song of resignation and sorrow, sung by a wife as her husband leaves for war.







Don't stop a moment to think John, your country calls then go; Don't think of me or the children John, I'll care for them you know.
But take your gun and go John, take your gun and go, for Ruth can drive the oxen John and I can use the hoe. . . .
And now goodbye to you John I cannot say farewell; we'll hope and pray for the best John; god's goodness none can tell.
Be his great arm around you John to guard you night and day; Be our beloved country's shield till the war has passed away.
Then take your gun and go John take your gun and go, for Ruth can drive the oxen John and I can use the hoe. . . .
This song may be from the Civil War, but just about 150 years after its publication, it still is timely. In 2013, it was recorded and released by Loretta Lynn, and although it is on an album of Civil War-era songs, it does continue to speak. Give it a listen.
Moving into the 20th century, the music publishing business increased dramatically as the theater, music, and entertainment industries grew. With the availability of inexpensive color printing, sheet music for popular songs began to feature colorful covers, illustrations that, along with the music and lyrics, offer an additional window into the contemporary currents of the time. Societal norms with regard to gender and race may be represented, as well as less weighty subjects, such as the sudden fashionability of bicycle riding, or the more significant increase in automobile travel, along with all its attendant themes of freedom, mobility, and romance, among others. World events, also, made their way into the popular song of the day. Consider "America, Here's My Boy."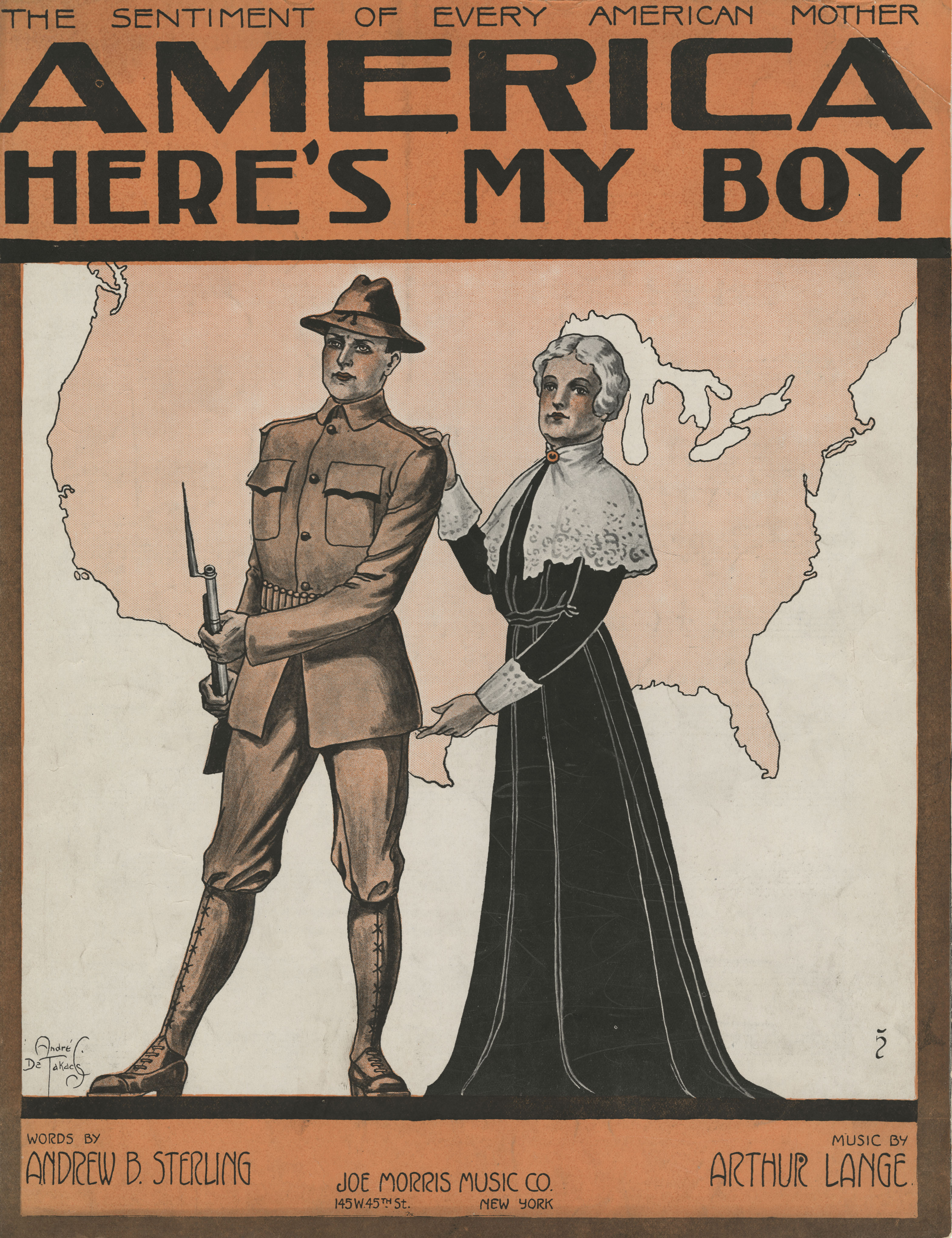 Before listening to the song, what do we see? I don't know about you, but the sight of "Every American Mother" offering up her son to face what was, by May 1917, well-known carnage, is remarkable. Also, let's just take a moment to reflect on how the image of American motherhood–even idealized American motherhood–has changed in a hundred years. But America needed men (and boys) to fight, so here was the message, as proclaimed in the chorus of the song:




America, I raised a boy for you.
America, You'll find him staunch and true,
Place a gun upon his shoulder,
He is ready to die or do.
America, he is my only one; My hope, my pride and joy,
But if I had another, he would march beside his brother;
America, here's my boy.
If you're curious, here's a recording of the song from 1918 by The Peerless Quartet. I should also mention something about this cover that I hadn't seen and was pointed out to me by a most perceptive student. Apparently, the United States shares a northern border with another country, but has no such neighbor to the south! Mexico, though officially neutral throughout the First World War, shared a difficult, and often openly hostile relationship with the U.S. at the time. On 28 February 1917, a few months before this song was published, the contents of the Zimmerman Telegram was made public by President Woodrow Wilson. The contents of this communication, intercepted and deciphered by the British in January of that year, was sent from the Foreign Secretary of the German Empire, Arthur Zimmerman, to the German ambassador to Mexico, Heinrich von Eckardt, with instructions to propose a military alliance with Mexico, should the U.S. enter the war against Germany. (OK, it's more complicated than that, but the deal was to involve return to Mexico of land lost to the U.S. in Texas, New Mexico, and Arizona.) Anti-Mexican sentiment in the U.S. was already high, and this incident only led to its increase. So, as far as the illustration on the sheet music was concerned, perhaps, geography was taking a back seat to politics.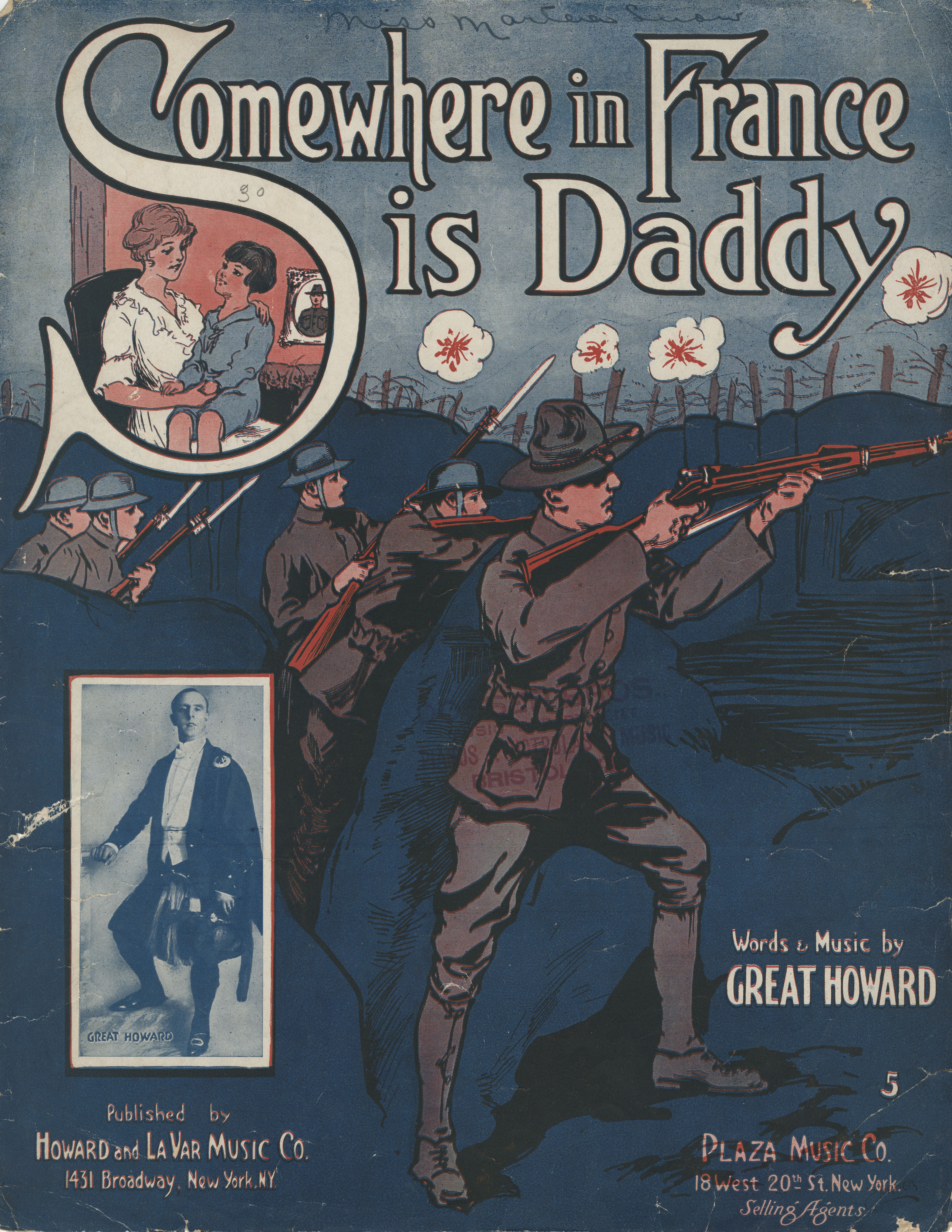 Staying with 1917, the title, "Somewhere in France is Daddy," is just sopping with sadness. As shown on the cover, a young mother, with a framed photo of her soldier-husband in the background, has to explain to her young son why Daddy isn't home. Daddy, of course, is fighting for home and country, for liberty . . . "somewhere in France" and he "wont come back/ Til the stars and stripes theyll tack/ On Kaiser Williams flagstaff in Berlin."
It's not quite at the level of . . . "Please Mr. Conductor, Don't put me off of your train, For the best friend I have in this whole wide world Is waiting for me in vain; Expected to die any moment, And may not live through the day: I want to bid mother goodbye, sir, Before God takes her away" . . . which I know as a Blue Sky Boys song, and which, deservedly, has won every "Saddest Song contest" I'm aware of. But, as the young boy poses the question, he puts this song right up there:
A little boy was sitting on his mothers knee one day
And as he nestled close to her these words she heard him say
Oh mother dear please tell me why our Daddy dont come home
I miss him so and you do too, why are we left alone
He tried hard not to cry, as she answered with a sigh
Here are five more sheet music covers from songs associated with World War I. The links below will take you to a recording of the song, if available.
We Don't Want the Bacon: What We Want is a Piece of the Rhine" (Shapiro, Bernstein, & Co., New York, 1918) If this link from the Library of Congress is being difficult, try this.
"We're Going Over" (Joe Morris Music Co., New York, 1917) Again, if this Library of Congress link doesn't work, try this.
"Loyalty is the Word Today" (Great Aim Society, New York, 1917) No recording available
"Over There" (William Jerome Publishing Corp., New York, 1917). If this link from Library of Congress doesn't work, you can try this.
"Hoe Your 'Little Bit' in Your Own Back Yard: Where the Boy Scouts Go, 'Tis Hoe, Hoe, Hoe" (Great Aim Society, New York, 1917) No recording available
Sheet music may not be what you think of when your looking for a view on culture and society, but it can definitely provide an interesting, if unexpected, part of the picture. What were folks listening to? How was the music presented? How was it received? How did people react to it? When and where was it played? Who wrote it? What's their story? Special Collections has three collections comprised entirely of sheet music, as well as individually cataloged pieces and occasional pieces in other collections. These links will take you to the finding aid for each collection, which, among other information, will list all the titles in the collection:
Annie M. Hale Sheet Music Collection
Archer Lawrie Sheet Music Collection
Sheet Music Collection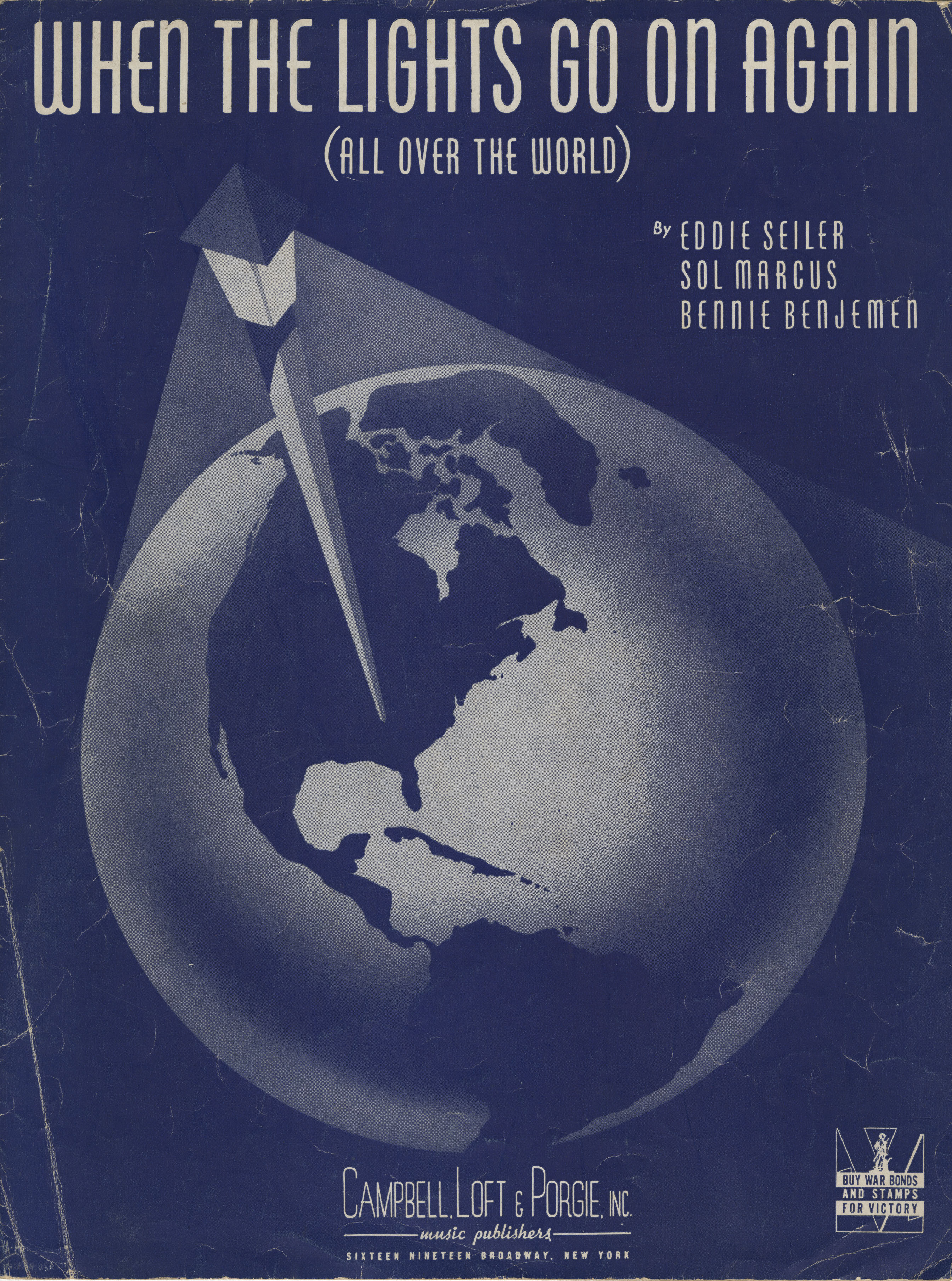 To end on a more hopeful note, is a song from World War II, written in 1942, in fact. The United States had been at war less than a year, though it had been a long war in Europe already. I didn't recognize this one from the title, "When the Lights Go On Again (All Over the World)," but once I heard it, I knew I had heard it before. It hit #1 on the Pop charts by early '43. It's an interesting illustration on the cover. Of course, where is the source of the light located? And, there is the "Buy War Bonds" logo in the lower right. Here's how the song starts:
When the lights go on again all over the world
And the boys are home again all over the world
And rain or snow is all that may fall from the skies above
A kiss won't mean "goodbye" but "Hello" to love
No more hard rain.
Lastly, to the folks who, given the beginning of this post, thought it might be about some great Bob Dylan stuff we have in Special Collections, I offer my apologies.