I'll be honest. I've written about Sherwood Anderson on the blog before. Three times, to be more precise. And this makes four, but for a good reason. Among his many works, Sherwood Anderson was the author ofWinesburg, Ohio, a collection of short stories first published in May 1919. Why am I being specific about the month? Because this May will be the book's 100th anniversary and Special Collections and VT Publishing in the University Libraries are doing something to celebrate!
On May 2, 2019, we will be hosting a reception and a guest lecture by Dr. W. D. Taylor about Sherwood Anderson. In addition to commemorating Anderson, the event will celebrate VT Publishing's digital and analog publication of Dr. Taylor's essay, "Requiem for a Wanderer: Sherwood Anderson's Last Days." During the event, select items from Special Collections relating to Anderson will also be on display.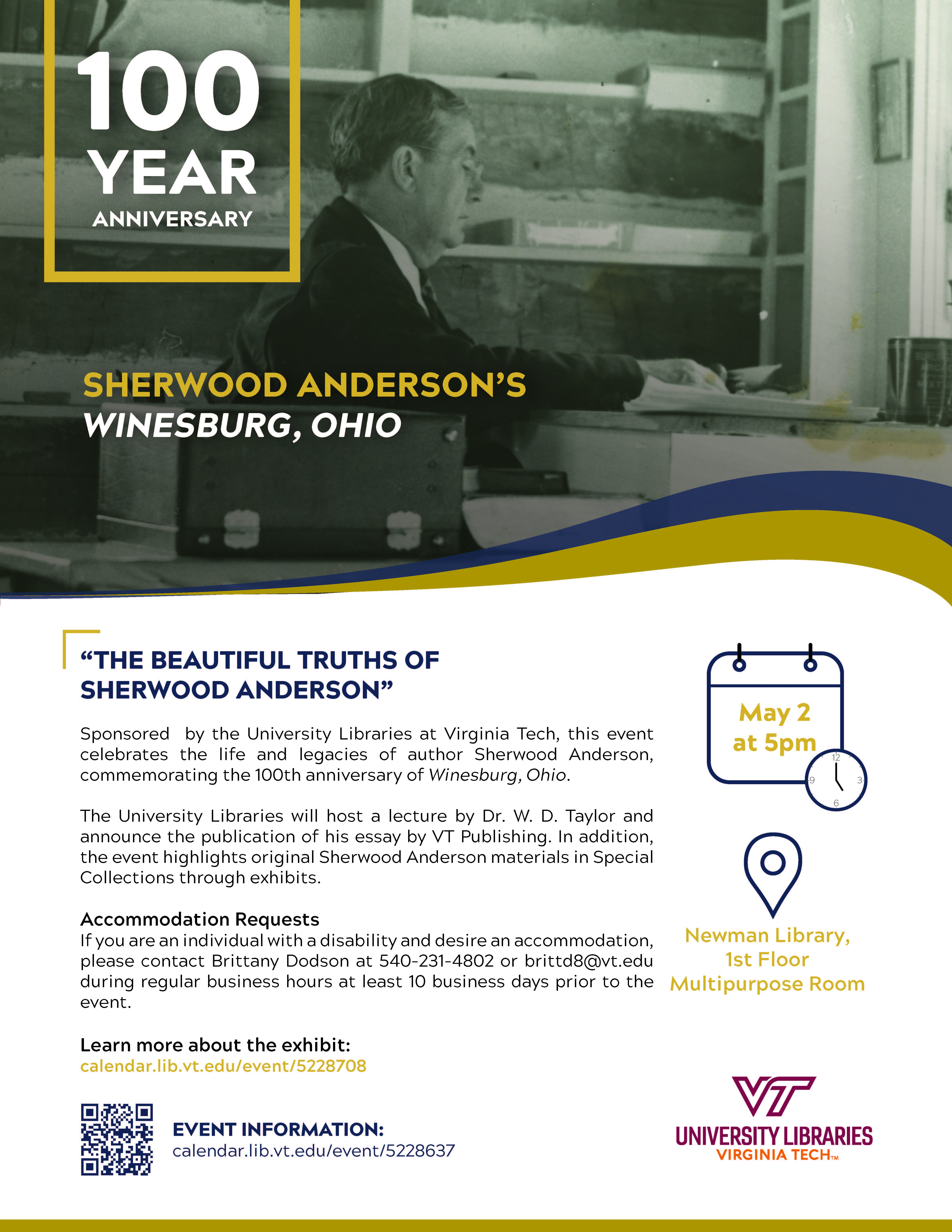 Downloadable pdf of the flyer: Anderson_Flyer
But, of course that's not enough Sherwood Anderson for the month! During May, Special Collections display cases in the reading room will feature an exhibit called "The Life, Letters, and Literature of Sherwood Anderson," with a focus on Winesburg, Ohio, and contextualizing the work in Anderson's life and time. Special Collections has editions of the book in more than eight languages! In addition, we will take the opportunity to launch a permanent digital exhibit called "Sherwood Anderson: His Life, His Letters, His Literature, and His Circle." This digital exhibit will contain content from collections in Special Collections related to Anderson directly, as well as to his family, friends, and collaborators. It will feature highlights from collections already digitized, including the James T. Farrell Letters to Eleanor Copenhaver Anderson, 1952, 1954 (Ms2017-005) and the Sherwood Anderson Correspondence with Llewellyn Jones, 1916-1924, n.d. (Ms2015-044), as well as newly digitized collections, photographs, book covers, dust jackets, and illustrations.
The calendar item for this event is online at https://calendar.lib.vt.edu/event/5228637 and more information about the forthcoming exhibits is available online at https://calendar.lib.vt.edu/event/5228708. "The Beautiful Truths of Sherwood Anderson" is an event open to all and we encourage you to join us for some refreshment and conversation! It begins at 5pm on Thursday, May 2, 2019, in the Multipurpose Room on the first floor of Newman Library. If you have questions, contact us (specref@vt.edu or 540-231-6308)!
Previous posts on Sherwood Anderson: