My job here at Virginia Tech is Community Collections Archivist & Inclusion and Diversity Coordinator for the University Libraries. I forgive you if you got lost in all that. Essentially, the part of my job that is archival in nature is to engage with traditionally marginalized communities around their histories. I help them preserve and make available documentary evidence of their existence so that history will better reflect the full human experience. This post is about a project that fell squarely within that scope – and helped me really see what doing this work can mean.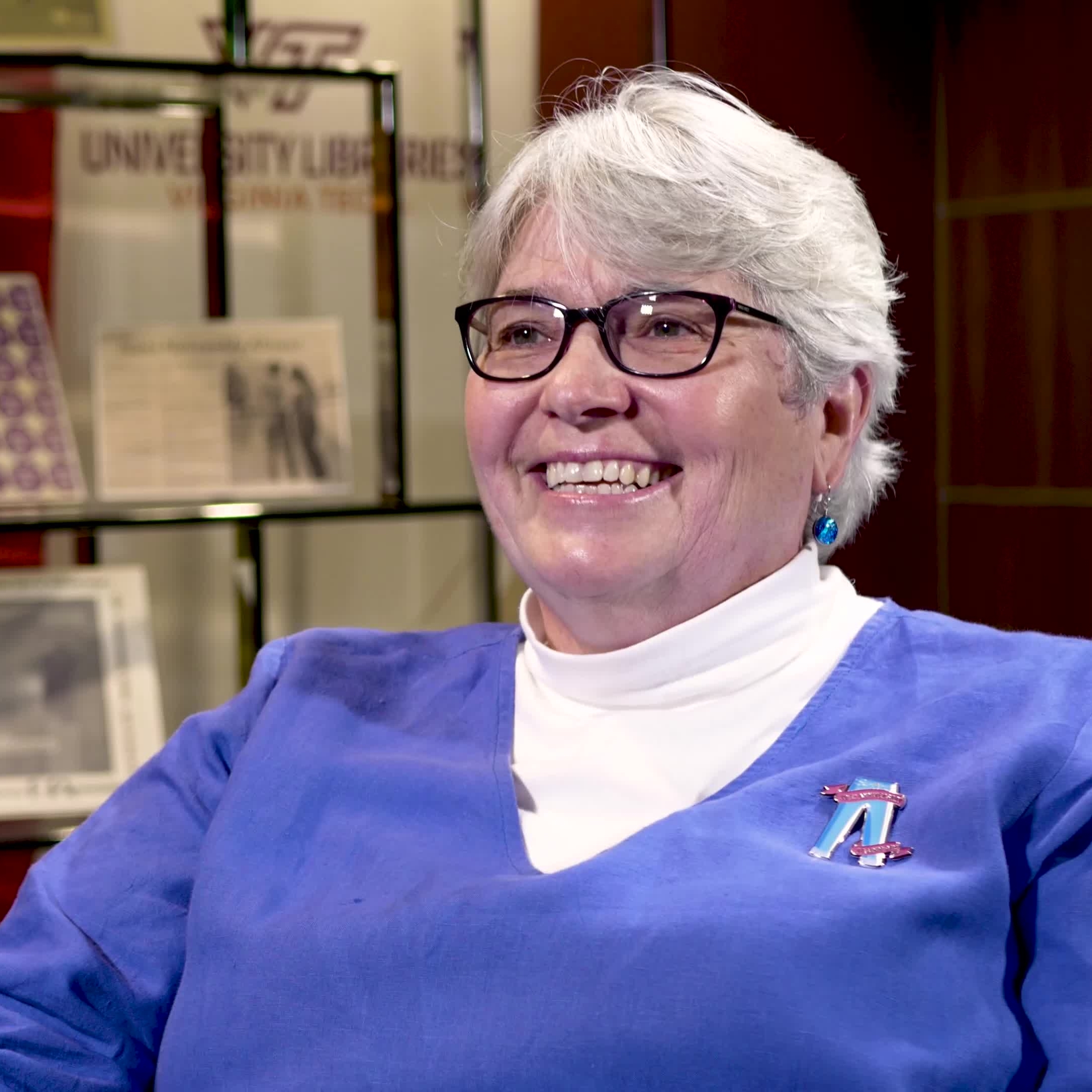 About a year ago, I got a request for a meeting with Nancy Kelly, a lesbian alumna who wanted the university to acknowledge the early history of the Gay Rights Movement at Virginia Tech. At the time, I assumed this would be a fairly standard discussion with a potential donor about materials they had and whether Special Collections would be interested in adding them to our collections. I was wrong. Nancy, certainly had some wonderful documents and we talked about the donation process. But, Nancy had a vision. She wanted us to document her experience as a lesbian at Tech during the birth of the publicly visible LGBTQ+ community here. And, she wanted it done on video. And, she wanted us to document the experiences of all of her friends and fellow alumni from that same time period. And she wanted the university as a whole to celebrate the events of 40 years ago and publicly display support for the LGBTQ+ community here. This seemed an impossible dream at the time.
Having some familiarity with the events of January 1979 from the coverage in the Collegiate Times, I wasn't about to say no. It's a fascinating exploration of late-1970s attitudes toward gay and lesbian people. At the time, I had no idea how I would make a video oral history project a reality. I had no personal experience as an oral history interviewer. I also knew we had limited storage space and that video files are huge! Still, this was a project with potential, so I said yes. No conditions. No mentioning all the potential issues. I just said yes. Luckily, the university made Kaltura available institution-wide for video hosting about the time I needed to put the interviews online.
What happened over the next year was a mixture of serendipity and perseverance. Working with Jessica Taylor, Assistant Professor of Oral and Public History, and Luis Garay Director of the LGBTQ+ Resource Center, we held an oral history workshop in late November specifically targeted to the LGBTQ+ community and preservation of its history.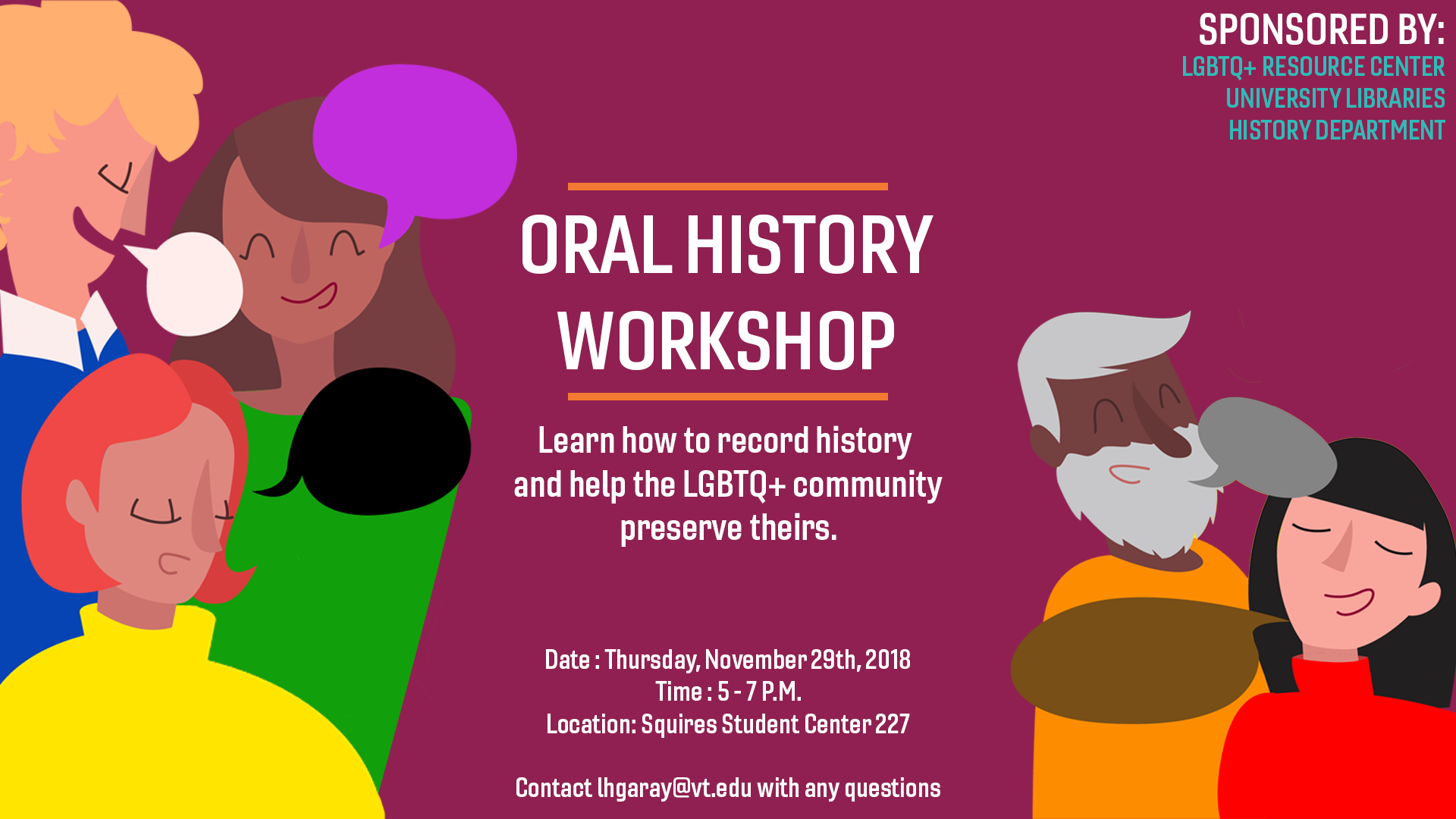 At that workshop, I found out that Joe Forte, Shelving Supervisor with the University Libraries (and an amazing DJ for Stacks on Stacks, the University Libraries Radio Show), and Slade Lellock, PhD candidate in Sociology, were very interested in recording some interviews. I also met Adri Ridings, a student who was similarly interested in helping to document LGBTQ+ history.
From there, we began recording interviews with alumni who hadn't engaged with the university in 40 years. It was emotional. It was cathartic. It was a labor of love for everyone involved. Nancy did the work to engage them and tell them we could be trusted. Without her, there would be no interviews because these alumni had no reason to trust someone from Virginia Tech to care about their experiences and sharing them honestly.
While I worked with the alumni to preserve their stories, Luis Garay, from the LGBTQ+ Resource Center, Latanya Walker, Director of Alumni Relations for Diversity and Inclusion, Mark Weber, from the Ex Lapide Alumni Society, students from Hokie Pride, the LGBT Faculty and Staff Caucus, and more were all working on putting together an amazing schedule of events for a 40th anniversary commemoration of Denim Day combined with Pride Week and Queer in Appalachia, an annual event celebrating what it is to be queer here in appalachia.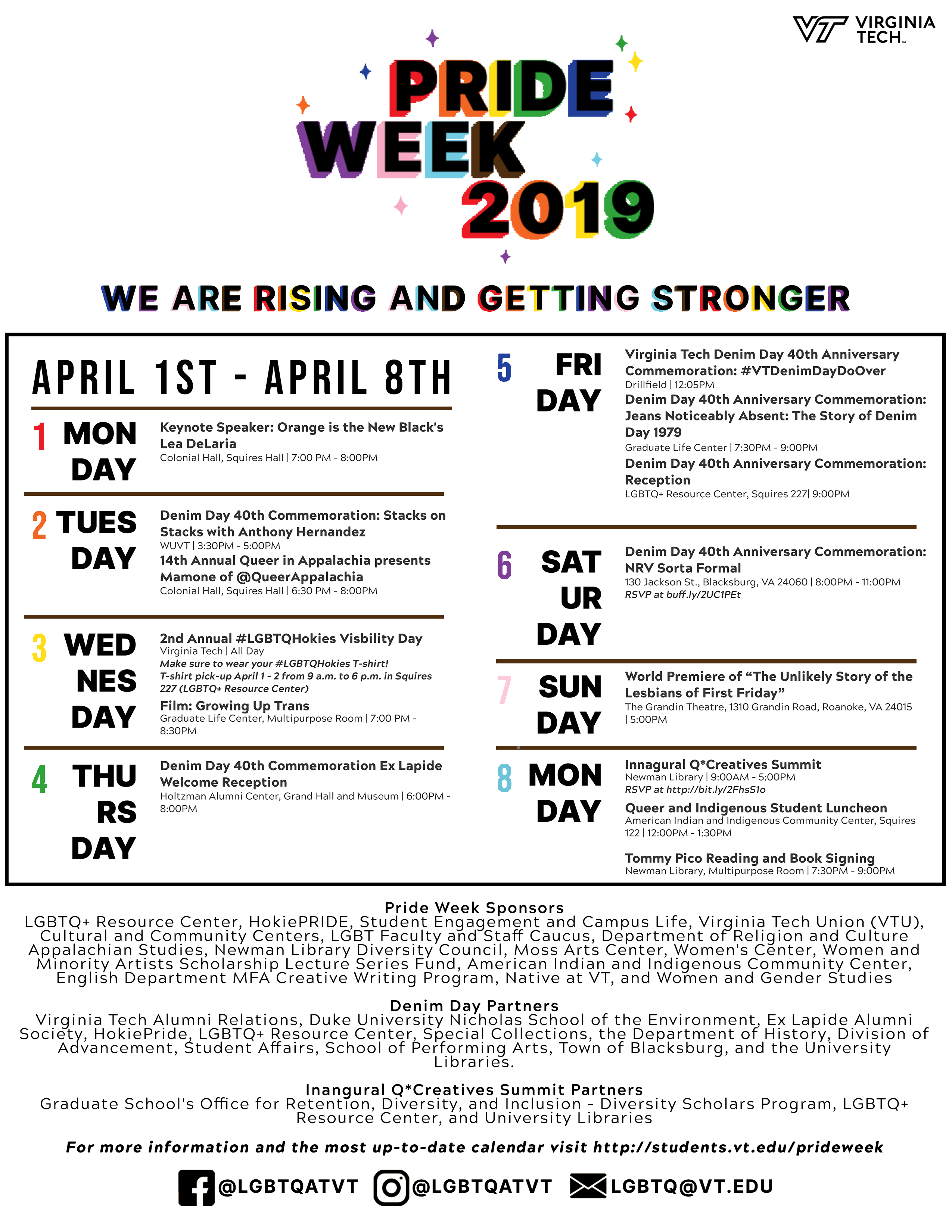 Meanwhile, we were busily recording and transcribing as fast as possible to get as many interviews online as we could before Pride Week and the planned #VTDenimDayDoOver. I worked with our media folks to create a cool promo/intro video (linked below – click on the picture) for the collection.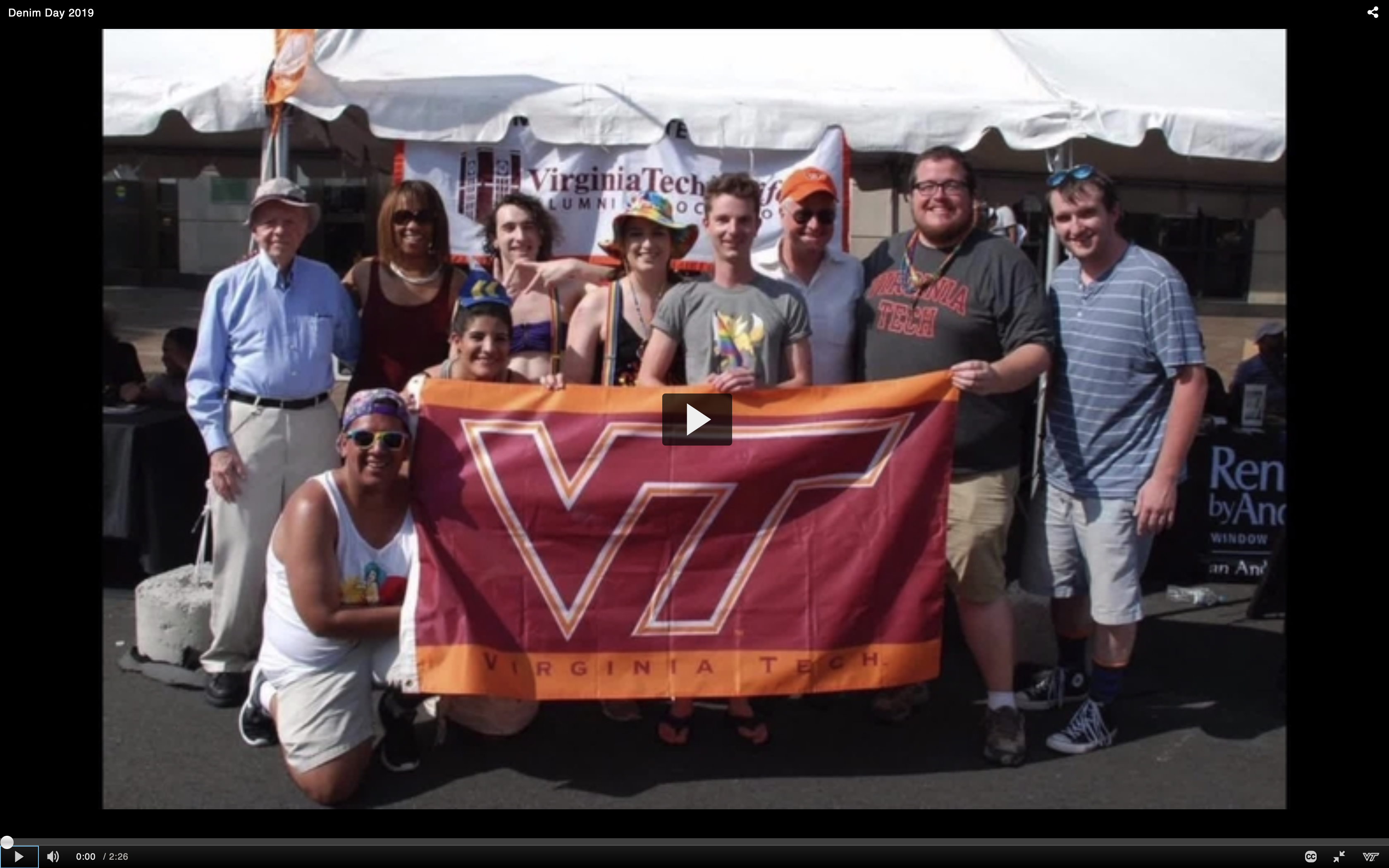 As the Denim Day events grew near and we had recorded almost all the scheduled interviews with the alumni from 40 years before, I worked with Susanna Rinehart, Chair of Theatre and Cinema in the School of Performing Arts on content for Jeans Noticeably Absent: The Story of Denim Day 1979 which combined theatre students reading newspaper articles and letters reacting to Denim Day with clips from the oral histories.
Overall, this experience has been amazing and triumphant. We gathered great oral histories and engaged the community. Nancy and her fellow alumni were celebrated by the university that had once ostracized them and called them an embarrassment. We were in the VT News, and the Roanoke Times. We were on the home page of the university – for 2 days running so far!!!! (see picture below)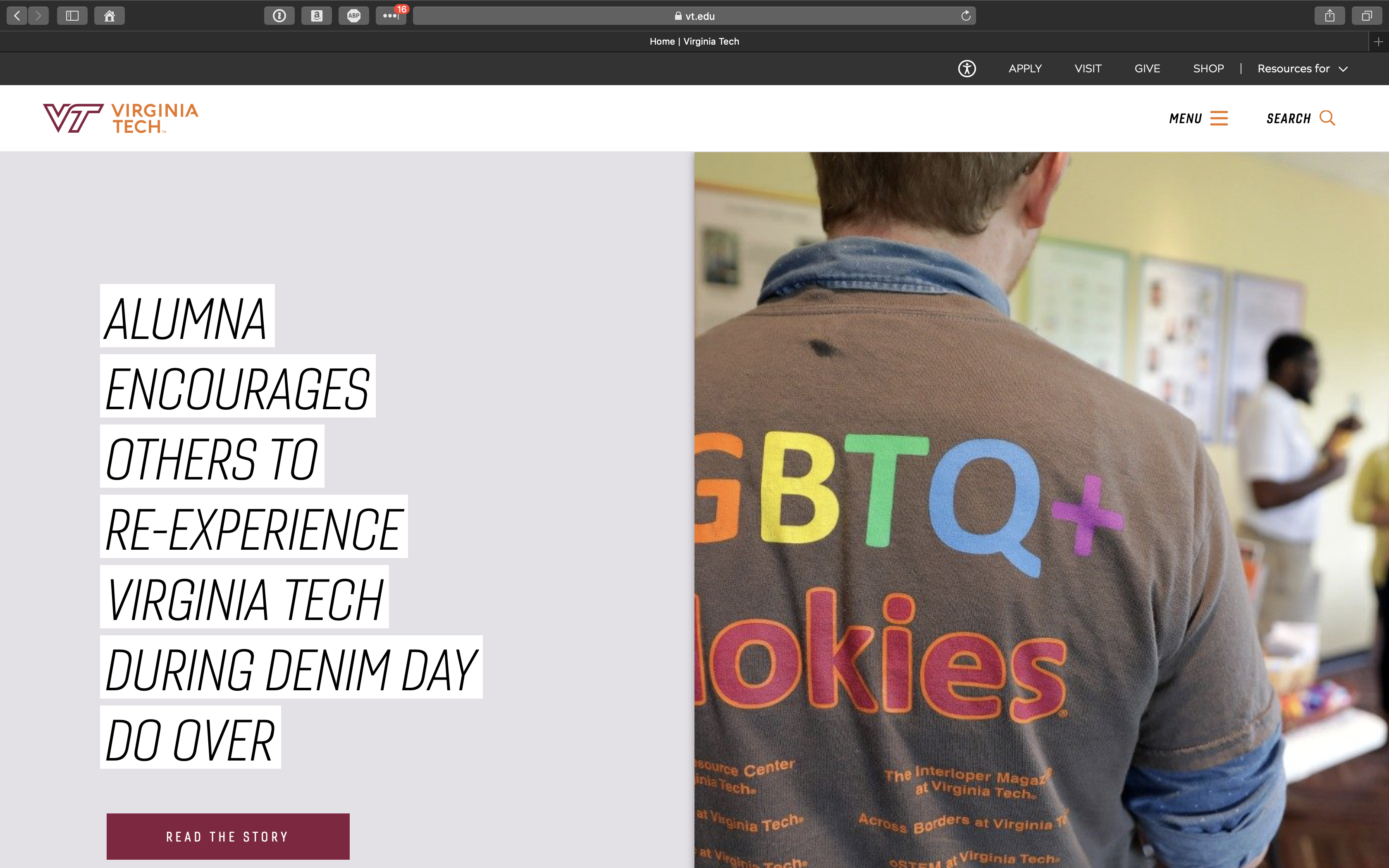 We had the main university Twitter account tweeting about us.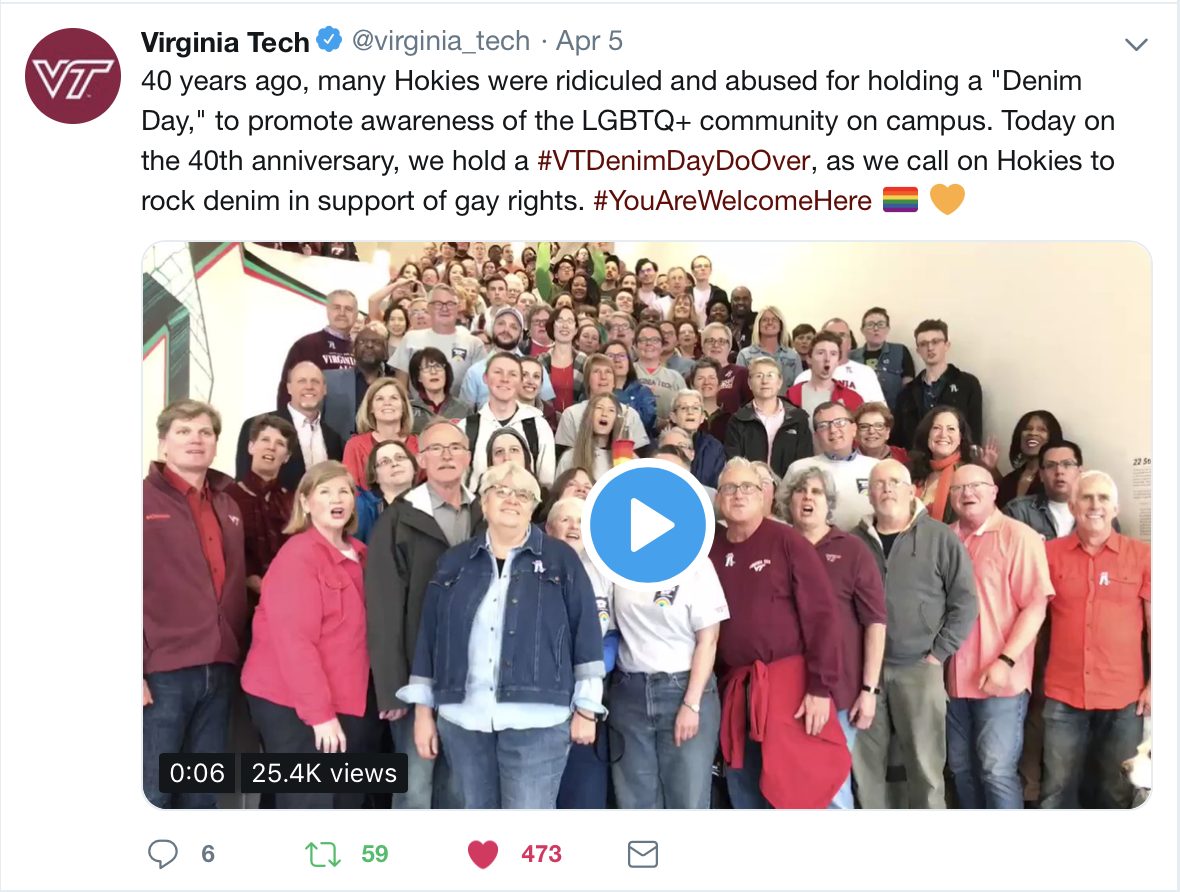 We had departments from across the university sending out messages of support even though they couldn't attend our coordinated commemoration photo.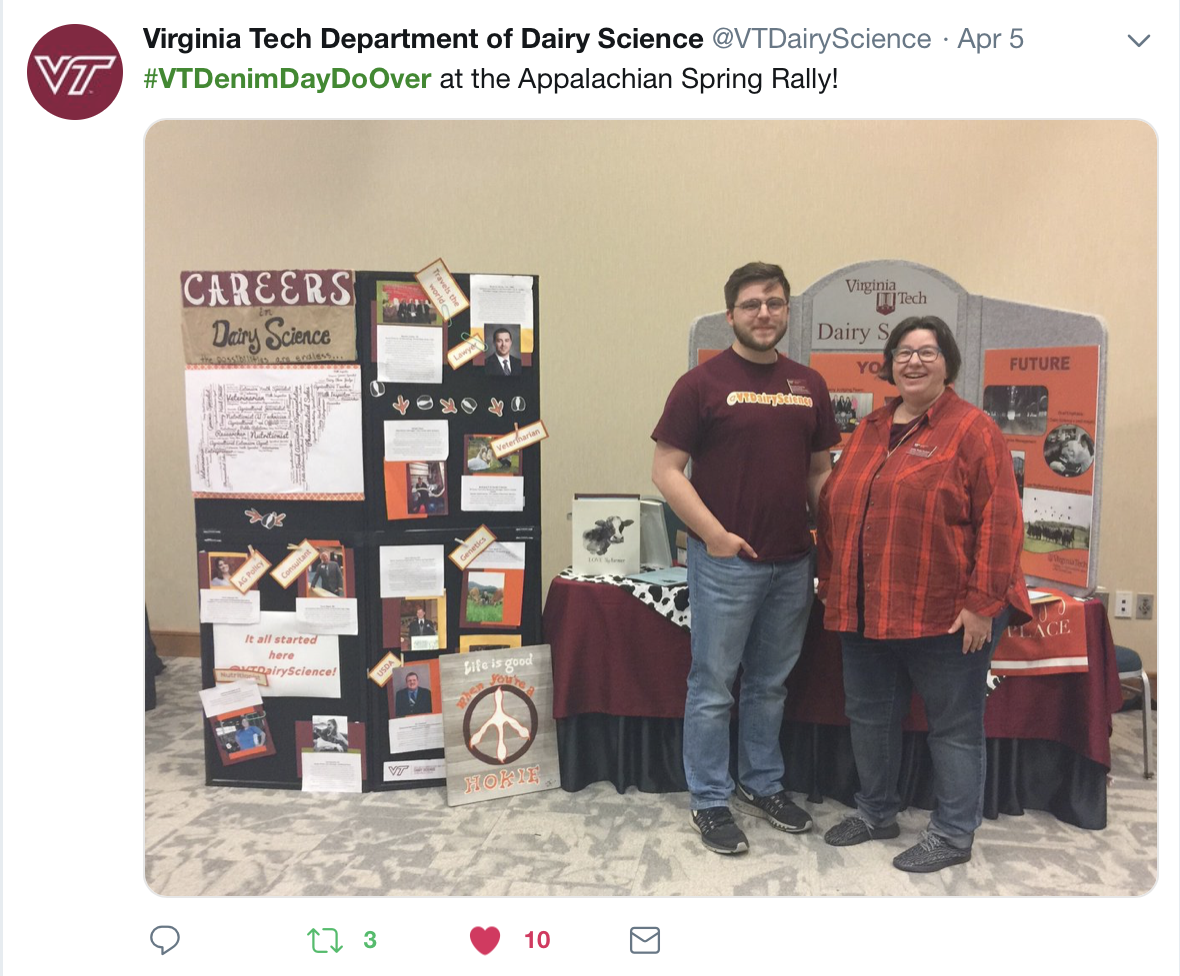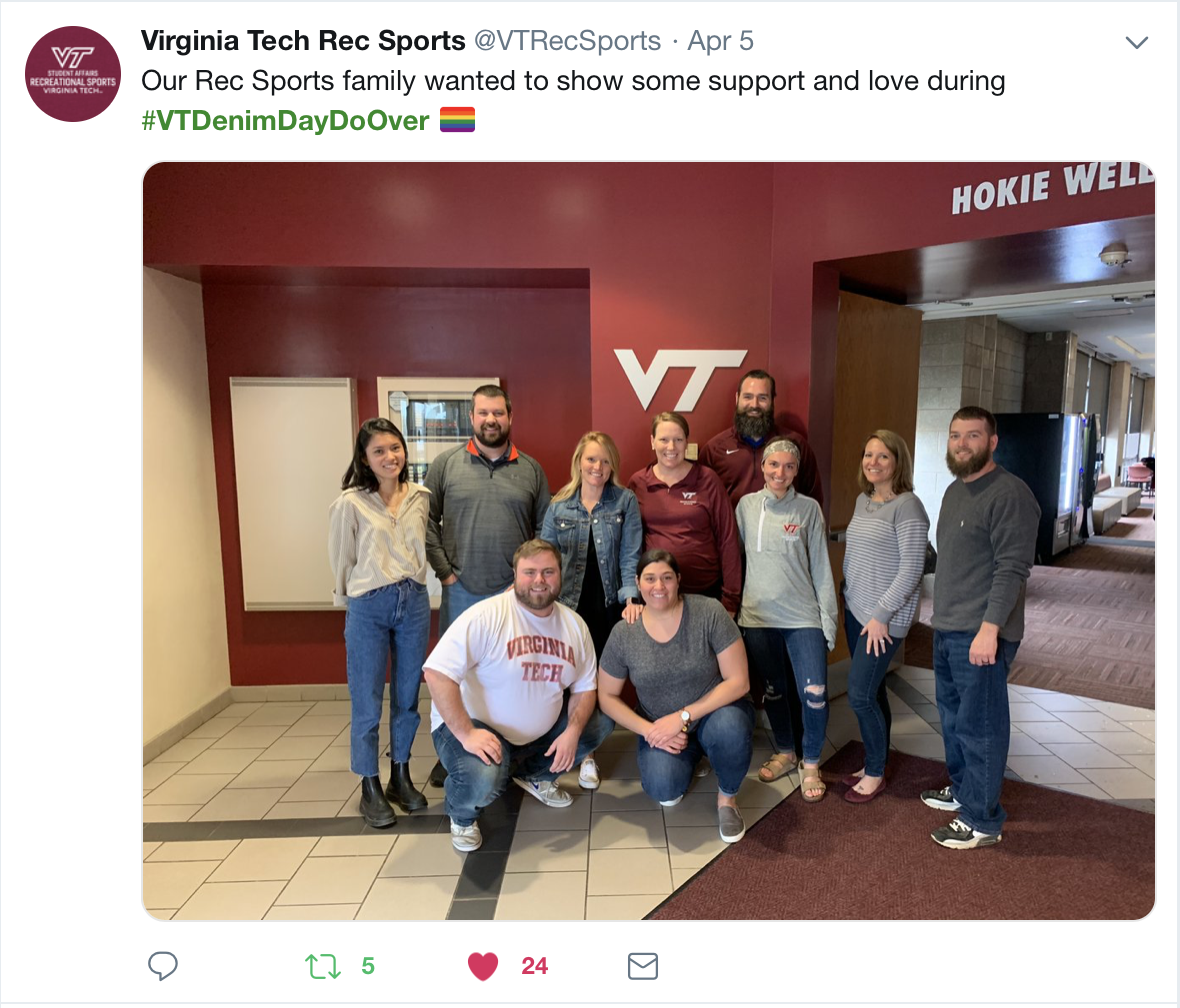 We also got more members of the community to sit down and record their own stories for our collection.
There's still a ton of work to do to process the material we've gathered related to these efforts. There's also a ton of work needed to engage the parts of the community not represented by the story of Denim Day: those members who aren't white, cisgender, gay, or lesbian. Hopefully, the work we've done here will be a step toward showing that we care enough to do this work honestly and with respect.
To see the collection we built about Denim Day (in progress) and our broader documentation of LGBTQ+ history at Virginia Tech visit here and here.