When people think of Special Collections or of archives generally, they typically think of boxes of old dusty papers or shelf after shelf of rare books.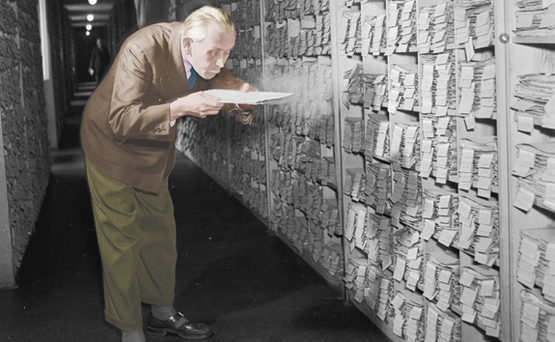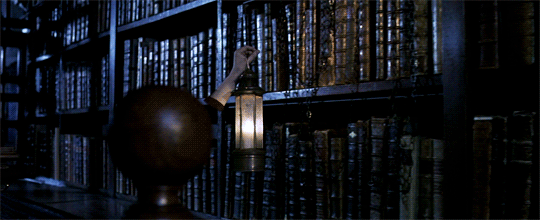 In truth, we aren't very dusty. Dust damages our materials, so we try to keep it away. And, while we do have many rare books, that is only a small part of what we're about. Archives exist to house information. In the past, that information was mainly recorded on some form of paper whether that be a scroll, a sheet of paper, or a book. In the mid-20th century, this began to change. More and more content was created on computers and stored on removable media such as floppy disks, CDs, DVDs, zip drives, removable hard drives, thumb drives, etc.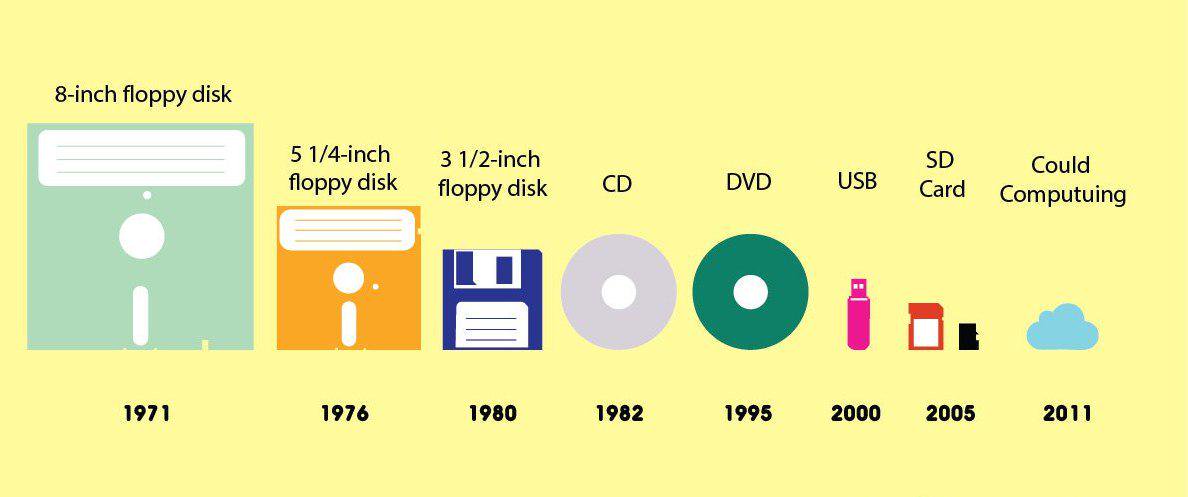 During the same period, archives continued to focus mainly on paper. The form of more recent records became printouts of work done on computers. But the long-term preservation format remained paper. Multiple efforts within the profession focused on figuring out how to handle material given to archives on disks and, more recently, as files in the cloud. Today, the profession has a fairly good idea of how to deal with digital data as material in archives, preserving the data and migrating it to new formats while showing that the intellectual content hasn't been altered.

Unsurprisingly, our Special Collections has followed along this evolution in practice. We have many records on disk sitting in boxes and many records that have been transferred off their original disks in order to preserve them better. We also have a collecting focus on the History of Science and Technology. The developments in the field of archival practice and our topical interest in the history of technology have provided ample reason for us to acquire various forms of hardware.
The hardware we have allows us to convert many types of digital content to more modern formats for continued use. We're also exploring making some of the older hardware available for our patrons to experience its use. Let's take a look at some of the technology we have in our Special Collections.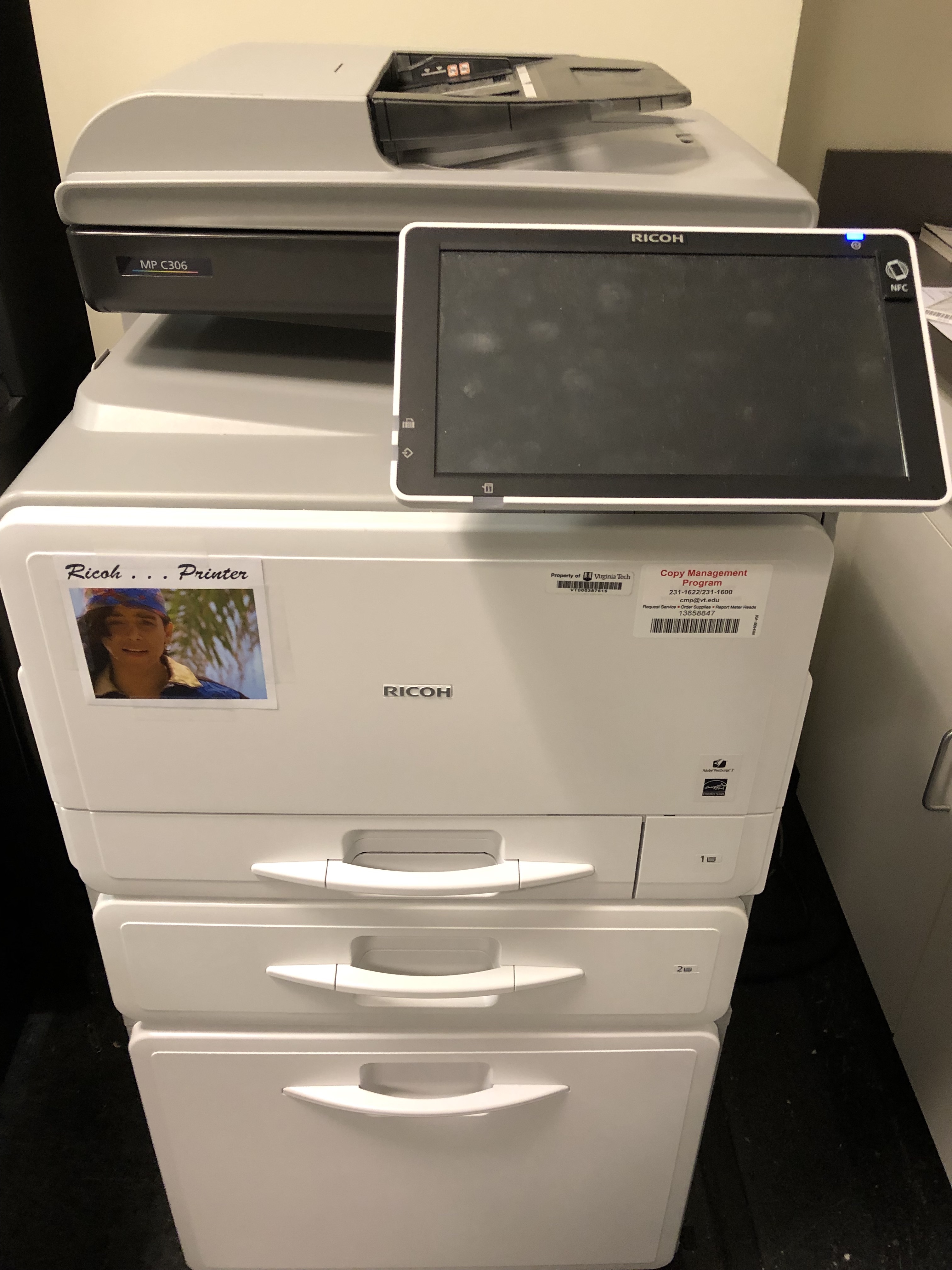 First up, we have the humble copier. We have a couple of these. They are networked and can scan items at high resolutions. While this doesn't convert digital content to newer formats, it can help quickly create digital copies of physical materials.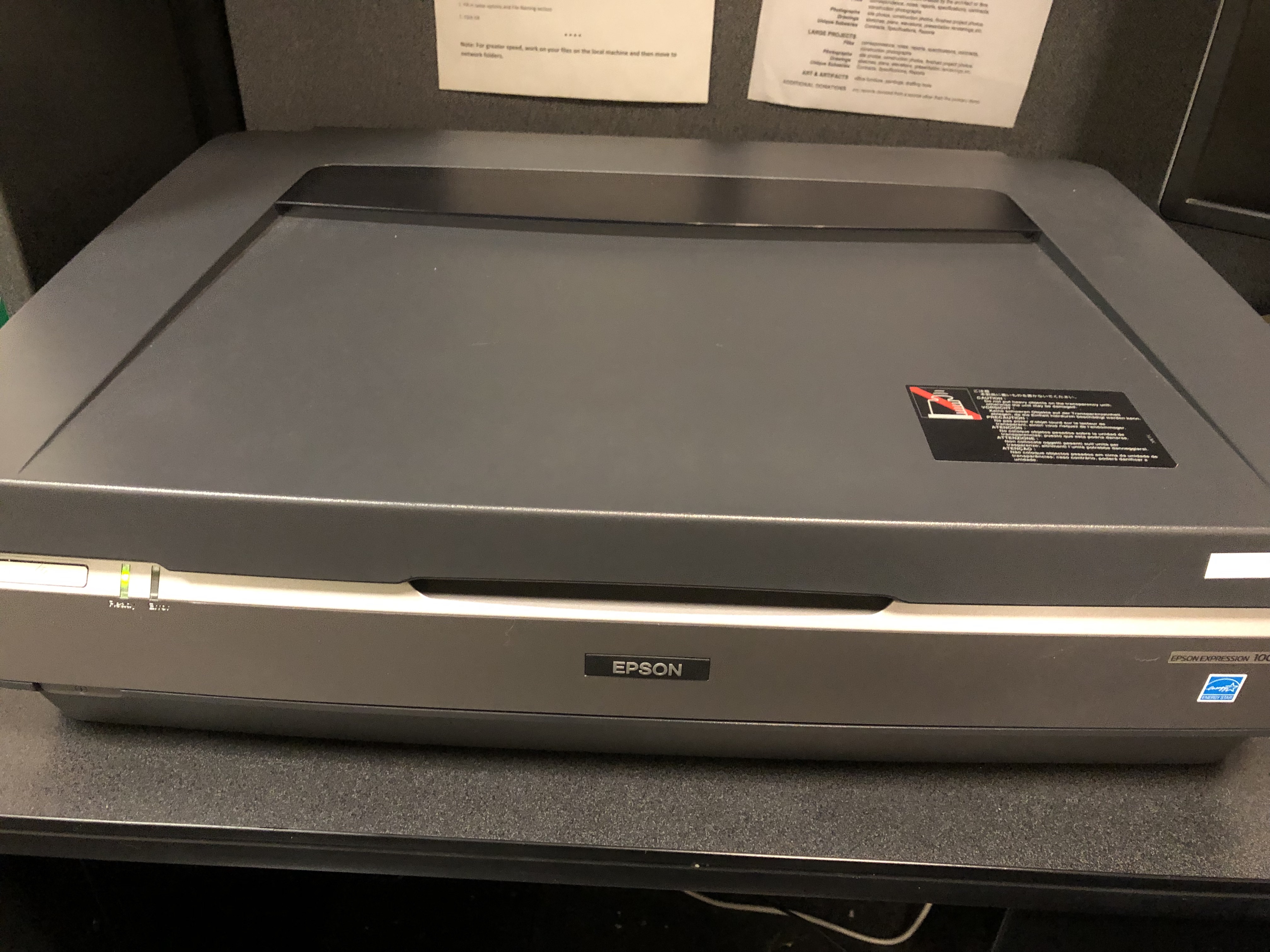 We also have a variety of scanners. The one pictured above is an Epson flatbed scanner. These scanners help us digitize content to share it online. We have many types including flatbed, book scanners, and an overhead camera. With the variety of scanners we have, we are able to create digital copies of our physical materials for use in online content distribution.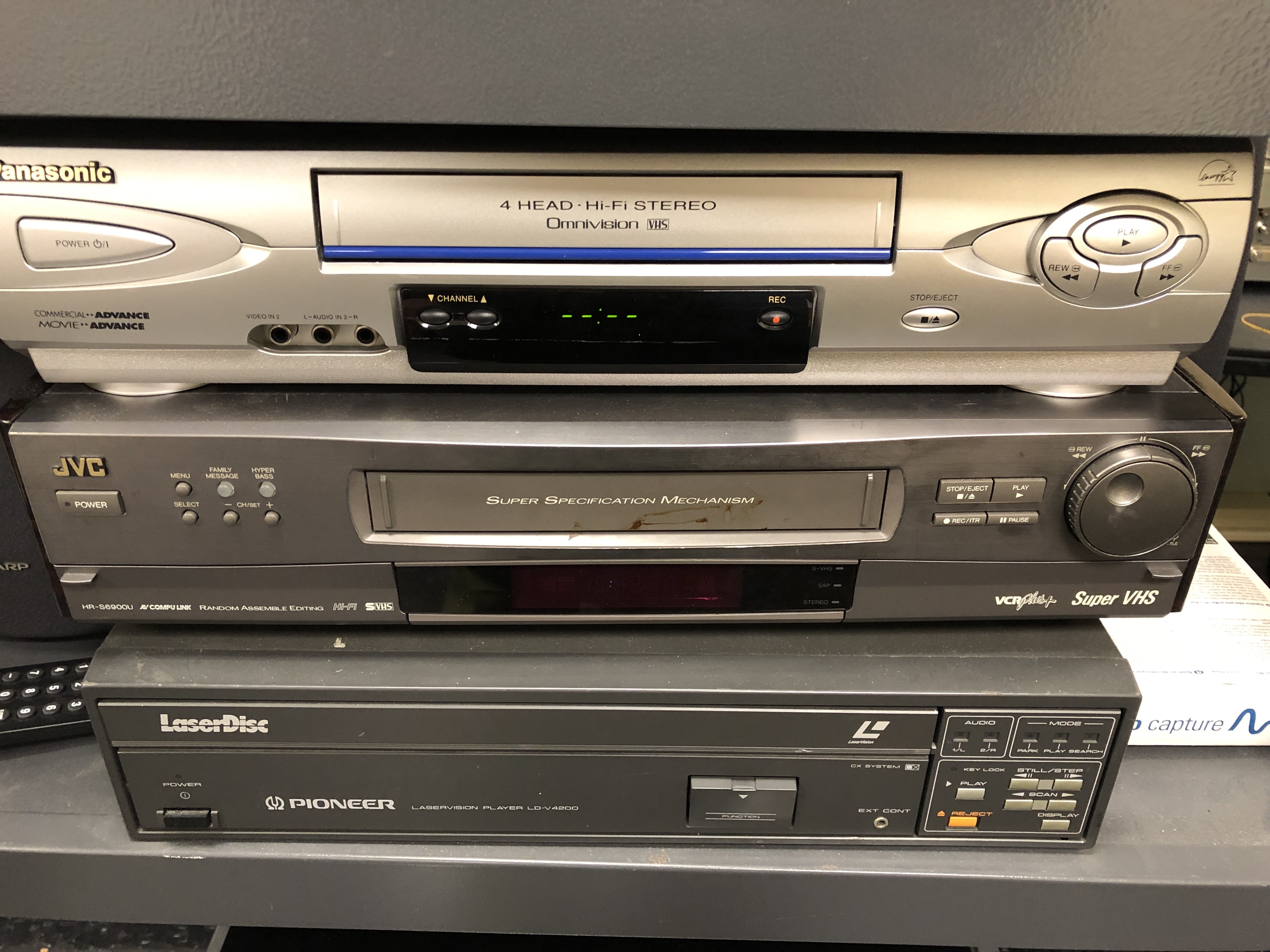 For video conversion and playback, we have a number of machines. Pictured above:
Panasonic PV-V4623S 4-Head HiFi VCR
JVC HR-S6900U HiFi Stereo S-VHS VCR
Pioneer LD-V4200 LaserDisc Player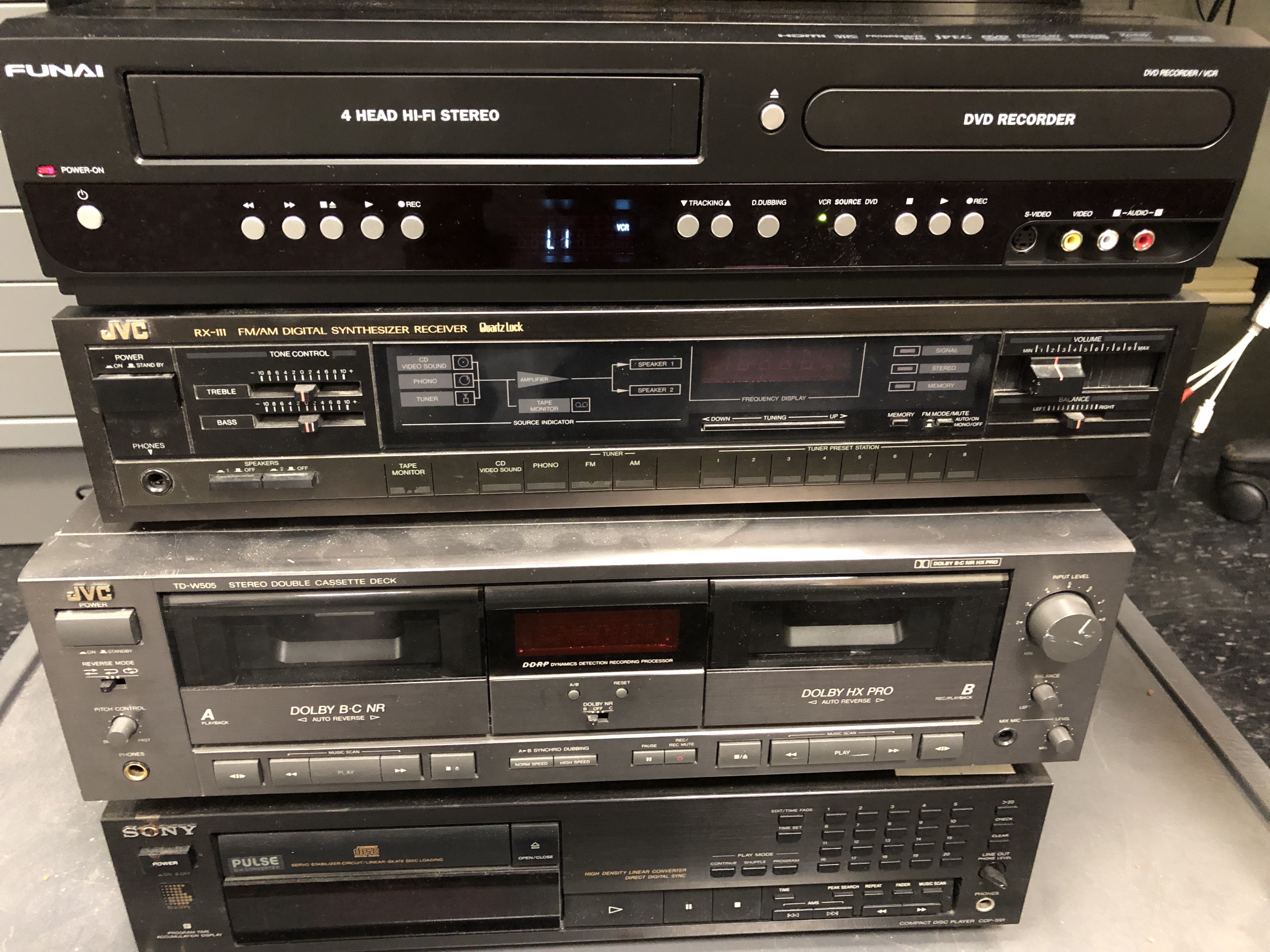 And here we have some video and some audio equipment including:
Funai ZV427FX4A DVD Recorder/VCR with Line-in Recording
JVCRX-111 AM/FM Stereo Receiver
JVC TD-W505 Hi-Fi U-Turn Auto-Reverse Double-Mechanism Cassette Deck
Sony CDP-591 Stereo Compact Disc Player
Technics SL-Q300 Direct Drive Automatic Turntable System (record player – not pictured)
Of these, the Funai VHS/DVD player gets the most use for conversion purposes which makes sense because it has built-in VHS to DVD conversion capabilities. The others live on our A/V media cart and can be wheeled into our reading room if a patron wants to view an item that is on VHS, DVD, or LaserDisc or listen to one of our cassette tapes or records.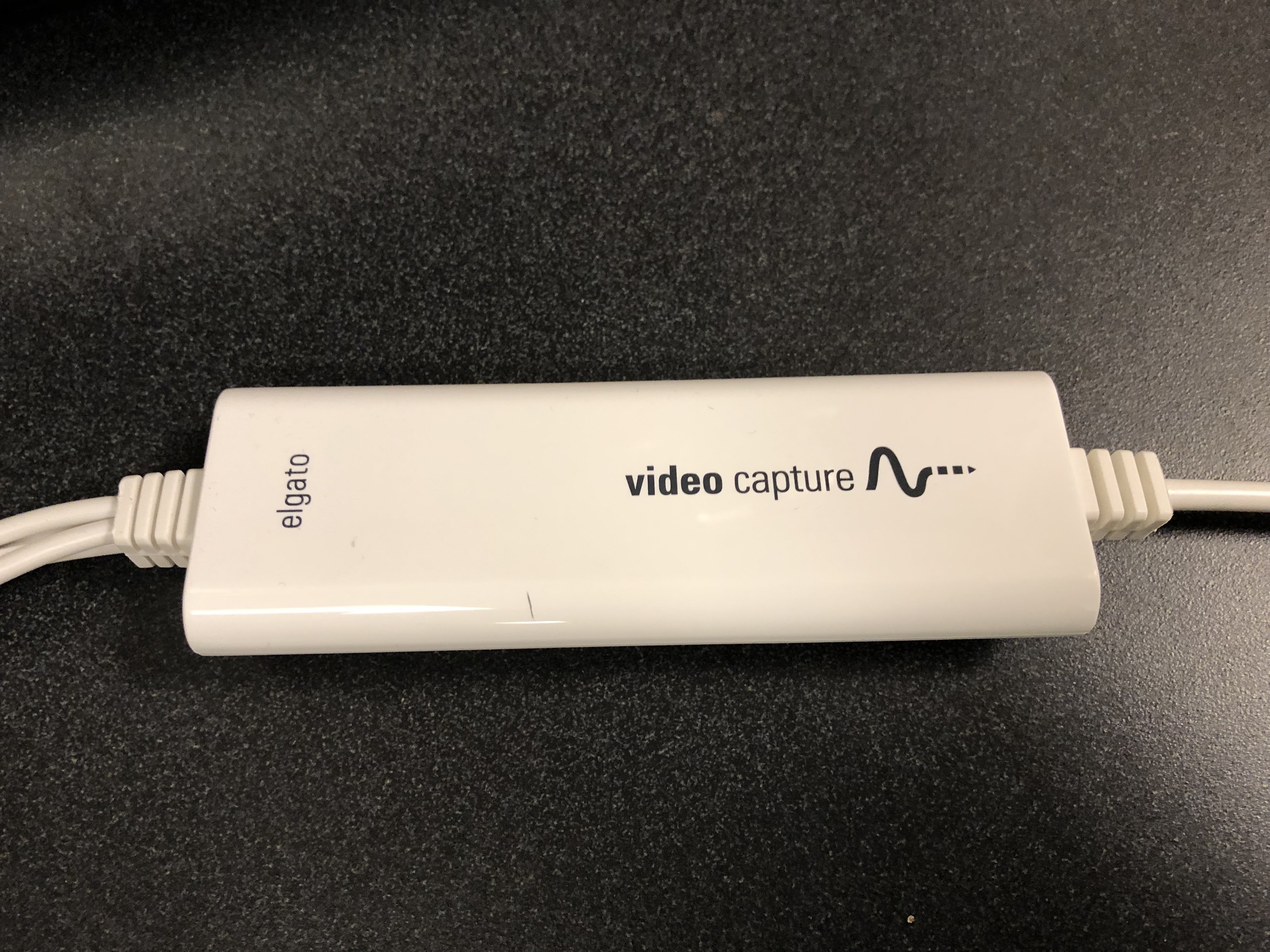 This little gadget does most of the work for our video conversion operations. It is an Elgato Video Capture S-Video/HDMI/Component Video Capture Device. It allows us to connect almost any video player directly to a computer and record the video playback as a digital file. So, even if we don't maintain a machine for playing a certain type of media, if we can get ahold of one with S-Video, HDMI, or component video outputs, we can convert the contents to digital formats.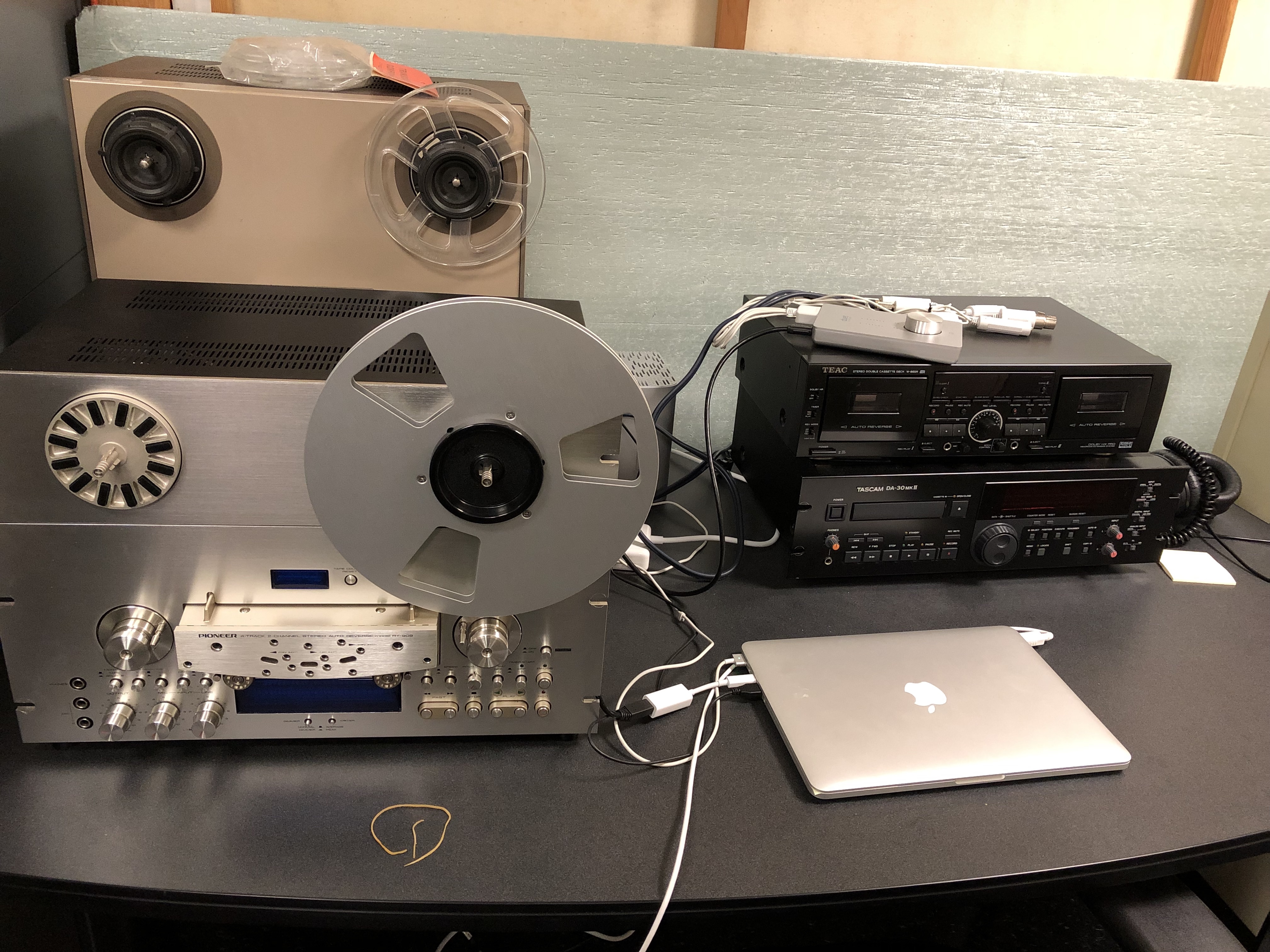 Our audio station provides capabilities for audio cassette tapes and reel-to-reel tapes. To support this, we have the following equipment:
Apogee Duet FireWire Audio Interface
TEAC W-865R Double Auto-Reverse Cassette Deck
Technics RS-T992 Stereo Double Cassette Deck (not pictured)
Tascam DA-30 mkII Digital Audio Tape Deck
Pioneer RT-909 2-Channel Stereo Auto Reverse Tape Deck (reel-to-reel player – front)
Tascam 44-OB 4 Channel Recorder/Reproducer (reel-to-reel player back)
Our audio conversion is done on a Macbook Pro using the open source Audacity software.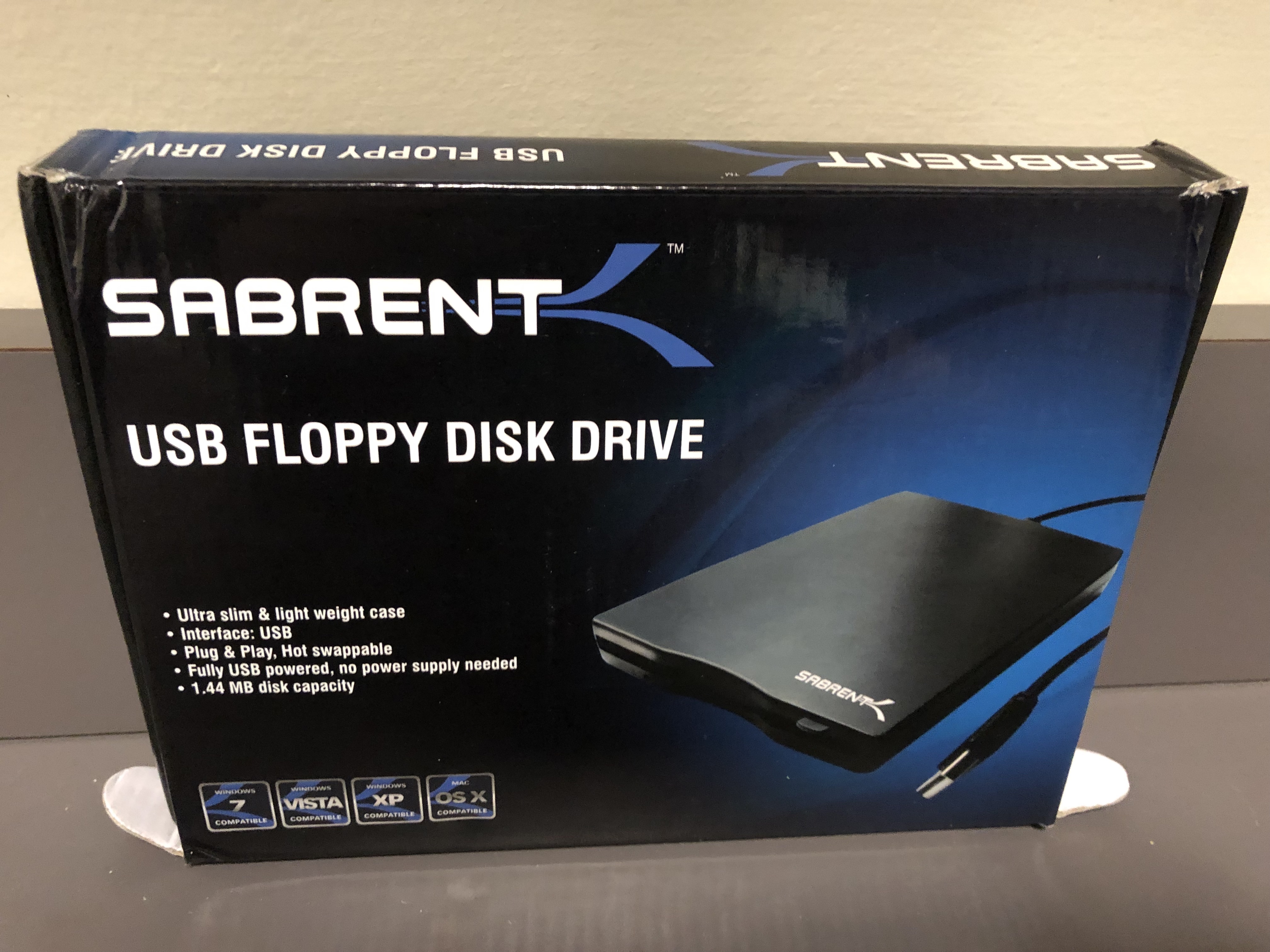 When it comes to converting computer files, one of our most versatile tools is the lowly CD drive. Since many computers today don't include one, we have one centrally located in a cabinet for anyone who might need it.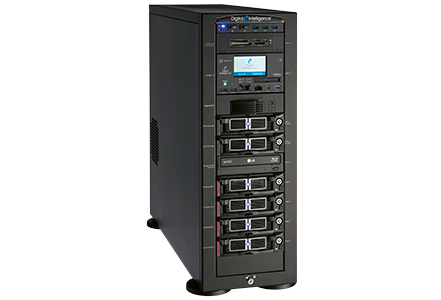 For more advanced digital processing, we have a forensic recovery of evidence device or F.R.E.D. The FRED allows us to capture a disk image of a computer disk without altering any of the data contained on the disk. Along with the FRED, we have a number of different types of drives that can be connected including a 3.5″ floppy drive, a 5″ floppy drive, a zip drive and more.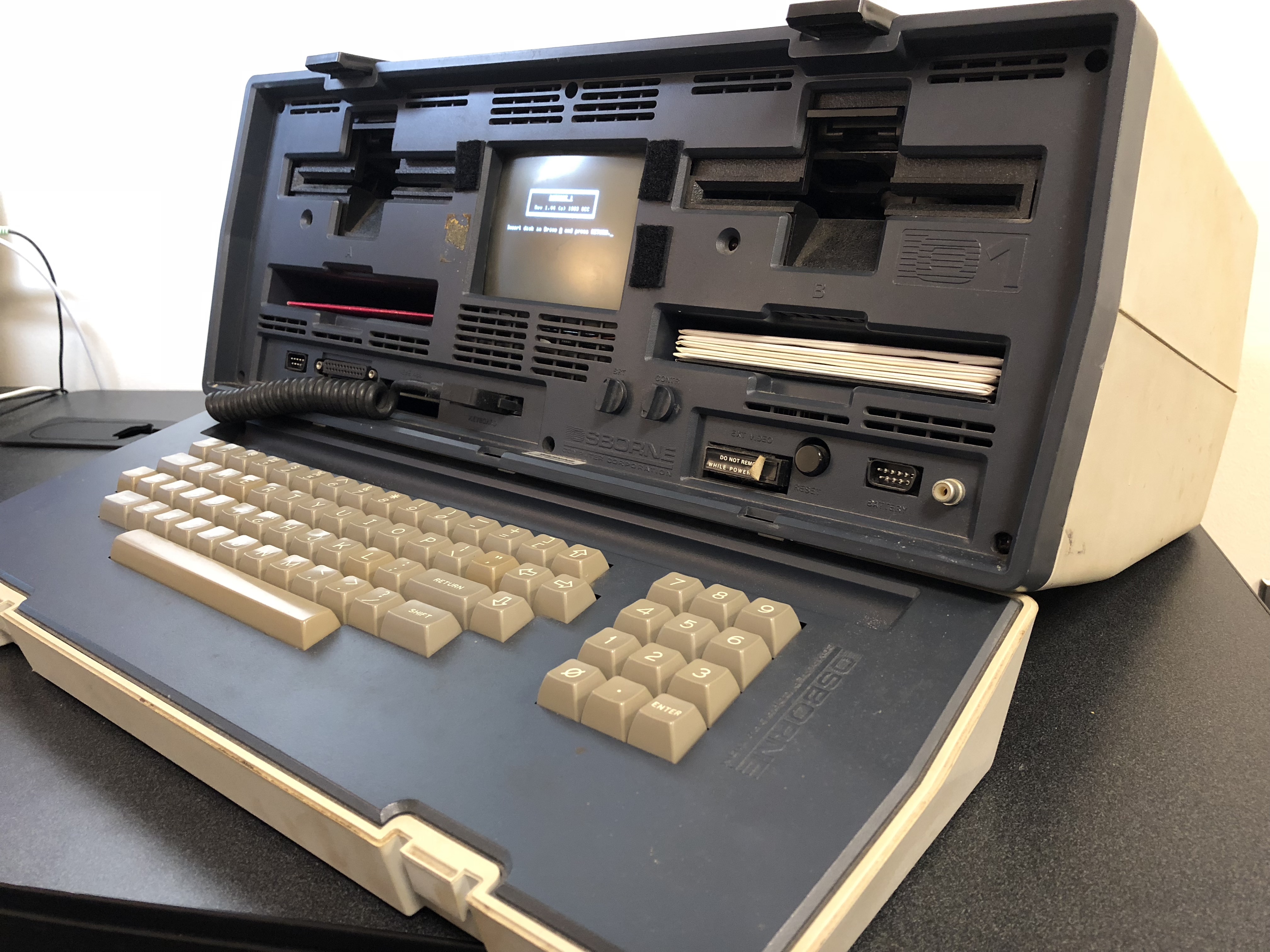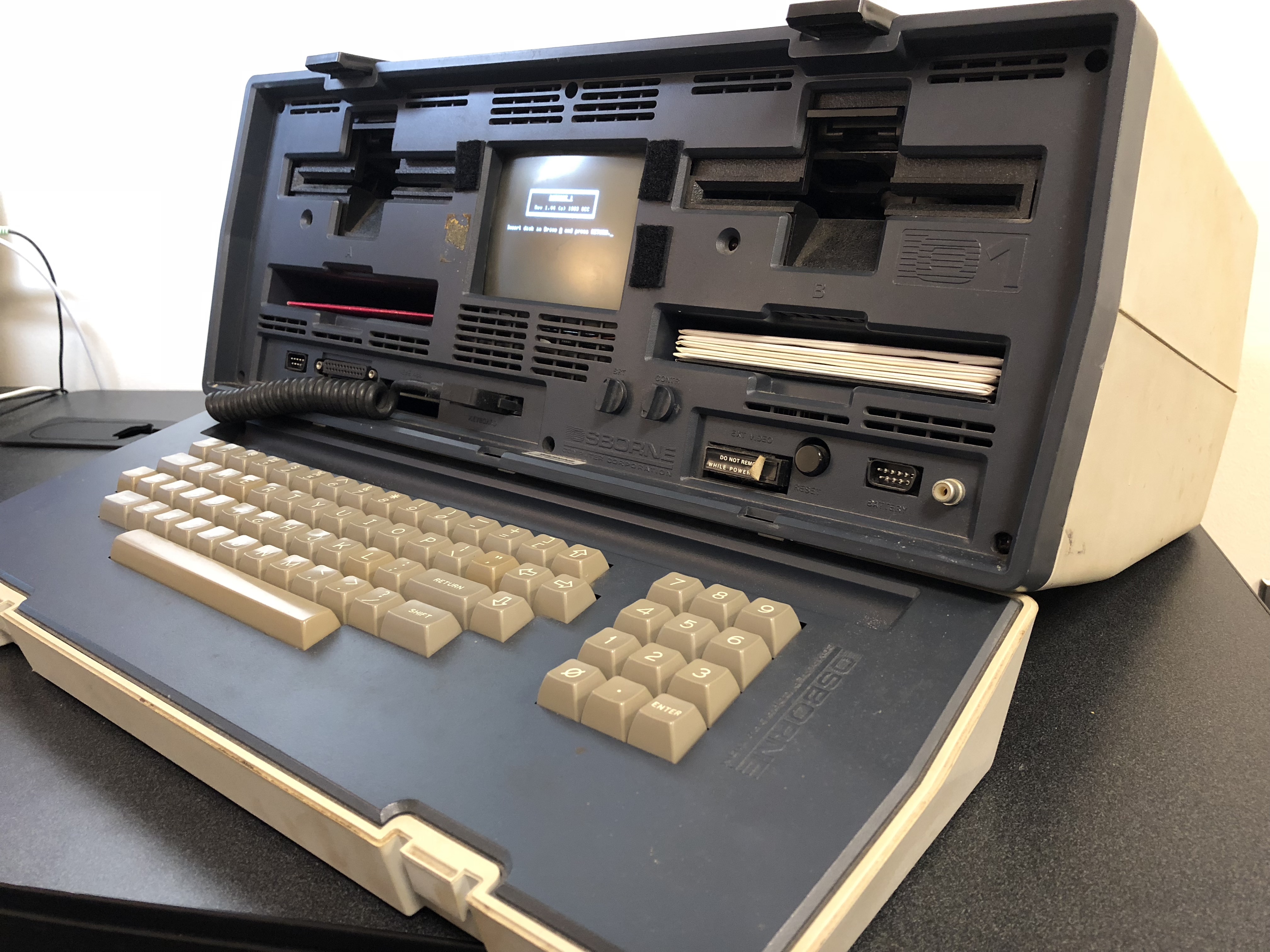 As we move further into the technology space by offering the chance for our patrons to interact with older technology, we're acquiring older hardware as part of our collections. Pictured above is the first such piece we acquired: the Osborne 1 Portable Microcomputer. For more about this item, check my blog post from last fall.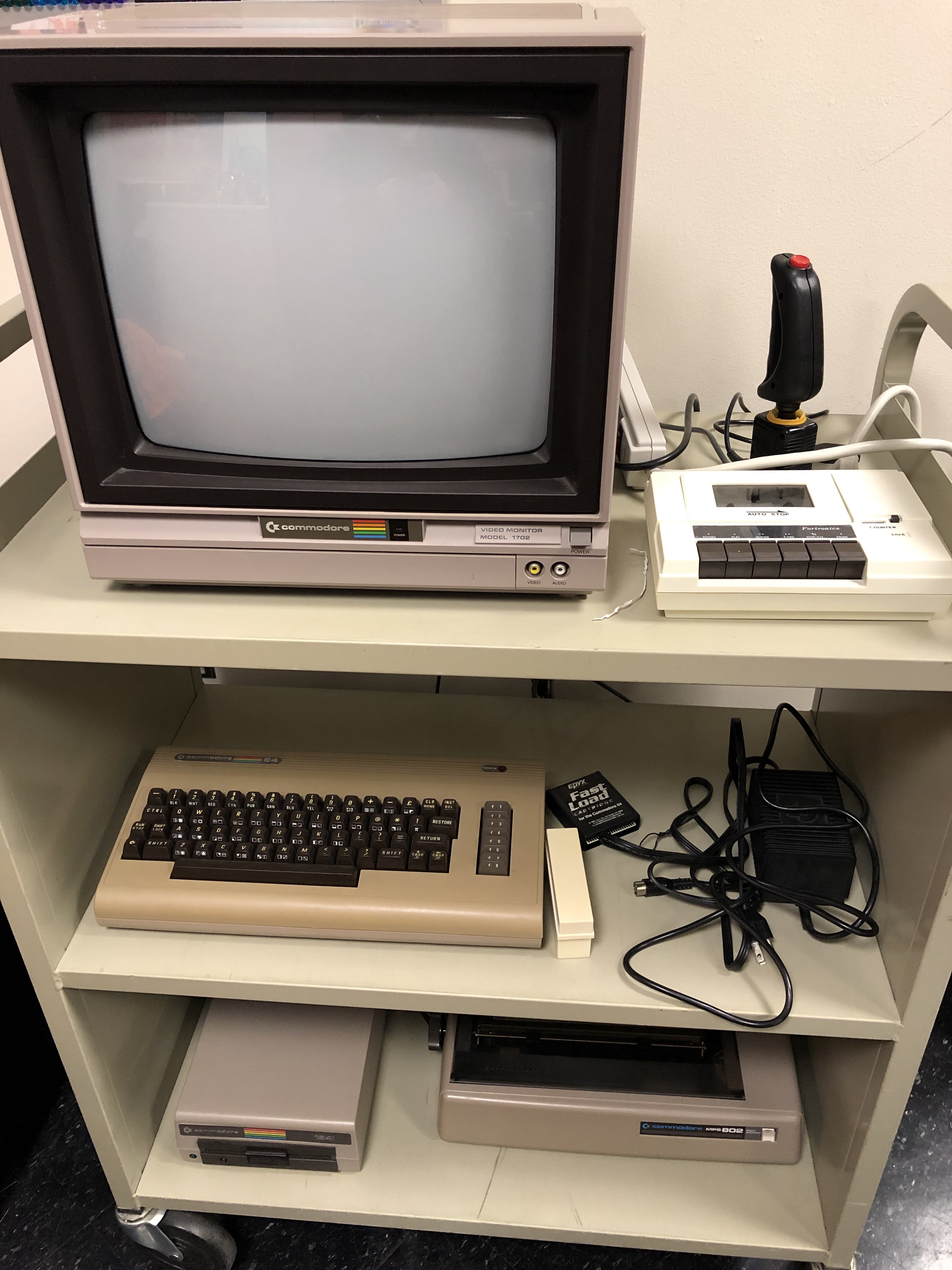 Our newest addition is a Commodore 64 complete with a printer, joystick, monitor, and floppy disk drive. It includes multiple programs and is in excellent condition. It's not quite ready for its public debut as it has a faulty power supply and requires some maintenance and repair before getting listed in our public catalog.
That's just a small overview of the technology we use in Special Collections. Our jobs as archivists continue to evolve and we strive to be experts on the past and the present with an eye to the future when it comes to technology. The variety is one of the best parts of working here. I certainly couldn't have predicted I'd be repairing hardware on an old Commodore 64 as part of my job but I love it anyway.
I hope you've found this post interesting and educational. If you're interested in learning more about our Osborne 1 and Commodore 64, keep an eye on this blog. We'll post more when they're ready for people to stop by and try them out.