"Taking some good advice, 'if a woman is going to perform a man's task, she must be more capable than a man doing the same task.' I gave it all and have continued to do so ever since." Anonymous, from Candid Reflections: Letters from Women in Architecture 1972 & 2004
Women matter. They are present and visible, and their voices are central to the way that our communities are shaped. The story of women in the field of architecture can read in a multiplicity of ways, the two most dominant narratives of 20th century practice being ones of exclusion or of triumph. Bemoaning the very real barriers to entry and the loss of talent to attrition based on social pressures is one way to understand architectural practice in the 20th century. We can also flip that narrative and observe the many ways that women overcame, inserting themselves into the conversation, demanding attention and respect, and finding methods to work within existing structures while dismantling them from the inside.
We can understand the diverse ways that women moved through the architectural world while also noticing the trends that emergetypes of work that seem prevalent in their respective careers, stories about being denied interviews, or assumptions that they would be "good with colors" or best-suited to interior design work. These anecdotal recollections, when viewed en masse, begin to tell a story about the barriers to entry and limitations often encountered in a male dominated field. Beyond that, however, we see positive patterns and systems emerge when women began to form organizations to support one another professionally, to cultivate a more active presence in the broader field, and to vocally address inequities through surveys, task forces, and sometimes by outright forcing their way into the old boys clubs of the largest professional organizations.
Spanning the bulk of the 20th century (in a field often defined by the idea of a single, star practitioner) the women, projects, and historical trends presented in the online interactive exhibition Together | We: Troubling the Field in 20th Century Architecture suggest a unity both tangible and intangible between women who held some part in changing the field. Their approaches were varied, but together with their presence, techniques, and persistence they troubled the field and changed our built environment.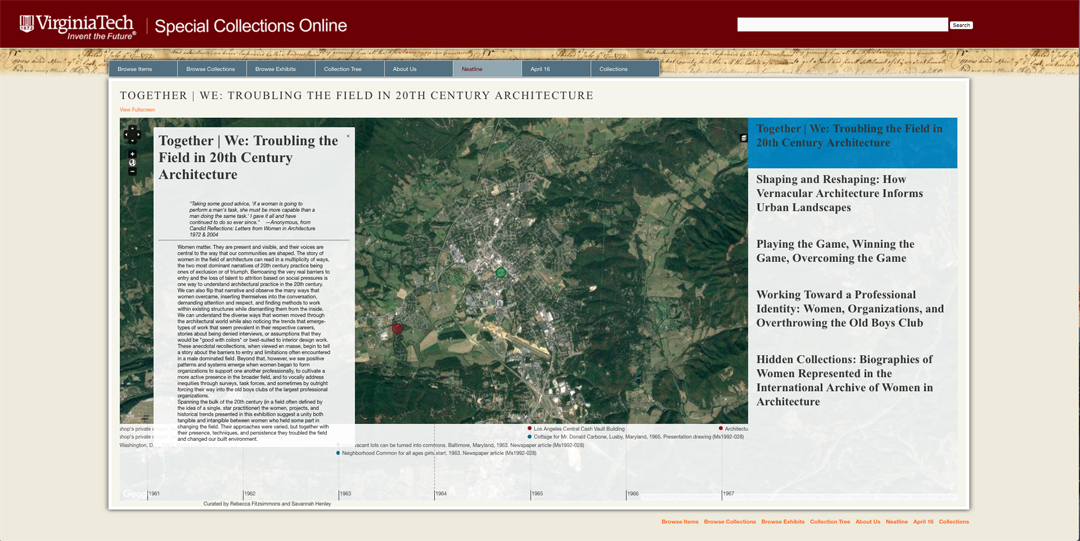 The exhibition includes materials from the International Archive of Women in Architecture, held by the Special Collections Department at Virginia Tech. Many of the featured drawings, photographs, and manuscript materials have been digitized as part of a Council on Library Resources (CLIR) Digitizing Hidden Collections grant.