Archives are so very rarely complete. Its an unusual thing for the archivist to be able to point to a collection and say with full confidence, Thats all there is. More often, we have to admit, Thats all we have. And so, researchers make due with whats on hand, knowing that someday, some newly discovered item may appear and bring their well-argued theses crashing down. Though it deals with the past, history is a living thing, open to reinterpretation as long-hidden documents are discovered and shared. We regularly hear of such discoveries being made in attics or at flea markets and the like, but sometimes theyre made within the archives itself.
Last month, your blogger was working with a small collection of papers from Sidney B. Jeffreys (Ms1986-007), who graduated from Virginia Tech with a bachelor's degree in industrial engineering in 1931. Jeffreys maintained a lifelong attachment to his alma mater, becoming an active member of the Virginia Tech Alumni Association and a generous supporter of the university. In 1981, he was recognized as a College of Engineering Distinguished Alumnus. (You can read more about Sidney Jeffreys and his papers here.) Given Jeffreys attachment to Virginia Tech, its not surprising that most of the papers in his collection relate to his time as a student and his activities as an alumnus.
Most of the university-related materials in Jeffreys papers consists of VT publications, and most of these are of the type that are seen by our archivists every day. Included among these were several issues of The Virginia Tech (the forerunner of todays student newspaper, The Collegiate Times), from the years that Jeffreys attended the university. Here in the department, The Virginia Tech is frequently called upon in the course of answering reference questions or providing students with material for research topics. Our holdings of the paper are nearlybut not quitecomplete, and were well aware that we lack a couple of years worth of issues. As it turns out, though, there was at least one missing issue about which we were unaware: there, in Sidney Jeffreys papers, was a special, extra edition of The Virginia Tech, published on Saturday, November 10, 1928.
The reason for this extra edition is readily apparent, as it bears a headline that any Hokies fan will enjoy.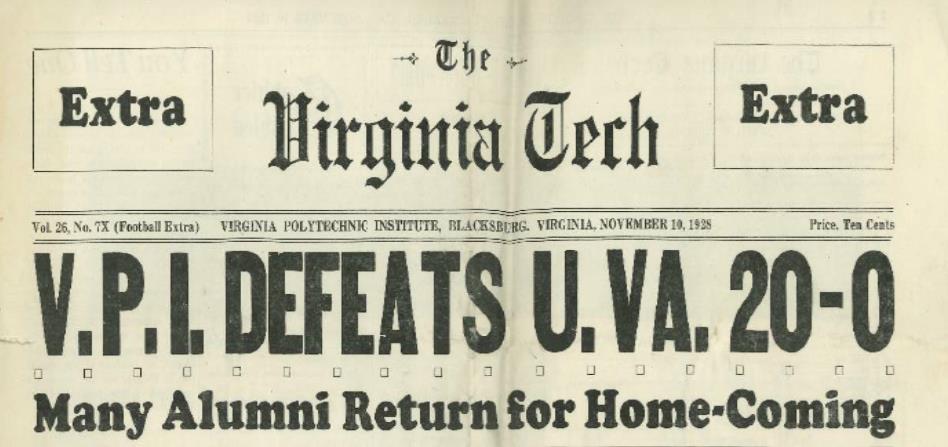 The four-page special edition provides a lengthy, detailed description of the homecoming game, played earlier that day before a near-capacity crowd of 8,000 spectators, and it gives a great deal of credit for the win to the exploits of backs Frank Peake and Phil Spear. Elsewhere in this extra edition, readers found a full account of the game between VPIs freshman team, The Gobblets, and their UVA counterparts, which ended in a 13-all tie.
The newspaper also contains articles about the homecoming festivitiesthis being only the second such event held at Virginia Techand about the upcoming observance of Armistice Day. Another brief article announces that plans are underway for a new, modern, and much-needed hotel to be built near the university. On a more somber note, readers learned of the accidental death VPI alumnus Charles B. D. Collyer, a well-known aviator who, just two weeks earlier, had set a new record for a trans-continental flight across the U. S.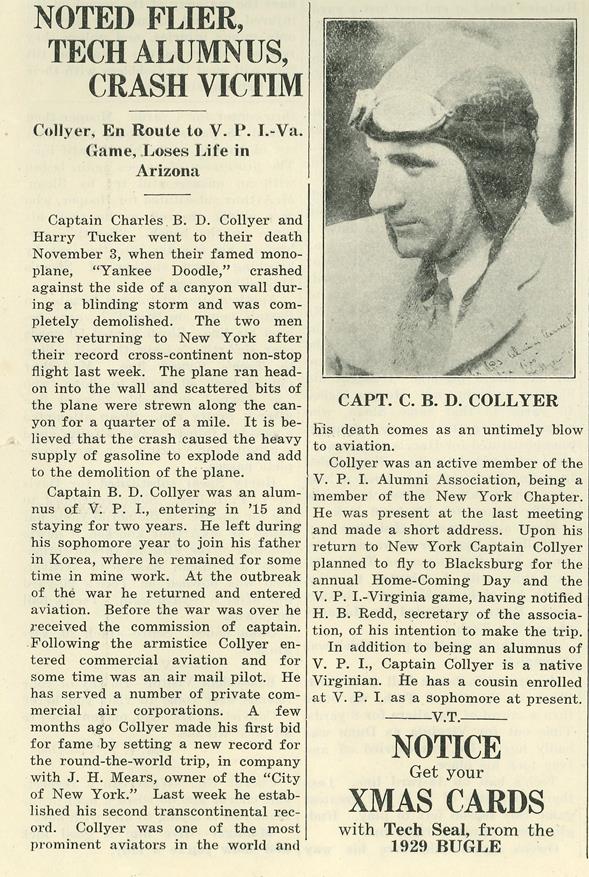 Is there anything in this newspaper that will rewrite Virginia Tech history? Well, no (though anybody whos been looking for a detailed account of the 1928 VPI-Virginia football game will find it a treasure trove). Still, this one item adds just a little detail to the historical record, providing some insight into the activities and cares of the Virginia Tech community in late 1928.
We can only wonder how many more special editions may be out there (or in here), waiting to be found.
The November 10, 1928 extra edition of The Virginia Tech will be added to our existing holdings of the newspaper. It has also been added to the queue in a current project that is digitizing the universitys student newspapers and will soon be making them available online.