If your bloggers mailbox is an accurate barometer of popular culture, it seems the days of the holiday greeting card are steadily waning. With social media and email keeping us in constant contact with even the most distant acquaintances, many no longer feel the need to buy a card, write a brief note in it, and post it in the mail. To be sure, there are still those among us who send dozens of cards a year, but as a whole, we seem to be sending fewer cards. There was a time, though, in the not-so-distant past, when the holiday greeting card was an annual rite for many.
Unless they include lengthy personal messages, greeting cards are generally of little research value in a manuscript collection. The addresses on the envelopes can help in establishing a persons whereabouts at a particular time or in simply confirming that two people were acquainted, but for the most part, greeting cards are of little interest to researchers. An exception is when a greeting card includes personal information on the senders activities or when the card is handcrafted. In the manuscript collections of Herschel and Wilhelmina Elarth (Ms1969-004 and Ms1984-182), a number of handcrafted cards from professional artists can be found. If, like me, youre seeing a dearth of greeting cards in your mailbox, you may enjoy a look at a few of these unique cards.
But first, a bit of background on the couple in whose collections these cards are found:
Born in Rochester, New York, Wilhelmina van Ingen (1905-1969) was the daughter of Hendrik van Ingen, a well-known architect, and the granddaughter of Henry van Ingen, a painter of the Hudson River School (and perhaps the subject of a future blog post). After graduating from Vassar in 1926, Wilhelmina earned a masters degree in art history and classical archaeology from Radcliffe College. She later earned her doctoral degree at Radcliffe and taught art history at Wheaton College.
In 1942, Wilhelmina married Herschel Elarth (1907-1988), a professor of architecture at the University of Oklahoma. The couple moved to Canada in 1947, and both taught at the University of Manitoba. In 1954, Herschel accepted a position at Virginia Tech, and the Elarths moved to Blacksburg. While Herschel taught, Wilhelmina remained active with the American Association of University Women, the Blacksburg Regional Art Association, and the Associated Endowment Fund of the American School of Classical Studies.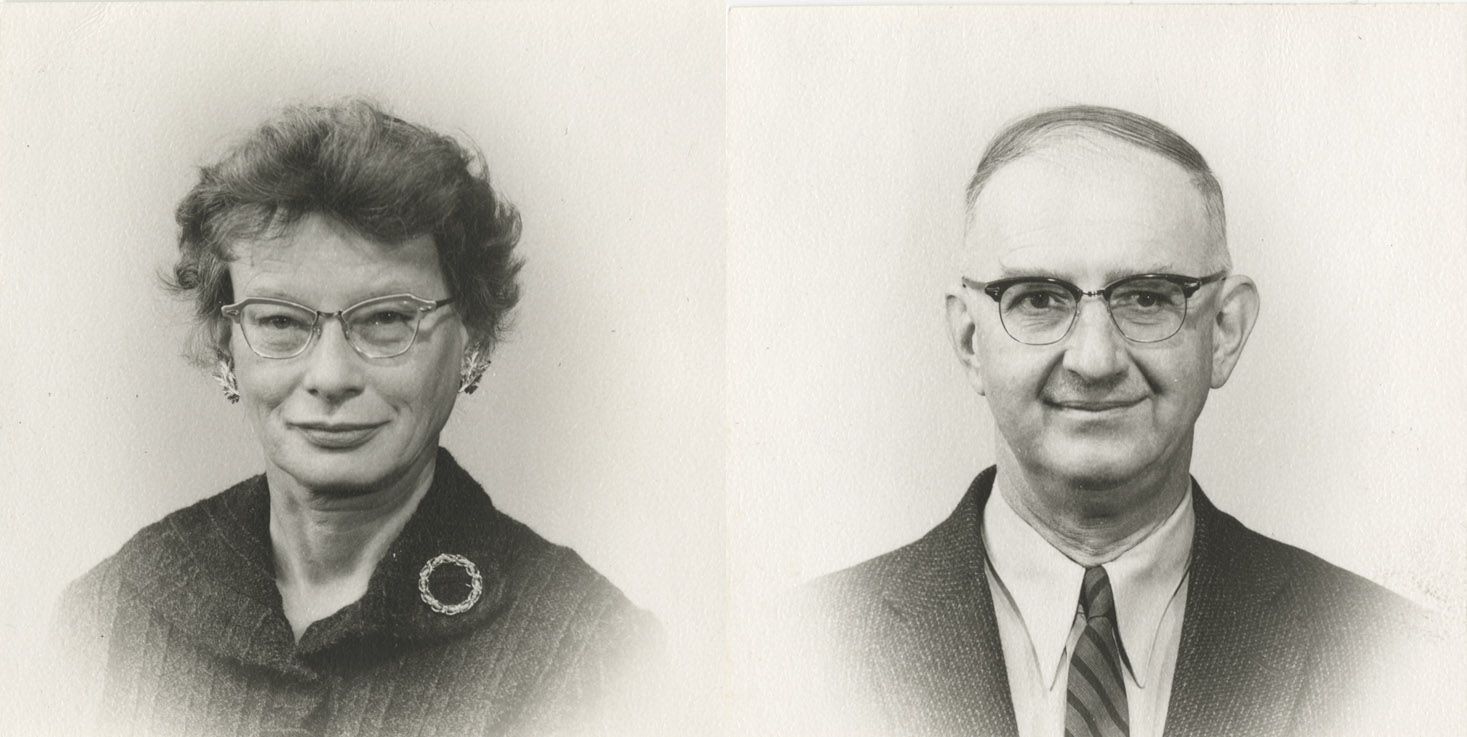 The Professors Elarth
With their backgrounds in art, it's of little surprise that the Elarths would have created their own cards, rather than purchasing them at a store: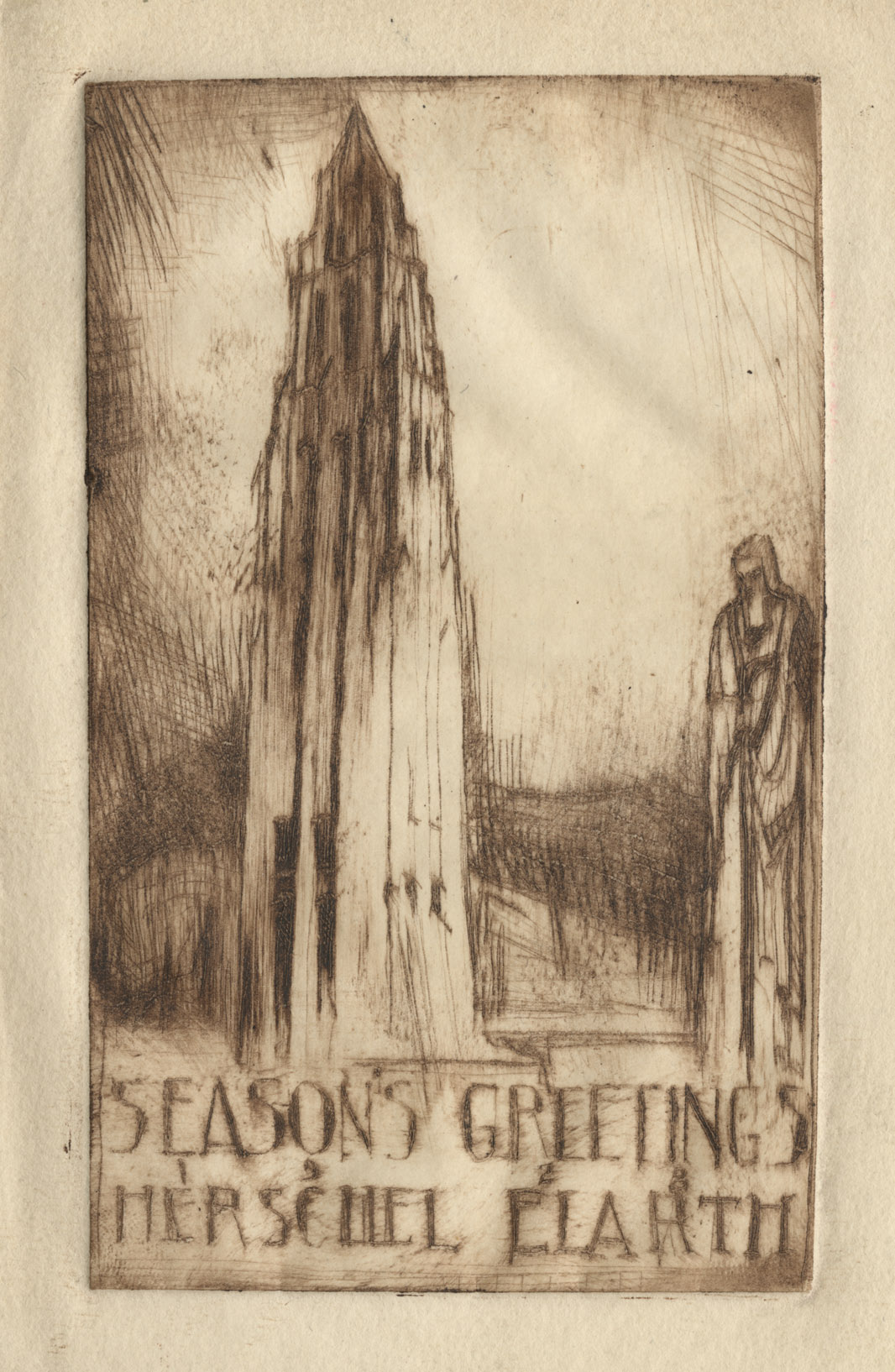 Even before they were married, Wilhelmina and Herschel sent personally crafted Christmas cards to friends and family. In the examples above, we can see Wilhelmina drawing on her background in classical studies for her 1932 card, while Herschels 1928 card displays his interest in architecture and statuary.
After their marriage, the Elarths continued to make and send their own cards: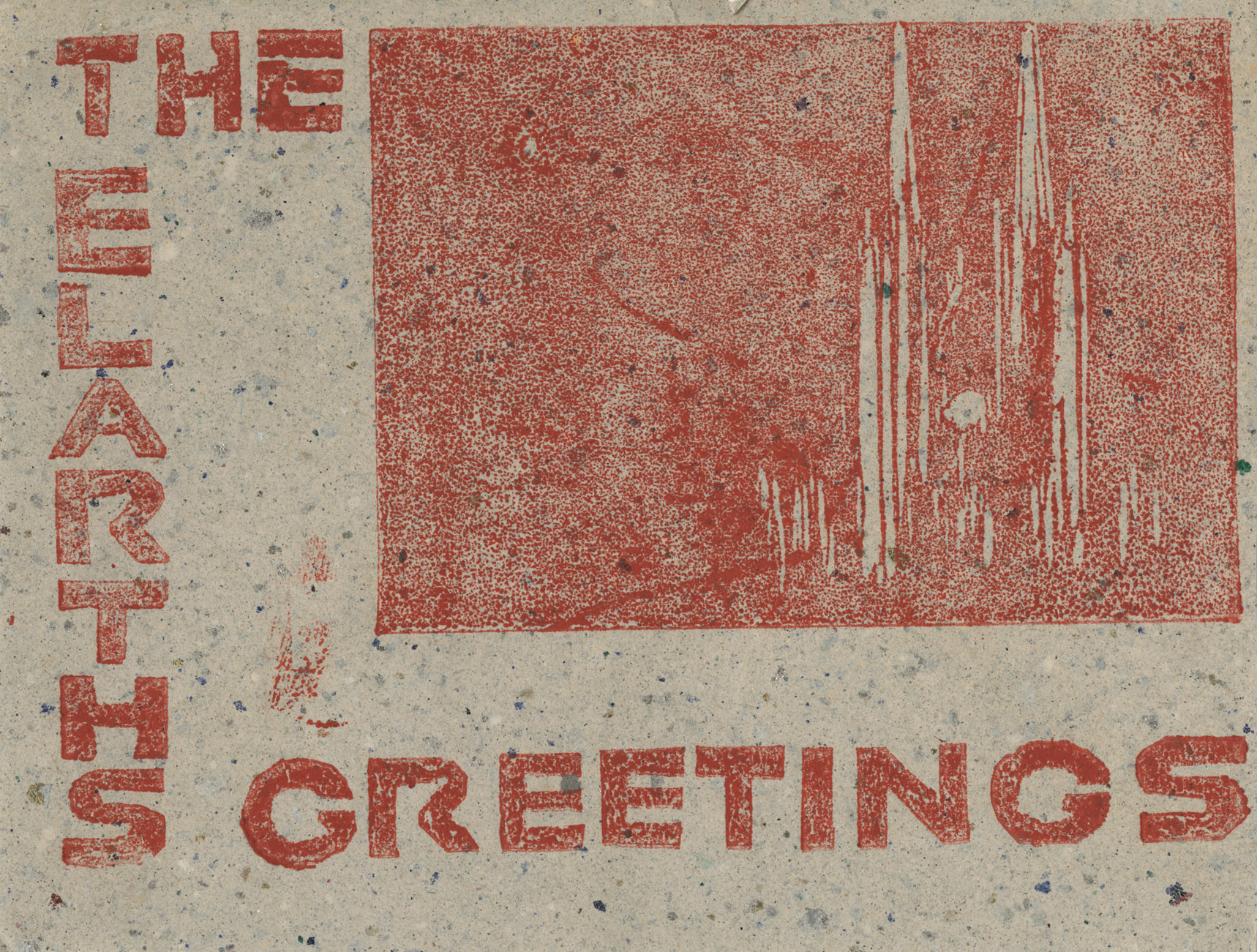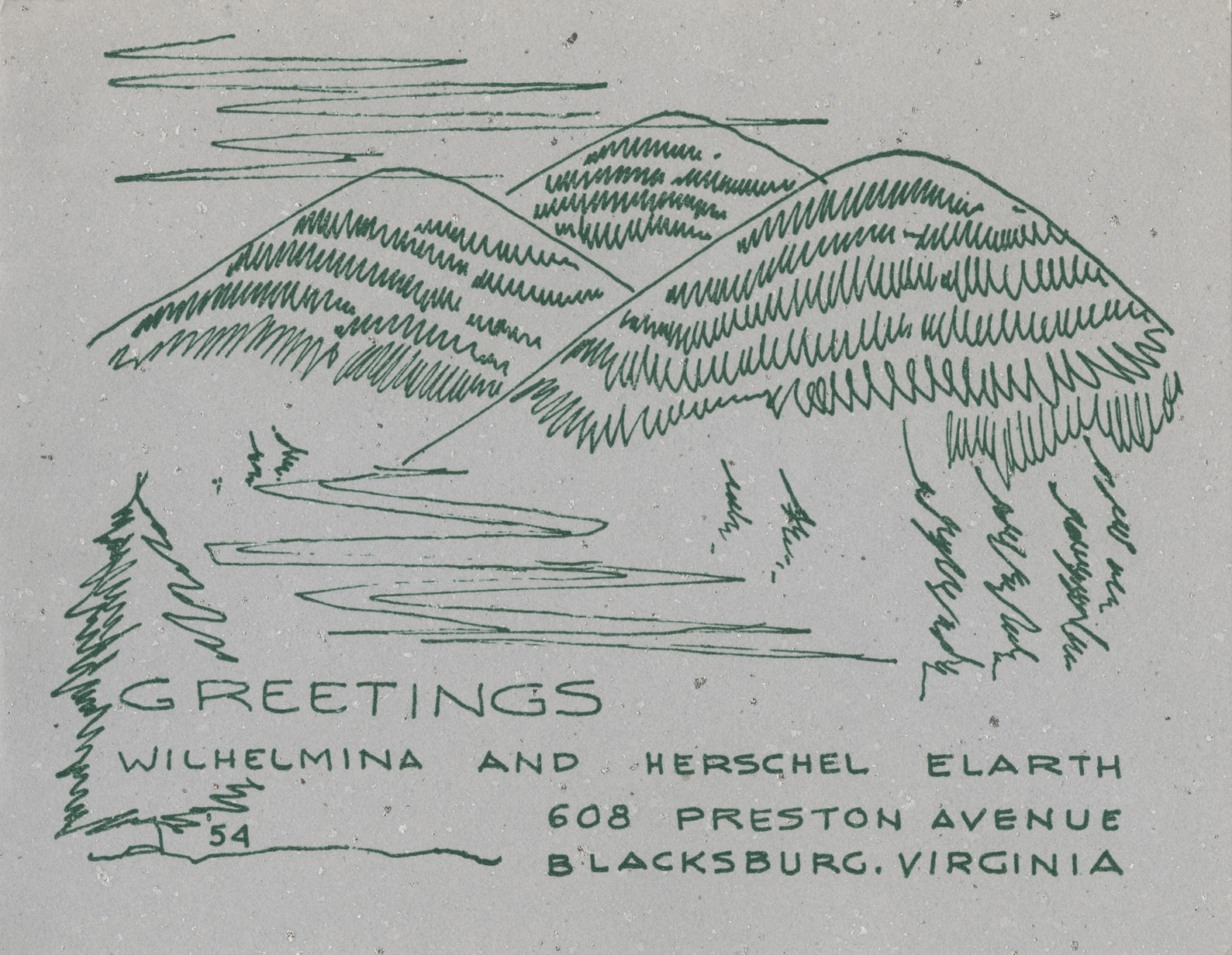 The Elarths 1946 card (top) featured a woodblock print of an imposing gothic cathedral, while their 1954 card (bottom), a simple pen-and-ink sketch sent during their first Christmas in Blacksburg, reflected an appreciation for the natural beauty of their newfound home.
Their mutual interest in art led the Elarths to maintain a wide circle of friends in the art world, and they regularly traded holiday greetings with a number of their artistic friends. Many of these cards reflect the style and development of the individual artist.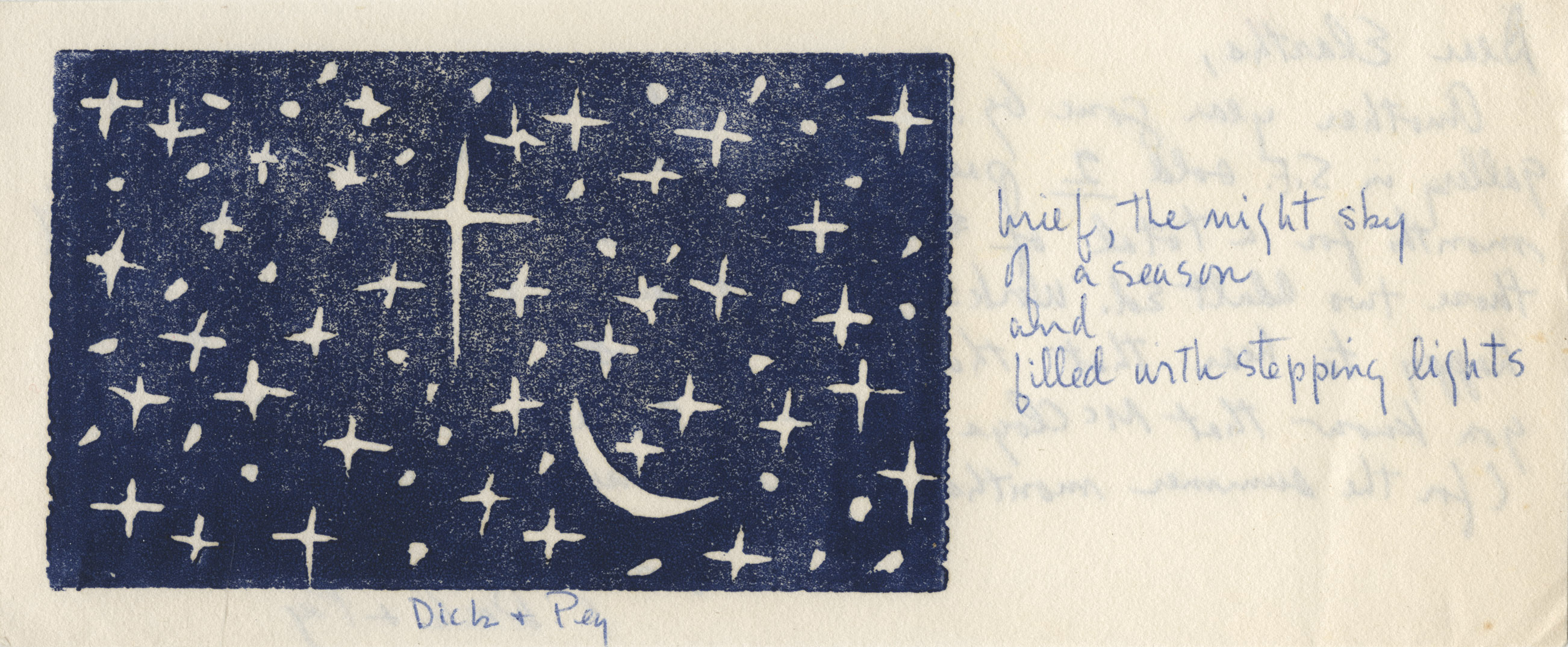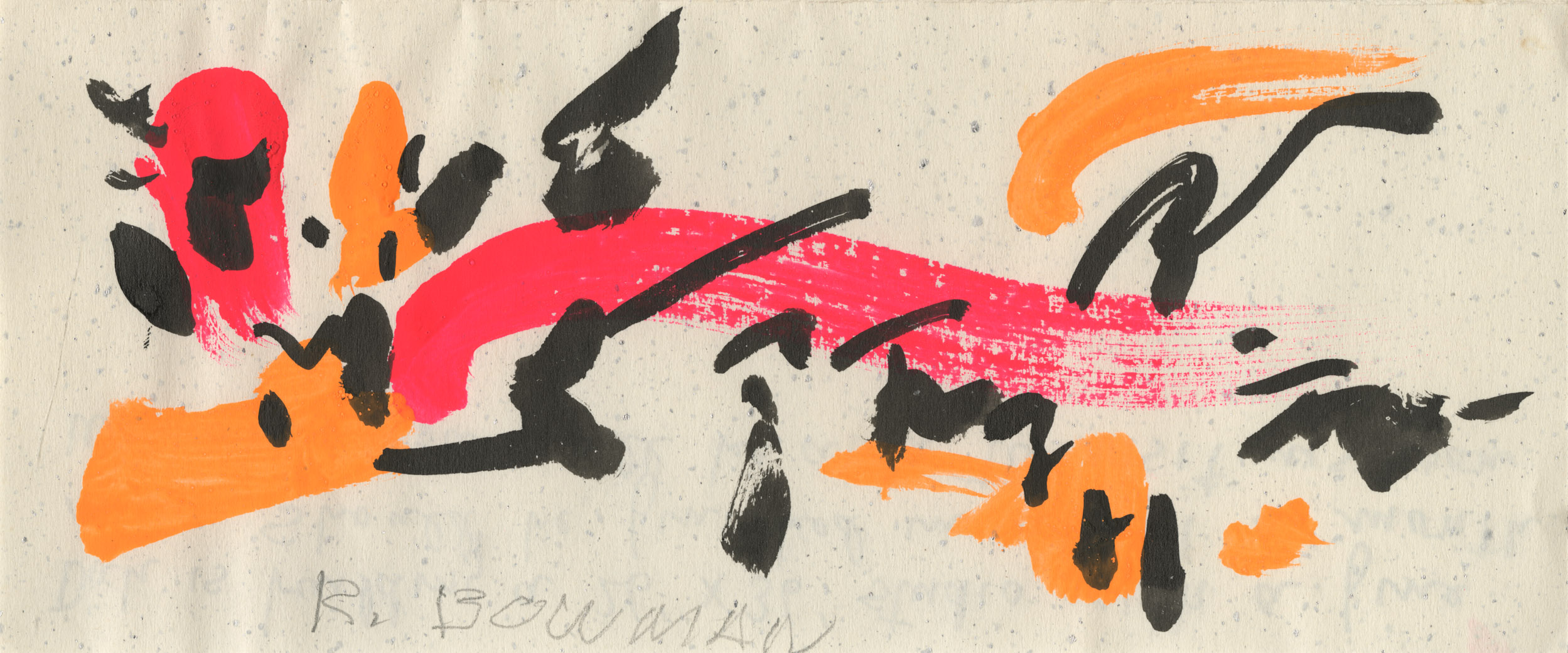 Among the Elarths longtime friends were Richard and Peggy Bowman, whom they likely met while Richard Bowman was teaching at the University of Manitoba. An abstract painter, Bowman is credited with being among the first artists to use fluorescent paint in fine art. Among the cards sent by the Bowmans are two woodblock prints and an original abstract painting. As the Herschel Elarth collection contains other examples of Peggy Bowmans poetry, we can assume that she provided the brief poems in the two cards above. The painting at bottom, meanwhile, illustrates Richard Bowmans use of fluorescent paints.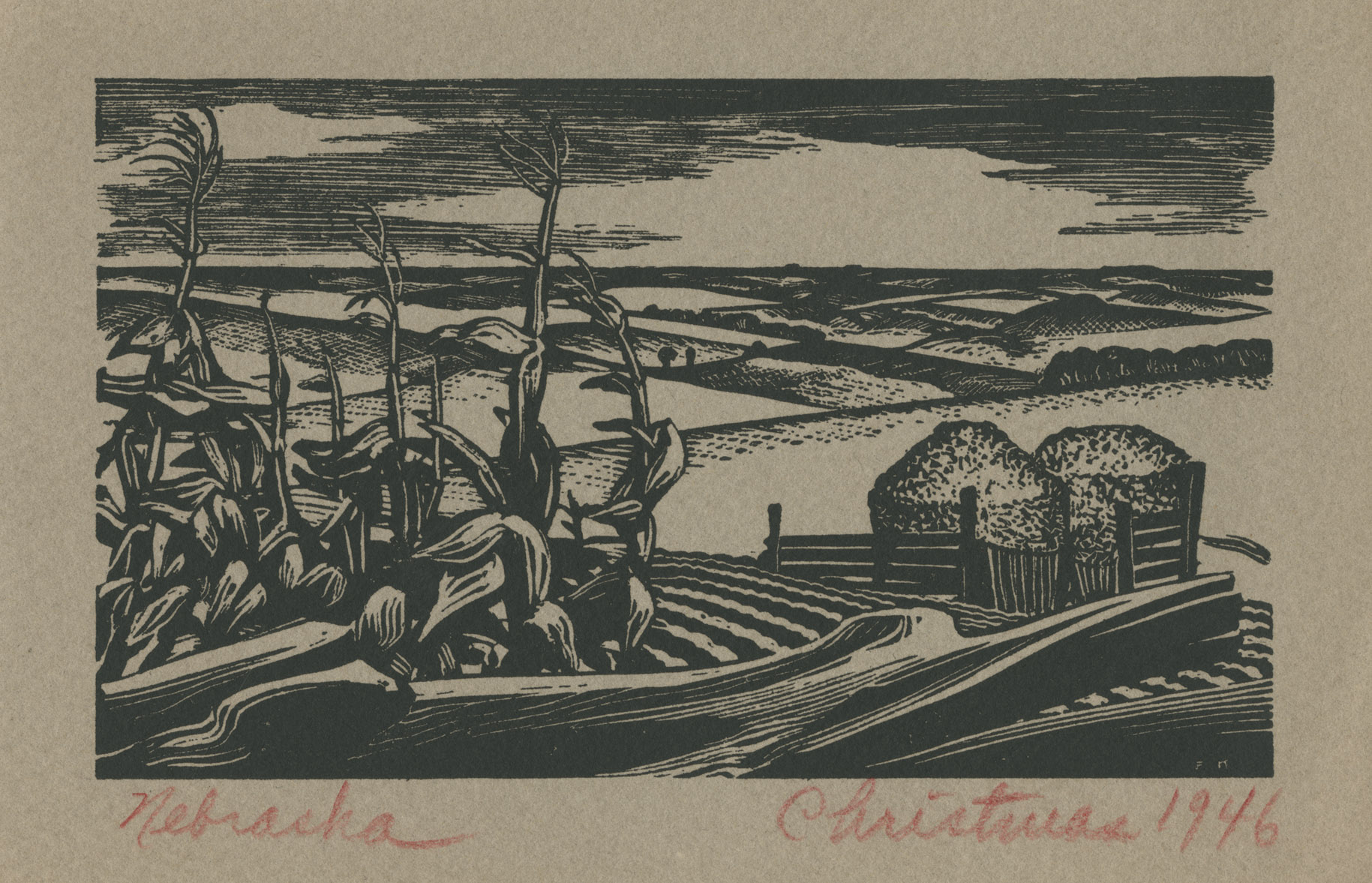 Herschel Elarth likely met painter and muralist Eugene Kingman through the Joslyn Art Museum (Omaha, Nebraska), of which Kingman served as director and Elarth helped design. For many years, Kingman annually sent the Elarths a card bearing a woodblock print he'd made of a rural Nebraska scene, like this one from 1946.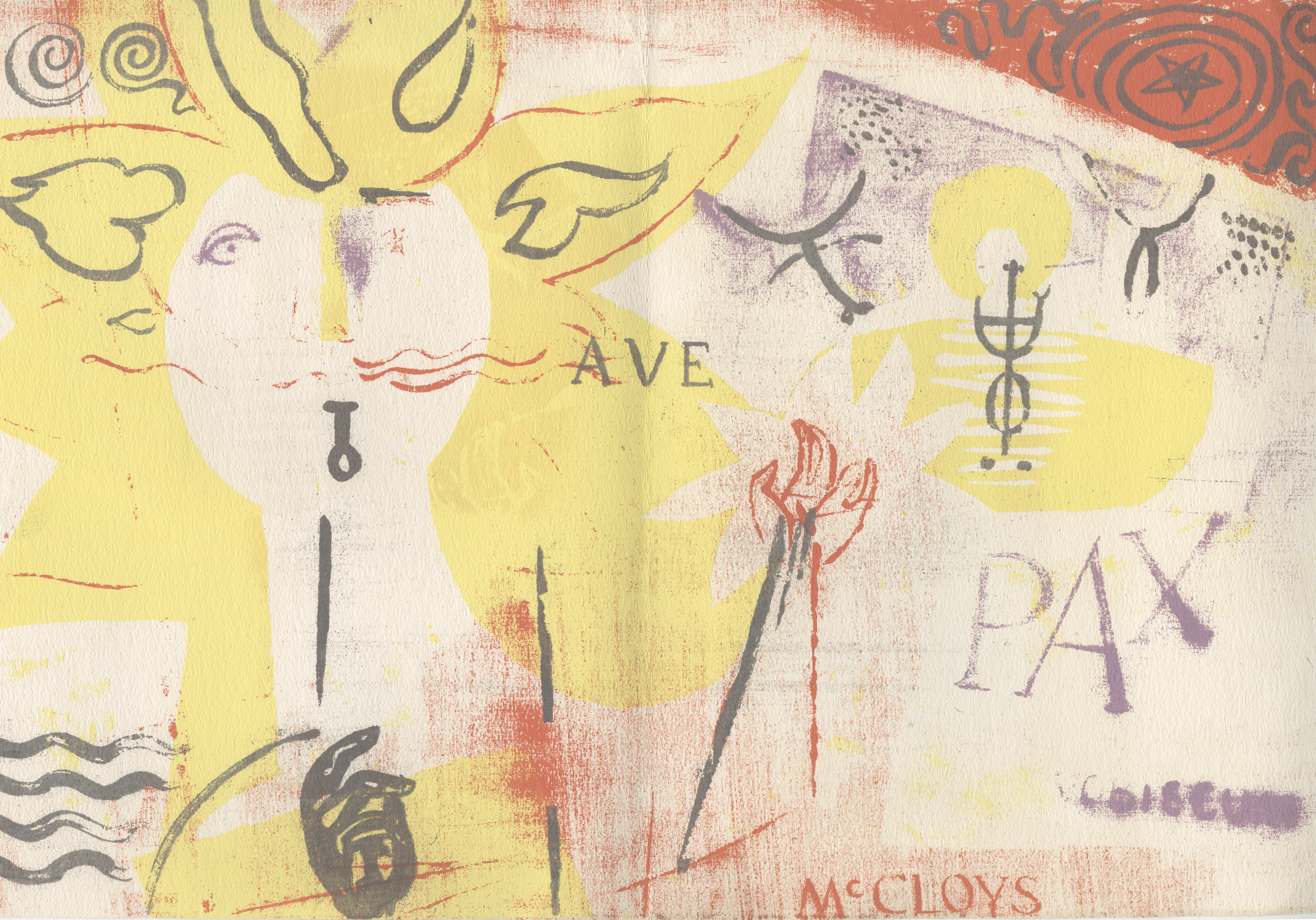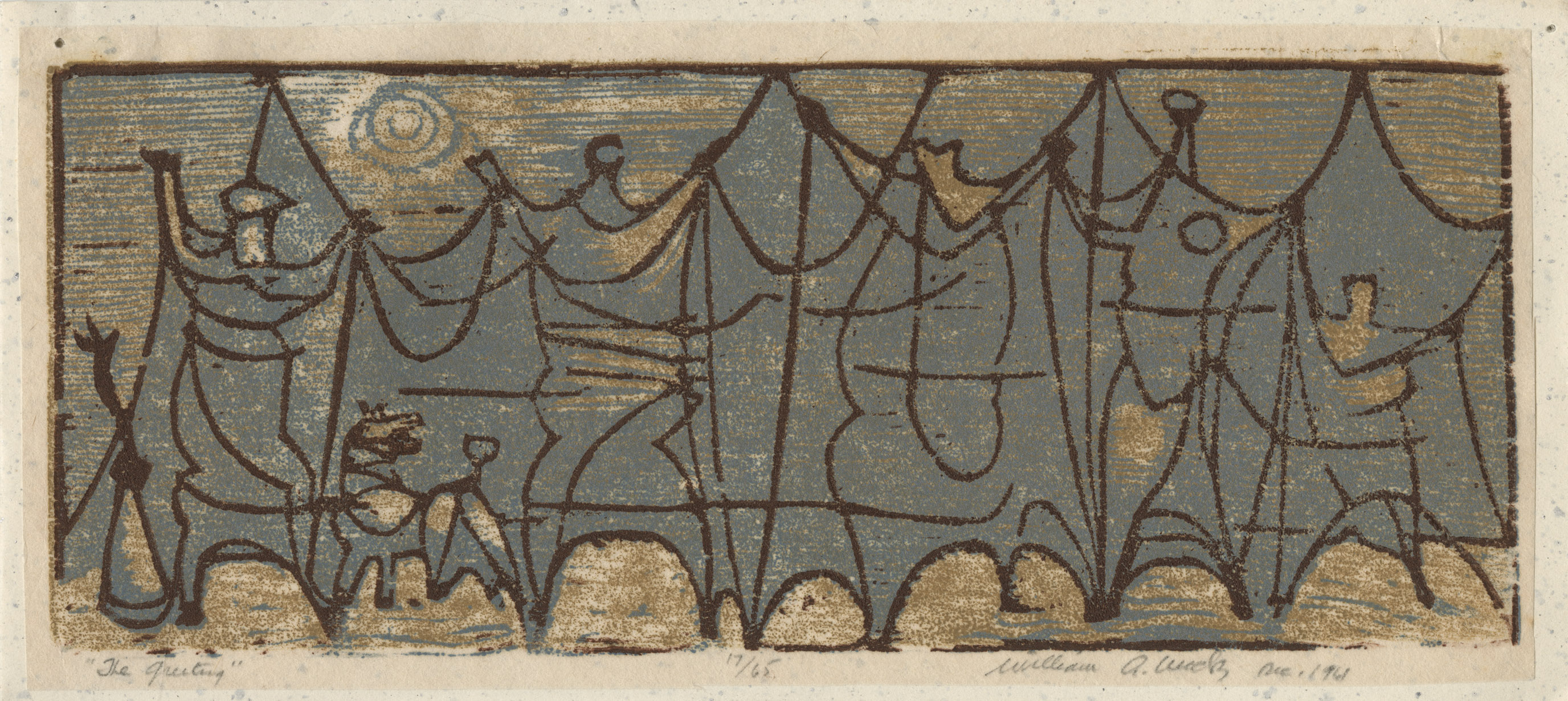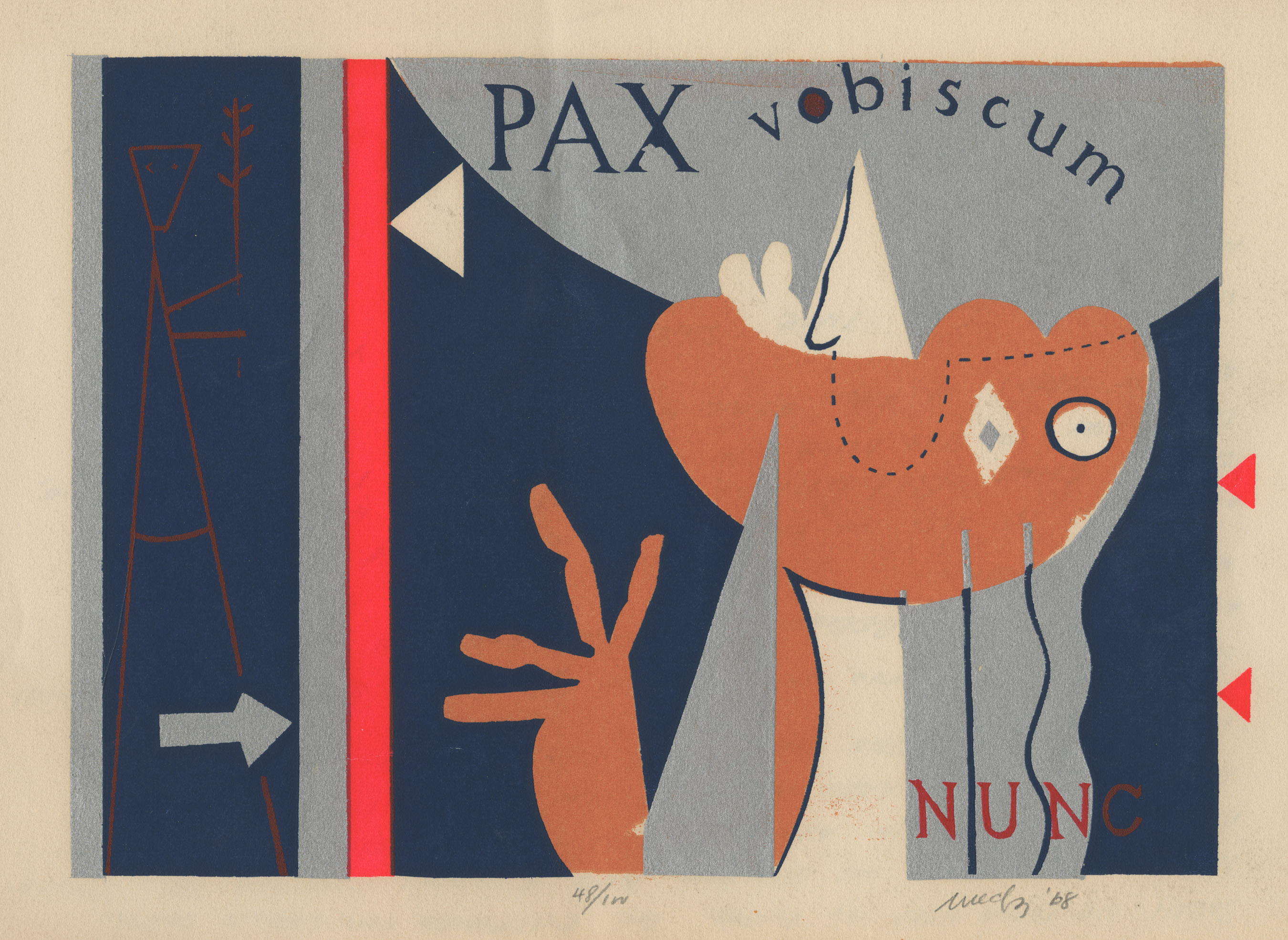 Painter and printmaker William Ashby Bill McCloy (1913-2000) and his wife Patricia (Patty) also remembered the Elarths at the end of each year. The couple incorporated Bill McCloys work into limited-print cards, including those above: an untitled, undated print; The Greeting, (#17 of 65 limited prints), 1961; and an untitled 1958 print (#48 of 100 printed). ("Pax vobiscum nunc" translates from the Latin as "peace to you, now.")
Canadian painter Takao Tak Tanabe (1926- ) was also likely an acquaintance of the Elarths from their time in Manitoba, Tanabe having been a student at the Winnipeg School of Art from 1946 to 1949. Tanabe sent the Elarths a number of beautiful cards through the years. Though he later became known for his paintings of British Columbia landscapes, the work displayed in his cards from the 1950s is much more abstract.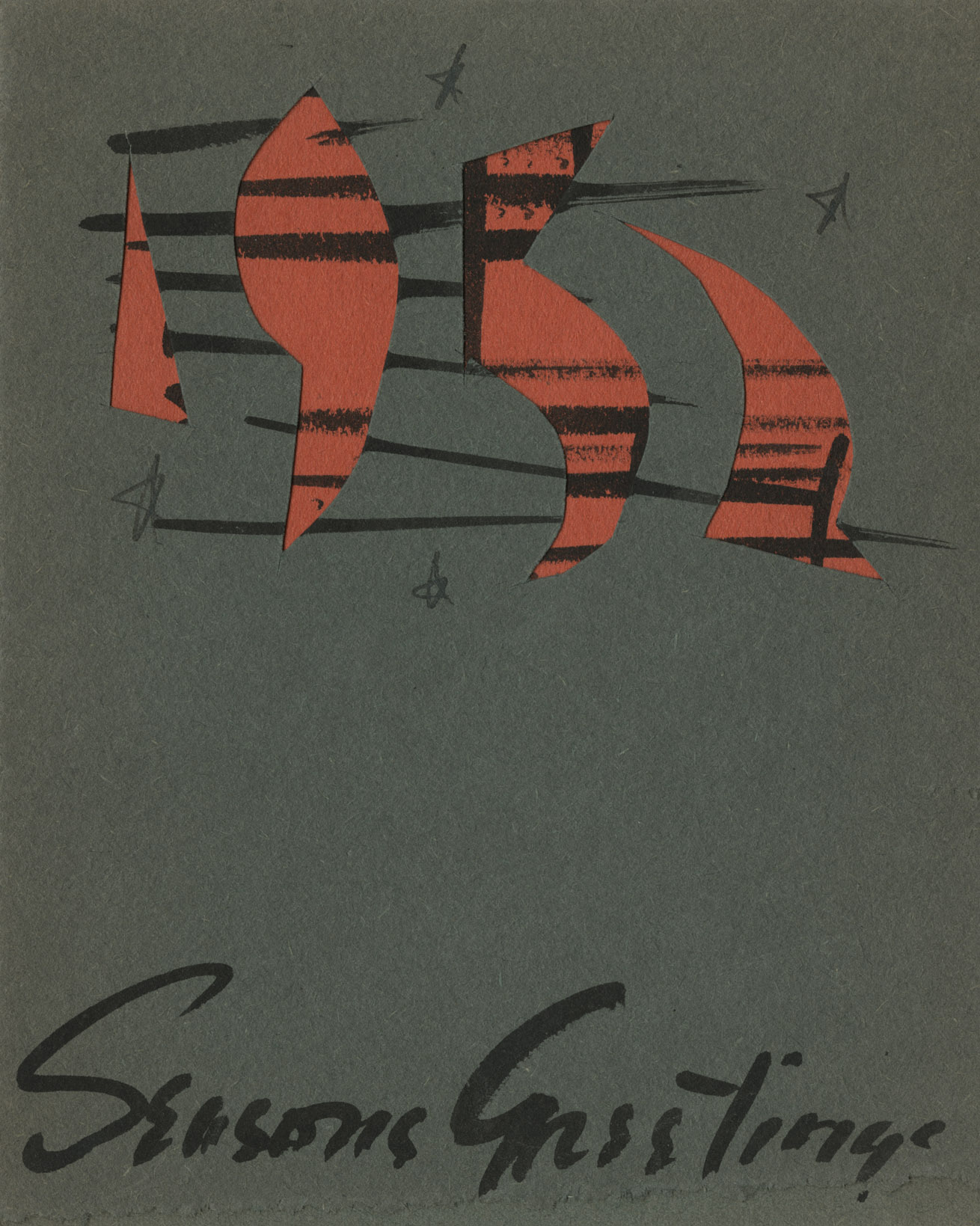 Takao Tanabes 1951 card opens to reveal an abstract rendition of New York City skyscrapers. At the time, Tanabe was studying at the Brooklyn Museum School of Art.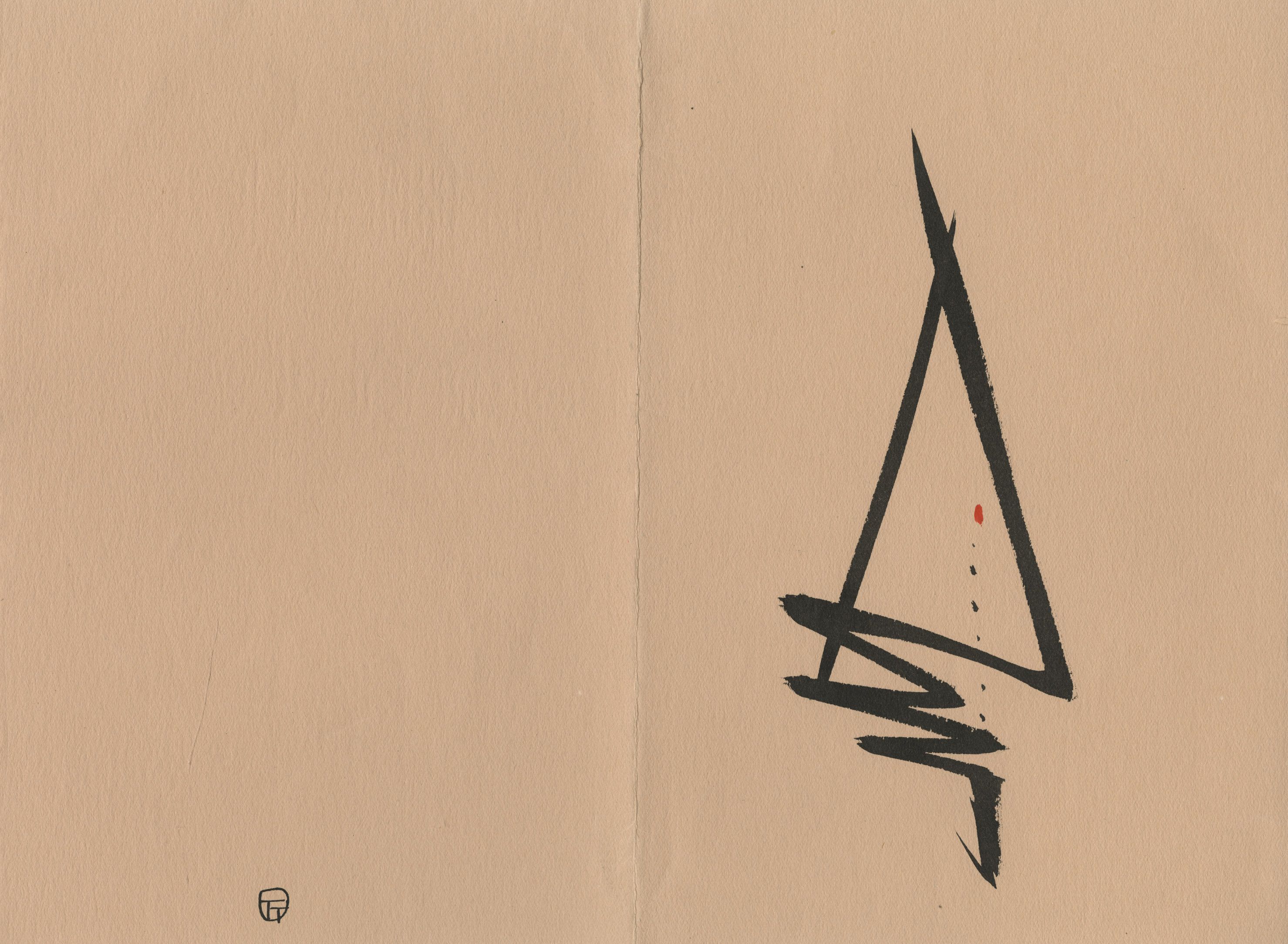 An abstract Christmas tree is featured in this undated card from Tanabe.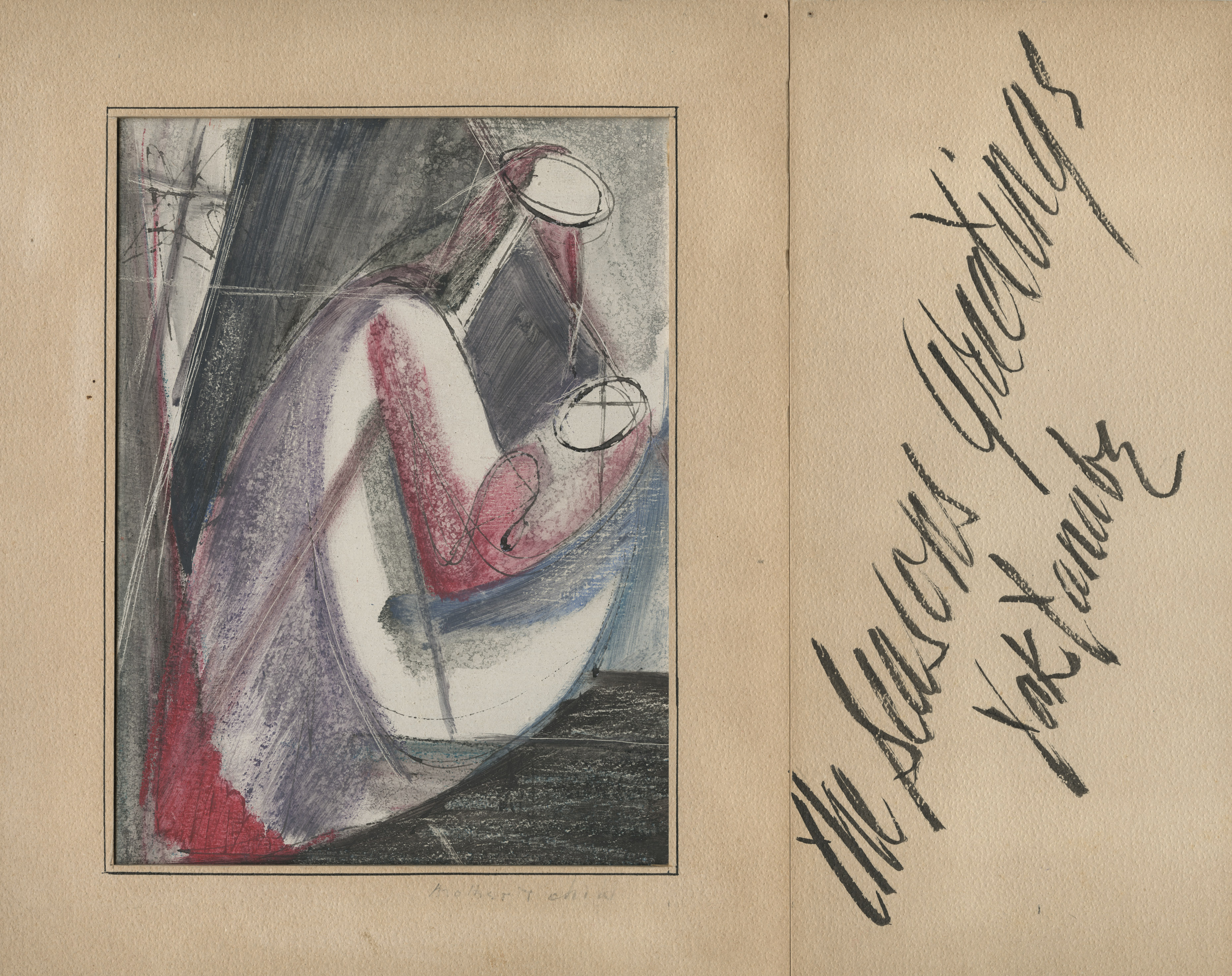 This undated card from Tanabe included an original work entitled "Mother and Child" on a canvas panel.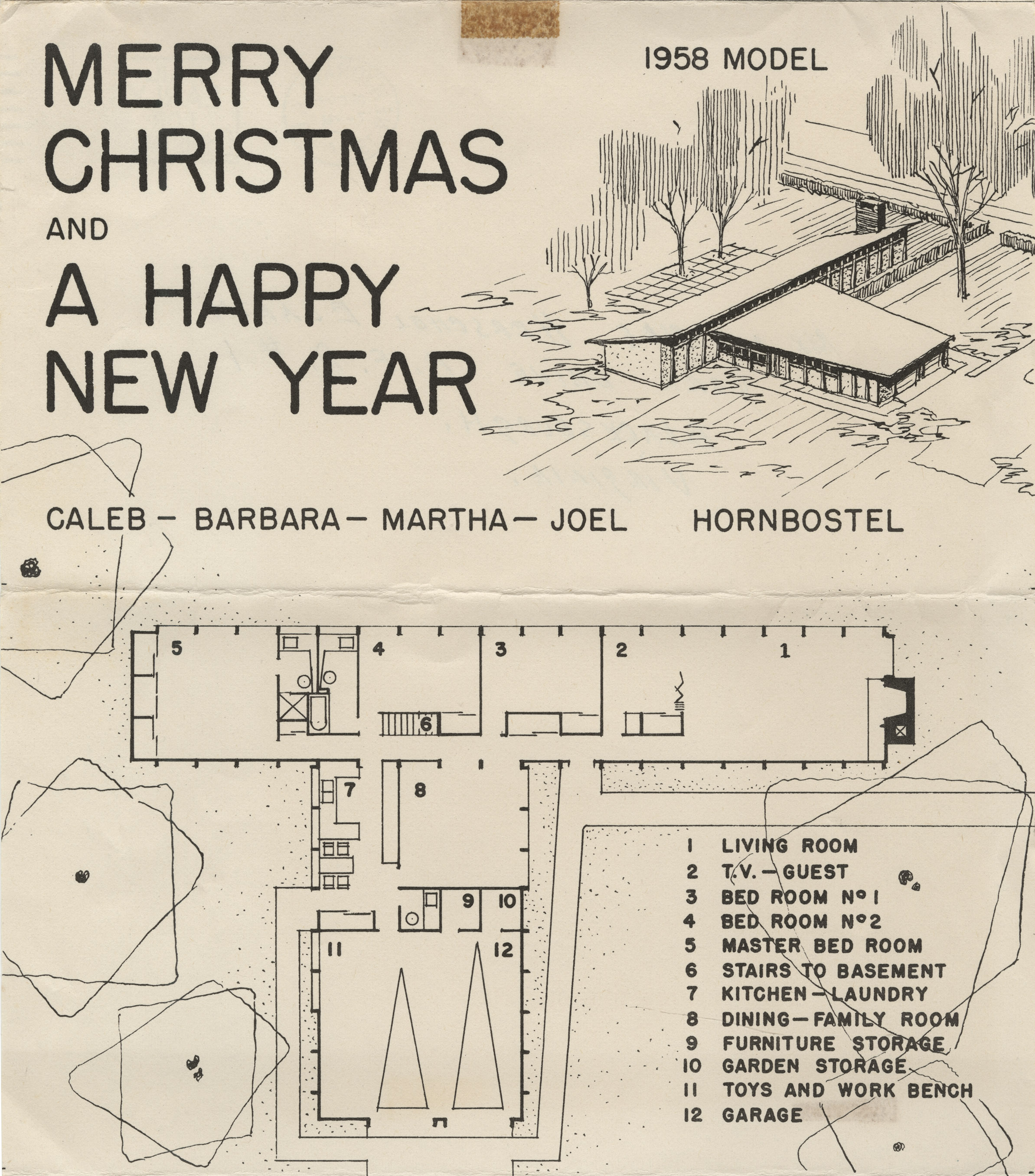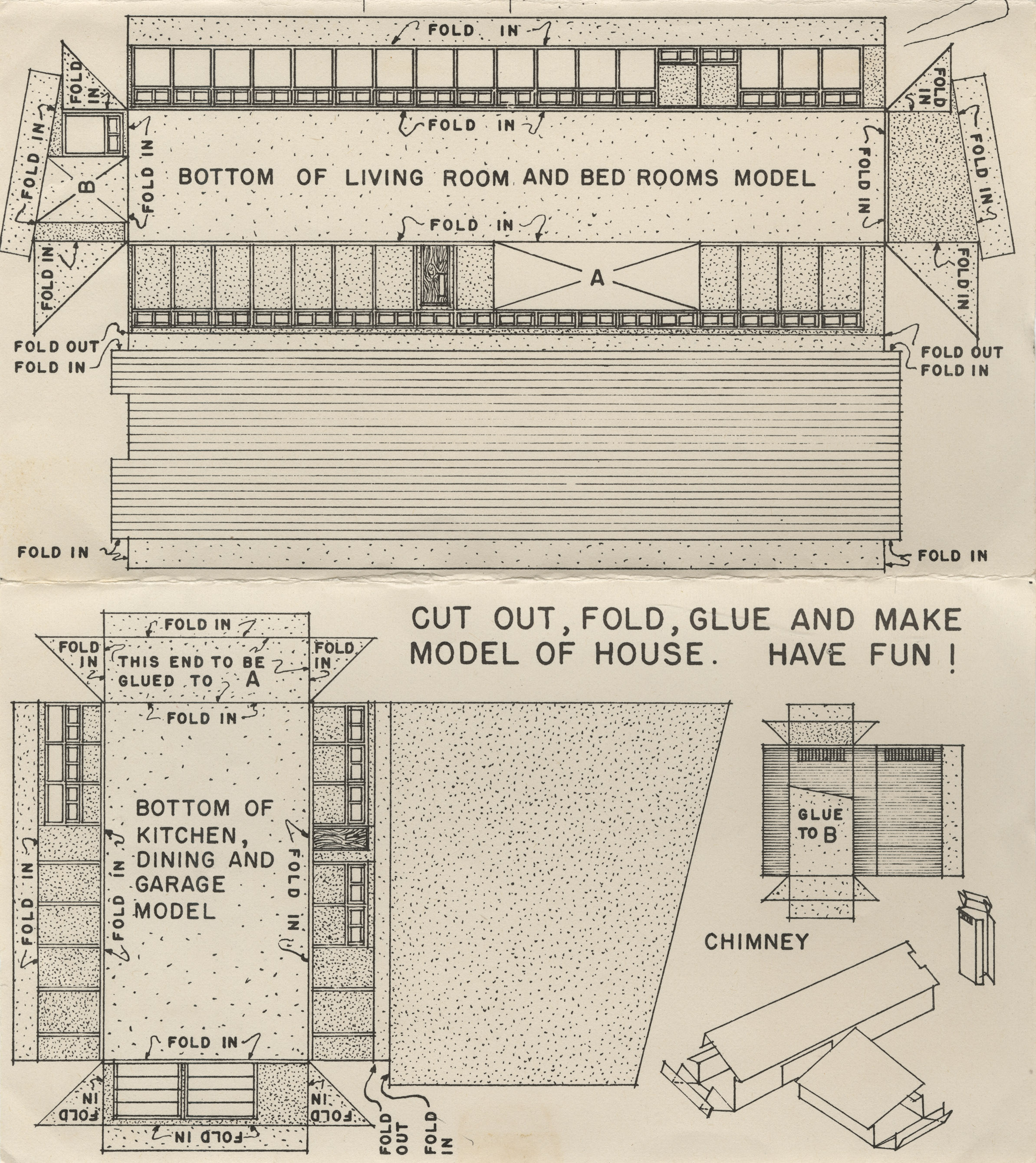 One of the most unusual cards received by the Elarths is this selection from architect Caleb Hornbostel and family. In it, the architect plays with the card form by using it to provide recipients with instructions on building a model of a home he had designed.
Both Elarth collections contain much more than greeting cards. The Herschel Gustave Anderson Elarth Papers contain his artwork, materials relating to his teaching career, several of his more significant architectural projects, and his experiences in the 826th Engineer Aviation Battalion during World War II. You can view the collections finding aid here. The Wilhelmina van Ingen Elarth Papers, meanwhile, contain her extensive diaries (including those maintained while traveling in Europe), a substantial postcard collection, artwork of her father and grandfather, and a few pieces of ancient Aegean and pre-Columbian artifacts. More information may be found here, in the collections finding aid.