The last post to this blog about the William J. Heron Speculative Fiction Collection was in October 2013. As a fan of science fiction, I think thats too long to go without exploring the treasure trove of early science fiction contained in the collection. The Heron Collection includes thousands of classic science fiction magazine issues from many of the best known pulp titles. While perusing the collection, I discovered Nebula Science Fiction[PN6120.95.S33 N42], the first Scottish science fiction magazine (and, as far as I can tell, the only Scottish science fiction magazine until Spectrum SF started its short life in 2000). Nebula originally caught my eye because of its title. I thought it might be associated with the Nebula Awards but thats not the case. I was pleasantly surprised, however, to discover that an author Im currently reading, Robert Silverberg, had his first story published in Nebula: Gorgon Planet was published in issue #7 in February 1954.
Nebula Science Fiction published a total of 41 issues from Autumn 1952 to August 1959. The magazine was published by Crownpoint Publications in Glasgow, Scotland and was subsidized by its editor, Peter Hamilton. It was published in the later part of the pulp magazine era which spanned from approximately the 1890s through the early 1960s. Pulp magazines gained their name from the quality of paper used to publish them. They were printed on paper made from wood-pulp which turns yellow and brittle more quickly than other types of paper. The magazines were not intended to last and collections like the Heron Collection are special partly because they preserve the history of early fiction magazines printed in this way. In Britain, Nebula was an important publication in the genre along with New Worlds and Science Fantasy. Itincluded work from many authors who are well known today, including Robert Silverberg, John Brunner, A. Bertram Chandler, and Robert A. Heinlein.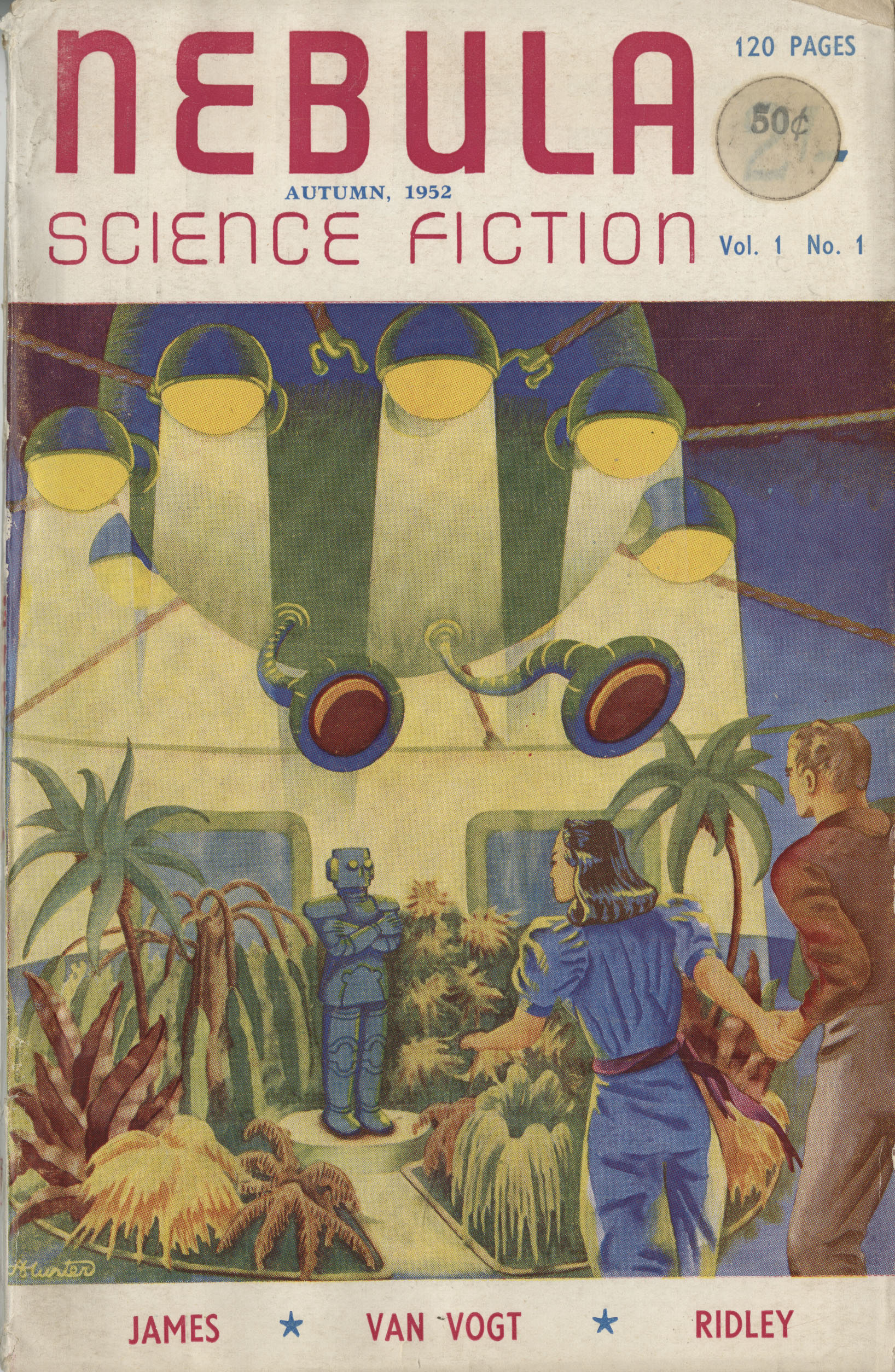 Robert Silverberg contributed 7 stories to Nebula beginning in 1954. Silverberg has won multiple Hugo, Nebula, and Locus awards, is a member of the Science Fiction and Fantasy Hall of Fame, and was presented with the Damon Knight Memorial Grand Master Award in 2004. His first published work, Gorgon Planet, appeared in Nebula Science Fiction #7 in February 1954. Other stories of his inNebula include: "Always" (March 1956), "Solitary" (March 1958), "Godling Go Home" (April 1958), "The Fires Die Down" (June 1958), "Strong Waters" (January 1959), and "The World He Left Behind" (February 1959).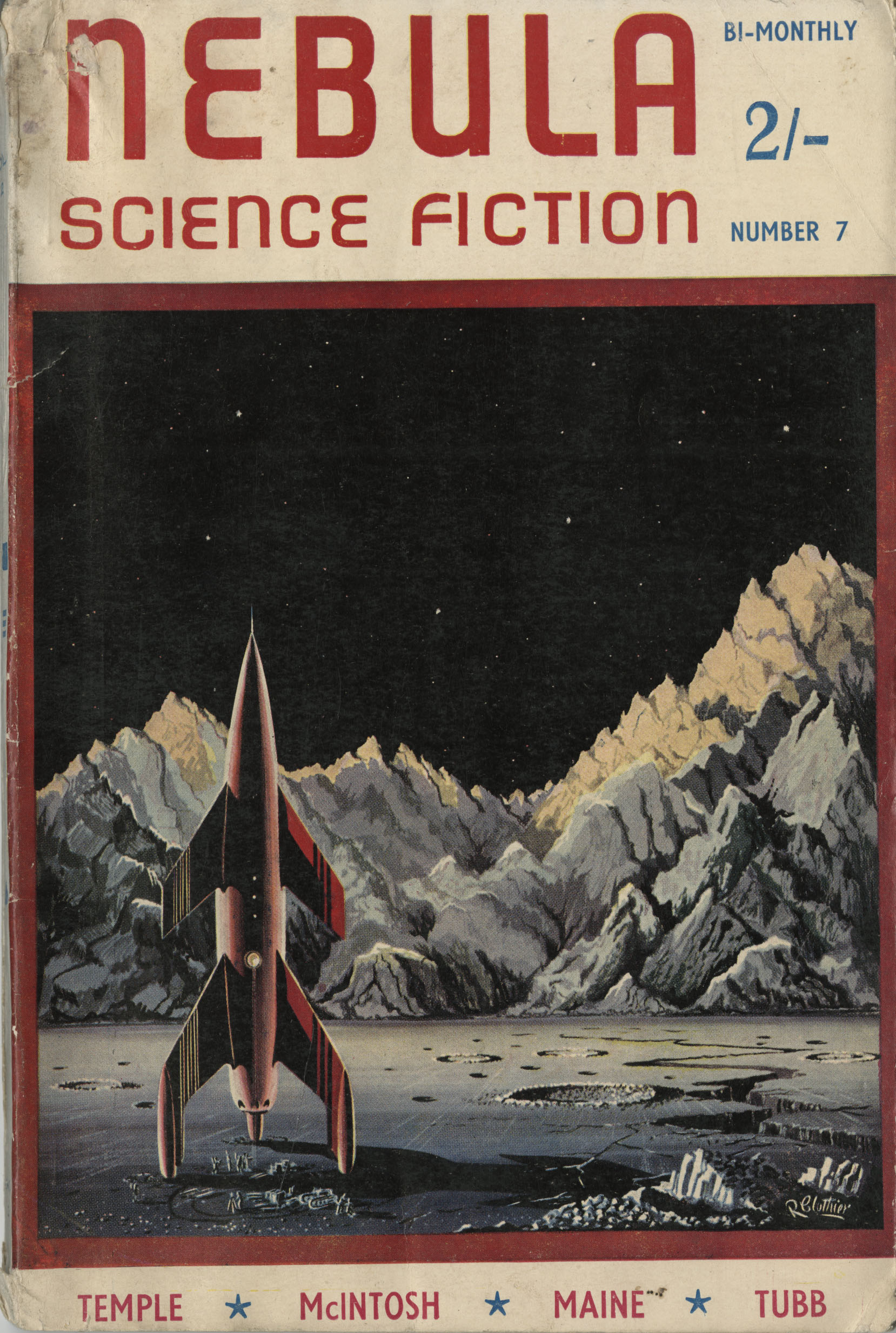 John Brunner had 6 stories in Nebula beginning in Spring 1953. Brunner also has won Hugo, Nebula, and Locus awards. His best known works include Stand on Zanzibar, and The Sheep Look Up. His stories began appearing in Nebula with Brain Power in issue #2.His otherNebula stories are: "By the Name of Man" (July 1956), "Hope Deferred" (November 1956), "The Number of My Days" (December 1956), "Treason" (May 1957), and "The Hired Help" (February 1958).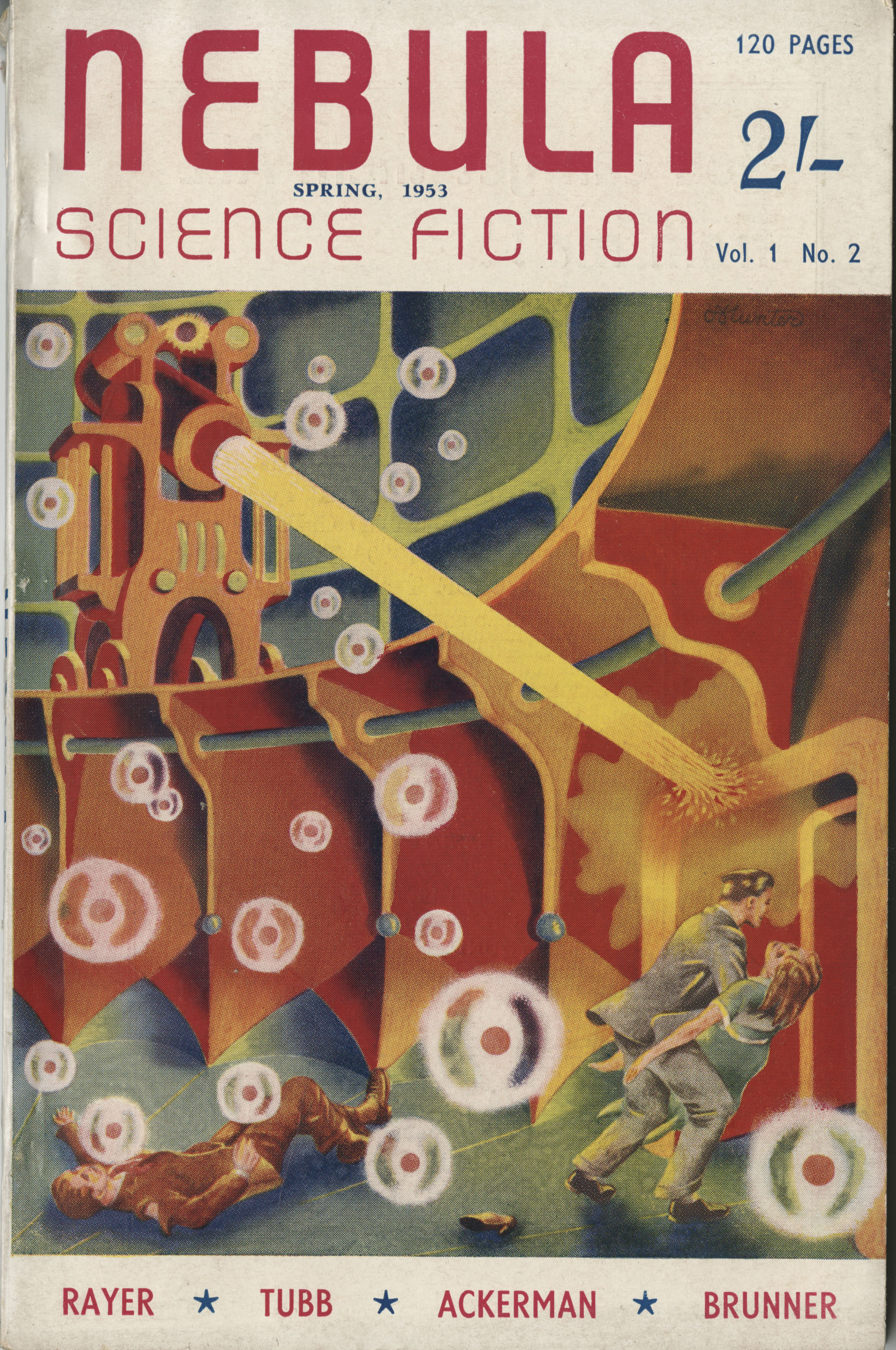 A. Bertram Chandler was published 5 times in Nebula starting with The Window in issue #22 in July 1957. Chandler was the recipient of four Ditmar Awards from the Australian Science Fiction Foundation. In 1992, the Australian Science Fiction Foundation established the Chandler Awards, a juried award for Outstanding Achievement in Australian Science Fiction, in his honor. His four other works in Nebula are: "The Successors" (August 1957), "Artifact" (September 1957), "Motivation" (April 1958), and "Words and Music" (July 1958).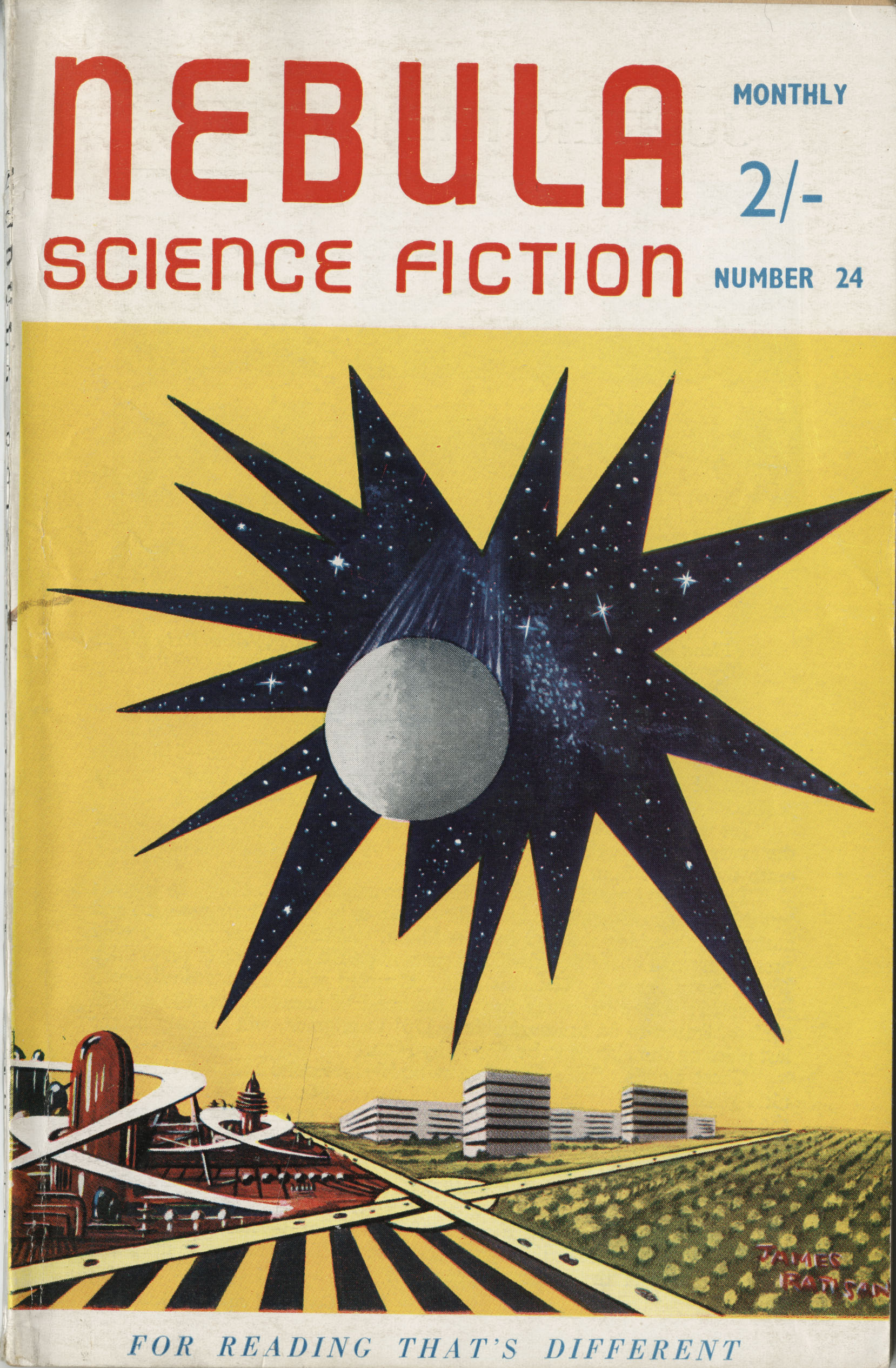 Robert A. Heinlein stories appeared in Nebula 3 times starting with Ordeal in Space in issue #9 in August 1954. Heinlein is a winner of the Locus award, multiple Hugo and Prometheus Hall of Fame awards, and was presented with the Damon Knight Memorial Grand Master Award in 1975. He quoined the terms grok, waldo, and speculative fiction and popularized terms such as TANSTAAFL (there aint no such thing as a free lunch), pay it forward and space marine. In 2003, The Robert A. Heinlein Award was established to honor outstanding published works in science fiction and technical writings to inspire the human exploration of space. It is administered by the Baltimore Science Fiction Society. Heinlein's other two stories in Nebula are: "Rebellion on the Moon" (April 1955) and "Green Hills of Earth" (January 1956).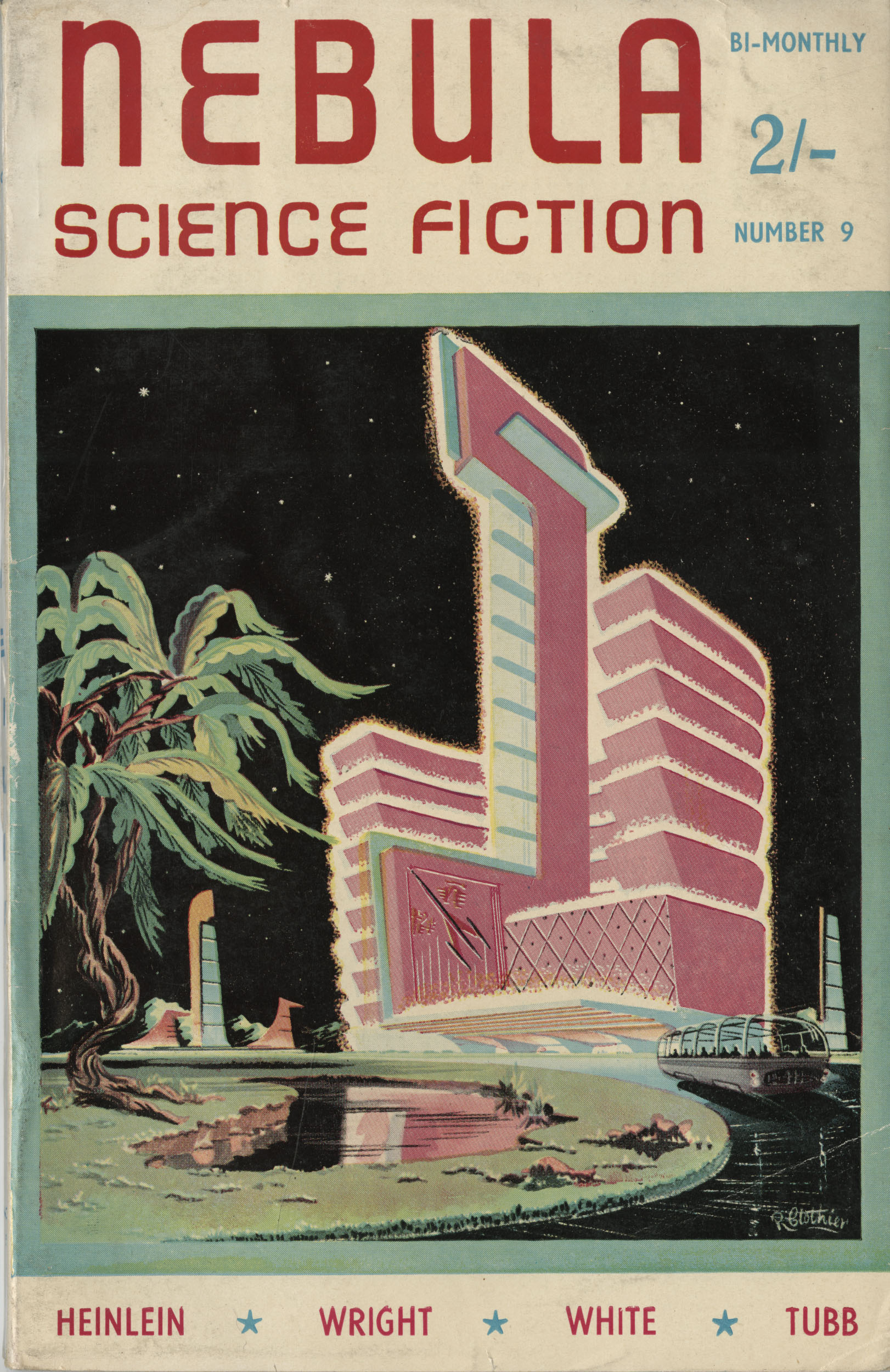 TheWilliam J. Heron Speculative Fiction Collection includes 37 of the 41 published issues of Nebula Science Fiction[PN6120.95.S33 N42], including most of the issues containing the works of Silverberg, Brunner, Chandler, and Heinlein. It also includes 85 issues of New Worlds[PR1309.S3 N49] and 78 issues of Science Fantasy[PR1309.S3 S45].Allare available to view in the public reading room at Newman Library.