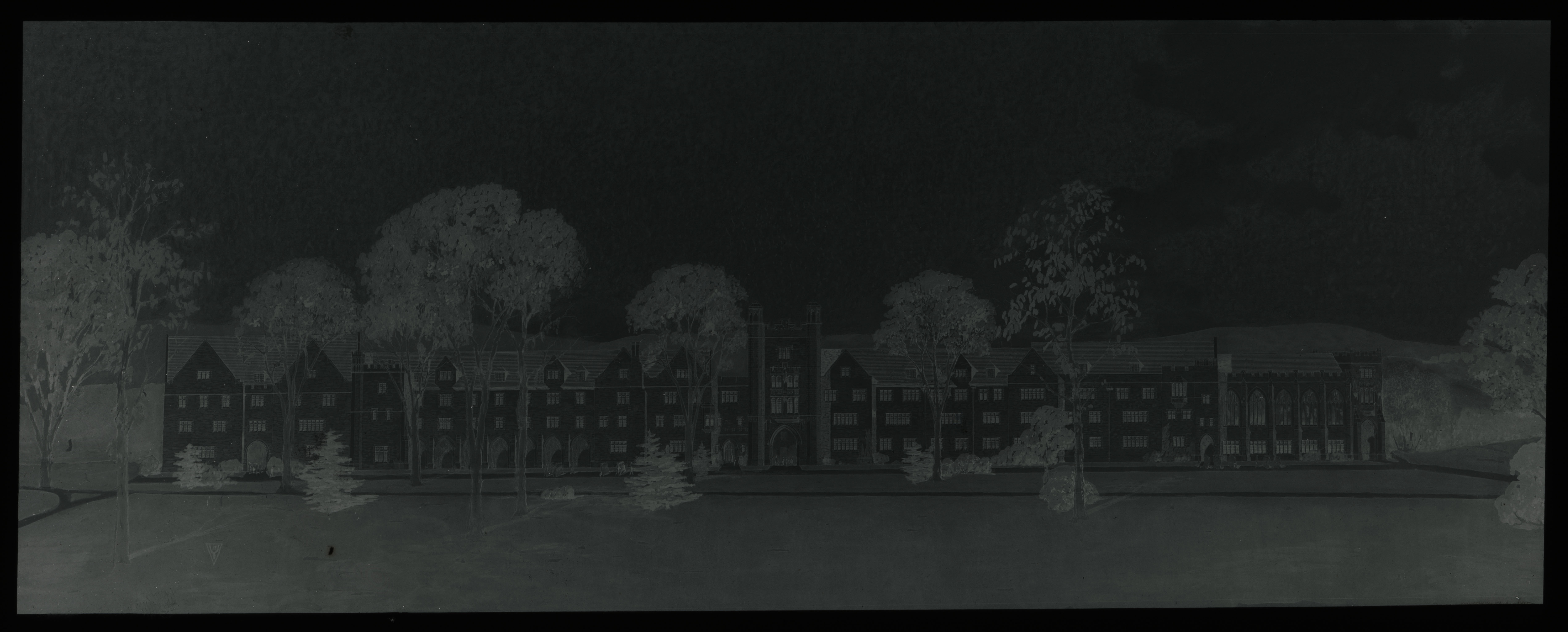 An important bit of Virginia Tech history came through our doors recently in a unique form- a collection of 8 x 10 glass plate negatives of architectural drawings and artist renderings that were made by the architectural firm Carneal and Johnston. These designs were made for several campus buildings in the 1910s, including the original McBryde Hall and the original library building. In addition to the campus buildings that were built, some of the glass plates depict drawings for proposed buildings, including an alumni hall and new dormitories for the Upper Quad- projects that wouldnt be taken up until nearly 100 years later, and, in the case of the Upper Quad, are actually being built as we speak.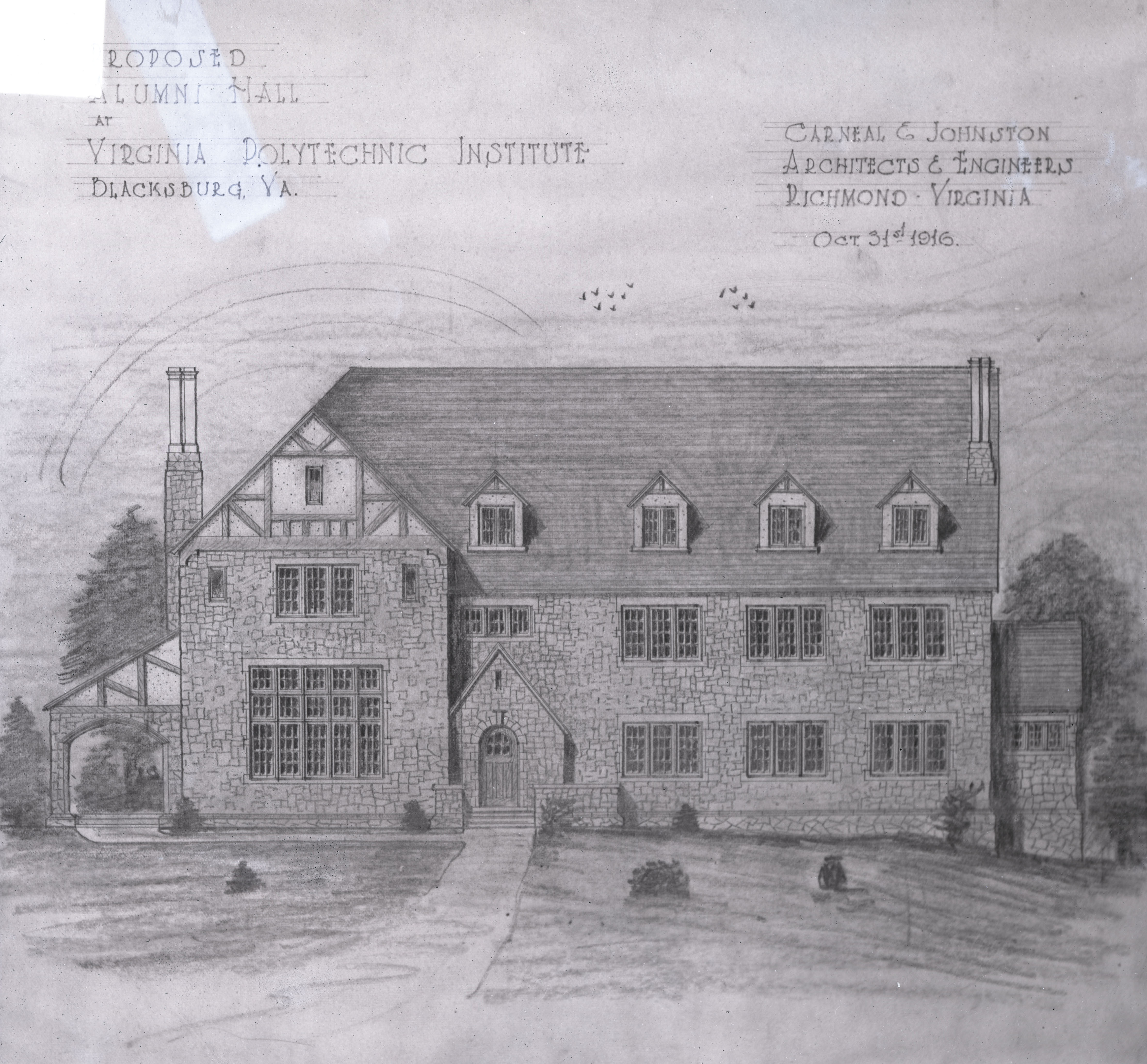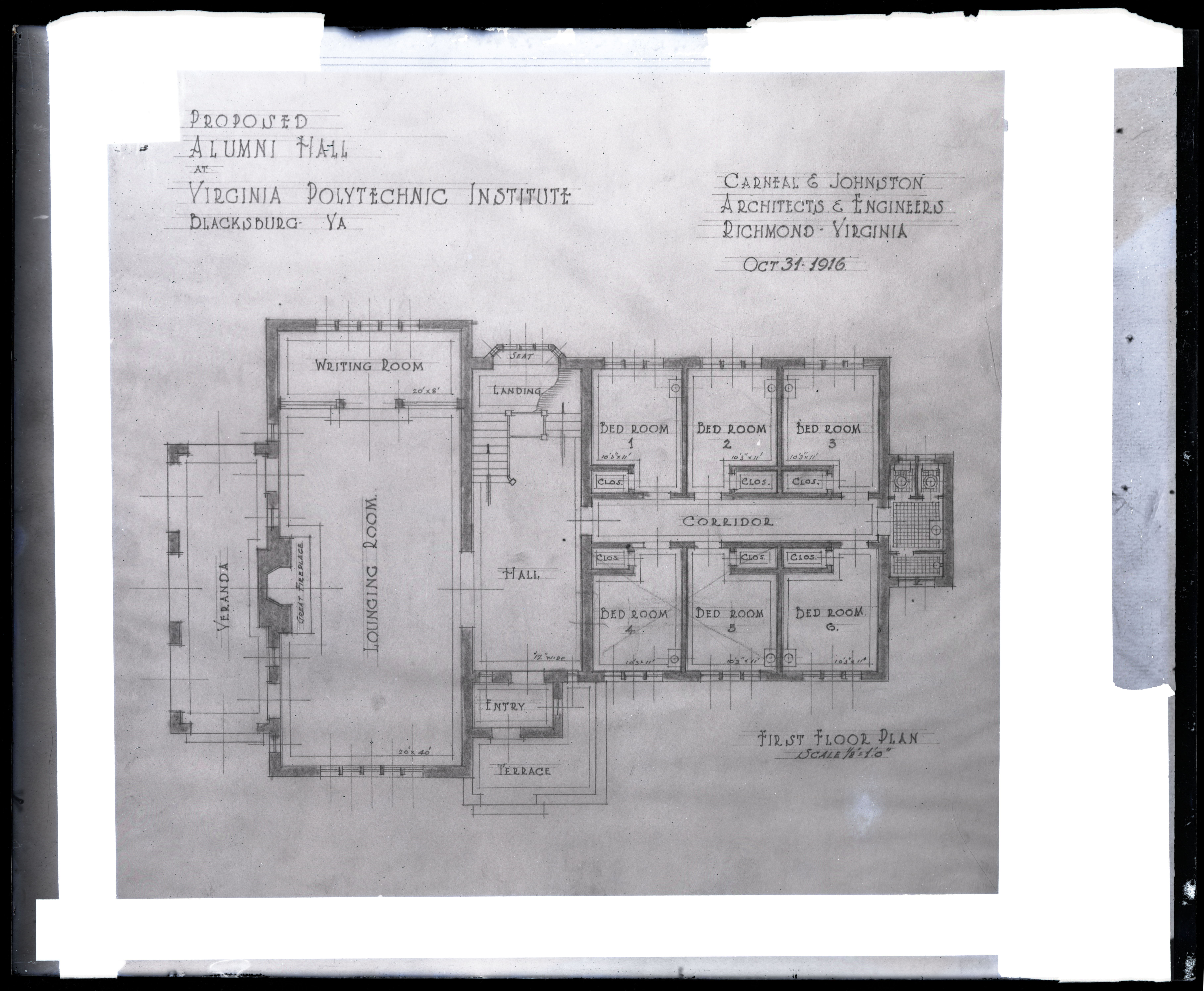 The glass plate negatives were made using the silver gelatin dry plate process- a direct forerunner of roll film- in which the glass plates were treated with emulsion and allowed to fully dry long in advance of actually exposing them in a camera. This technique, developed in the 1870s, was a huge improvement in convenience over the wet plate process, in which the emulsion on the plate had to be wet when it was exposed, meaning the photographer had to apply the emulsion right before taking the photograph, (and you can imagine how much of a hassle that might be if you were photographing out on location somewhere).
These particular dry plates were made as copy photographs of the original architectural drawings made by Carneal and Johnston as well as artist renderings made by Hughton Hawley for the architectural firm and probably served the purpose of what digital scans do today- to make high-quality renderings of the original image in another format that can be preserved as well as easily copied and shared. As relatively large and thin plates of glass, they are extremely fragile, yet amazingly, other than a few chips, most of the 23 glass plates have survived intact over the past 100 years.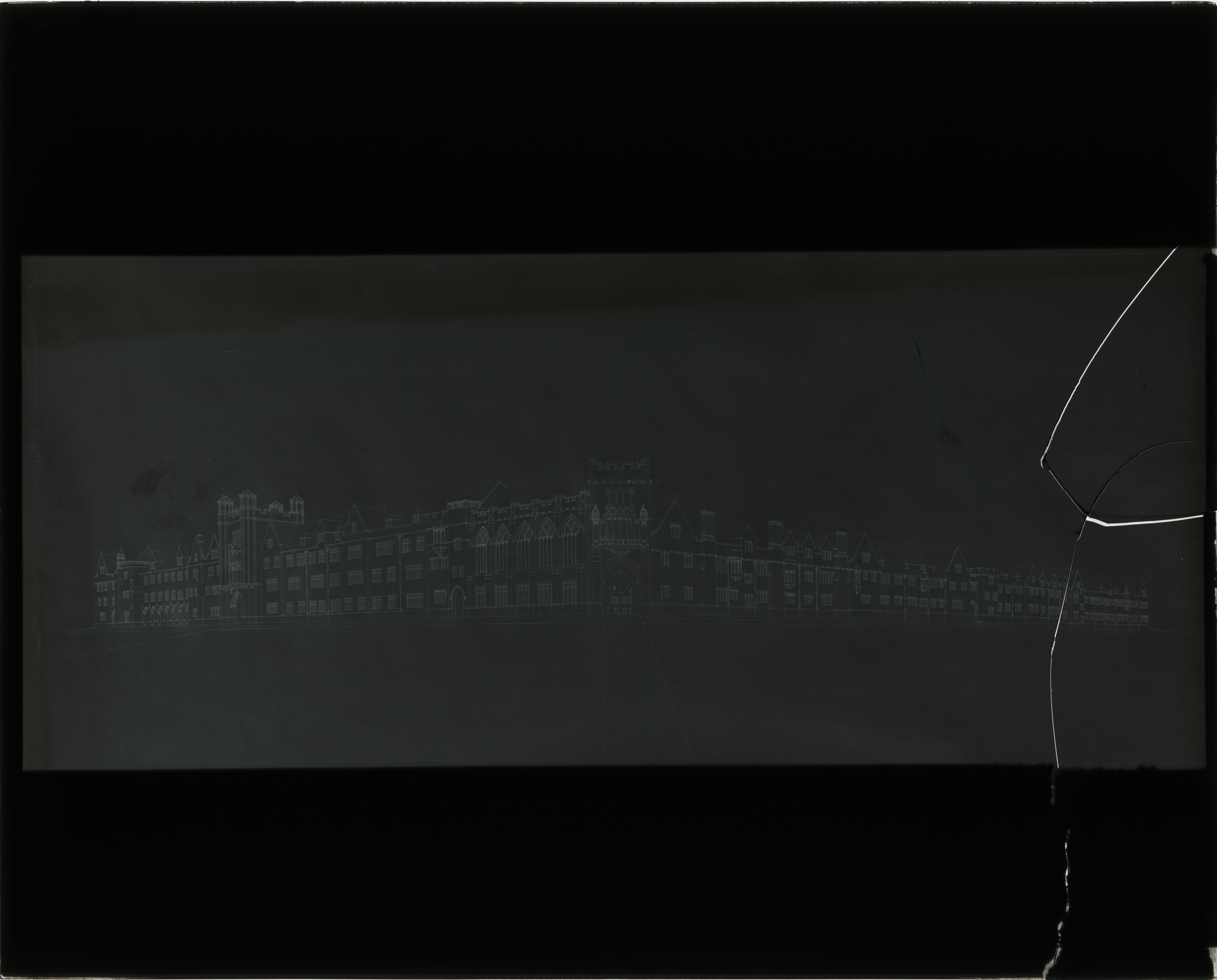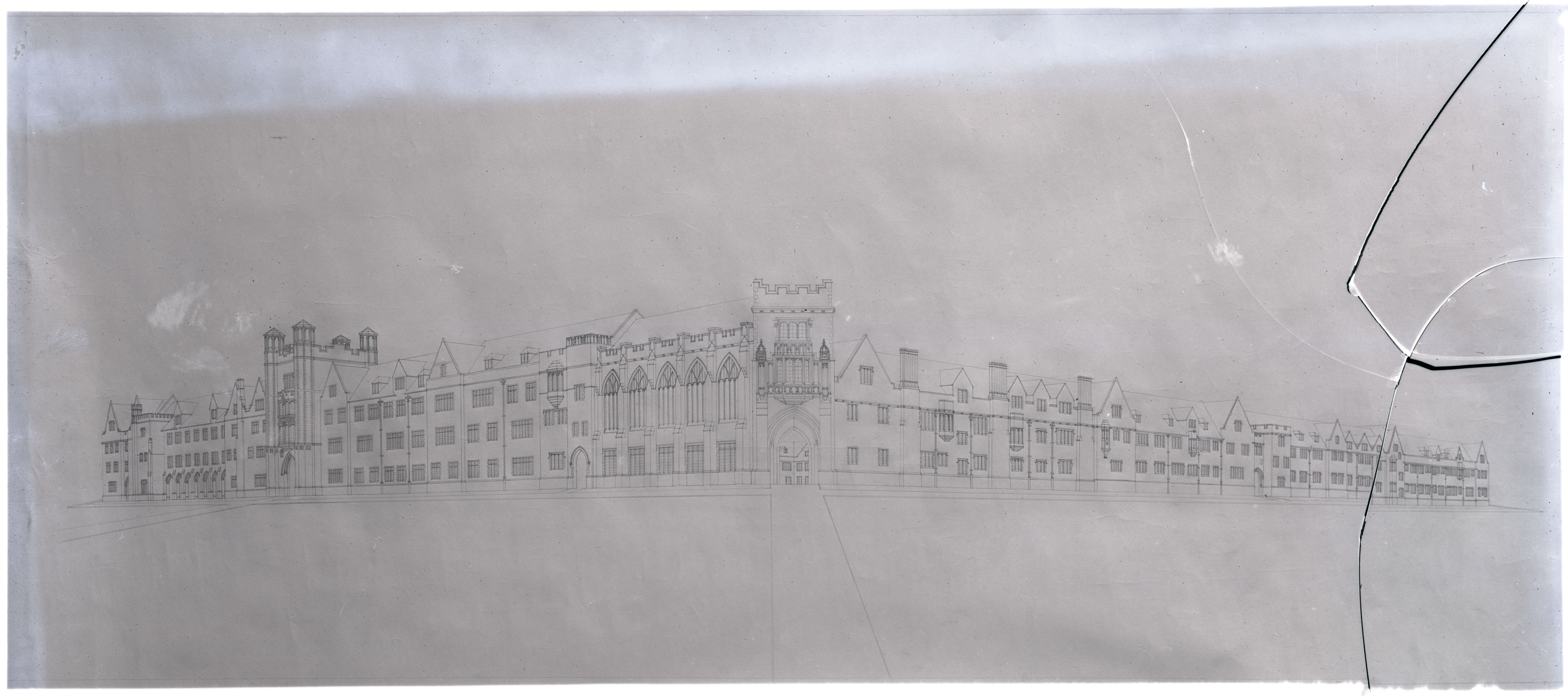 William Leigh Carneal, Jr., and James Markam Ambler Johnston (a VPI alumnus) began their firm around 1908 after spending a year working independently out of the same office space. The firm went on to become one of the most prolific and long-established architectural practices in Virginia, surviving after the original architects retired in 1950 up until 1999, when the firm merged with Ballou Justice & Upton, Architects, and ceased to use the name Carneal and Johnston. These designs from the mid 1910s were made very early in the firms career and possibly represent the very first of what would be many design projects for Virginia Tech (then known as VPI)s campus.
President Joseph Dupuy Eggleston Jr., whose term lasted from 1913 to 1919, likely had a hand in commissioning these early designs from the firm. President Eggleston saw architecture as a way for the struggling young college to build its own unique identity, and the Carneal and Johnstons design of the original McBryde Hall would set the standard for all campus buildings that were built over the following half century- a dramatic collegiate gothic style clad entirely in our signature grey hokie stone. The gothic hokie stone buildings gave the VPI campus a radically different look and feel from the red brick neoclassical style present at most of Virginias college campuses, and remains a unique and integral part of our identity even today.
This collection of glass plates negatives is currently being processed and will be available both online and in physical form soon!