Today's post is about a letter. In some ways, it's unique (it IS one of a kind, after all), and in some ways, it adds to the canon of Civil War correspondencewritten home. But this letter has a little something extra. It'sa letter from Isaac Cox to his wife, written June 29, 1862. At the time, Cox was a private with the (Confederate) 29th Regiment, Virginia Infantry. It was a regiment recruited largely from Southwest Virginia. Throughout their 3+ years, soldiers in this regiment fought mostly in Virginia, but also experienced fighting in Kentucky, Tennessee, and West Virginia. Cox's letter home is brief. It talks of the regiment's march to Princeton, West Virginia, and back, and also includes news of someone named Bill. Not all that different from many other letters written home during the war. But, that isn't quite what caught our attention. Certainly, the local connection is important (Cox lived in Saltville, Virginia, before and after the war). When you take a look at the letter, however, there's somethingsurprising.Cox decorated his letter, carefully cutting a design in the page…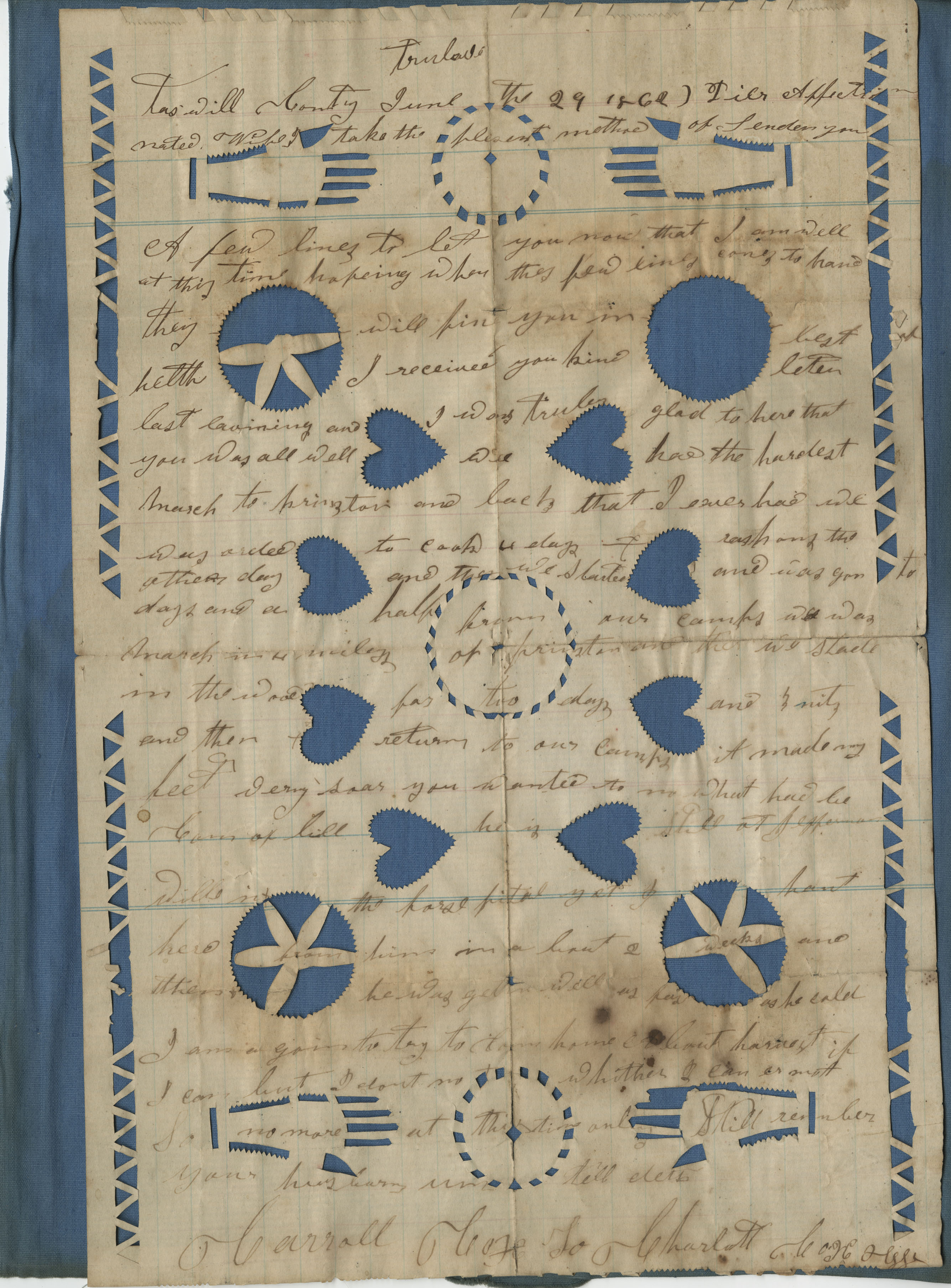 Sometimes, it's amazing that a 152 year old letter lasts this long at all. Some of the design here has been lost–you can see the tears at the tiny "finger" details and more than one spoke/petal is missing or loose. We've housed this item in a mylar sleeve to help prevent further damage.
If you're curious about the letter, here's a transcript:
Taswill [Tazewell] County June 29 1862 Dier Affectionated Wife I take the plesent [matter] of senden you a few lines to let you now that I am well at this time hopeing when this few lines come to hand they will find you in helth I received you kind best last eavining and I was truly glad to here that you was all well we had the hardest march to prinzton [Princeton] and back that I ever had we was orded to cook 4 days rashuns the other day and then we started and was gon to [two] days and a half from our camps we was march in 4 miles of prinzton and then we stade in the woods for two days and 3 nites and then return to our camps it made my feet very soar you wanted to no what had be come of bill he is still at Jeffer? [Jefferson?] Mills in the horsepital yet & hant herd from him in a bout 2 weeks and then he was getin well as he cald I am a goin to try to come home a bout harvest if I can but I dont now whither I can or not So no more at this time only Still rember your husband un till deth

Carroll Co to Charlott Cox
Isaac and Charlotte had five children, two of whom were born during the war, so he clearly managed a visit at some point! Charlotte died in 1911; Isaac in 1925.
If you'd like more information on the letter or on Isaac Cox, you can view the full finding aid here. Or, you can pay us a visit to see this amazing letter in person!