It's said that in archaeology, context is everything. The physical relationship of found items allows researchers to accurately identify the time and place of their origin, thus providing a more comprehensive picture of the past, one that goes beyond a mere description of the item at hand. Much the same can be said about archival records. If context isn't everything when looking at a particular document, it's certainly a big chunk of everything. Let's consider the Marion Eaton Woodruff Diary (Ms1988-118), which until recently had lingered in a state of anonymous semi-obscurity for several decades. The diary provides a good example of how just a little detective work can immeasurably increase the research value of an item.
The Woodruff Diary was purchased by Special Collections and University Archives in 1988. The rare book dealer who sold the small, thick volume had assigned the diary a short, workaday title ("Diary, 1924-27") and provided the briefest of descriptions, noting that the item "[i]ncludes entries in 1924 about [a] trip to France and Italy (year long trip)" and concluding that the diary had been kept "by an American woman?, possibly from Boston." Upon its accession by Special Collections and University Archives, the diary came to be known simply as "The Travel Diary."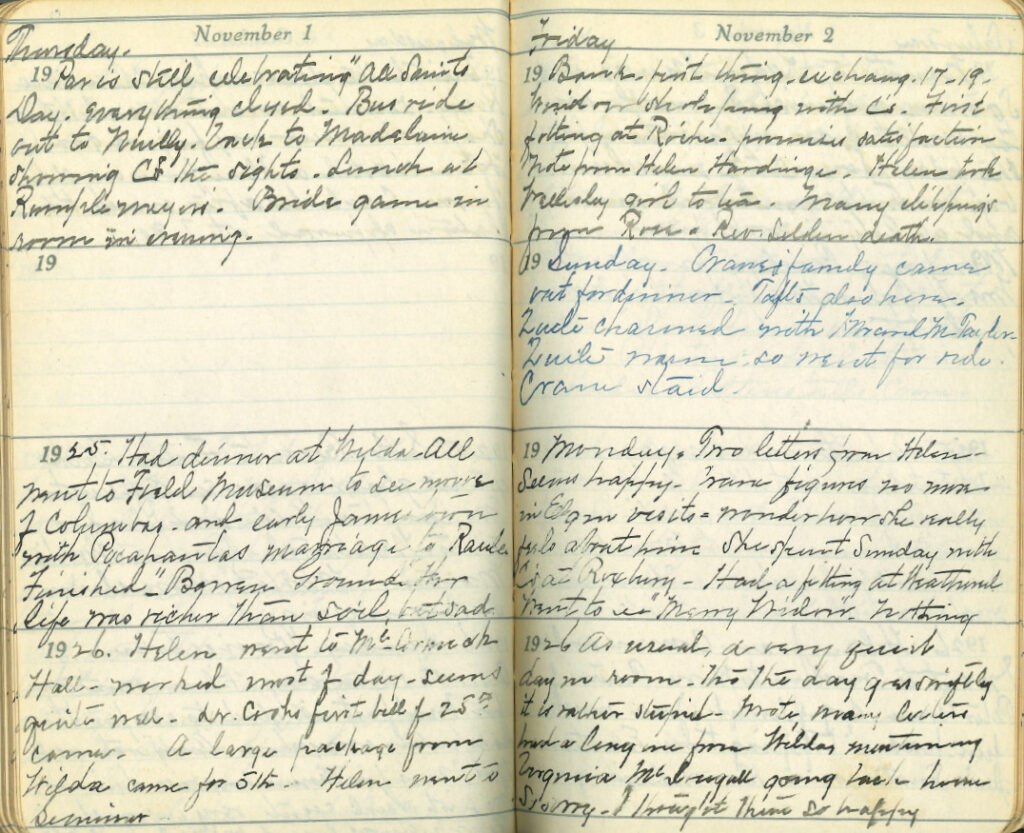 When the author of a diary isn't explicitly identified, the contents can sometimes provide clues that will eventually yield the writer's name and offer us that all-important context. Any place names or personal names—the more unusual, the better—mentioned within a diary's entries are potential clues to the writer's identity. The volume at hand, bearing the title "A Diary of Days" and manufactured by Jordan & Company of Chicago, provides its owner with a format designed for four years' worth of entries. Because the years aren't pre-printed on the pages, and because the diary entries were often recorded out of chronological order, it can be difficult to follow the sequence of events, but the diary seems to commence with September 5, 1923, with the writer having just left Elgin for Chicago, bound for New York. The writer also mentions Wilda. So, right away, we have two clues: the writer likely lived in Elgin and is acquainted with somebody named Wilda. With a Google search revealing that there are 22 communities named Elgin in the United States and with no surname provided for Wilda, the clues may seem of little value, but still we can file them away for future reference.
Through the next year, the diary's entries detail the experiences of the unknown writer during a lengthy tour of Europe, with long stays in France, Italy, and Switzerland, before a return to Elgin the following August. During the European tour, the writer names restaurants, shows, and historical sites visited. Returning home, the writer describes a busy life of social engagements and entertainments (e.g., attending the play Boris Gudunov and seeing a vaudeville performance by Sophie Tucker). In all, the diary chronicles the social life of an unidentified upper-middle class woman living a century ago. As interesting as this may be, the contents would be so much more valuable if associated with a specific name.
The diarist makes frequent mention of "Helen" while traveling in Europe and elsewhere. In 1925, the two traveled eastward so that Helen could lecture at Wellesley College. And it's here that the identity of the writer finally comes to light. Fortunately for us, the Wellesley College News has been digitized and is available in the Wellesley College Digital Repository . An online search on the name "Helen" within the newspaper's contents isn't likely to reveal much—or, more correctly, is likely to reveal too much, with too many extraneous, irrelevant hits—so we search on "Elgin," expecting that if a visiting scholar were delivering a set of lectures on campus, her place of residence may be mentioned in any articles about her. And so it is: in the October 1, 1925 issue of The Wellesley News, under the title "Art Department Note," we learn that Helen Woodruff of Elgin, Illinois, had been hired as a substitute instructor in the college's art department. With that little piece of information, everything else begins to fall into place. Through quick searches of census and other vital records, we learn that Helen was the daughter of Marion Eaton Woodruff (1899-1939), widow of successful iron foundry owner Charles H. Woodruff. By now checking known information about Marion Eaton Woodruff against clues found elsewhere in the diary, we can establish beyond doubt that Marion Woodruff was the diary's author.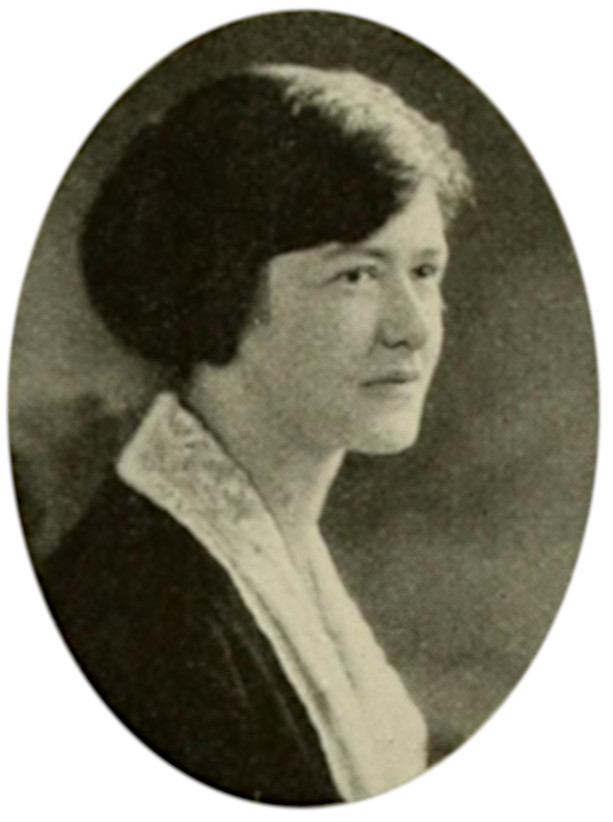 Helen (1899-1980), the Woodruffs' youngest daughter, graduated from Wellesley College in 1922. Upon obtaining her master's degree from Radcliffe College the following year, Woodruff (accompanied by her mother) departed for a yearlong study in Europe, through a fellowship in medieval and renaissance archaeology awarded by the Archaeological Institute of America (AIA). Returning to Elgin in 1924, she worked as an instructor at the local junior college and as curator of the Sears Museum. (Entries in the diary reveal that during this time, Woodruff was briefly married to Daniel Crane Taylor, a 1919 graduate of the University of Chicago who later became an English professor and published works on William Congreve and John Stoddard. The marriage isn't documented in any published sources.)
After teaching at Wellesley for a year, Helen Woodruff returned to Radcliffe, where she obtained her doctoral degree in 1928. By 1930, Woodruff was employed by Princeton University as an archaeologist. That same year, her dissertation was published as a monograph by Harvard University under the title The Illustrated Manuscripts of Prudentius. In 1933, Woodruf became director of Princeton's Index of Christian Art, and in 1942, she published the Index of Christian Art at Princeton University: a Handbook. The standards that Woodruff established in the handbook are said to have revolutionized the process of iconographic classification and to have guided the format of the indexing project for decades to come. That same year, Woodruff took a leave of absence to join the U. S. Navy WAVES [Women Accepted for Volunteer Emergency Service], eventually rising to the rank of lieutenant commander. She was discharged from the WAVES in 1945. Woodruff seems to have retired early: the 1950 federal census shows her still living in Princeton, and—despite being without a recorded occupation—being of sufficient means to afford an older, live-in housekeeper. Mentions of her in Princeton University's newspaper indicate that, following retirement, she busied herself with club work and other civic activities. Helen Marion Woodruff died in New York in 1980. Apart from her professional accomplishments, a bequest secures her legacy through funding of the Helen M. Woodruff Fellowship of the AIA and the American Academy in Rome.
Though it was written by Marion Woodruff and chronicles the life of an upper-middle class woman in the Midwest and her travels abroad, the frequent mentions of Helen Woodruff provide insights into the life of a professional woman and her work in higher education, art history, and archaeology during the early 20th century. And that's something worth a little digging.