With the growth of a literate middle class and the greater availability and affordability of paper and printing, childrens literature came into its own in the mid-19th century, and here in Special Collections and University Archives, we hold many of examples of colorful, richly illustrated childrens literature from the late 19th / early 20th century.
Included within our holdings are at least two movable books, publications that enhanced young childrens reading experiences by allowing them, though the use of pull tabs, flaps, and other gimmicks, to simulate action. Among our holdings are at least two examples of movable books: a reprint of Ernest Nisters Revolving Pictures (1892) and a 1979 reprint of The Dolls House by Lothar Meggendorfer, considered the father of the pop-up book, a form that continues to be very popular today.
Though his books didnt rely on movable parts, Peter Newell (1862-1924) was an innovator in creating novelties that appealed to young readers. The rare book collection includes two unusual books published by Newell. In both The Shadow Show and The Hole Book, as well as his other works, Newell manipulated the book form to help tell his stories.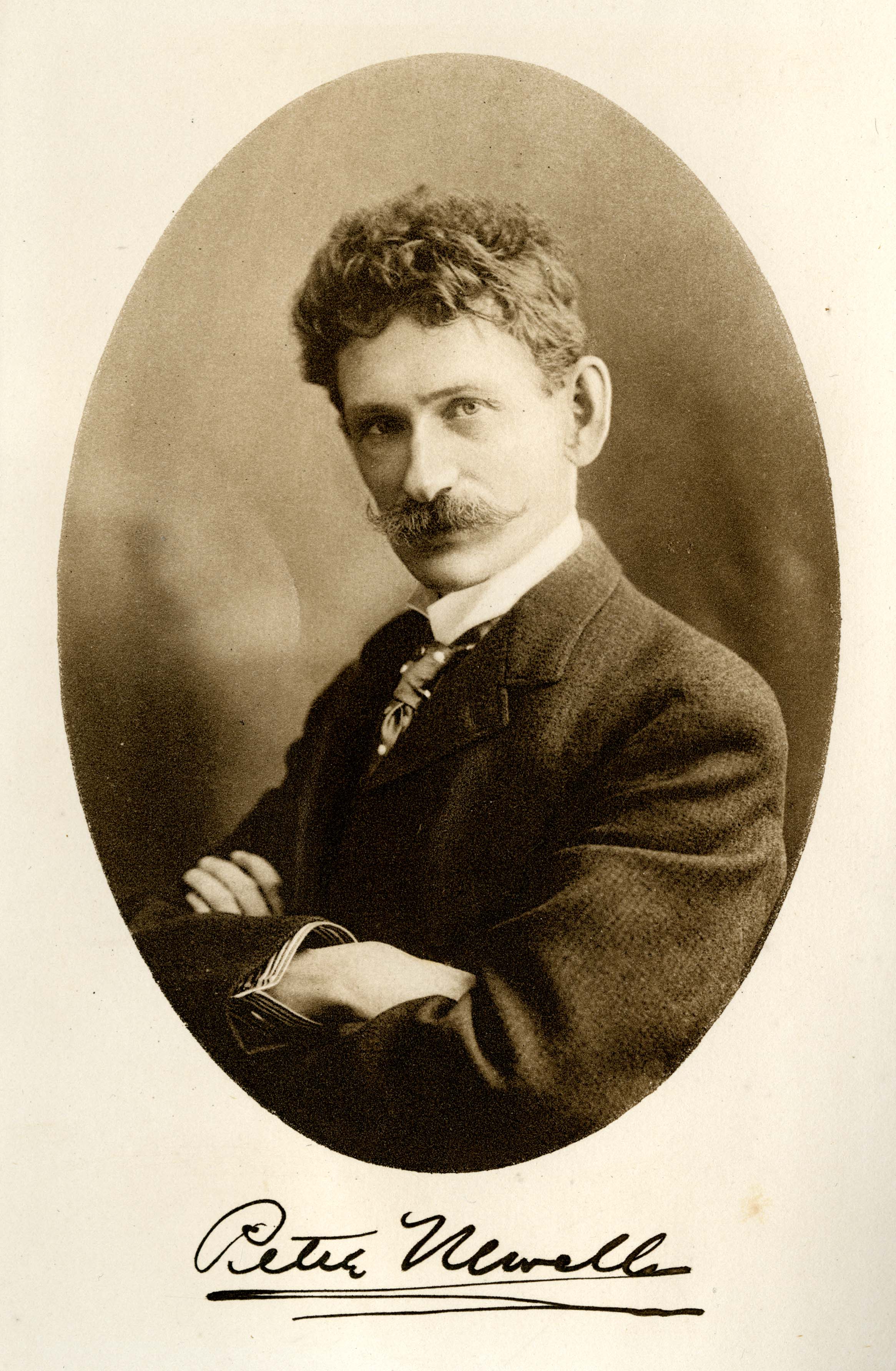 Peter Newel (frontispiece from Through the Looking-Glass (1901))
Peter S. H. Newell (1862-1924) was born to a family of farmers in Illinois. He studied at the Art Students League and by the time he was in his mid-twenties had become a popular illustrator for various periodicals, his work regularly appearing in such publications as Harpers Weekly, Scribners Magazine, and The Saturday Evening Post. He was particularly noted for his imaginative caricatures, some of which would be regarded today as racially insensitive.
In The Hole Book (1908), also one of Newells more popular works, the story follows the path of an errant bullet as it causes mayhem through a neighborhood. The storys inventiveness is found in Newells imaginative use of an actual small, round hole that pierces each successive illustration in the book.
A sample illustration and rhyme from The Hole Book
Similarly, The Slant Book (1910) tells the story of a runaway baby carriage, with the story being enhanced by the books shape, which, instead of the usual rectangle, is a slanted rhomboid. (Newman Library holds a 1966 reprint of The Slant Book in its circulating collection.) Newells idea for The Slant Book led him to file a patent claim, in which he wrote, In books made according to my invention the shape of the book itself and of the pages therein suggests the action or motion in which is intended to characterize the illustration contained therein. Newell was granted patent 970,943 on September 20, 1910. It was one of several patents granted to Newell for book and toy designs.
Newells A Shadow Show (1896) relies on the translucency of paper for its gimmick. Rather than telling a story, the book simply presents a series of rather oddly contrived colored illustrations. When the reader flips the page, the previous pages illustration appears in silhouette, revealing a much different subject. Unfortunately, the copy in the rare book collection has not held up well over time, and the illustrations have all transferred to adjacent pages, making the silhouettes difficult to distinguish.
A sample from A Shadow Show(Due to the condition of the original, this digital copy has been altered for illustrative purposes.)
Newell is perhaps best remembered for his first book, Topsys and Turvys (1893) and its two sequels. In the Topsys and Turvys series, each page contains an illustration and accompanying first line of a rhyming couplet as a caption. When the page is inverted, a much different illustration is revealed, and the caption appearing below the flipped image completes the rhyming couplet, explaining the illustration. Illustrations from these books continue to be frequently used as examples of optical illusions. A digitized version of The first Topsys and Turvys book may be found on the Library of Congress website.
In addition to providing illustrations for popular magazines and publishing his own books, Newell also illustrated the works of other authors of childrens literature, chief among them, perhaps, being his illustrated edition of Through the Looking-Glass (1901), which also may be found in the rare books collection. Later, Newell tried his hand at comic strip illustration. For 18 months in 1906/1907, Newells The Naps of Polly Sleepyhead appeared among such acknowledged comic strip pioneers as Buster Brown and Little Nemo in Slumberland. A second strip, Wishing Willy, wasnt so successful and lasted through only six installments in 1913.
Id planned here to provide the briefest of overviews on our holdings in childrens literature but instead got sidetracked by this Peter Newell tangent. Suffice it to say, the few books mentioned here comprise just the smallest part our childrens literature holdings, many of which overlap with our collection focus areas in the history of food and drink, the Civil War, local and regional history, etc. Together, these works can provide a different perspective on their subject matter or be used to examine popular culture and early childhood education in earlier eras. Or they can can simply be enjoyed for what they were intended: fun reading for the young and young at heart.