This week, I put up a new exhibit titled "A Complete, Balanced Breakfast: Battle Creek, Cookery, and the Kellogg Legacy." This idea has been on my board for months now, for better or worse, and I've finally had an opportunity to dive into it. There's a fair bit I did not include about John Kellogg's belief and medical practices to save visitors the sometimes weird or disturbing details, but there is plenty of reading out there for those interested. Given our penchant for food & drink history here at Special Collections and University Archives, it's no surprise we might have some material on the Kelloggs and breakfast cereal. More than will fit in our display cases, as is often the case. So, there are two main parts to this story: The works of John and Ella Kellogg, which were largely instructive texts or published lectures and the history and advertising of the food companies that came from the Battle Creek legacy. If you can't visit us in person, here's a little virtual tour!
John and Ella Kellogg
John Harvey Kellogg (1852-1943) was born in Tyrone, Michigan in 1852. His family moved to Battle Creek in 1856. Raised as a Seventh-Day Adventist, the church shaped much of his early life, his medical education, and much of his medical career–in particular, the teachings of Ellen G. and James Springer White. In 1876, after graduating from the NYU Medical College at Bellevue Hospital, Kellogg returned to Battle Creek and took over the Western Health Reform Institute, which he renamed the Battle Creek Medical Surgical Sanitarium. There, he preached a vegetarian, caffeine/alcohol/tobacco-free diet, among his varied–and often controversial–practices and beliefs. Over the course of his life, he wrote more than 50 books and at least as many articles, pamphlets, and lectures detailing his views on health, nutrition, hygiene, sex, and raising families and children.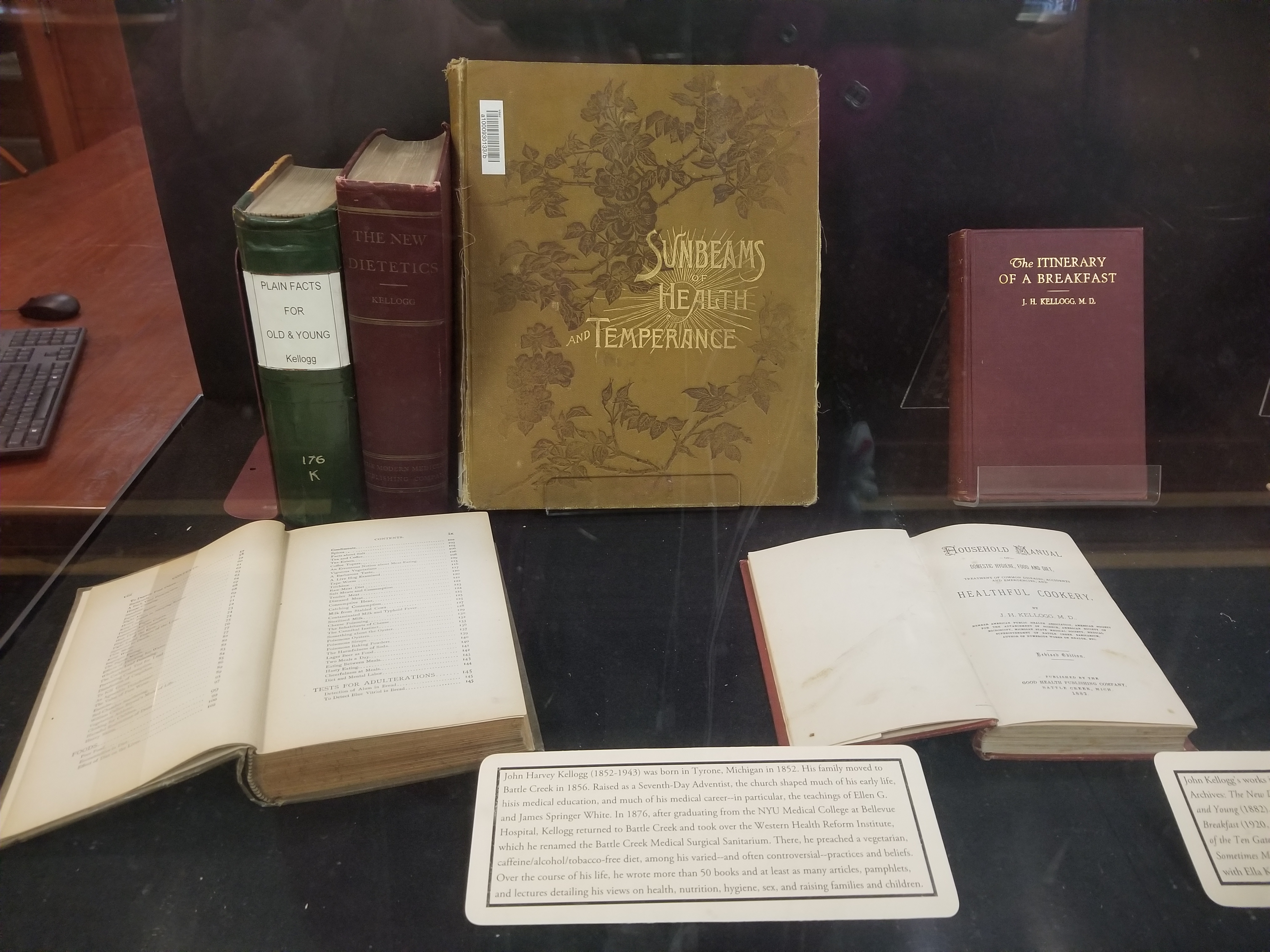 Ella Eaton (1853-1920) studied at Alfred University and with an interest in sanitation and hygiene, she enrolled at the Sanitarium School of Hygiene in Battle Creek in 1876, where she met John Harvey Kellogg. They married in 1879. Over the course of her lifetime, Ella would break ground in a variety of ways. She was an early founder of what we now consider the field of dietetics; she founded a cooking school and a school of home economics; she was a prolific book and article editor and author; at various times, she led organizations focused on childcare, motherhood, dietetics, hygiene, temperance, and social purity; she supported womens suffrage; and she helped raise more than 40 foster children, several of whom she and John formally adopted.
Her most well-know work was the 1892 Science in the Kitchen: A Scientific Treatise on Food Substances and Their Dietetic Properties, Together with a Practical Explanation of the Principles of Healthful Cookery, and a Large Number of Original, Palatable, and Wholesome Recipes (picture here in the front right).This extensive book was a reflection of her career and went through five editions by 1910. It was heavily illustrated and was Ellas essential guide to everything domestic. Special Collections and University Archives has two editions of this book available digitized and online (http://digitalsc.lib.vt.edu). In addition, we house copies of Healthful Cookery (1908), Every-Day Dishes and Every-Day Work (1896), and an 1893 edition of Science in the Kitchen.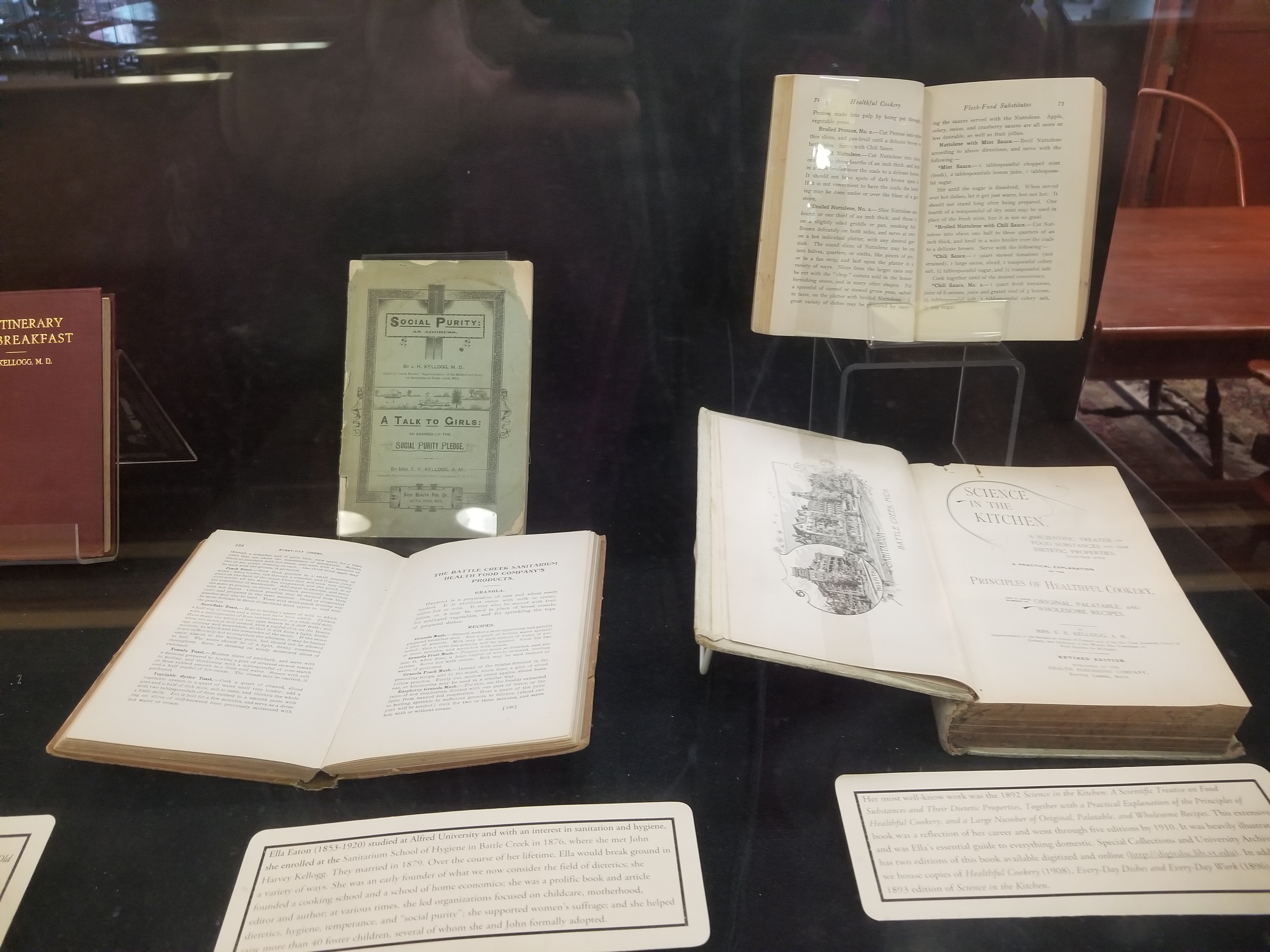 The Battle Creek Food Legacy
In 1897, brothers John and W. K. Kellogg founded their first food company, the Sanitas Nut Food Company (sometimes the Sanitas Food Company), which mainly sold nut butter-like products as a meat substitute. (John Kellogg is listed among those responsible for the creation of peanut butter precursors and he corresponded with George Washington Carver on the subject). In the mid-1890s, partially by accident, while working on their version of granola, they stumbled onto something else: wheat berry flakes. These flattened wheat berries would lead to–you guessed it–corn flakes! A patient at the Battle Creek Sanitarium, C. W. Post, witnessed the process for these products, and also jumped on board, launching the Postum Cereal Co. in 1895. Postum Cereal Co. made Grape-Nuts in 1897 and Post Toasties Double-Crisp Corn Flakes in 1904.
A disagreement between the two brothers led to a split. W. K. took the flakes and launched the Battle Creek Toasted Corn Flake Company in 1906 (renamed the Kellogg Toasted Corn Flake Company in 1909 and the Kellogg Company in 1922). The company would continue to develop new products based on the brothers' work and teachings, with a particular emphasis on vegetarianism and meat substitutes. The company would also develop divisions with broader interests, like quantity cooking for schools, camps, and even the military. Advertising materials for children's products were created to target that audience.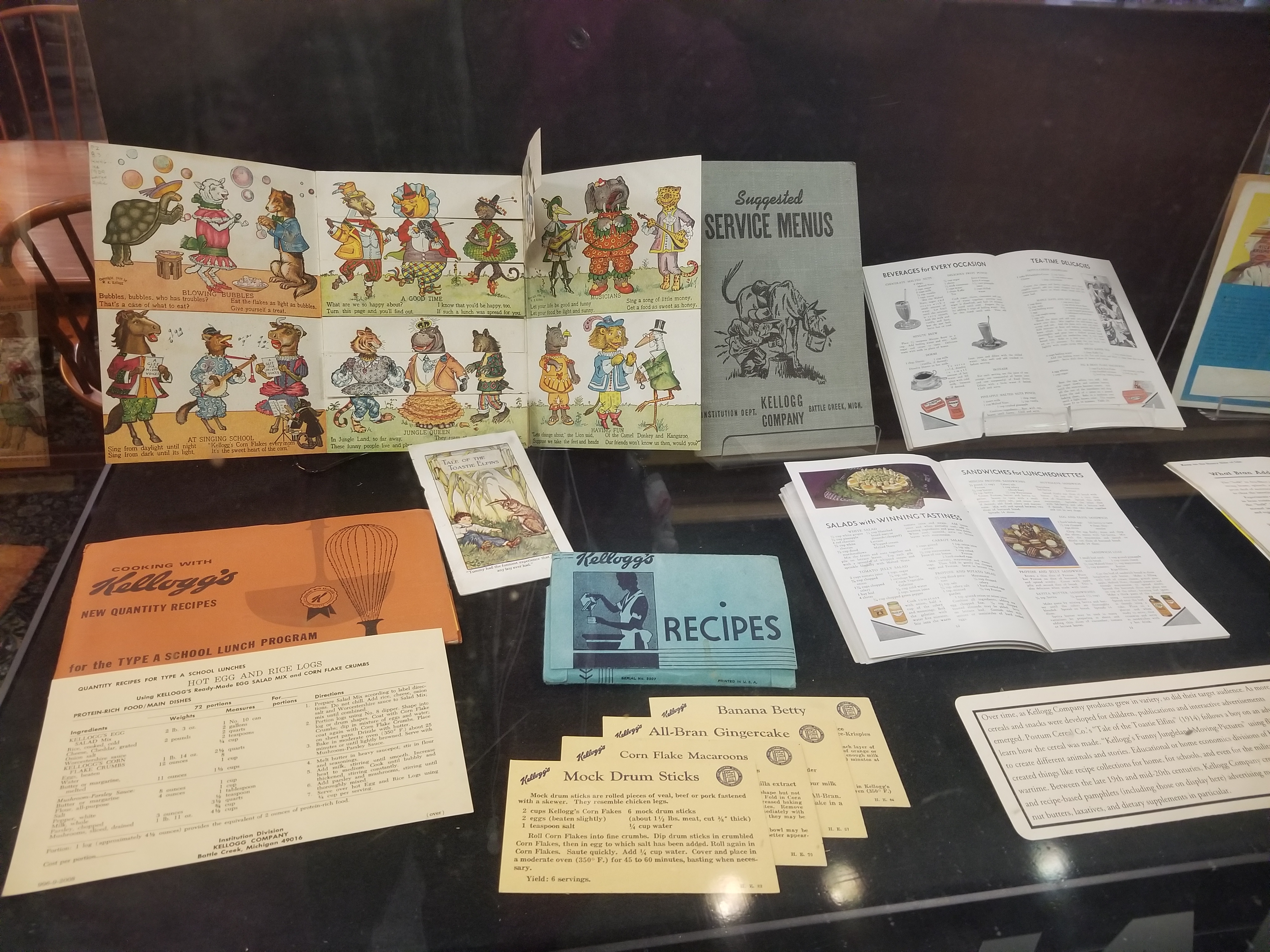 Between the late 19th and mid-20th centuries, the Kellogg Company and the Battle Creek Food Company (started by John to promote foods and supplements after the split between the brothers) created endless product- and recipe-based pamphlets advertising meat substitutes, cereals, nut butters, laxatives, and dietary supplements in particular. John Kelloggs beliefs included a hearty disdain for both tea and coffee. He considered caffeine, like tobacco and alcohol, to be a poison, going so far as to link all of them to moral deficiencies. Whether or not W. K. shared his brothers views (very likely), by the early 20th century, the Kellogg Company began producing Kaffee-Hag, a low caffeine coffee substitute. (John seemed to be against this alternative, too, and he wrote that [n]ature has supplied us with pure water, with a great variety of fruit juices and wholesome and harmless flavors quite sufficient to meet all our needs.) Some years earlier, in 1895, Postum Cereal Co. had already launched their coffee alternative, Postum.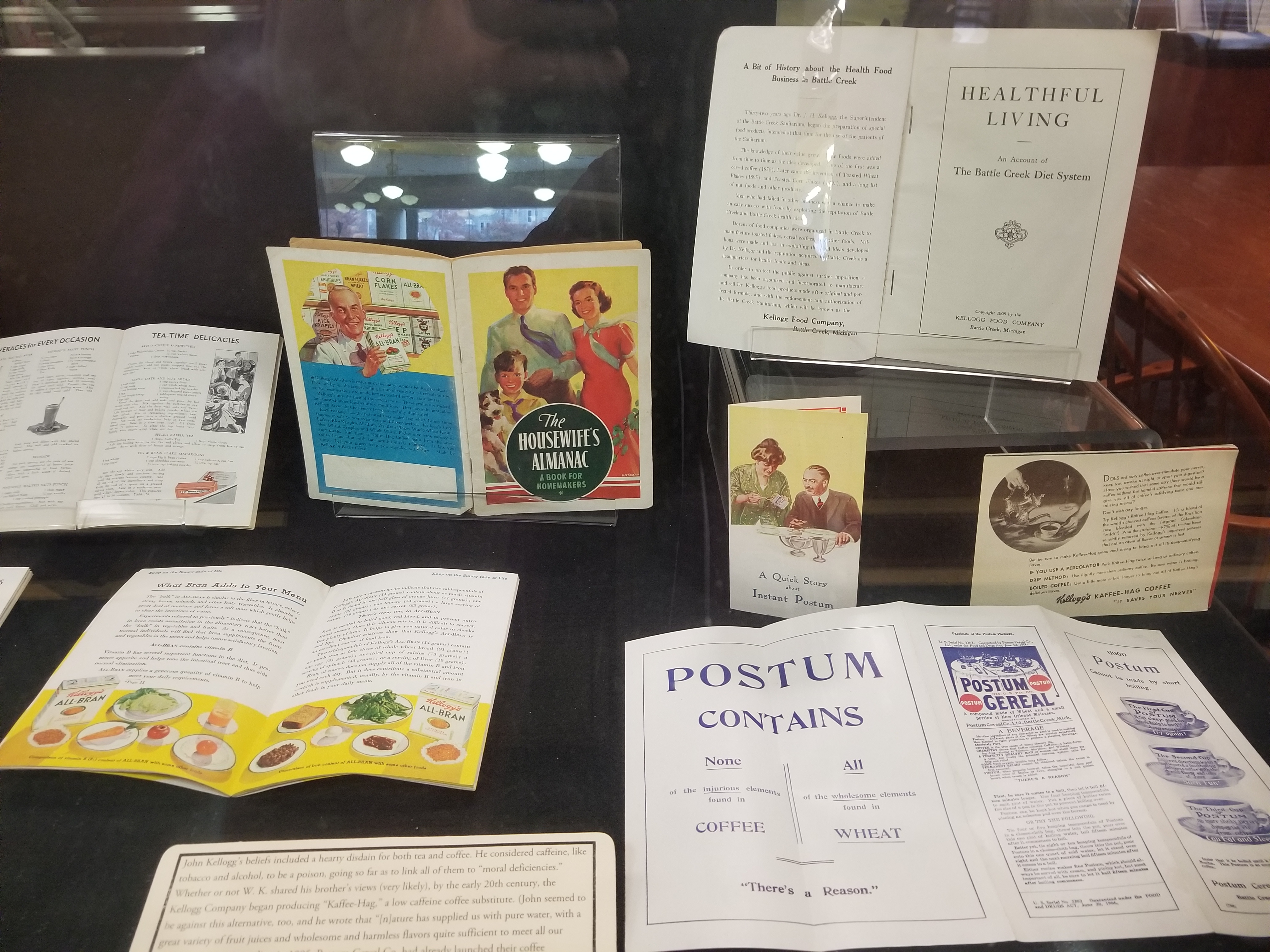 I've previously written about the Kelloggs' (John, his wife Ella, and his brother W. K.) on our food history blog, so if you'd like to delve a little deeper that's a good place to start. That series has links to digitized books, other readings on this fascinating (and sometimes controversial) family, and more images.
And if all of this doesn't satisfy your curiosity about the Kelloggs, C. W. Post, early breakfast cereal, or Battle Creek, feel free to visit us and learn more. There is a lot more to John Kellogg's theories, inventions, and methods at the Battle Creek Sanitarium; to the early days of breakfast cereals; to corporate and family competition; and to the history of food advertising! We'll be here and we'd love to share!