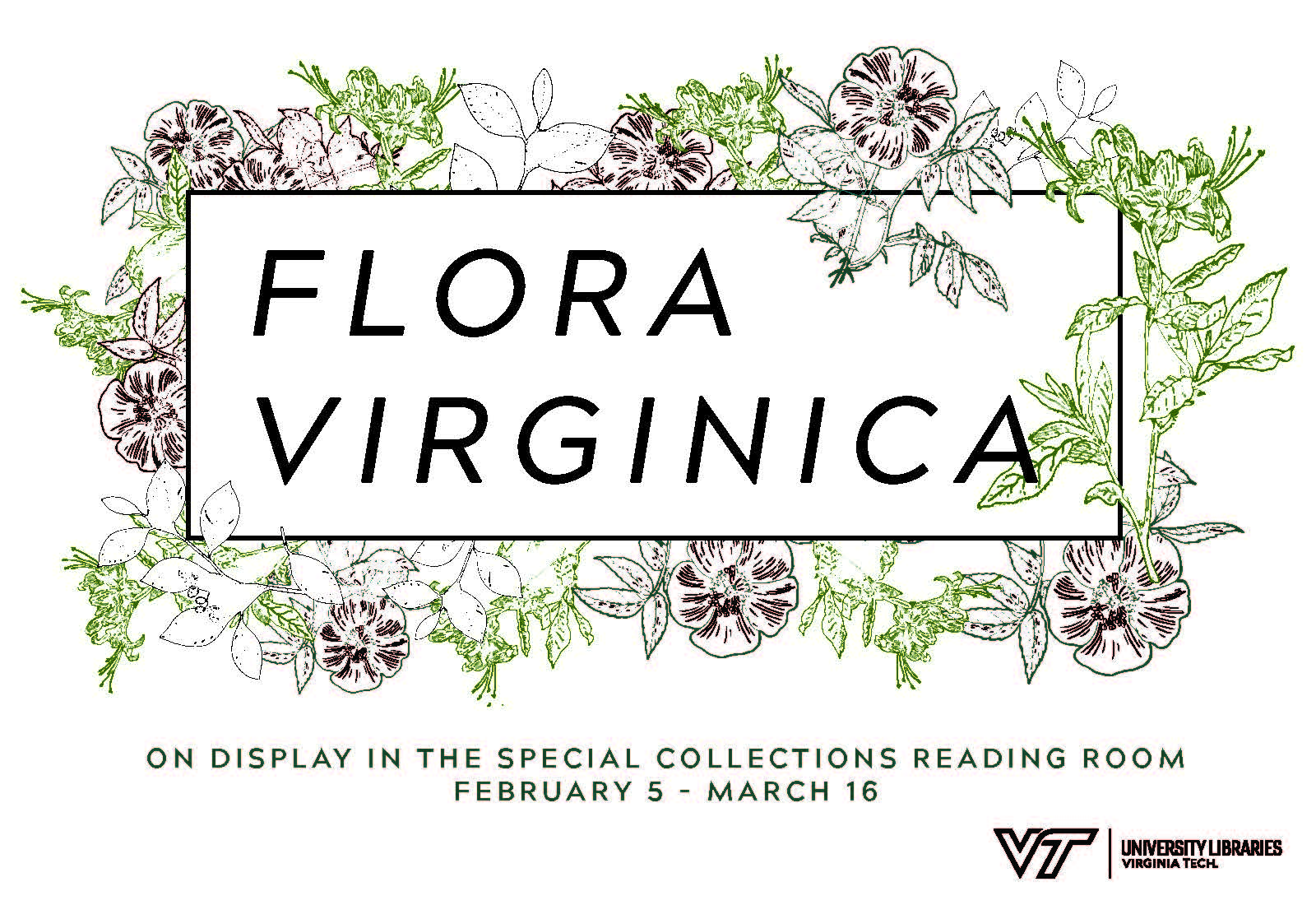 Over the past few months, I've stepped outside my normal topical areas of social justice and the history of traditionally marginalized communities. This departure was related to an exhibit titled Flora Virginica that is on display in our reading room from February 5, through March 16. I enjoy putting together exhibits, so I was happy to take this on even though it was something I knew nothing about. This blog post will include a description of the exhibit, the reasons for its existence, and the interesting history I discovered while putting it together (only not in that order). Enjoy!
An Exhibit, In Partnership
In 2012, the Flora of Virginia Project published Flora of Virginia (QK191 .W43 2012), a 1,572 page comprehensive compendium of Virginia plants. It's a thick botanical tome of little interest to most people outside the botanical sciences. We acquired multiple copies in the library when it was first published and it isn't one of our particular collecting focuses. It wasn't something we were particularly focused on highlighting.
Skip ahead to fall of 2017 and an email from the Massey Herbarium to the Director of Special Collections mentioning an exhibit about Flora of Virginia that the Massey was going to be hosting. Special Collections was being involved because there was an opportunity to display an original Flora Virginica in support of the Massey exhibit. This is where I entered the process.
Over the course of a couple of months, I worked with Jordan Metzgarat the Massey Herbarium and Bland Crowder, editor of the 2012 Flora of Virginia, from the Flora of Virginia Project to arrange a loan of an original 18th century Flora Virginica. During the process of arranging this part of the exhibit, it was suggested that I might also wish to exhibit some 18th century Mark Catesby prints alongside the book. Still not knowing much about the project or the books, I opened discussions with Lynn McCashin, the Executive Director of the Garden Club of Virginia, to arrange a loan of some of their Catesby prints. The next few months consisted of multiple emails negotiating the logistics of the loans. As the date for the exhibit approached, I began to research these items so that I could create some didactic labels for the exhibit (those short little descriptions that go next to items in museum-type displays).
In order to adequately describe the 1762 edition of Flora Virginica and the 1771 Catesby prints – and explain what they had to do with one another and Virginia history, I had to learn that history myself. Where did I start? A general web search, of course. Wikipedia offers great superficial overviews on just about any topic. That was enough to get me oriented before moving on to better sources including the Encyclopedia Virginia, JSTOR Global Plants, the Catesby Commemorative Trust, The Royal Society, and the University of North Carolina Libraries. During the course of this research, I learned some interesting details about the people who created these items and their places in botanical and zoological history.
Flora Virginica, 1762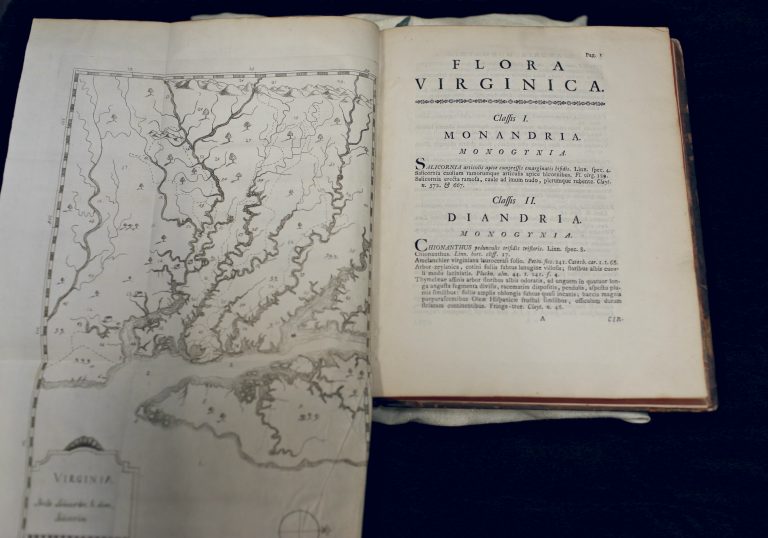 Flora Virginica(QK191 .G86 1739a) is a precursor to Flora of Virginia. They are actually named the same – just in different languages. The original Flora Virginica was published in two parts, the first in 1739 and the second in 1743. Then, a combined edition was published in 1762. All three editions were published in Latin by Lugduni Bavatorum publishers in Leiden, Zuid Holland, Nederland. They all list Johannes Fredericus Gronovius as the person who classified the specimens and wrote the book. They also list John Clayton as the observer and collector of the plants. This attribution has led to much debate over the correct citation of authorship. Many, using modern standards, have claimed that Gronovius plagiarized Clayton's work. Scholarship as recent as 2004 has addressed the authorship issue directly and concluded that Clayton likely did not have much chance of being published without the help of someone like Gronovius and the actions of the latter would not have been deemed plagiarism using the standards of the 1700's. Proper credit for authorship, then, is probably to list them both.
Amidst the issues of authorship, I discovered some interesting things about the men who created what was the only comprehensive listing of Virginia plants for over 200 years. John Clayton was born in England in 1694/5 and came to America sometime before 1720. His move to the Virginia Colony was likely due to his father's position as Attorney General of Virginia. Clayton was an amateur botanist. He was a plantation owner, a slave owner, and Clerk of Gloucester County, VA for more than 50 years. He liked to travel around the state and collect specimens of flora and fauna.
Gronovius was a Dutch naturalist and friend of Carl Linnaeus. He built up a reputation in the Netherlands as a botanist and had his own herbarium. He was considered a professional and had standing within the scientific world to publish.As part of Clayton's amateur botanical work, he compiled for Gronovius a catalog of various plants using Linnaean classification. This catalog is what Gronovius eventually turned into Flora Virginica.
So what about Mark Catesby?
Mark Catesby was born in 1683 and was an English naturalist and a Fellow of the Royal Society of London. He first traveled to Virginia in 1712, accompanying his sister and her children. Over the next seven years (1712-1719), he collected and sent to England a variety of botanical specimens from Virginia and Jamaica before returning to England himself. During this time, at least one ornithological specimen and several plants were provided to Catesby by John Clayton. That one connection is why the Catesby prints are often displayed with Flora Virginica … that one connection and the fact that the Catesby prints include gorgeous illustrations of many of the plants mentioned in Flora Virginica.
After a few years in England, where he became a member of The Royal Society, Catesby returned to America to begin work on his grand project. He spent the next 20 years compiling specimens, teaching himself to illustrate them, and writing his Natural History of Carolina, Florida, and the Bahama Islands (QH41 .C28 1754).
He wrote and illustrated the book(s) entirely himself, publishing them in eleven sections totaling more than 220 hand-colored etchings. In order to finance all this work, Catesby sold subscriptions, offering the book in sections of 20 plates every four months. The first section was published in 1729 and he presented Her Majesty Queen Caroline with her copy in person. Following Catesby's death in 1749, his work was republished twice, in 1754 and 1771. Catesby's work was done before Linnaean classification was developed but the 1771 reprint includes a catalog of the Linnaean names for the flora and fauna depicted in the book.
While Flora Virginica is recognized as the most comprehensive listing of Virginia plants from 1739 to 2012, Catesby's History of Carolina, Florida, and the Bahama Islands is known as the earliest published work illustrating and describing North American flora and Fauna. It was published almost 100 years before Audubon's TheBirds of America (QL674 .A9 1827a).
The Exhibit
Through the generous courtesy of the Flora of Virginia Project and the Garden Club of Virginia, we have an exhibit containing a 1762 original Flora Virginica, a 1946 reproduction Flora Virginica, and two Catesby prints from the 1771 reprinting: The Summer Red-Bird, The Western Plane Tree and The Red Start, The Black Walnut. This exhibit gives viewers a chance to appreciate the wonderful history of all of the items with an abbreviated version of the information presented here. If you're in the area and want to see the exhibit in person, stop by Special Collections and take a look.
While you're visiting, if you are interested in taking a look at a copy of Flora Virginica in person (reading Latin helps), Special Collections has one copy of the 1946 reproduction on site and two in remote storage(QK191 .G86 1739a). If you want to see the amazing Catesby illustrations in person, Special Collections has a copy of the 1754 reprintingof Natural History of Carolina, Florida, and the Bahama Islands (QH41 .C28 1754). As for the 2012 Flora of Virginia, Newman Library has two copies and Special Collections has one (QK191 .W43 2012). And, if you're curious about Audubon's The Birds of America(QL674 .A9 1827a), Special Collections has a 1985 issue of the double elephant folio in our reading room – it's our only item with its own piece of furniture.
A full listing of events related to the Massey Herbarium Flora of Virginia exhibit is available atmasseyherbarium.org/fov.