Have you ever thought about the history of LGBTQ rights in the United States? Did you learn about historic figures and events in the LGBTQ Civil Rights Movement in elementary school? middle school? high school? college? Did you ever learn about these important figures and events in US History? For the majority of people, the answers will be "no". It's a sad reality that this topic isn't covered in most schools and that most students will not be exposed to this history unless they choose a course of study in college that requires a course about LGBTQ people.
As part of our efforts to collect and highlight archival material about the LGBTQ+ community, our partnership with the LGBTQ+ Resource Center at Virginia Tech, and in support of LGBTQ+ History Month (October), we arranged to host an exhibit from the ONE Archives Foundation highlighting archival material from the ONE National Gay & Lesbian Archives at the University of Southern California (USC) Libraries. The exhibit is titled The History of the LGBTQ Civil Rights Movement.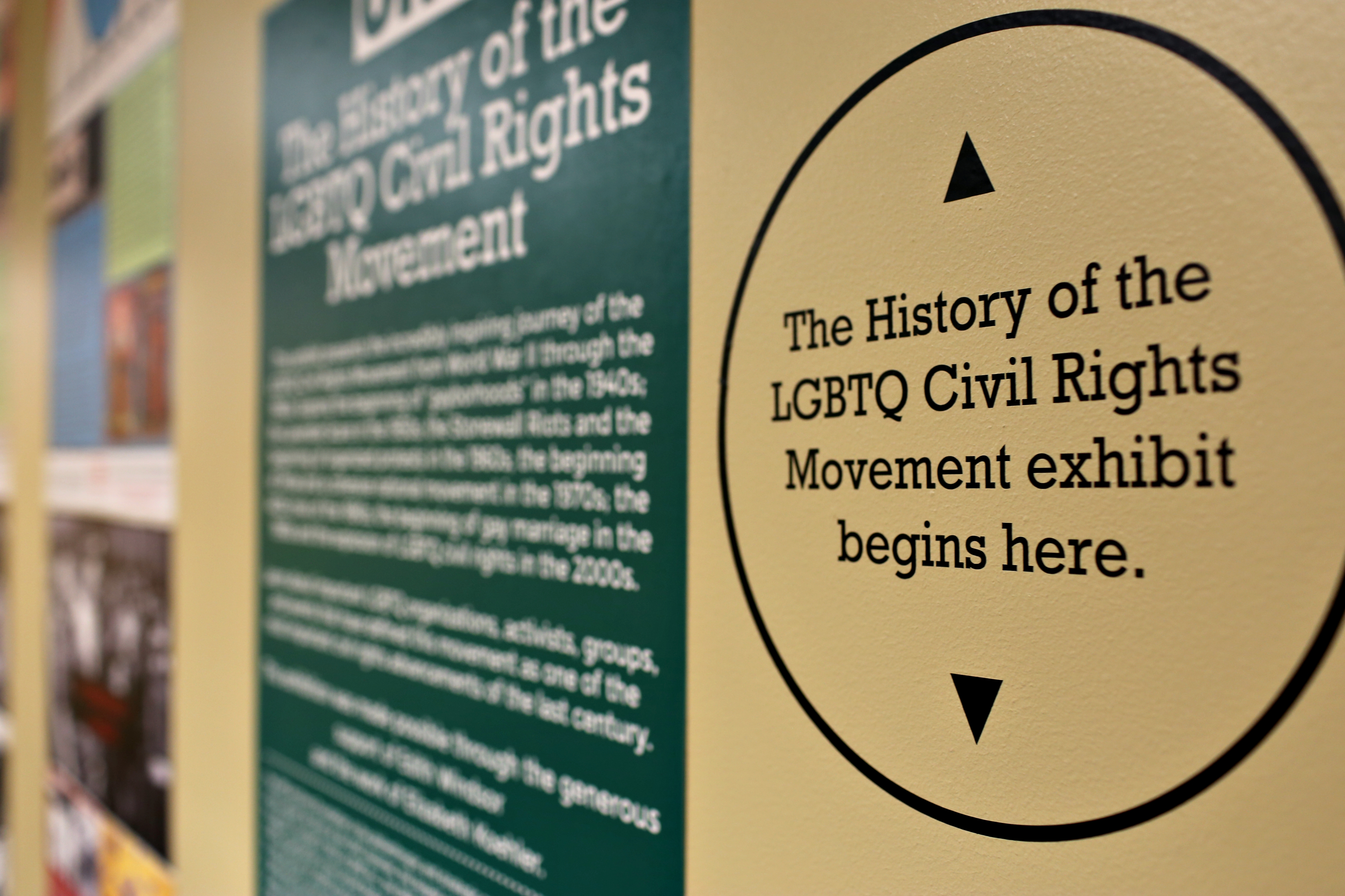 The exhibit consists of 39 panels that are 24 x 36 inches. We had them printed on adhesive vinyl and put them up in the hallway outside the library's new digital humanities classroom. The exhibit includes information on early "gayborhoods" in the 1940s, the Lavender Scare during 1950s McCarthyism, the Stonewall Riots in the 1960s, the AIDS crisis in the 1980s, the push for marriage equality in the 1990s and 2000s, and more.
We first posted the exhibit during LGBTQ+ History Month and invited attendees at our LGBTQ+ History at Virginia Tech archival exhibit to take a look after viewing documents from local LGBTQ+ history. Since then, many people have stopped to read through the exhibit panels.
In November, Aline Souza, a graduate student in Creative Technologies and Architecture, took some time to look through the exhibit. After reading through the panels, she said "I like the exhibit because it gives me a chance of a transformative experience on my way to class. I find it unique because it combines good graphics and colors with information about things that happened that I'd never know about."
The History of the LGBTQ Civil Rights Movement exhibit was put up on on October 16, 2017 and will be on display through December 21, 2017 on the first floor of Newman Library (from the cafe, head up the ramp and turn right at the bathrooms). If you're on campus, take a moment to stop by Newman Library and take a look.