Marie-Louise Laleyan once wrote in an article for the "Daily Pacific Builders"
Women in Construction
issue of an exchange she had with her father during the opening reception for a public housing project for which she had been the architect. She recounted that upon seeing their nametags a group of happy attendees approached them exclaiming, Here is the architect and promptly shook her fathers hand:
They are congratulating me because of my daughter! He was almost in tears.
Well no. They think you are the architect.
Why would they think that? he wanted to know.
Oh, it is a long story. I may even write a book about it. Lets go home.
And it is that long story, nestled here into a fond anecdote, that defines a great deal of Laleyans work within the broader architectural profession.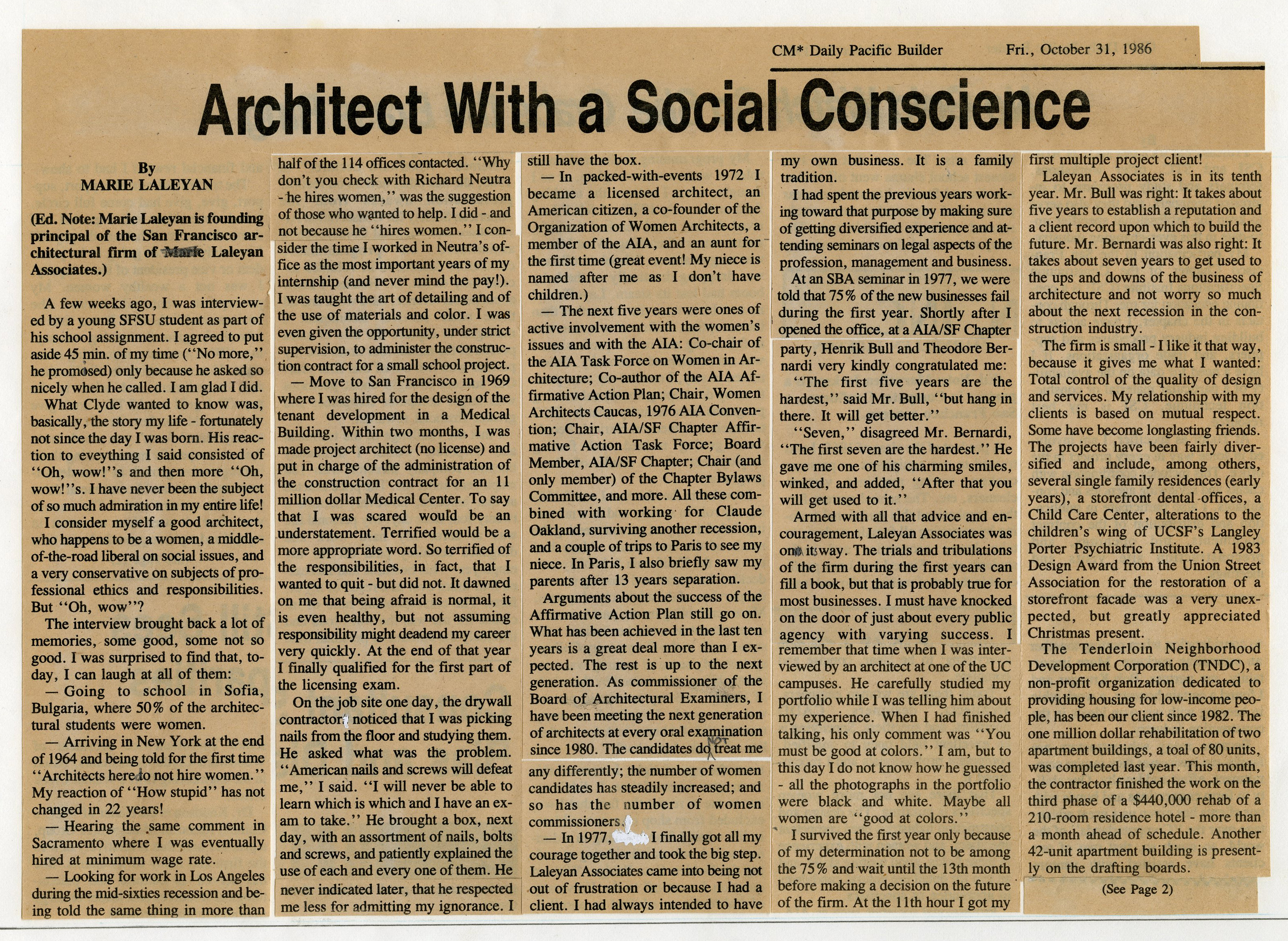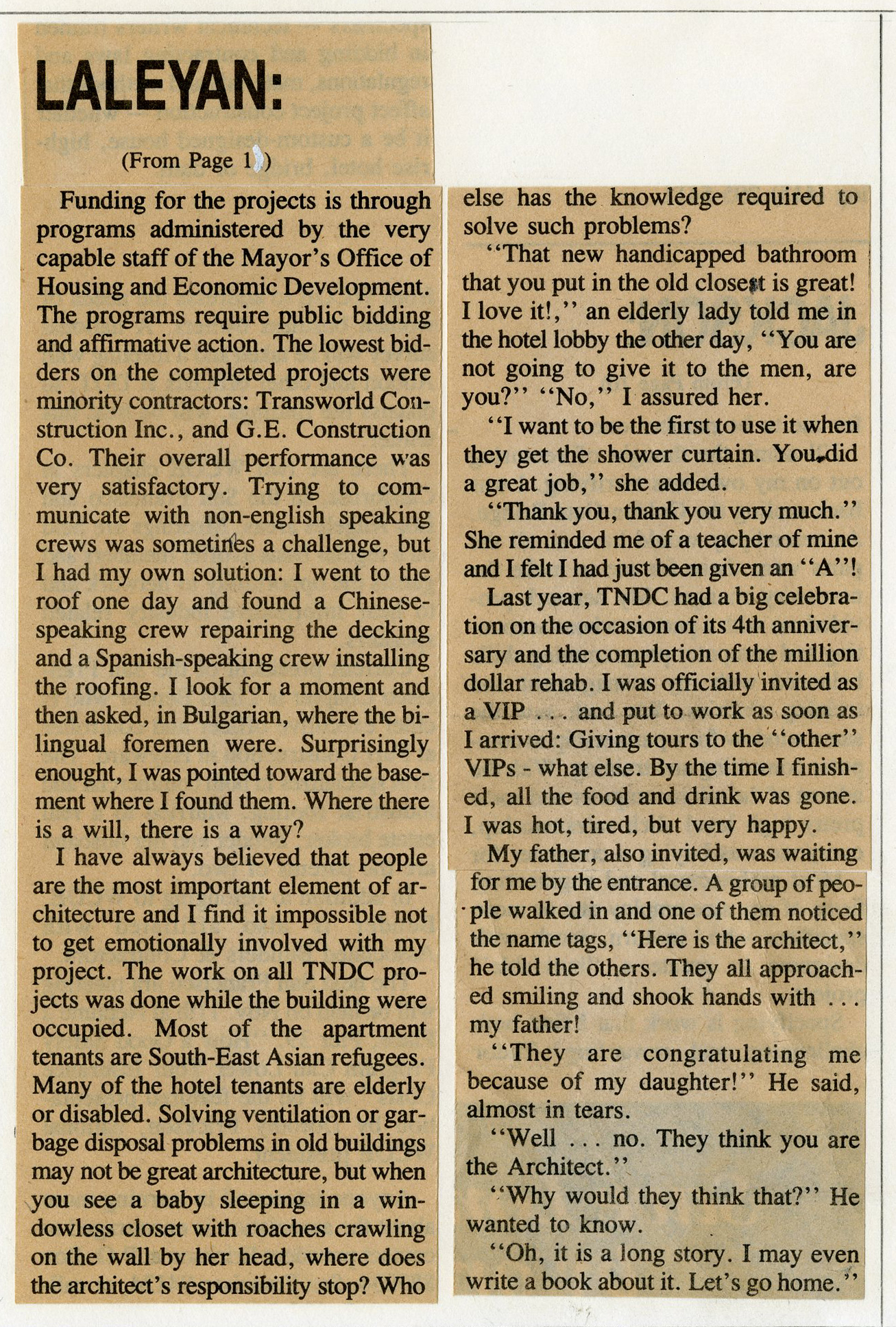 I have been encounteringin part through happenstance, but also likely in part because of the particular architectural collections with which I have been most involved as of latean abundance of materials related to the status and (often) undervaluation of the contributions of women in many professional fields. Apart from archival records, I recently listened to a 2016 episode of the podcast 99% Invisible that showcased the near erasure of photographer Lucia Moholy from the history of the Bauhausan institution that owed its reputation at least in part to her astounding (unpaid and uncredited) documentation. Recent books, such as Where are the Women Architects, and excellent articles such as the 2012 piece "The Incredible True Adventures of the Architectress in America," which appeared in the journal Places, have refocused my attention on how that long story that Marie-Louise Laleyan mentioned fits into an ongoing conversation. A call to examine the current state of the architectural fieldof nearly any fieldalso encourages reflection on how past decades of womens experiences and actions can inform a conversation going forward.
Laleyan had what is likely a common experience for women entering the American architectural scene in the mid-1960s, which is to say that she was often told that firms did not hire women. She noted in an interview years later that, My reaction of how stupid has not changed in 22 years! To say she defied the barriers to entry is an understatement. She went on, after working her way up in several firms, to found Laleyan Associates, Architects. Her project records, held by the International Archive of Women in Architecture (IAWA), reveal a lot about the constant need to assert her authority as an architect.
For instance, filed into the general correspondence associated with any project, we find glimmers of the difficulty Laleyan sometimes faced in being taken seriously or authoritatively. Between the contracts, bid documents, cost estimates, schedules of work, invoices, field reports, change orders, specifications, revised plans, and the general back and forth between architects, owners, and contractors, are observations about undercutting. When viewed en masse, these suggest a challenge to the expertise of a woman working in a male-dominated field.
In some of the following examples, Laleyan has to remind contractors and owners of her professional role in a project, ask that they do not undermine her, and note the outright disrespect of her knowledge and expertise.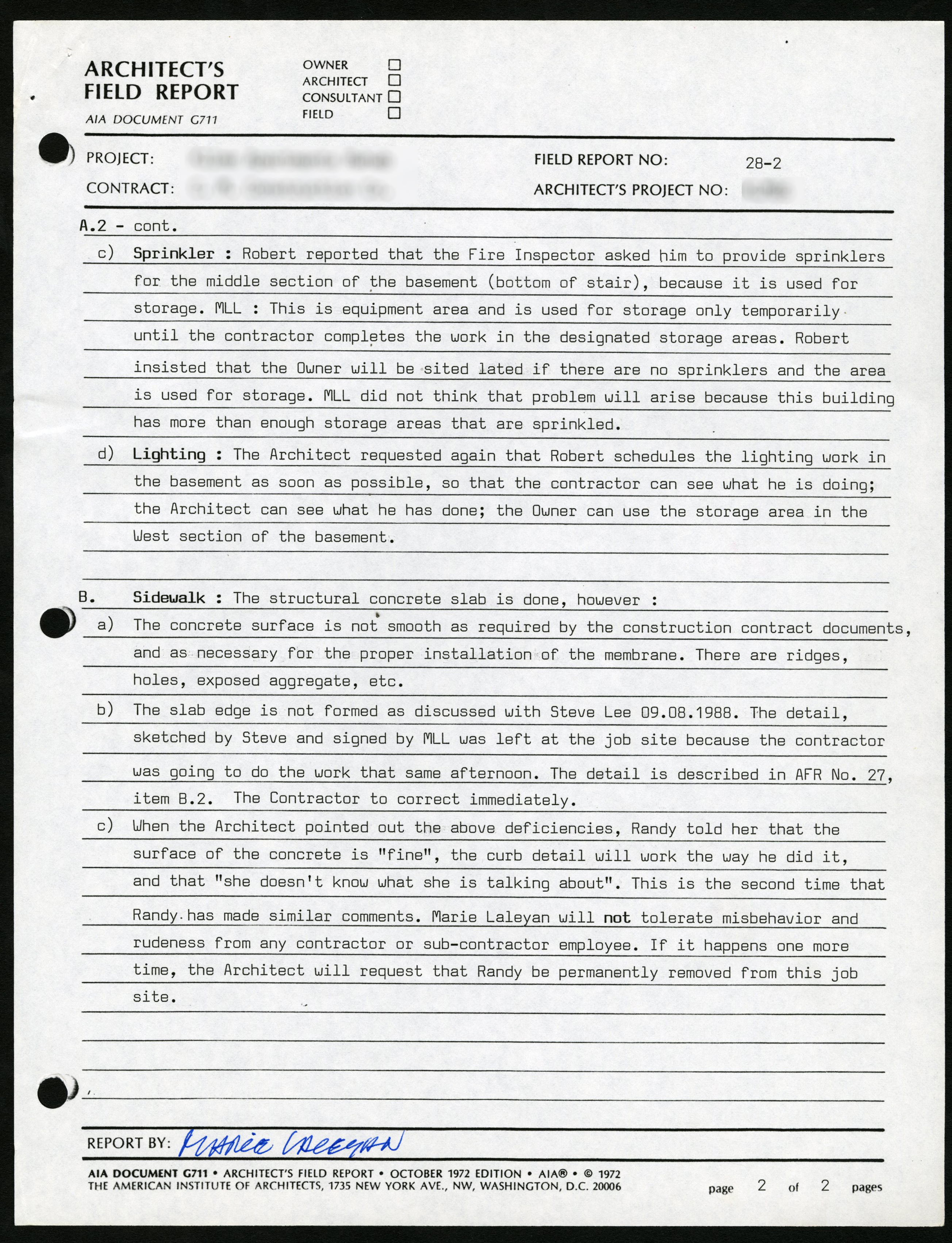 In the last section Laleyan notes her encounter with a sub-contractor during an inspection. He, among other challenges, asserts that she doesnt know what she is talking about. Laleyan goes on to record that this is a repeated challenge and that she will not tolerate such interactions.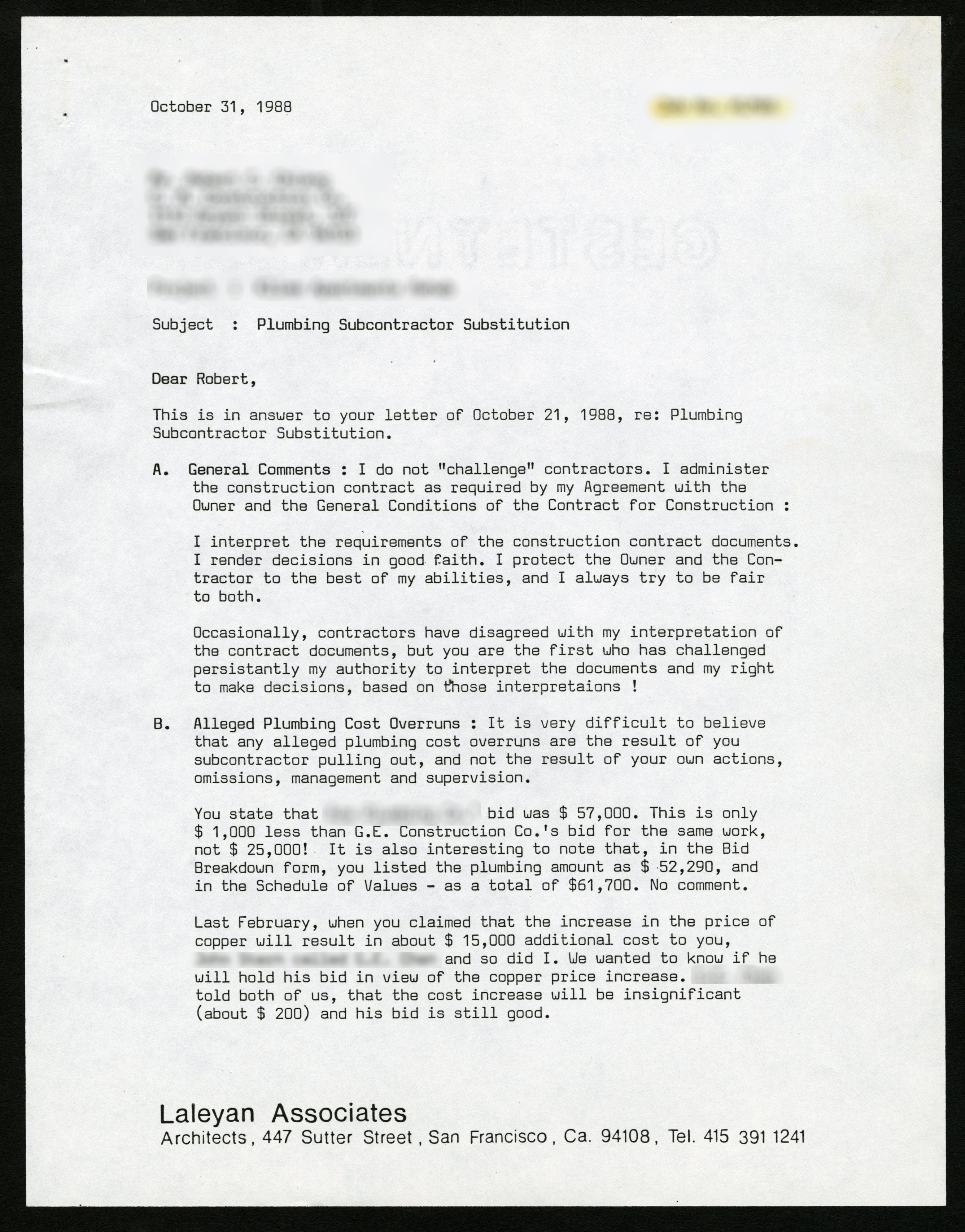 In reference to a letter from a contractor, Laleyan notes in section A that I do not challenge contractors. I administer the construction contract as required by my agreement and later notes occasionally contractors have disagreed with my interpretation of the contract documents, but you are the first who has challenged persistently my authority to interpret those documents and my right to make decisions, based on those interpretations.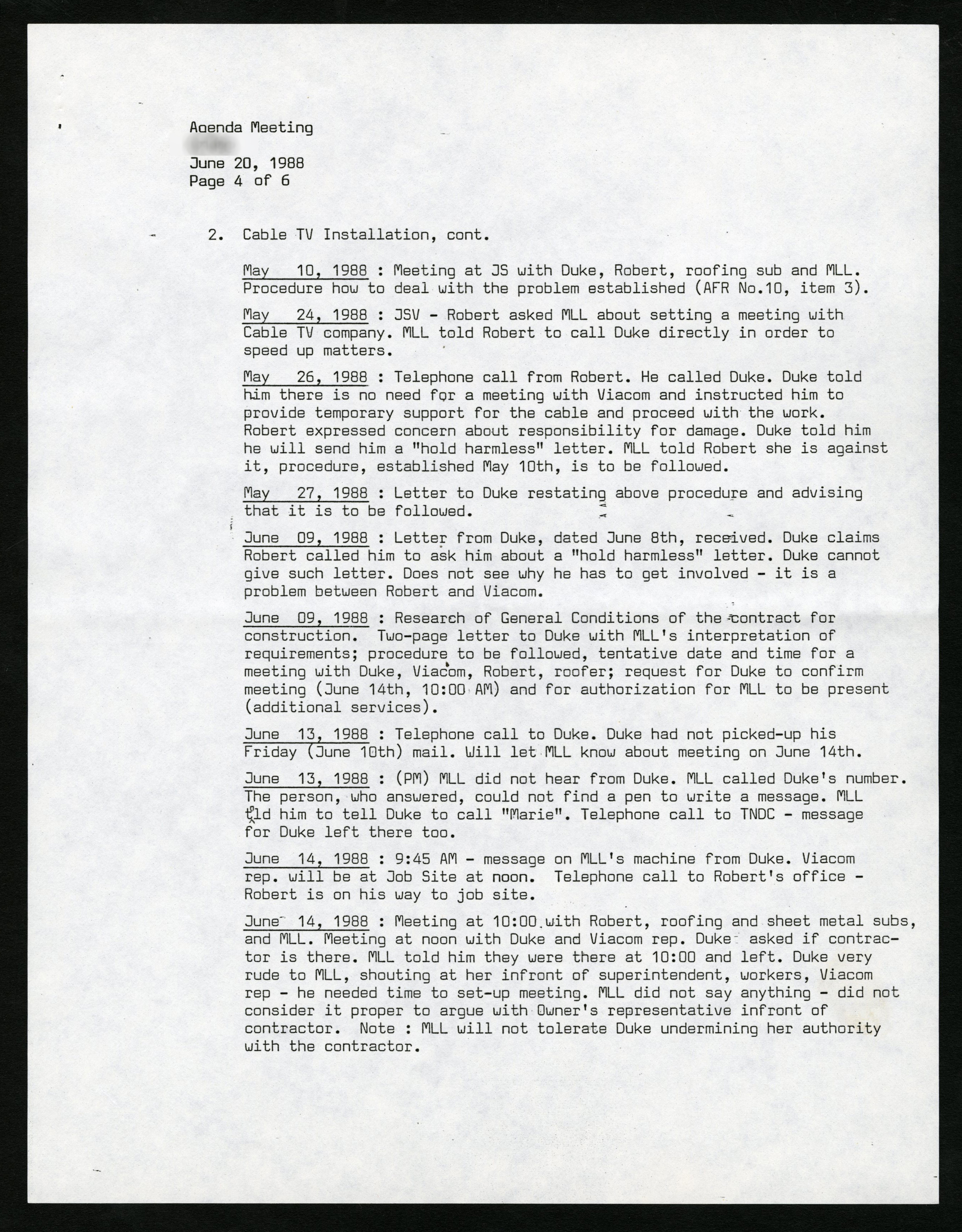 The notes in the last section recount Laleyan's experience ofbeing yelled at in front of a job superintendent, workers, and others. She goes on to mention that while she did not respond on grounds of professional behavior, she will not tolerate a project development supervisor undermining her authority with the contractor.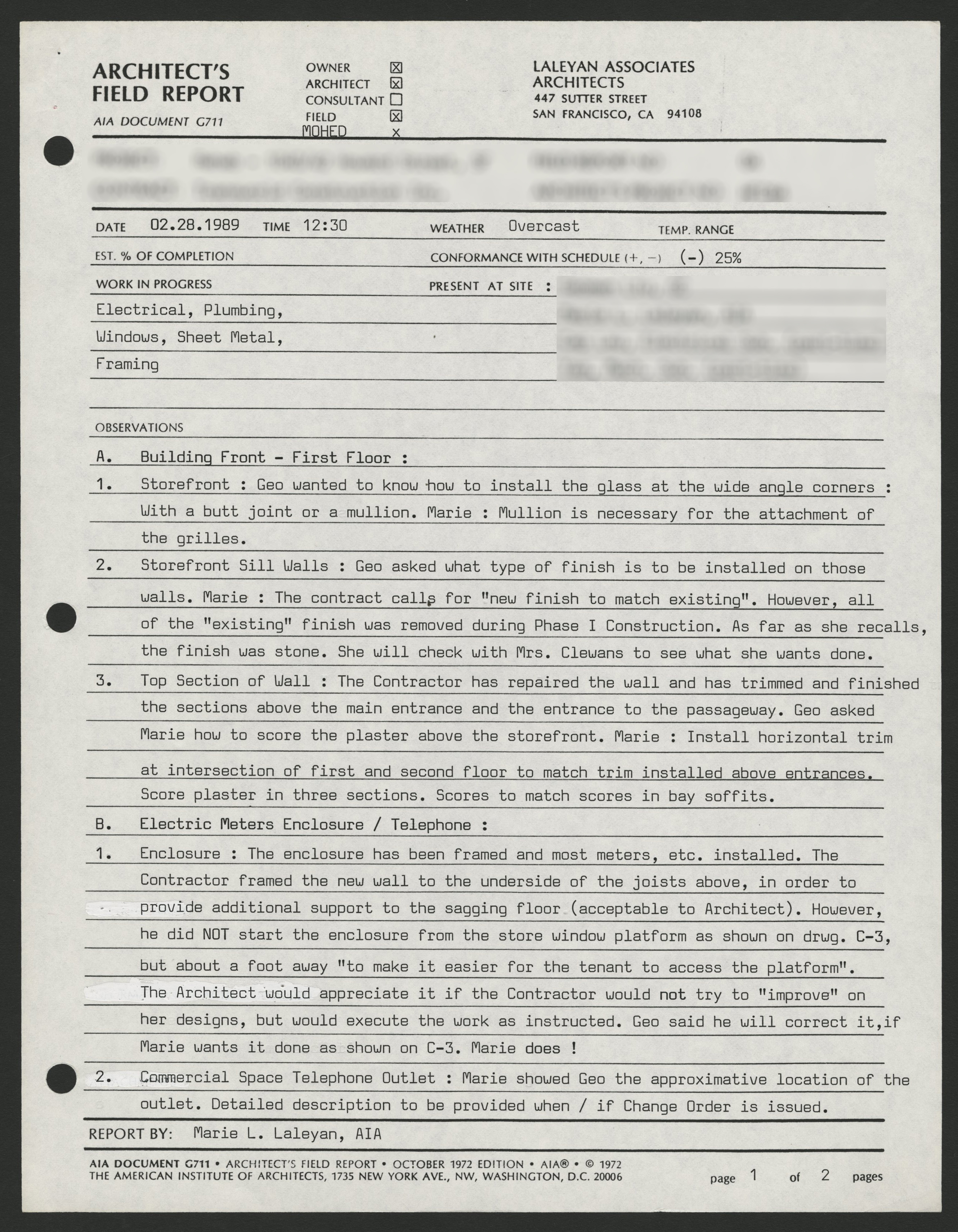 Laleyan notes that she would appreciate it if her designs were followed and not improved upon by the contractor.
Many more records can be found in the Marie-Louise Laleyan Architectural Collection.
Beyond Laleyans success as an architect and owner of her own firm, she had a prominent role in professional organizations and helped to begin actively addressing the challenges that she and other women were facing. She tackled barriers to entry, noting that when she had studied in Bulgaria half of the architectural students were women. She went on to co-found the Organization of Women Architects in 1972, and against the background of 1970s feminist initiatives she contributed a great deal to the conversations and actions that were taking place to encourage a sense of equity within the profession. Apart from participating in organizations that helped to support and encourage other women in the field, Laleyan worked in high-level roles in the American Institute of Architects (AIA), which had a high barrier to participation for professional women. She co-authored the 1975 AIA Affirmative Action Plan and co-chaired the AIA Task Force on Women in Architecture, among other roles. The studies and action plans outlined as part of the AIA initiative helped to move the inclusion of women in the professional activities of the field forward, but as Laleyan noted in her 1980s article for Daily Pacific Builder, the arguments about the success of the Affirmative Action Plan still go on. Its arguable that the core of those recommendations and the issues they address are still relevant today, and are applicable in many fields where women still represent a minority of participants. Still, the increased awareness and forthright conversation about barriers, as well as the existence of toolkits and resources to support women entering the field, likely owe their existence to earlier initiatives such as these.
Looking through a historical lens at Marie-Louise Laleyans work provides a microcosm of the experiences of many women architects working at the time (certainly the papers in many of the IAWA Collections attest to similar experiences). But such bridges to the past that examine issues of gender equity, professional practice, and labor issues almost demand to be viewed along a continuum and alongside the work of women in related fields. As Laleyan stated practically with regard to the 1970s AIA Affirmative Action Plan, What has been achieved in the last ten years is more than I expected. The rest is up to the next generation.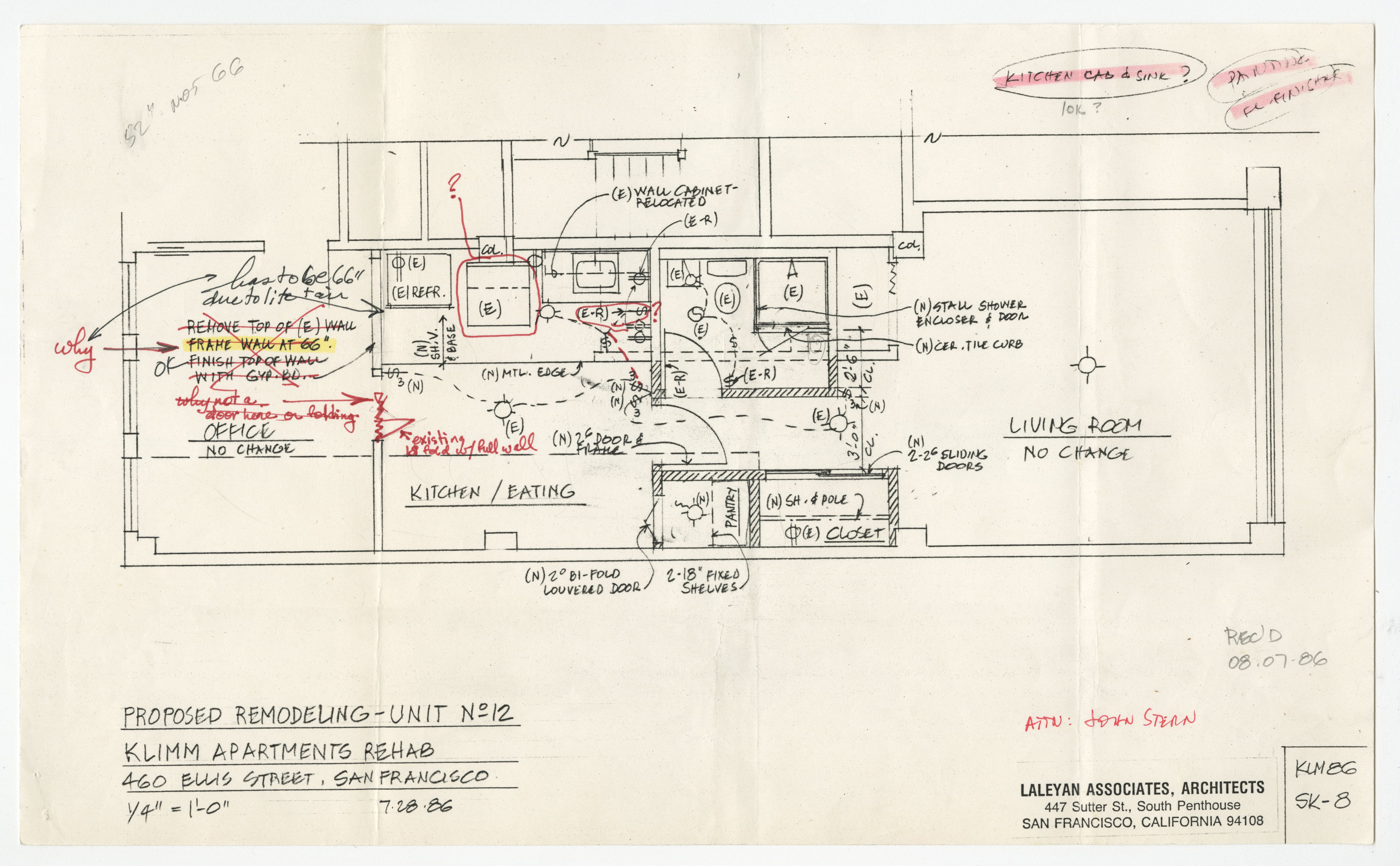 The OWA still works on behalf of the vision the group outlined in the 1970s. Visit the website for history, newsletters, and current initiatives and projects. Papers from the IAWA Collection are available to view in person in the Virginia Tech Special Collections reading room.