As part of Virginia Techs annual observance of its Day of Remembrance, condolence items and artifacts received by the university in the days that followed April 16, 2007, will be displayed at several locations across campus. The displays are among several "Expressions of Remembrance" that will be located in Newman Library, Squires Student Center, Moss Arts Center, and Holtzman Alumni Center; they are free and open to the public.
Each year, in observance of the Day of Remembrance, University Libraries at Virginia Tech displays materials from the April 16 Condolence Archives and invites the community to reflect and remember.
Below is a list and photos of exhibits all around campus. For more on each, please see the press release and the We Remember website.
Sending You All Our Love
The exhibit will include materials received from other colleges and universities, as well as some of the large white boards and signs created on the Drillfield the week of April 16, 2007. Additional items include flags, t-shirts, and condolence books, and a quilt from the Feminist Majority Leadership Alliance at State University of New York College at New Paltz. The exhibit title came from one of the quilt squares, each of which was made by a SUNY student.
This display can be seen April 8-16 in the Old Dominion Ball Room in Squires Student Center.
Remembering Those Lost
Artifacts include flags flown over the Statue of Liberty and at Tikrit Air Academy in Iraq by soldiers during Operation Iraqi Freedom; Farham Aboussalis painting Ceremonial Eternity; Carol Davis 32 hand-decorated eggs; Marilyn Rogges painting of a child releasing a red balloon; a KoKeshi Doll from the U.S. Navy Fleet Activities, Yokosuka, Japan; and some of the paper cranes received.
This display will be held April 8-16 at Newman Library Special Collections (first floor). Part of the exhibit is in the windows of Special Collections onto the cafe, open during library hours. A second portion of the exhibit is inside Special Collections, open Monday-Friday, 8am-5pm.
A Community of Learners, a Legacy of Achievement
A selection of books will be displayed to honor of the students and faculty lost on April 16, 2007.
This display will be held April 8-16 at Newman Library Learning Commons.
Communities of Caring
A digital exhibit featuring community expressions of support from the April 16 Condolence Archives.
This display is available online at http://digitalsc.lib.vt.edu/exhibits/show/april16/introduction.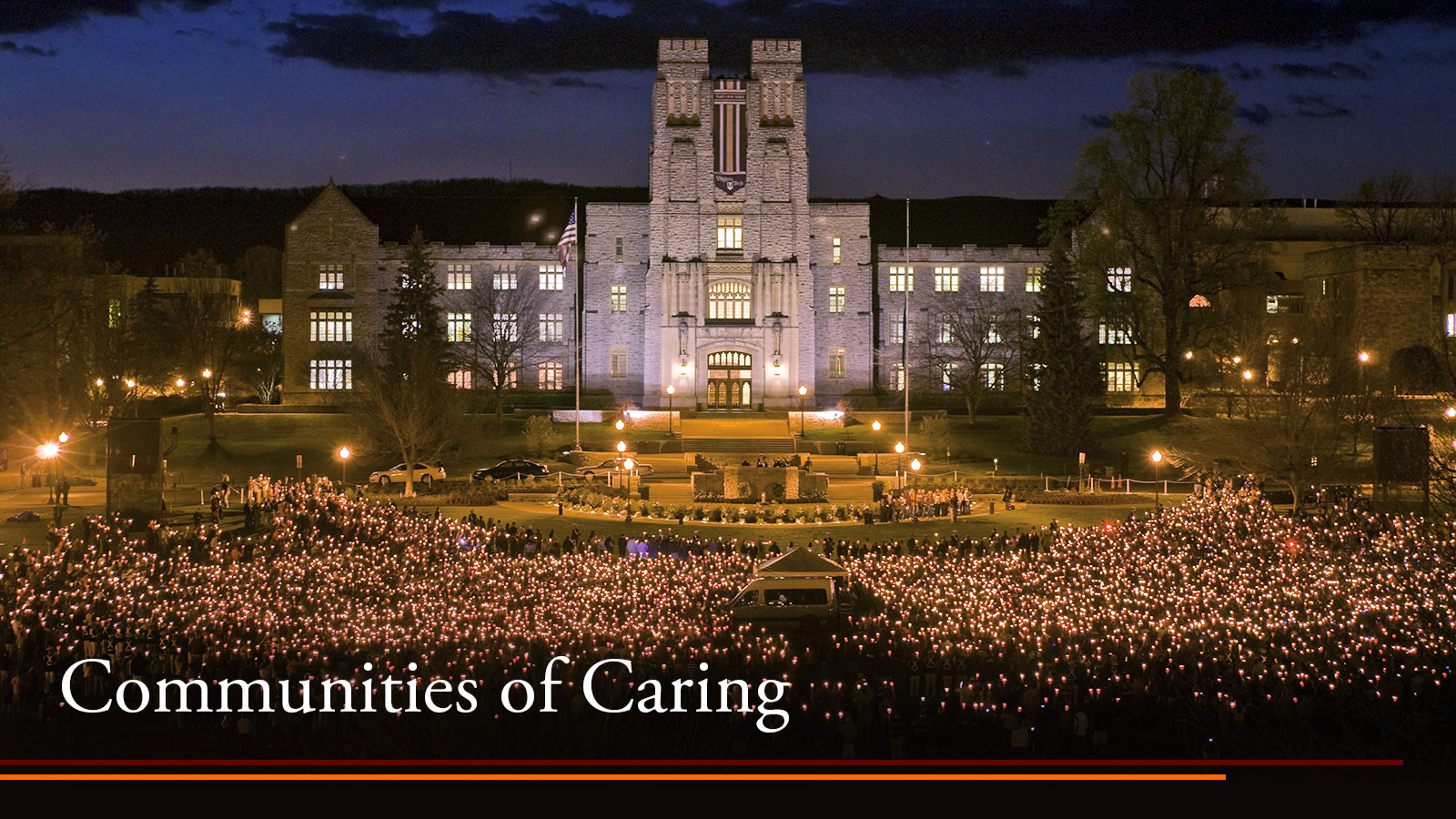 April 16 Condolence Archive display
Items include cards and letters written to police and first responders; a display of the badges of police units who came to help Virginia Tech; Cheryl Thompsons painting, Remember the 32; condolence books; quilted squares from Union Village United Methodist Church; black marble laserworks by David Cunningham, and April 17th Hokies United by Miss Prices second grade class from Riverlawn Elementary, Fairlawn, Virginia.
This display will be held April 12-May 3 at the Holtzman Alumni Center.
Passages
A quiet, contemplative space for remembrance and reflection, this display will include prayer flags from the Virginia Tech Graduate Arts Council, Hillel, Living Buddhism, and Unitarian Universalist Congregation of the New River Valley and photographs from the community.
This display will be held April 12-16 at the Miles C. Horton Jr. Gallery and Sherwood P. Quillen 71 Reception Gallery in Moss Arts Center.