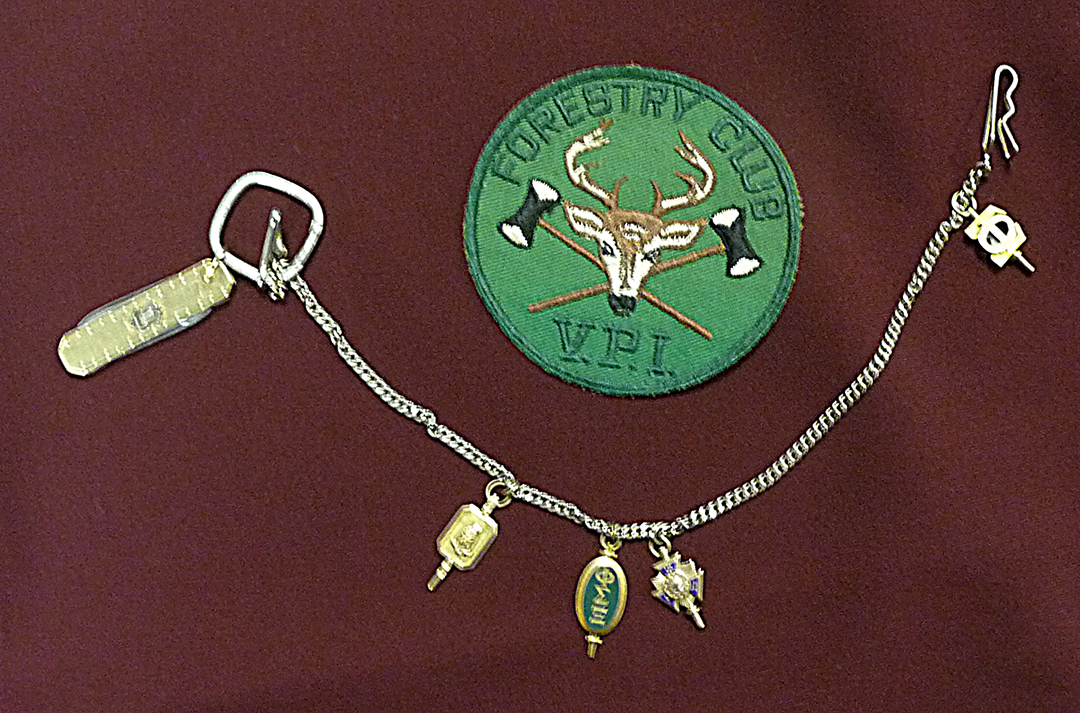 A recent gift from Dr. H. William Gabriel (class of 1956) lets us step back into time to the life of a V.P.I. (Virginia Tech was then called Virginia Polytechnic Institute or V.P.I) cadet and student in the Forestry and Wildlife Conservation (FWC) Curriculum in the 1950s. One of the unique items in the Gabriel collection is a watch chain worn as a Senior Class and Junior Class privilege. According to the Student Life Policies, 1955-56, the watch chain may be suspended from the watch pocket to the right hip pocket of the trousers. … The chain worn to the hip pocket may have no more than five devices suspended therefrom. Gabriels chain has four keys indicating membership in four honor societies: Pershing Rifles (military), Phi Sigma Xi (forestry), Alpha Phi Omega (Boy Scouts service fraternityhe had been an Eagle Scout), and Phi Sigma (biology).
The Phi Sigma Xi key is unique. The forestry program then was tinyonly about 100 studentsand it lacked the recognition afforded students in other curricula. In 1955 Gabriel organized an honorary fraternity for forestry students called Phi Sigma Xi. It was intended to last only a few years until the V.P.I. forestry program could qualify for membership in the established national honorary known as Xi Sigma Pi.
The fifth key on his watch chain was lost. It was a small replica of a double-bit axe representing the Forestry Club. The little pen knife at the end bears the crest of Thomas Jefferson High School Corps of Cadets and was a favor received from his date at a formal military ball there in 1951.
Because Dr. Gabriels own Forestry Club patch was very worn, George K. Jim Frischkorn (FWC 59) donated his patch.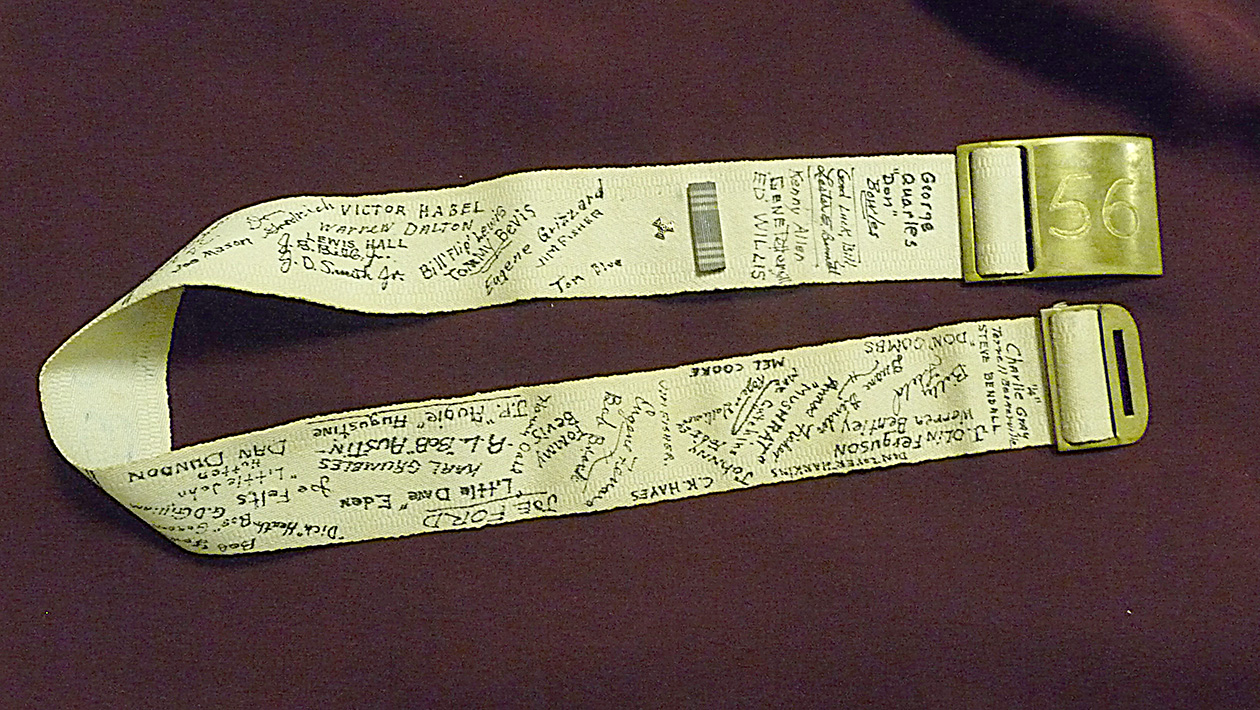 All freshman Cadets ("rats") were required to wear the belt buckle of brass on white web belt in place of the black leather belt. By tradition, on the last day of "rat" status, at the end of the freshman year, classmates signed each other's belts. He defaced the buckle with a 56 and added a very faded blue and white Pershing Rifles ribbon (usually worn on the uniform shirt) and an Alpha Phi Omega pin, two organizations he joined as a freshman.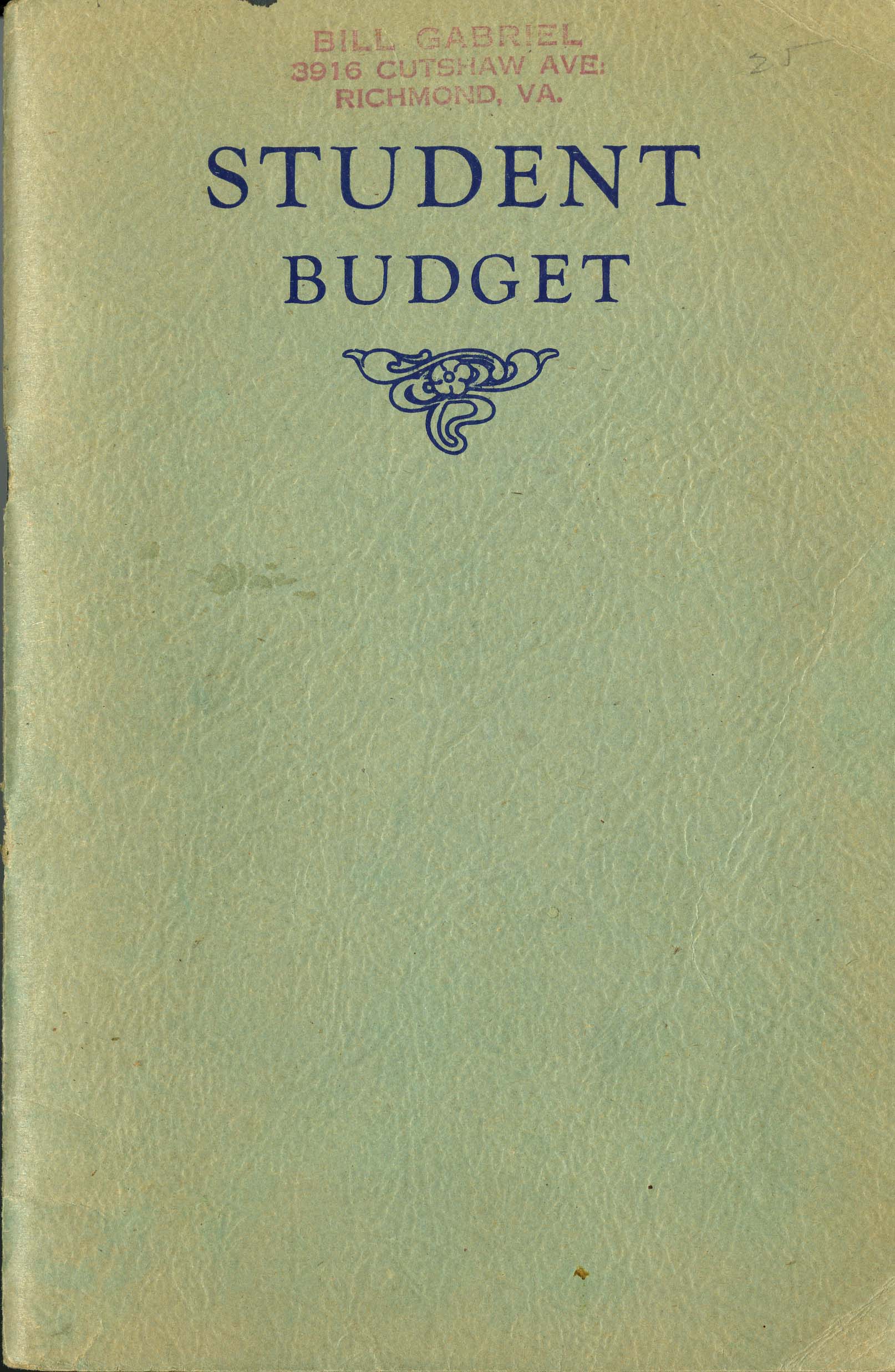 Dr. Gabriel's collection also includes Student Budget: A Daily Record of the Cost of an Education in which he recorded the income and expense of his sophomore year. The booklets were sold in the college bookstore, and he used it to estimate if the War Savings Bonds bought $0.10 and $0.25 at a time would get him through college. His income for the 1953-54 academic year was $956.23, and his expenses were $807.72.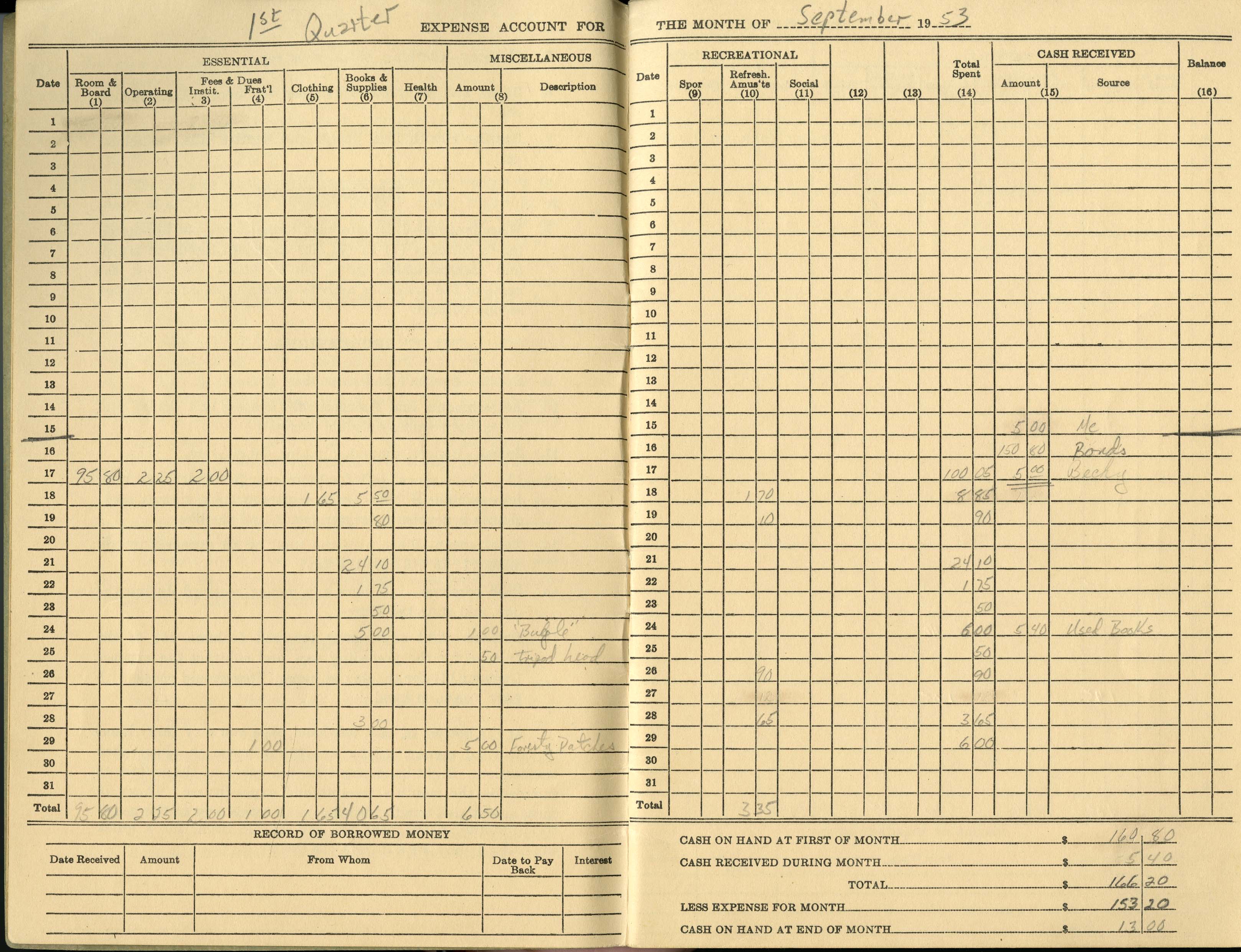 Room in the college dorm and board in the college dining hall cost $95.80 the first quarter, $110.80 second quarter, and $110.80 the third quarter. No expense was recorded for tuition because he had a $300 scholarship that covered those costs. Clothing expenses were virtually nil because he has purchased all necessary uniforms as a freshman.
His job in the dining hall paid $30 to $42 per month. In December he received $11.50 for work on a forest fire, and in May $25 as an ROTC uniform allowance. Other income came from selling his used books, selling photos he took of other students, a Christmas Saving Club account, and cashing in mature U.S. War Savings Bonds that his frugal mother, a single parent, taught him and his brother to buy and save for a rainy day.
Dr. Gabriel wrote:
The week I turned 12 years of age I got a work permit, a Social Security card, and a job that paid more than minimum wage. I had worked ever since. The summers of 53, 54, 55 I hitchhiked out West to work for the U.S. Forest Service on national forests in California and Idaho. Each Christmas vacation I delivered mail from the Westhampton P.O. substation in Richmond. And so I managed to pay for my education.