While pulling materials for our Special Collections open house last week I came across this little gem.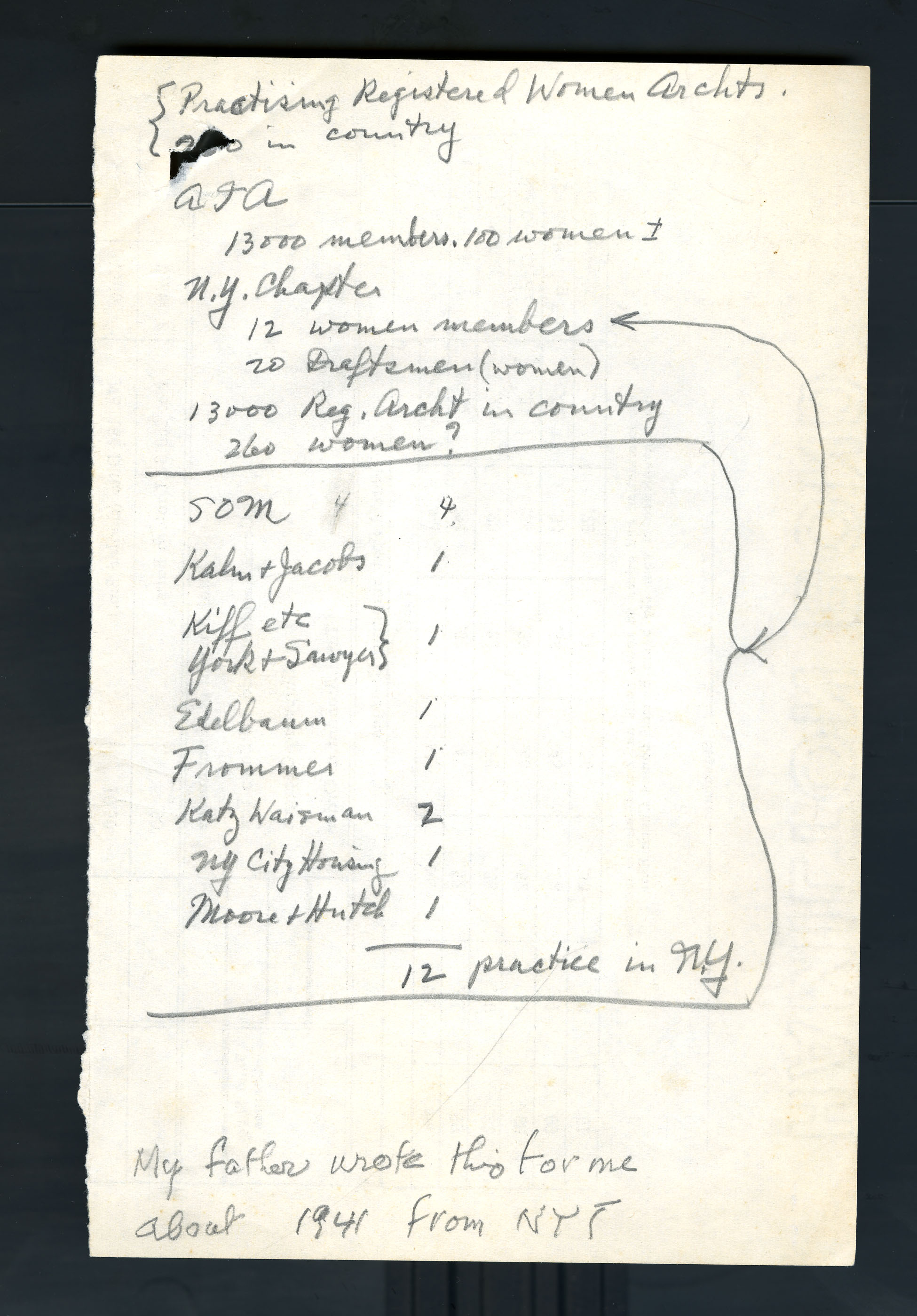 A handwritten note from architect Natalie de Bloiss father dated 1941. The note lists figures he pulled from a New York Times article about the status of women practicing architecture in the United States and in New York, in particular, during this period. As you may guess in 1941 that was not a very high number.
1944 saw de Bloiss graduation from Columbia Universitys architecture program and her first professional job with the firm Ketchum, Gina & Sharp. She relates in a 2004 interview with Detlef Mertins that she was fired nine months later after rebuffing the affections of a fellow architect at the firm. No matter. She quickly secured a job with the then-fledgling but soon-to-be powerhouse firm, Skidmore, Owings & Merrill (SOM).
Here she spent the majority of her professional career working closely with architect Gordon Bunshaft, earning notoriety within the architectural community as one of the top female architects in America. But that notoriety was often not formally recognized. Nathaniel Owings, one of the original founders of SOM, relates in his 1973 autobiography that de Bloiss mind and hands worked marvels in design and only she and God would ever know just how many great solutions, with the imprimatur of one of the male heroes of SOM, owed much more to her than was attributed by either SOM or the client.
de Blois is now recognized for her work on a number of influential SOM projects including: Lever House (NYC); Pepsi-Cola building (NYC); Union Carbide Corporation (NYC); Connecticut General Life Insurance (Hartford, CT); Lincoln Center (NYC); and the Hilton Hotel (Istanbul, Turkey).
After 30 years with SOM, she left to join the Houston firm of Neuhaus & Taylor as Senior Project Designer, and during the last thirteen years of her architecture career, she taught at the University of Texas at Austin, retiring in 1993. de Blois passed away of cancer earlier this year on July 22, 2013. She was 92 years old.
She had a fascinating career. If you think Joan and Peggy have it rough you should read her in-depth interview with Mertins mentioned above. But the thing I love most about this great collection is this tiny scrap of paper, a note from a father to a daughter.
******************
By the way if you missed our last open house dont fret we are holding them on the first Tuesday of each month this fall, through December.