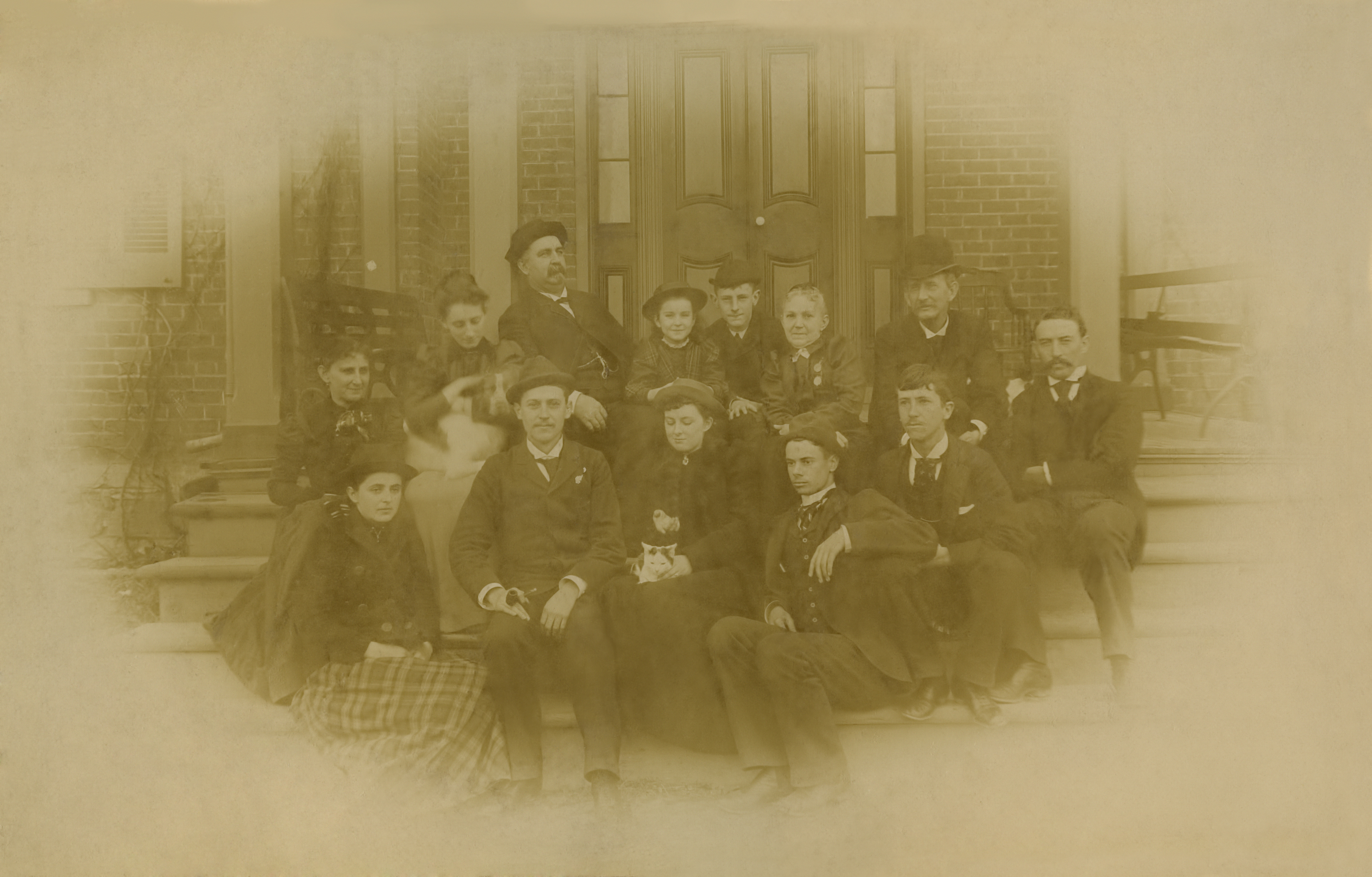 A recent gift of images and family papers from Larry McBryde, great grandson of former Virginia Tech President John McLaren McBryde, helps us to step back in time to 1891 when John McLaren McBryde accepted the presidency of V.A.M.C. at age 50 and the campus looked very different. The collection includes images of the campus as it used to be.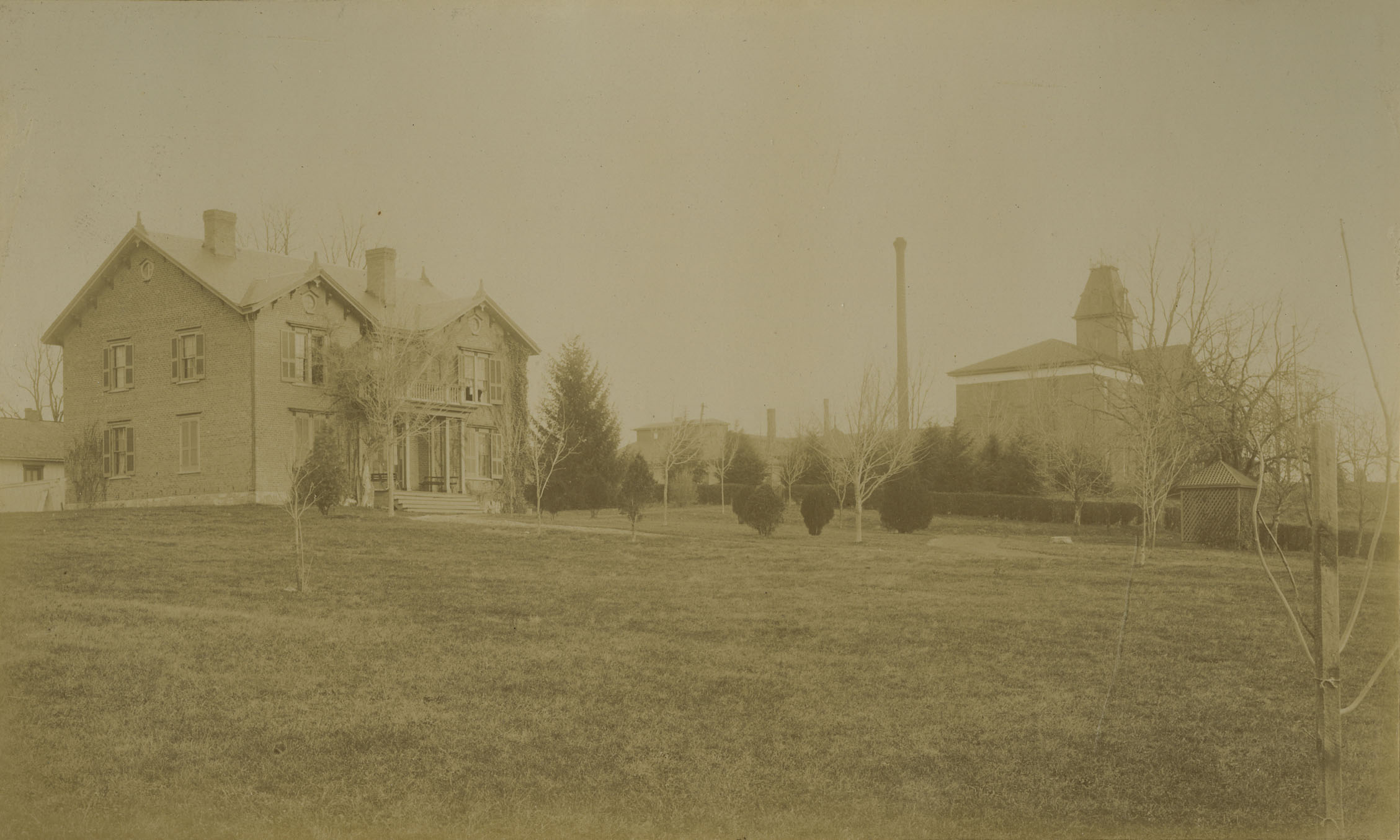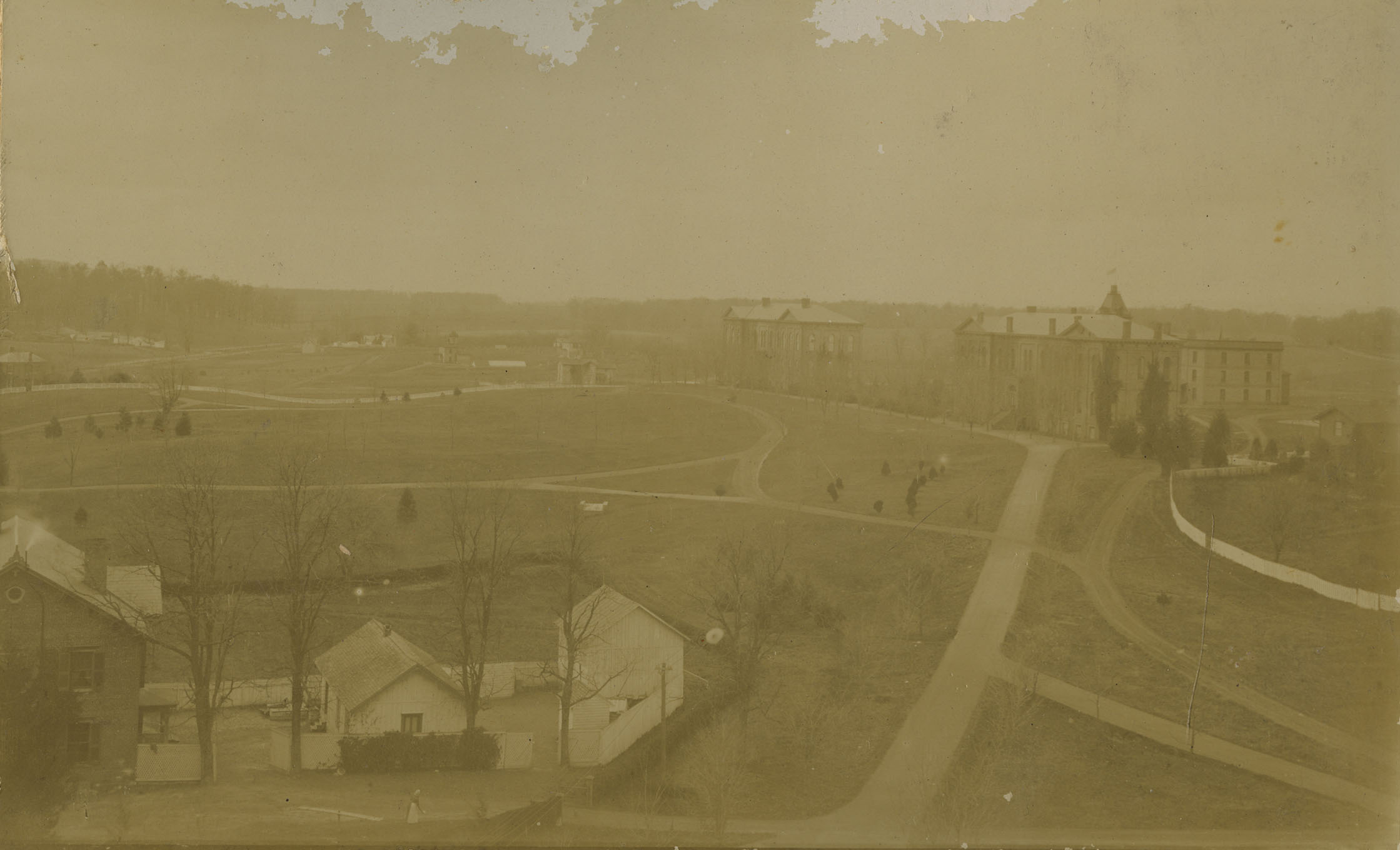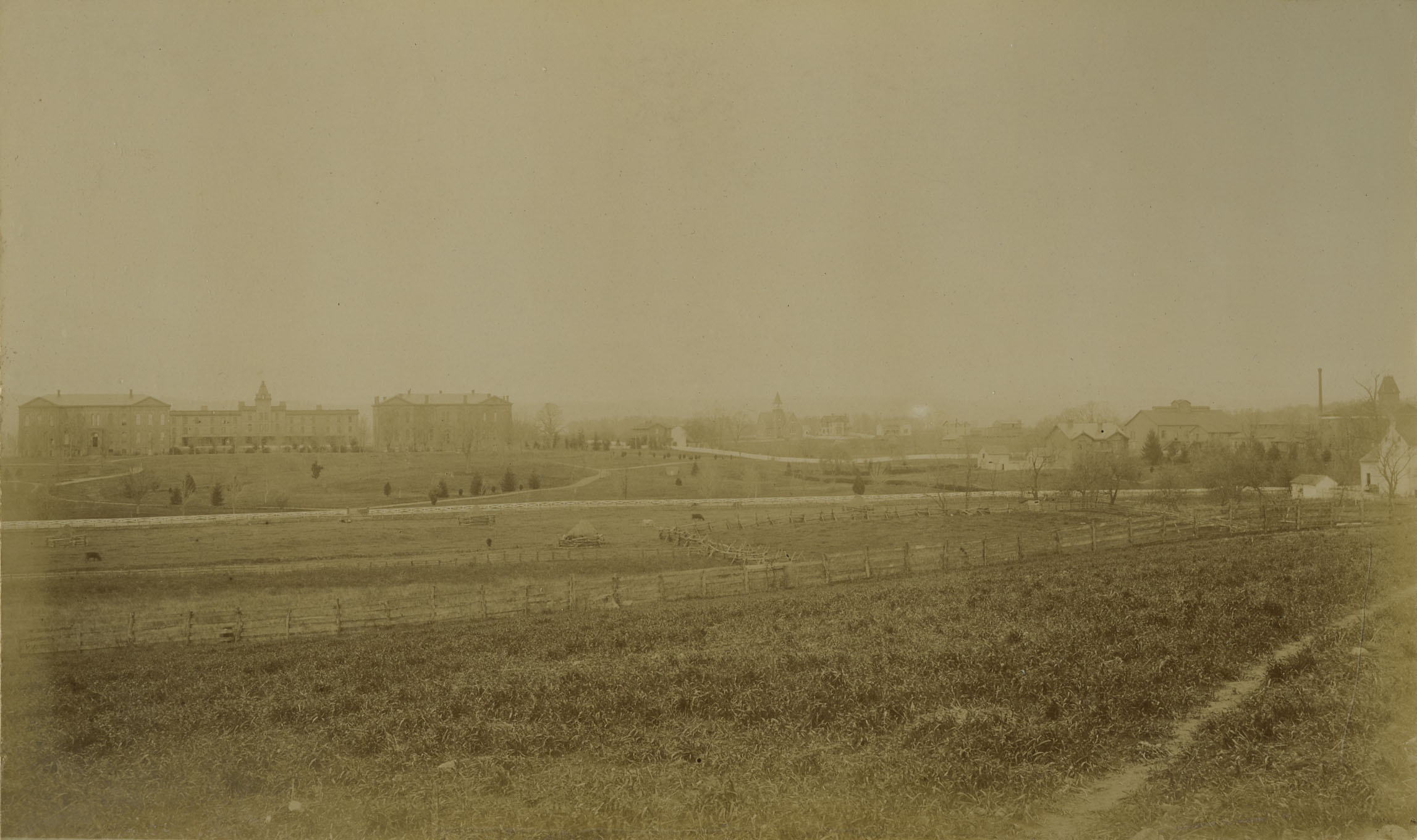 A Difficult Decision for President McBryde
Letters included in Larry McBrydes gift illuminate a very difficult decision in President McBrydes career. His letter of May 12, 1904 to his son Charles Saint," tells of his decision to decline the offer of the presidency of the University of Virginia (UVA). The UVA Board of Visitors voted unanimously to elect him president and to allow him to dictate his own terms. McBryde had strong ties to UVA as he had studied there until the outbreak of the Civil War in 1861 when he returned to his birthplace of Abbeville, South Carolina and joined a Confederate volunteer company. After the war he moved to a 1,000-acre farm near Charlottesville in 1867 and took an active part in organizing a Farmers Club.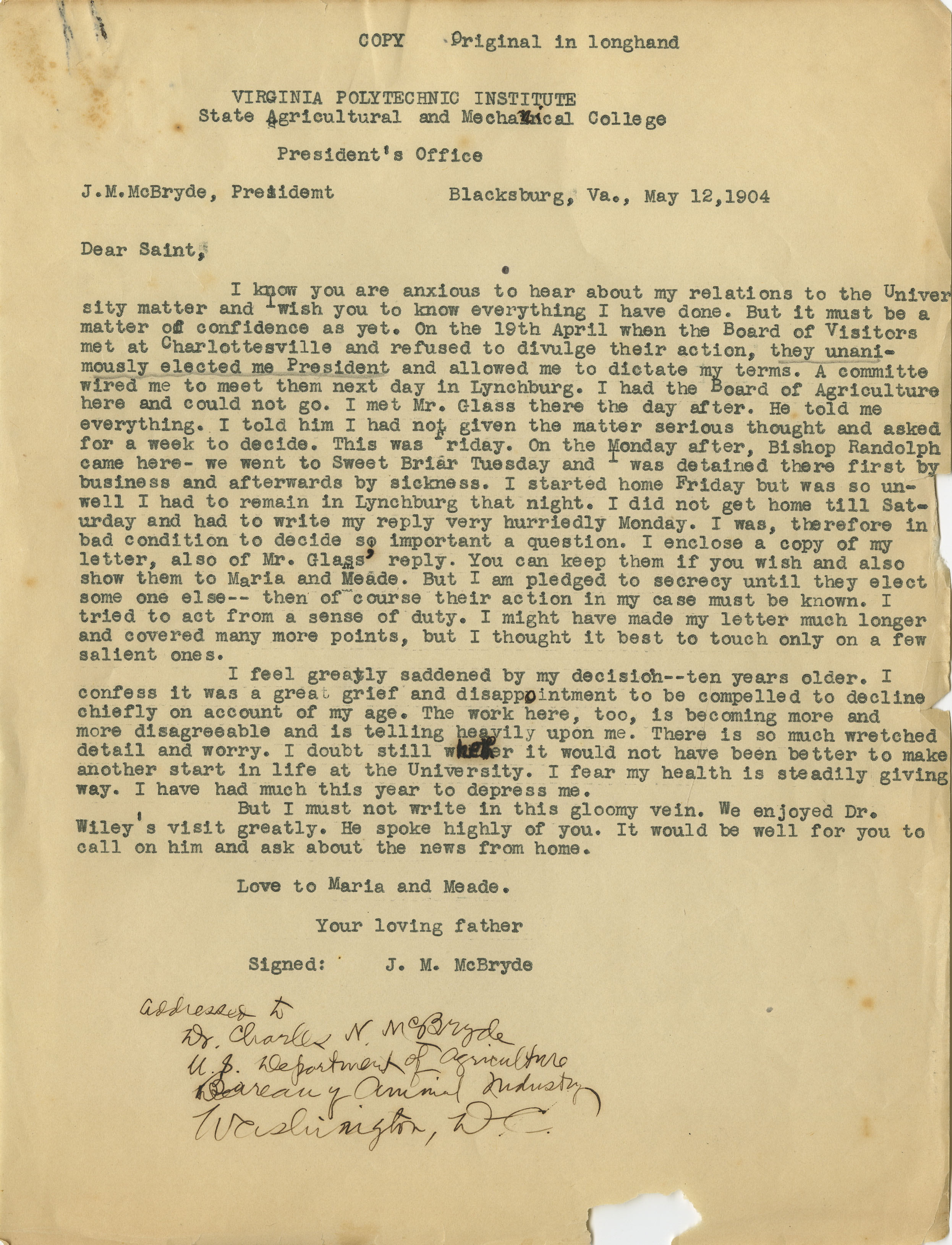 President McBrydes letter to Carter Glass about his faltering decision to decline the offer and to continue as president of Virginia Tech includes reflections on the role of president.
In his gracious reply to McBryde's letter of refusal, Carter Glass asserts, I believe the V.P.I is getting to be a greater institution for Virginia than any other.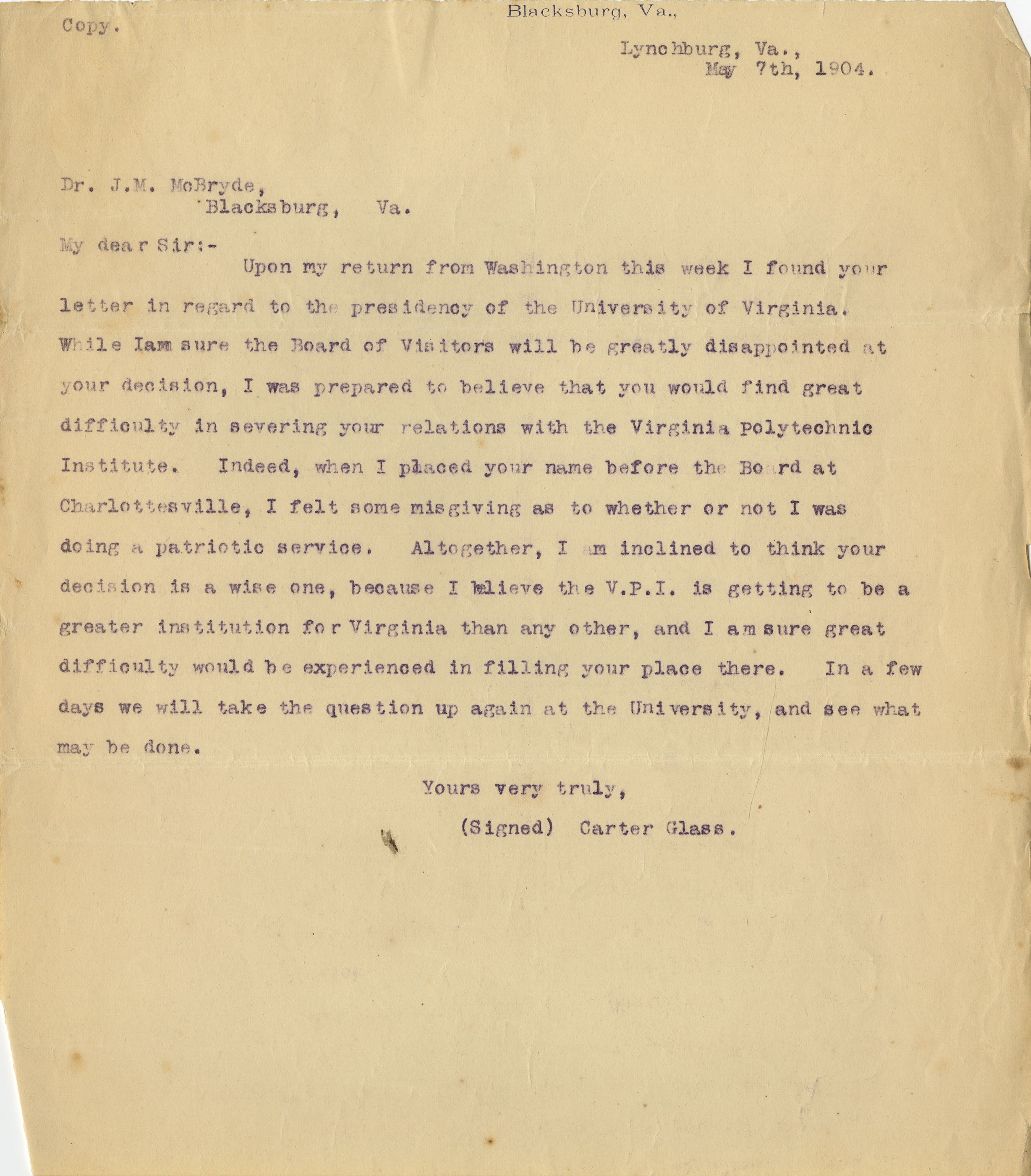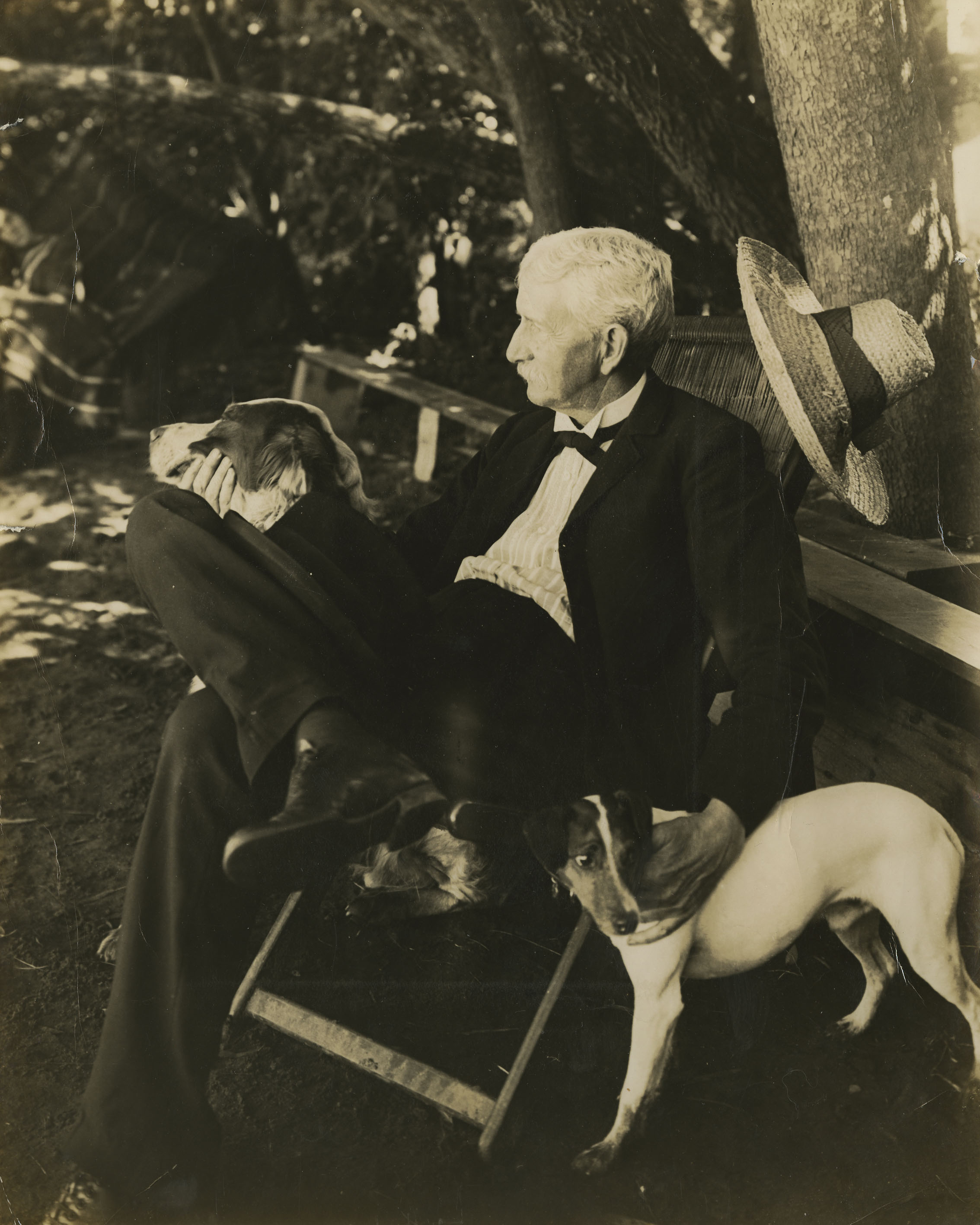 McBryde, Father of the Modern VPI, resigned as president effective July 1, 1907. He was given the title President Emeritus and granted the first honorary degree awarded by the college, the honorary Doctor of Science degree. The first graduate degree for completion of studies beyond the bachelor degree was the Master of Science (M. S.), awarded in 1892 to his son, Charles (Saint). We invite you to view these and other historical materials in the Special Collections Reading Room in Newman Library.
Could That Horsewoman Be Mary G. Lacy, the First Professional Librarian at Virginia Tech?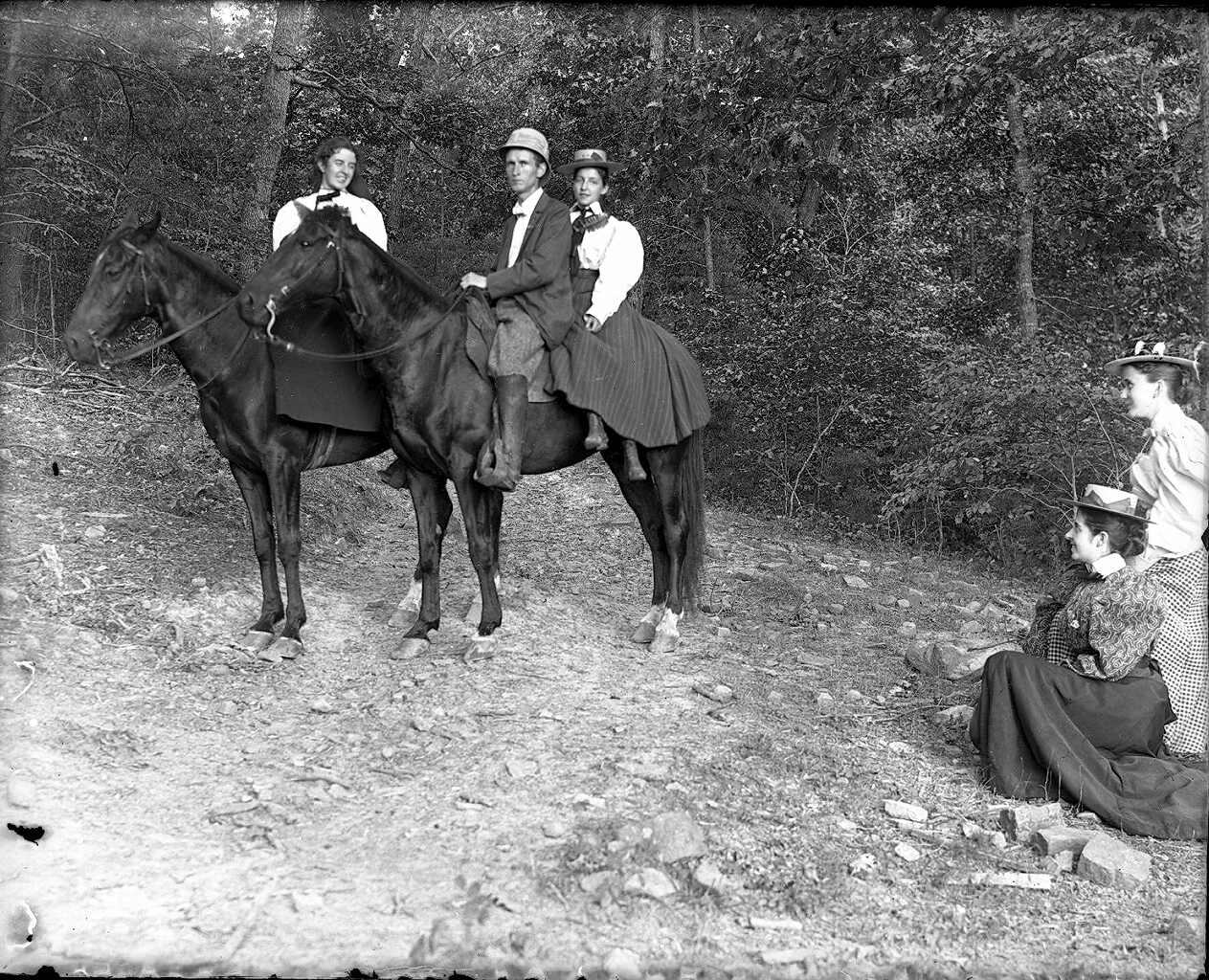 Larry McBryde identified two of President McBrydes children in the photograph, from left, Susan Susie McLaren McBryde and John McLaren McBryde, Jr., his own grandfather. Since he knows that Susie was friends with Mary G. Lacy, the first professional librarian at Virginia Tech, Larry McBryde wonders if she might be one of the other young ladies in the picture. Mary G. Lacy served as Head Librarian from 1903 -1910. She was followed in that position by her sister Ethel A. Lacy, who served as assistant librarian from 1907-1909 and then as librarian from 1910-1913. Mary Lacy also had the assistance of Mary A. Ernst, later Mary Ernst Phillips, cataloguer, from 1904-07. The very first head librarian at Virginia Tech was Professor V. E. Shepherd, who also served as treasurer and secretary of the faculty from 1872-73 to 1874-75. Professor Shepherd went on to serve as professor of Latin, modern languages, and book-keeping. Students, including R. J. Noell (1883-84, 1885-86), W. H. Graham (1886-1887), and A. W. Drinkard (1891-92), were librarians until Mary G. Lacy took up her post. The current head Librarian at Virginia Tech is Tyler Walters, who is the Dean of the University Libraries.
Any further images of or information about Mary G. Lacy would be gratefully received by the University Archives. Please contact Tamara Kennelly, University Archivist, 231-9214, tjk@vt.edu.
–Tamara Kennelly