At a time when women could find little work or credibility in the field of architecture Frank Lloyd Wright unhesitatingly employed and mentored women accepting them into his Taliesin Fellowship as peers. Over the years more than 100 women architects, designers, and artisans worked with Wright. The IAWA has architectural collections from three of these women: Eleanore Pettersen (1941-1943); A. Jane Duncombe (1948-1949); and Lois Davisdon Gottlieb (1948-1949).
Taliesin
Longtime proponents of Learn by Doing, Frank Lloyd Wright and his third-wife Olgivanna Wright envisioned a self-sufficient school and community where architecture and the arts would flourish. Therefore, when they established the Taliesin Fellows at Wrights summer home, Taliesin, near Spring Green, Wisconsin in 1932 they put into place a system that would emphasize painting, sculpture, music, drama, and dance in their places as divisions of architecture as well as requiring that the apprentices be responsible for the entire work of feeding and caring for the student body.
Apprentices at Taliesin worked in the gardens and fields, did laundry, cooking, and cleaning while simultaneously working on the construction, daily operations, and maintenance of the school. Taliesin quickly developed into an architectural laboratory producing some of the nations best design work and attracting talented artists and creative thinkers from around the word.
Under Wrights direction apprentices created renderings, made models, did the engineering and produced construction drawings. They supervised construction on projects like the Johnson Wax Headquarters (Racine, WI), Fallingwater (Bear Run, PA), and the first Usonian houses. In the winter of 1935, the entire Fellowship moved to Arizona, where they eventually established Taliesin West in Scottsdale (1937) after spending the first two winters in temporary quarters. The 1935 migration inaugurated the tradition of seasonally moving the school between Wisconsin and Arizona.
Wright passed away in 1959 and upon his passing the ownership of the Taliesin estate in Spring Green, as well as Taliesin West, passed into the hands of the Frank Lloyd Wright Foundation. The Foundation continues the educational mission of Frank Lloyd Wright and the Taliesin Fellowship has evolved into the Frank Lloyd Wright School of Architecture.
Apprentices
Eleanore Pettersen (1913-2003); apprentice at Taliesin from 1941-1943.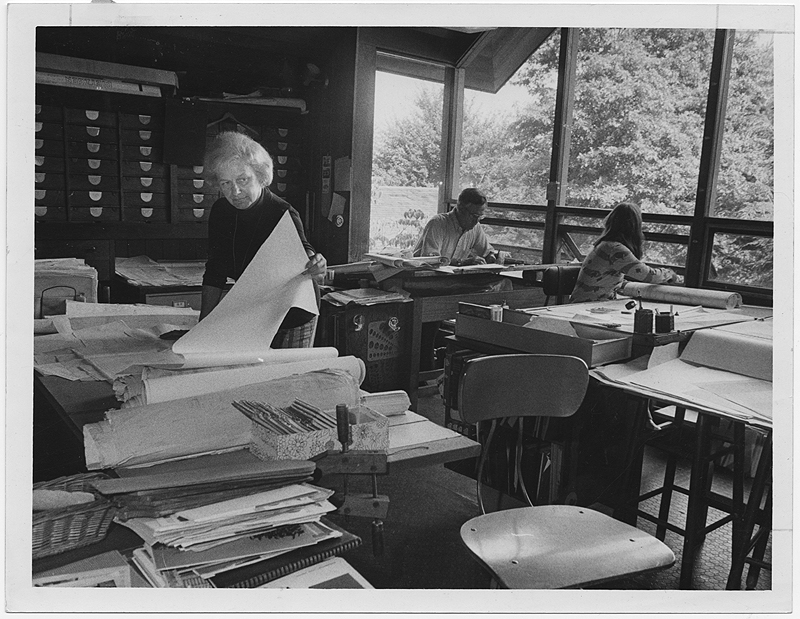 Pettersen was one of the first womenlicensed as an architect in the state of New Jersey in 1950, and was the first woman in New Jersey to open her own architectural office. She primarily designed residences. Among her clients were President Richard Nixon and jazz artist George Benson. She became a Fellow of the American Institute of Architects in 1991.
Pettersen on Wright: I am a tactile person and must really enter into the process of a given field. In this case, the process is construction. In 1941, such an aspiration seemed impossible for a woman. Being an apprentice afforded me the opportunity to participate in the building process concrete, wood, electrical work, etc. This experience I have carried with me my whole life. It was the foundation of my architecture career. Mr. Wright was my architectural father and from him came my desire for excellence and architectural integrity.
Pettersen on Taliesin: It was a beautiful life. We had time for everything, time to be creative. We made our own music and entertainment, had our own dress parties. The only thing was that it was so insular; you didnt see anyone from the outside. It was like living on the moon. When I left, my bloodstream ran differently.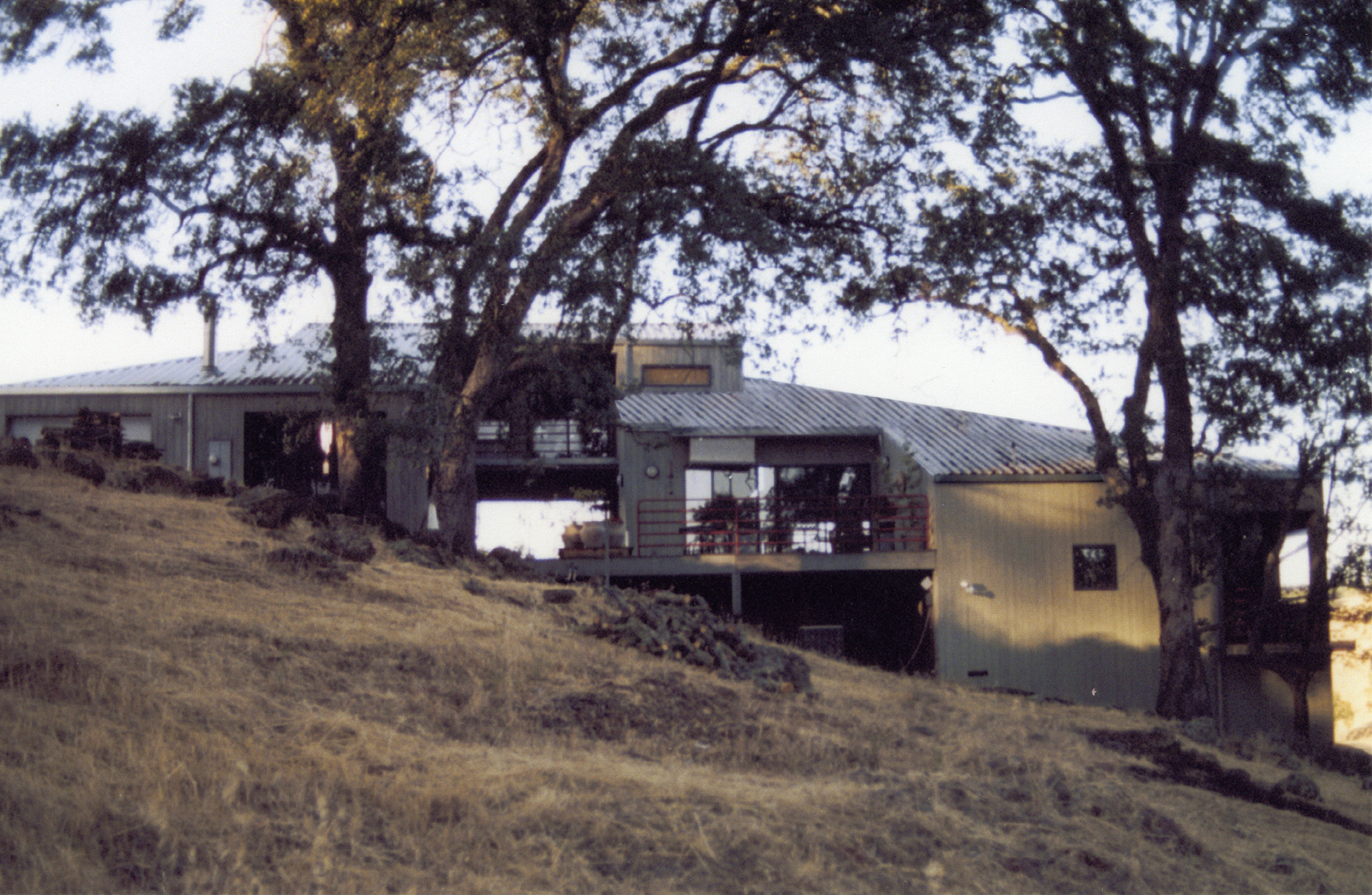 A. Jane Duncombe (1925-); apprentice at Taliesin from 1948-1949. A. Jane Duncombe graduated from the Art Institute of Chicago's School of Industrial Design where she studied under Marya Lilien. Lilien was the first woman to receive an architectural degree in Poland and was a Charter Apprentice at Taliesin. Lilien told Duncombe early in her studies, "You must be an architect, you have it!" Duncombe teamed up with fellow Taliesin apprentice Lois Davidson Gottlieb to form the design team Duncombe-Davidson, based in Sausalito. During their partnership (1951-1956) they designed residences in Marin County starting with the Val Goeschen house, a one-room unit with 576 square feet, in Inverness, CA. Duncombe continued to practice in the San Francisco Bay area for forty years where she completed a broad range of projects.
Duncombe on Taliesin: The impact of Taliesin was Taliesin itself. I am convinced that having lived in those incredible buildings was the teaching that was necessary. For the first time I was aware of the wonder possible in buildings. It changed the way I look at everything and I know it is essential to all of us who work with land, light, space, and materials.
Lois Davisdon Gottlieb (1926- ); apprentice at Taliesin from 1948-1949.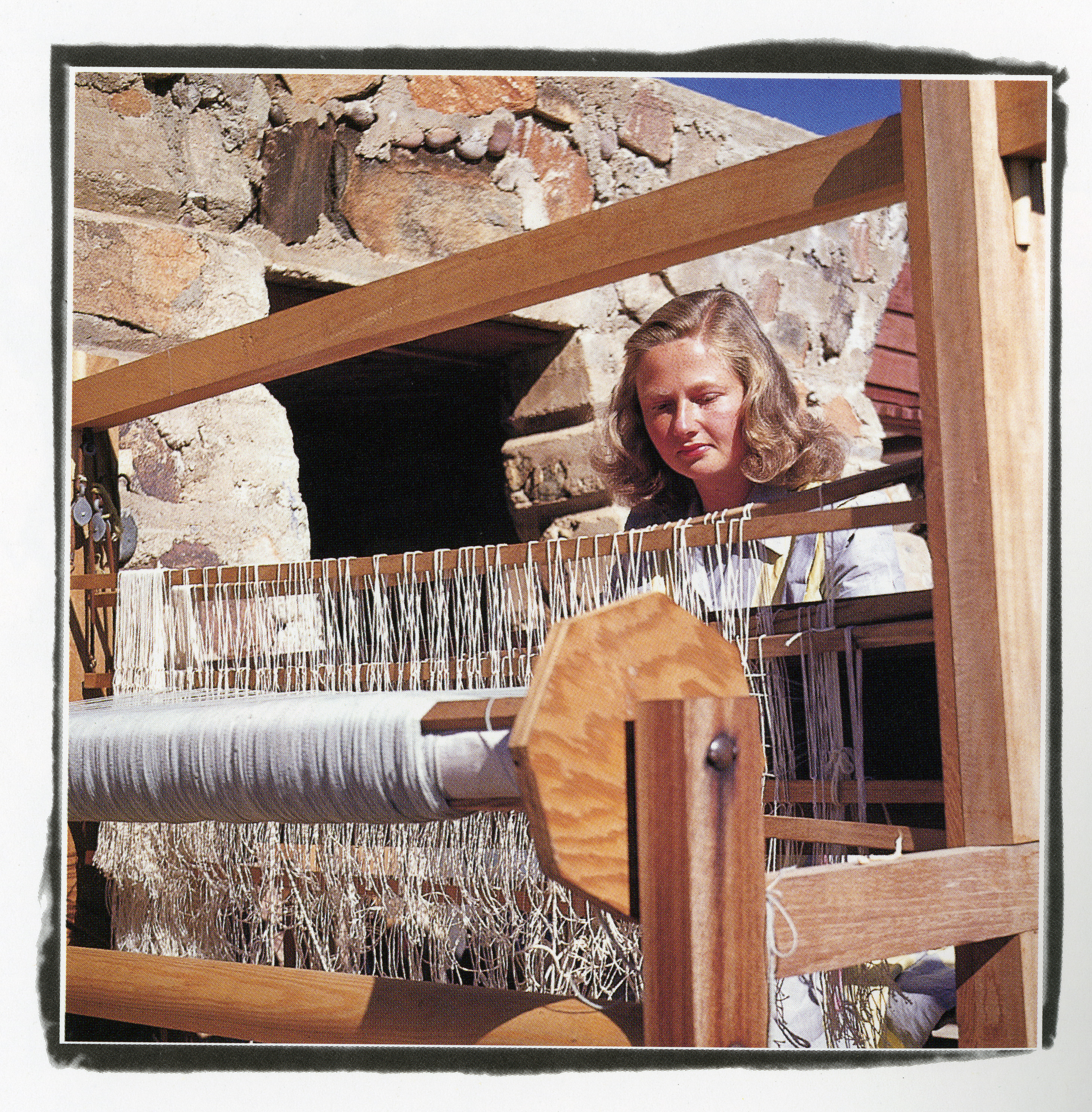 Gottlieb is a residential designer based in San Francisco, CA. After her partnership with A. Jane Duncombe (see above) she worked as a freelance designer on over 100 projects in the Bay Area and in Riverside, CA, as well as in Washington, Idaho, and Virginia. She also published several books including, Environment and Design in Housing (a book based on her lectures for a course of the same name published in 1966) and A Way of Life: An Apprenticeship with Frank Lloyd Wright (which was based on the traveling exhibit of her photos taken while at Taliesin in the late 1940s).
Gottlieb on Wright: The first time I saw a house designed by Frank Lloyd Wright it was as if I suddenly heard a Beethoven Symphony, never having listened to music before. It was the Hanna house on the Stanford campus. During my last quarter as a student there my architecture class went on a tour of the house. Stunned by the experience I had to do something about it.
Gottlieb on Taliesin: Mrs. Wright informed me, the first time that we met, that at Taliesin everything was done from scratch. We sleep in sleeping bags, weave our own cloth, grow our own food, and play live music. Fortunately, I knew how to play the piano and weave. True to my word I made new pillows for the living room.