If you're anything like me, working from home *may* have become a baking & cooking extravaganza of sorts. Success or failure, I find being in the kitchen extremely comforting. (I am your prime example of a stress-baker: just ask the chocolate chip cookies from last week, the oatmeal raisin walnut cookies bars from last night, the supplies for apple cheddar scones on my counter, and my plan to finally attempt to make bread–maybe…I think…when I work up the courage.) Anyway, one of the downsides to working from home/Special Collections and University Archives being closed is that I can't scan anything new for a blog post. And while there is some material on our servers, I have a far more devious plan for this week's post. If you, too, are social distancing, quarantining, or isolating, now is a great time to try those recipes you have always wanted to try. If you'd like to experiment AND keep those you are sharing a space with at a safe, 6-foot distance, here are some historic recipes that can help you succeed, re-purposed from some of my previous posts on our food history blog. Or, at the very least, you might stay 6 feet from the plate?
First off, I know there are many people that enjoy Spam. I don't hold anyone's food choices against them–I have my own favorites that plenty of people would question. But this is a whole other level: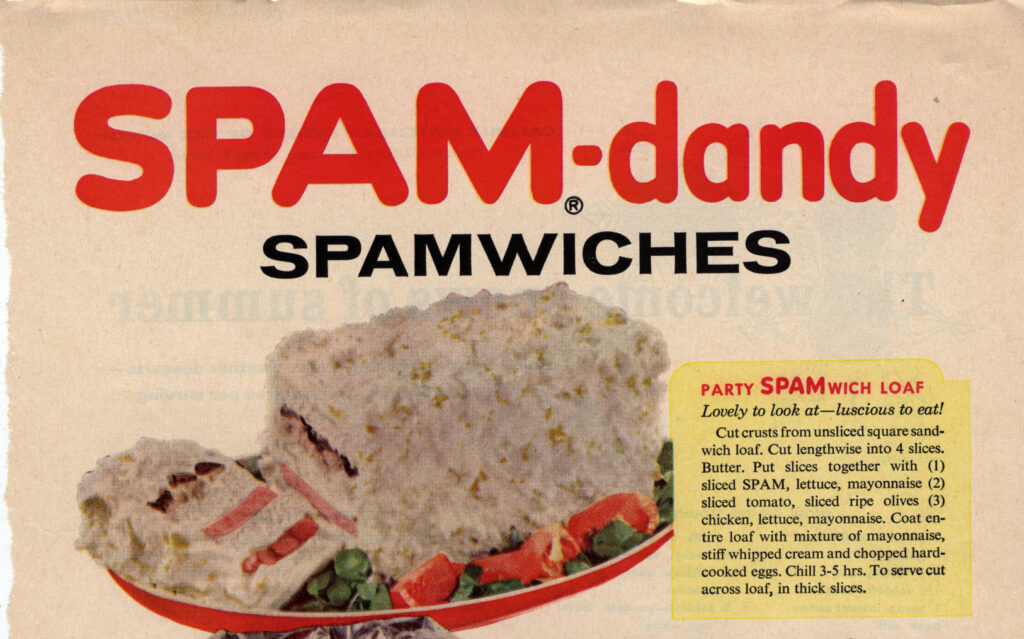 This sandwich contains Spam, chicken, lettuce, tomato, olives, butter, and more mayonnaise than seems possible. Yes, that is frosted with a mixture of mayo, whipped cream, and hard-cooked eggs. You might understand how, upon seeing it for the first time, I may have mistaken it for a cake? More on this item and some other frosted sandwiches here: https://whatscookinvt.wordpress.com/2011/11/09/frosted-sandwiche/. (Also, the bottom of that post has links to additional posts about frosted sandwiches.)
Before leave sandwiches in this post, historically speaking, there are thousands and thousands of sandwich fillings. Here are a few from 1924: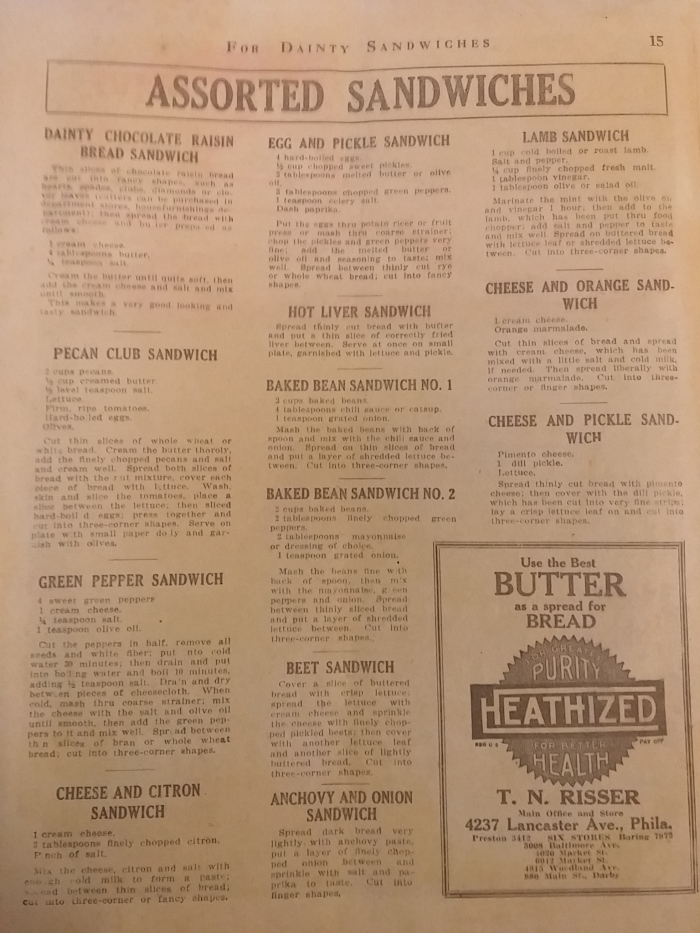 This is just one of several newspaper-sized pages of recipes from this four-sheet fold out. Personally, I might dive face first into some of these, but at least a few might have me considering my options. Want to see more? The original post is online here: https://whatscookinvt.wordpress.com/2017/07/21/mrs-scott-sandwiches-1924/.
For those of you fond of savory pies, you might consider branching out into lesser used proteins in these modern times: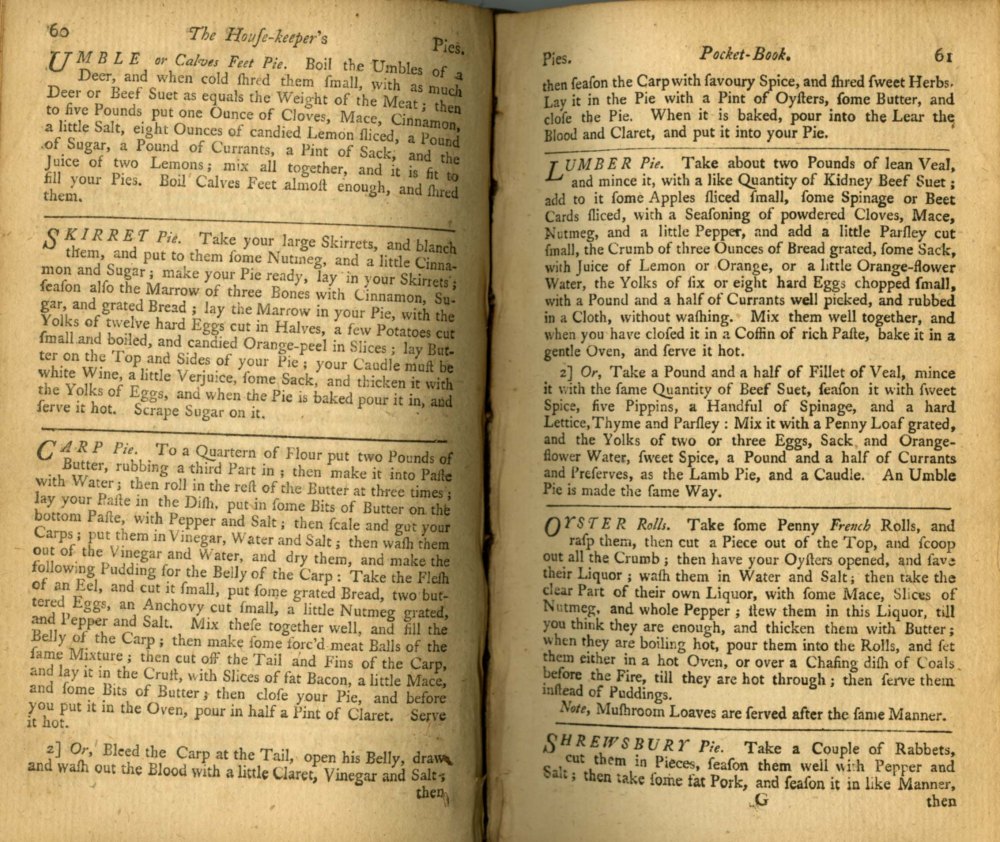 "Umble pie" is what first caught my attention in Sarah Harrison's The house-keeper's pocket-book, and compleat family cook : containing above twelve hundred curious and uncommon receipts in cookery, pastry, preserving, pickling, candying, collaring, &c., with plain and easy instructions for preparing and dressing every thing suitable for an elegant entertainment, from two dishes to five or ten, &c., and directions for ranging them in their proper order, but once you get past the calves feet, there is also veal & suet, rabbit, skirret (a root vegetable) and bone marrow, and carp. These recipes are from the mid-1700s and you can read more about this book here: https://whatscookinvt.wordpress.com/2016/12/02/housekeepers-pocketbook-compleat-family-1760/.
Lastly, anyone who follows the culinary blog (inactive as I have been lately–apologies for that!) knows that I have something of a love-hate relationship with gelatin. So, I can't write this post without sharing some wiggly, jiggly recipes.
Recipes from The Greater Jell-O Recipe Book, 1931

Recipes from The Greater Jell-O Recipe Book, 1931
These images are from The Greater Jell-O Recipe Book, a 1931 pamphlet. The first page includes some more savory, protein packed gelatin. Rice and fish? Chicken mousse? Ham and celery? …sure? Yes, I poke fun, but to put these recipes in context, 1931 was two years into the Great Depression. Economy was key in the kitchen would remain so for nearly another decade. Recipes like this used up every bit of leftovers. The second page contains mainly sweeter, fruit-based jiggling recipes, but I would point on the one made entirely of olives and cherries. I'll say that again. Olives (with pimentos). And. Cherries. Yeah, I don't have anything either. If you're feeling brave, more Jell-O pamphlets from 1931 in this post: https://whatscookinvt.wordpress.com/2015/02/20/jello-pamphlets-1931/. And if you search the blog for "jello" or "gelatin," you'll find more.
Whatever you're making, try to take a moment and enjoy your food. It can comfort us and connect us to memories in surprising ways and these days, we might just need that kind of emotional hug. Cheers and good snacking!