Only four Virginia Tech football players have had their numbers retired: Carroll Dale, Frank Loria, Bruce Smith, and Jim Pyne.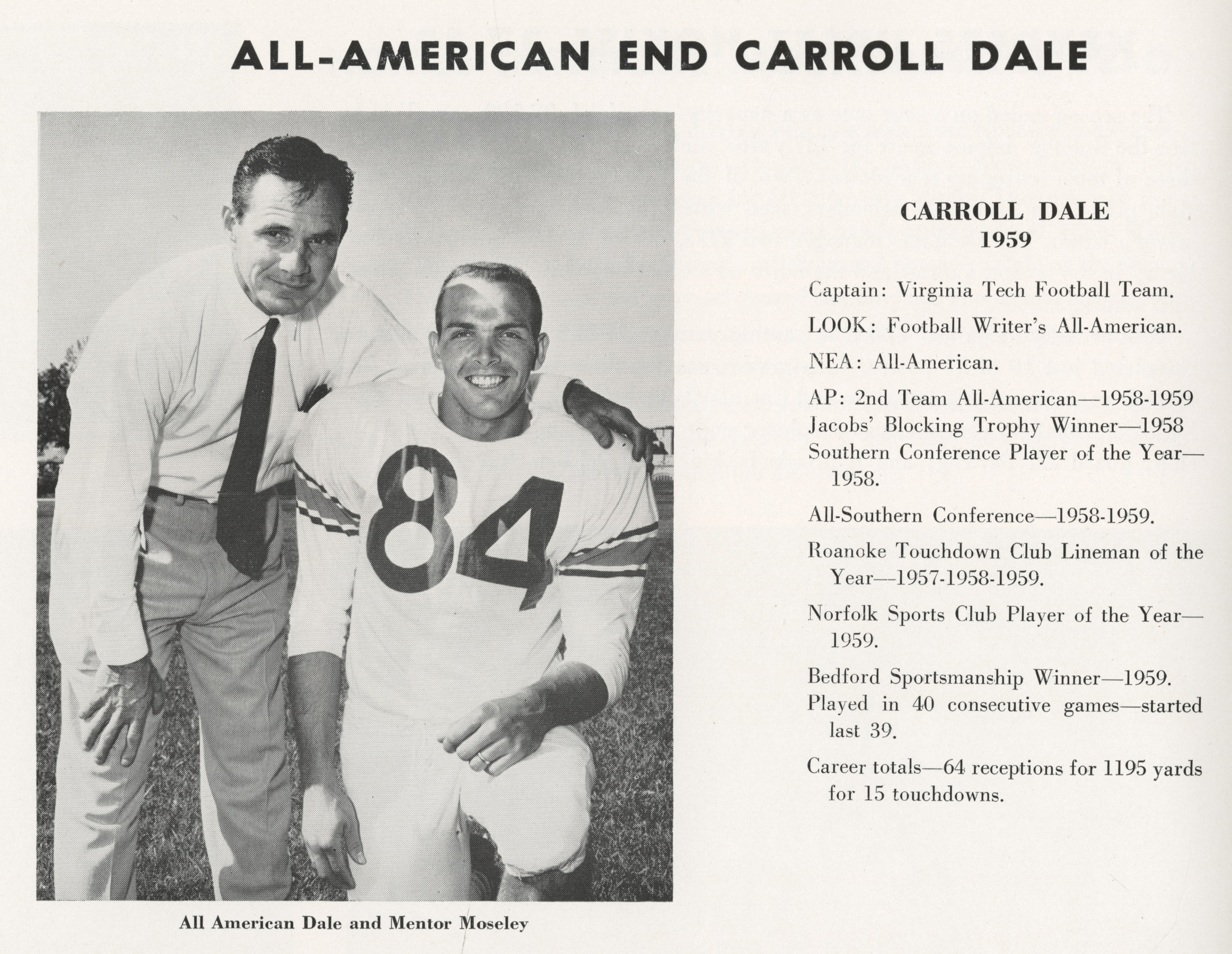 No. 84 Carroll Dales jersey was the first to be retired. Born in Wise, Virginia, he entered Virginia Tech in 1956 as an offensive and defensive end. After seeing varsity action as a reserve in the first game of the 1956 season, he started in the remaining 39 games of his college career. He became V.P.I.s first bona fide All-American. As a junior in 1958, he was named the Southern Conference Player of the Year, and for three consecutive years (1957-59), he was voted the Roanoke Touchdown Clubs Lineman of the Year. He was team captain his senior year and earned first team All-American honors. In all four seasons, he led the Hokies in pass receiving. Dale finished his college career with 67 receptions for 1,195 yards and 15 touchdowns. He was inducted into the College Football Hall of Fame in 1987.
Following graduation, Dale played five seasons with the Los Angeles Rams. He scored on a 57-yard touchdown pass in his first NFL game. The highlight of his professional career came with the Green Bay Packers and three straight National Football League championships under coach Vince Lombardi. The 1967 and 1968 games were known retroactively as Super Bowl I and Super Bowl II. After eight seasons in Green Bay, Dale played a season with the Minnesota Vikings when he found himself again in the Super Bowl. He was inducted into the Packers Hall of Fame in 1979. Carroll Dale Stadium, the football stadium of Dales high school in Wise, J.J. Kelly High School, was named for him.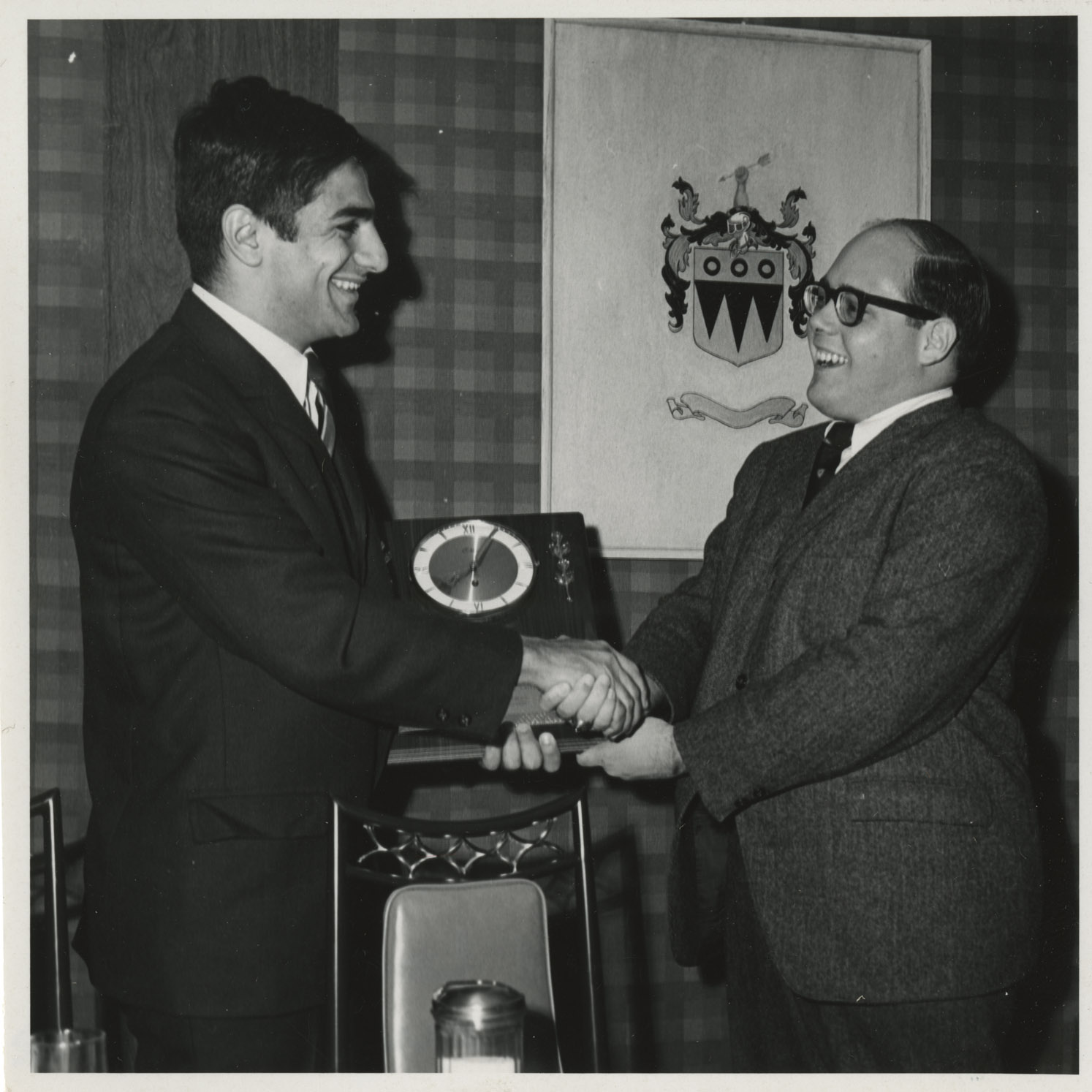 No. 10 Despite his 5-9, 175-pound frame, Frank Loria was one of the most tenacious football players ever to play for Virginia Tech. A native of Clarksburg, West Virginia, he played basketball, baseball, and football at Notre Dame High School. When he came to Virginia Tech, Loria started every game at safety from 1965-67 and rapidly established himself as one of Techs all-time greats. He was famous for his uncanny ability to diagnose opposition plays and was called a coach on the field. Loria was the first Virginia Tech football player to gain first-team All-American honors in back-to-back seasons (1966, 1967), and he became the Hokies first consensus All-American pick as a senior in 1967, making seven first-team All-American squads. During his Tech career, he had seven interceptions and a number of punt return records. He returned 61 punts, averaging 13.3 yards on each return. He ran four punts back for touchdowns. One was a school record 95 yards.
Loria was assistant coach at Marshall University on Nov. 14, 1970 when all players and coaches died in a plane crash. The tragic accident took 75 lives. Loria was 23 years-old and was married with two children and a third on the way. He was inducted into the College Football Hall of Fame in 1999. In the 1970s Frank Loria Memorial Field opened in Clarksburg City Park. Notre Dame High School plays its home games there.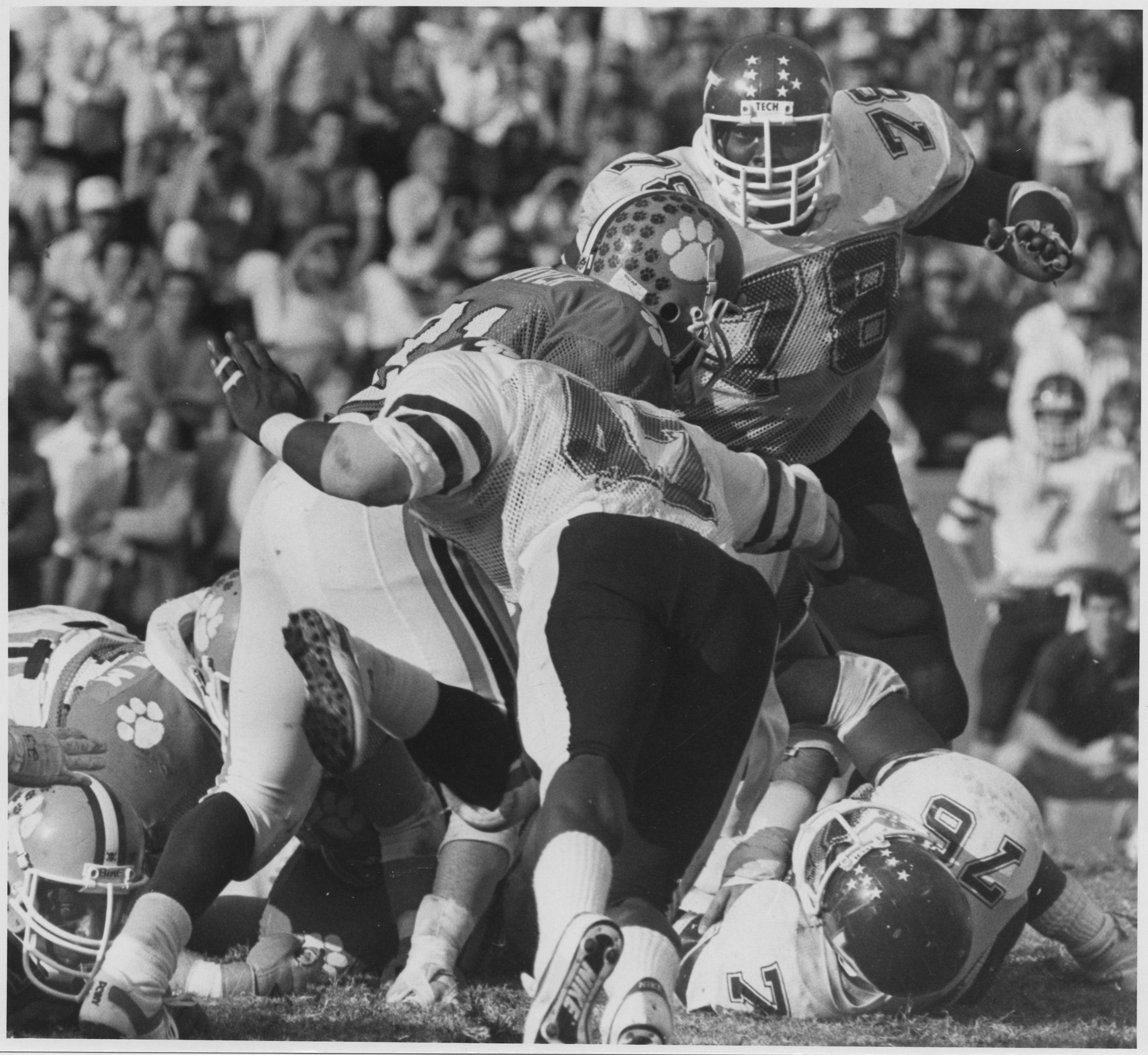 No. 78 Known as The Sack Man of Virginia Tech football, Bruce Smith capped his sensational college career in 1984 by winning the Outland Trophy as Americas top lineman. The Norfolk, Virginia native graduated from Booker T. Washington High. Following an all-state high school career, Smith accepted an athletic scholarship to Virginia Tech where he had a career total of 71 tackles behind the line of scrimmage for losses totaling 504 yards. Sports columnist Wilt Browning from The Greensboro Daily News noted that in four years Smith accounted for losses totaling more than five times the length of a football field (504 yards). Smith had 46 career quarterback sacks, including 22 during his junior season in 1983 when he was named first-team All-American. In 1984 he was a consensus All-American. His combination of strength, quickness, intelligence, and relentless effort made him the model for a pass rushing defensive lineman.
In the 1985 National Football League draft, Smith was the first selection of the Buffalo Bills. During his pro career, he established himself as one of the greatest defensive players ever to play the game. He was NFL Defensive Player of the Year in 1990 and 1996, when he was named to the NFLs All Decade Teams of the 1980s and 1990s. He was selected to 11 Pro Bowls. He was inducted in the Pro Football Hall of Fame in his first year of eligibility on August 8, 2009. He ended his 19-year pro career in 2003 as the NFLs all-time sack leader with 200. He anchored a defense that reached four straight Super Bowls. The Bills retired his No. 78 jersey in 2016. It joined Jim Kellys No. 12 jersey as the only numbers retired by the Bills. No player had worn number 78 since Smith left the team.
Bruce Smith served on the Virginia Tech Board of Visitors from 2002 to 2003.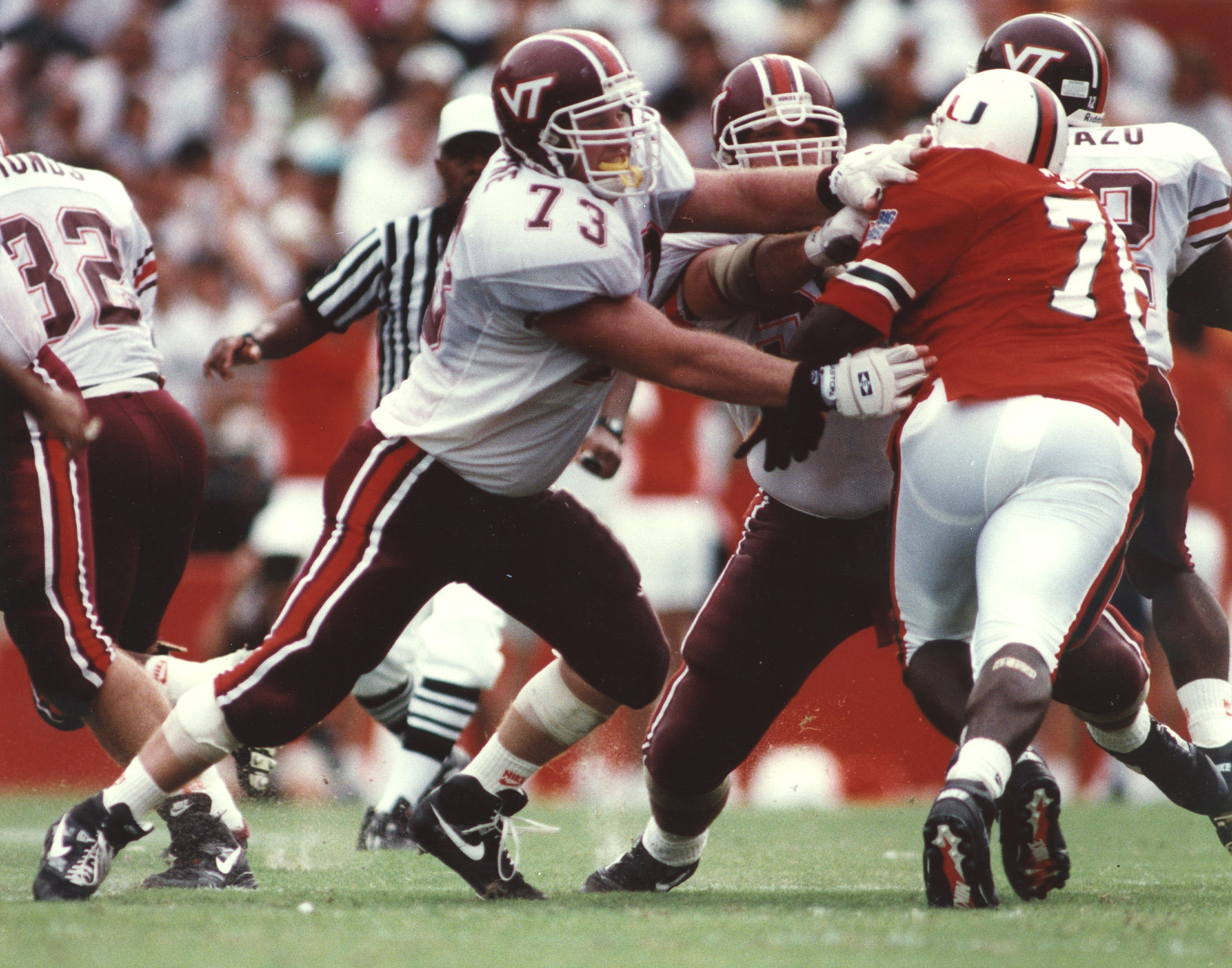 No. 73 Center Jim Pyne became Virginia Techs first unanimous All-American when he made all five major teams that were selected in 1993. In addition to All-America honors, he was named winner of the Dudley Award as Virginias Player of the Year. During his four seasons at Virginia Tech, he established himself as one of the Hokies top linemen of all time, leading the charge that rewrote the record books for scoring and total offense. He started 35 consecutive games and 41 of the 42 Tech games in which he played. He allowed just one quarterback sack by the man he was assigned to block during more than 2,700 career snaps. He played on 736 of a possible 770 snaps during his sophomore season. That translated to 96 percent of the Hokies plays on offense. He played every offensive down in six games that season and graded higher for his performance on the field than any lineman during Coach Frank Beamers first five seasons at Virginia Tech. He earned second-team All-BIG EAST Conference honors his junior year and was named to the leagues first All-Academic team. He played on 92 percent of the teams offensive snaps and set a school weight room record with a 401-pound hang clean.
He helped clear the way for a record-setting offense in 1993 as Tech earned its bid to the Poulan/Weed Eater Independence Bowl, the first bowl bid of the Beamer era. VT won 45-20 over Indiana. He was named to the Big East Conference All-time team at the turn of the century. The offensive line meeting room at VT was named in his honor.
A native of Mitford, Massachusetts, he attended Milford High School, where he played for the Milford Scarlet Hawks and Choate Rosemary Hall in Wallingford, Connecticut where he played for the Choate Wild Boars. The Pynes were the first family to play three generations of professional football. Pynes father, George Pyne III, played for the Boston Patriots of the American Football League in 1965. His grandfather, George Pyne II, played for the Providence Steam Roller of the NFL in 1931.
Pine was selected by the Tampa Bay Buccaneers in the 1994 draft, and he played four of his nine professional seasons with them as a left guard, starting in 38 of his 42 appearances from 1995 to 1997. He played for the Detroit Lions in the 1998 and then became the first overall pick of the Cleveland Browns in the 1999 expansion draft. He was named team MVP by the Akron Browns backers and named top offensive lineman by the touchdown club.
New Policy on Retiring Numbers

In 2002, the Virginia Tech Athletics Department developed a new policy on retiring football jerseys. This special honor is bestowed to acknowledge an individual who has won an established national award in his sport, while allowing the number to continue to be worn by others. Virginia Tech no longer retires numbers.
Visit Special Collections
We have historical sports and other photographs, biographical files, sports programs and media guides in addition to many other treasures in Special Collections. We hope to welcome you.