Things have been busy in the University Archives of Special Collections this month, with two exhibits going up this and next week. The first is the memorial exhibit honoring the memory of the victims and survivors of the tragic day of April 16, 2007. Every year we commemorate that day with an exhibit of items from the April 16th Condolence Archives. Please read the press release below to find out more about this year's event.
The second is an update to the Virginia Tech Alumni Association's (VTAA) Alumni Museum, with whom Special Collections has worked for over a decade to provide university memorabilia for display. Several archivists and students have been selecting items to update the current display, which will be installed next week. There is no end date for the display of these items, as we plan to continue working with the VTAA for years to come. Also, if you are attending next weekend's Black Alumni Reunion, you will get to see several additional photographs from the university archives of many pioneering Black female students and alumnae at Virginia Tech, in honor of the 50th anniversary of the first six Black women to attend the university in 1966: Linda (Adams) Hoyle, Jackie (Butler) Blackwell, Linda (Edmonds) Turner, Freddie Hairston, Marguerite Laurette (Harper) Scott, and Chiquita Hudson. You can learn more about them at The Black Women at Virginia Tech History Project.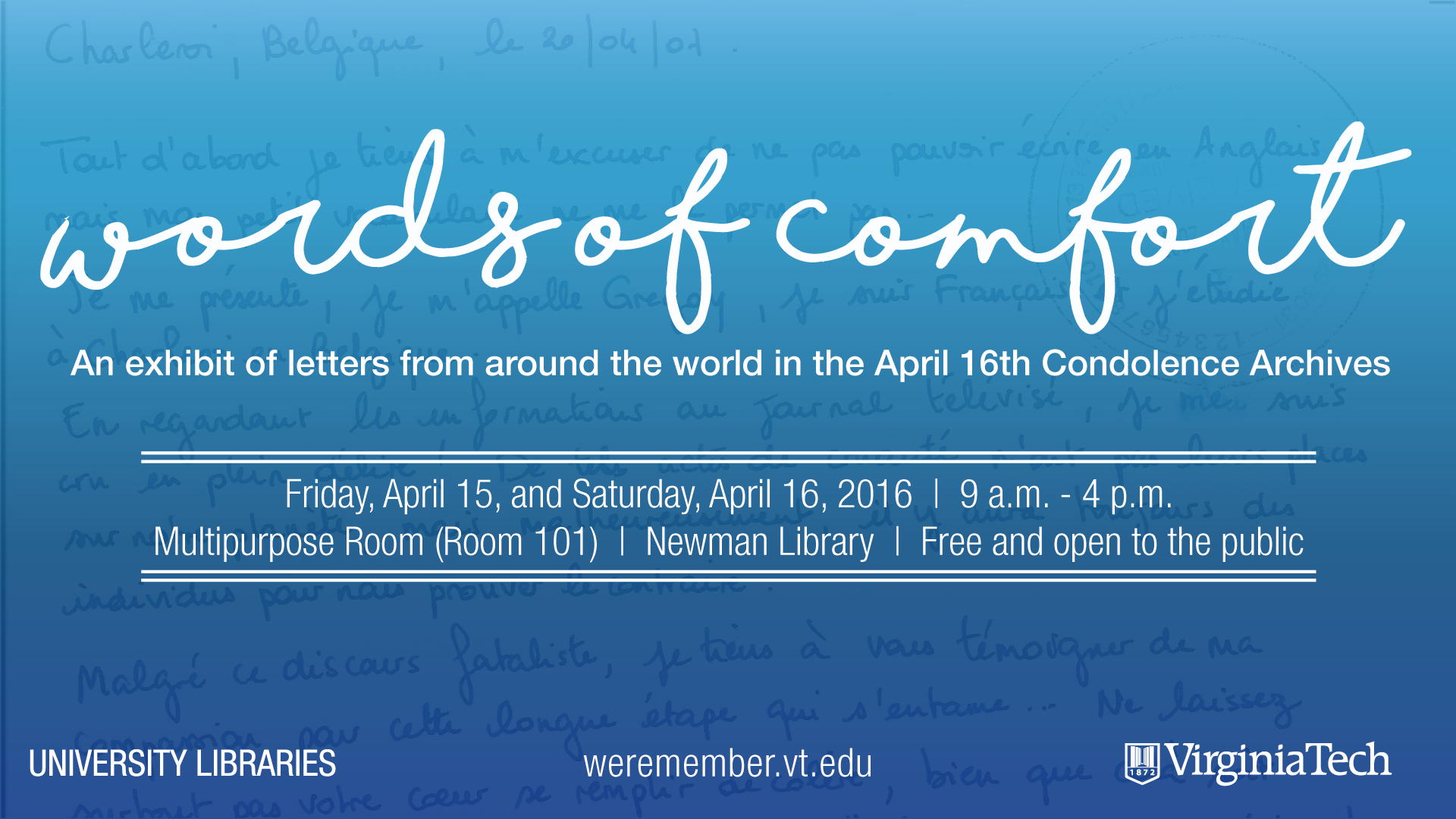 Day of Remembrance display in Newman Library shares words of comfort and hope
Following April 16, 2007, schools, fellow universities, children, community and religious groups, businesses, and other individuals from around the world sent words of comfort and hope to Virginia Tech. These cards, letters, signs, and other handwritten items expressed the world's condolences and gave Virginia Tech a global community of support.
This week, on April 15-16, many of these items will be on display in the Multipurpose Room on the first floor of Newman Library at 560 Drillfield Drive in Blacksburg. The exhibit, "Words of Comfort: An exhibit of letters from around the world in the April 16th Condolence Archives," is free and open to the public, and will be on display from 9 a.m. to 4 p.m. each day.
These items represent over 40 countries and every continent, showing the outpouring of support from around the globe. Selected items on display include:
The materials are part of the Virginia Tech April 16, 2007 Condolence Archives of the University Libraries.
Campus visitors also left symbols of comfort and signs of support at memorials around Virginia Tech, which were displayed on campus for several months before being gathered and inventoried under the direction of the University Archivist. Together, the collection consists of more than 89,000 materials available through Special Collections in Newman Library.
In the summer of 2007, many items were digitally photographed for preservation and to share with the world. A large portion of the Condolence Archives of the University Libraries is now publicly available online.
The upcoming exhibit is organized and curated by LM Rozema, processing and special projects archivist for the University Libraries Special Collections, and Robin Boucher, arts program director for Student Engagement and Campus Life.
Free parking is available on weekends at the Squires Student Center and Architecture Annex lots along Otey Street. Before 5 p.m. on weekdays, a valid Virginia Tech parking pass is required to park in these lots. Find more parking information online, or call 540-231-3200.
If you are an individual with a disability and desire an accommodation, please contact LM Rozema at 540-231-9215 during regular business hours prior to the event.
For more information and other expressions of remembrance, please visit the We Remember site.