It's graduation weekend and maybe you'd expect us to serve up some nice photographs of past graduations, the whole pomp and circumstance thing. Well, certainly congratulations to the graduates!!! But, no, we'll have no old caps and gowns this time. No historic commencement addresses. Not this year. After being in Washington, D.C. this past weekend, I was reminded of a small part of Virginia Tech historyMontgomery County history, reallythat just might offer some bragging rights to graduates and alumni alike. Of course, some might shrink from this decades-old bit of business, but I get that, too.
Look around this campus and you'll see the Virginia Tech name and/or logo on many different kinds of objects. Banners, posters, rings, flyers, diplomas(!), buildings, and signs just to mention a few. But how many universities have had their name emblazoned on a Boeing B-29 Superfortress? That's right, 99 ft. long, a wingspan of 141 ft 3 in, and a top speed of 365 mph . . . and "Virginia Tech" written right across the nose. How did this come about?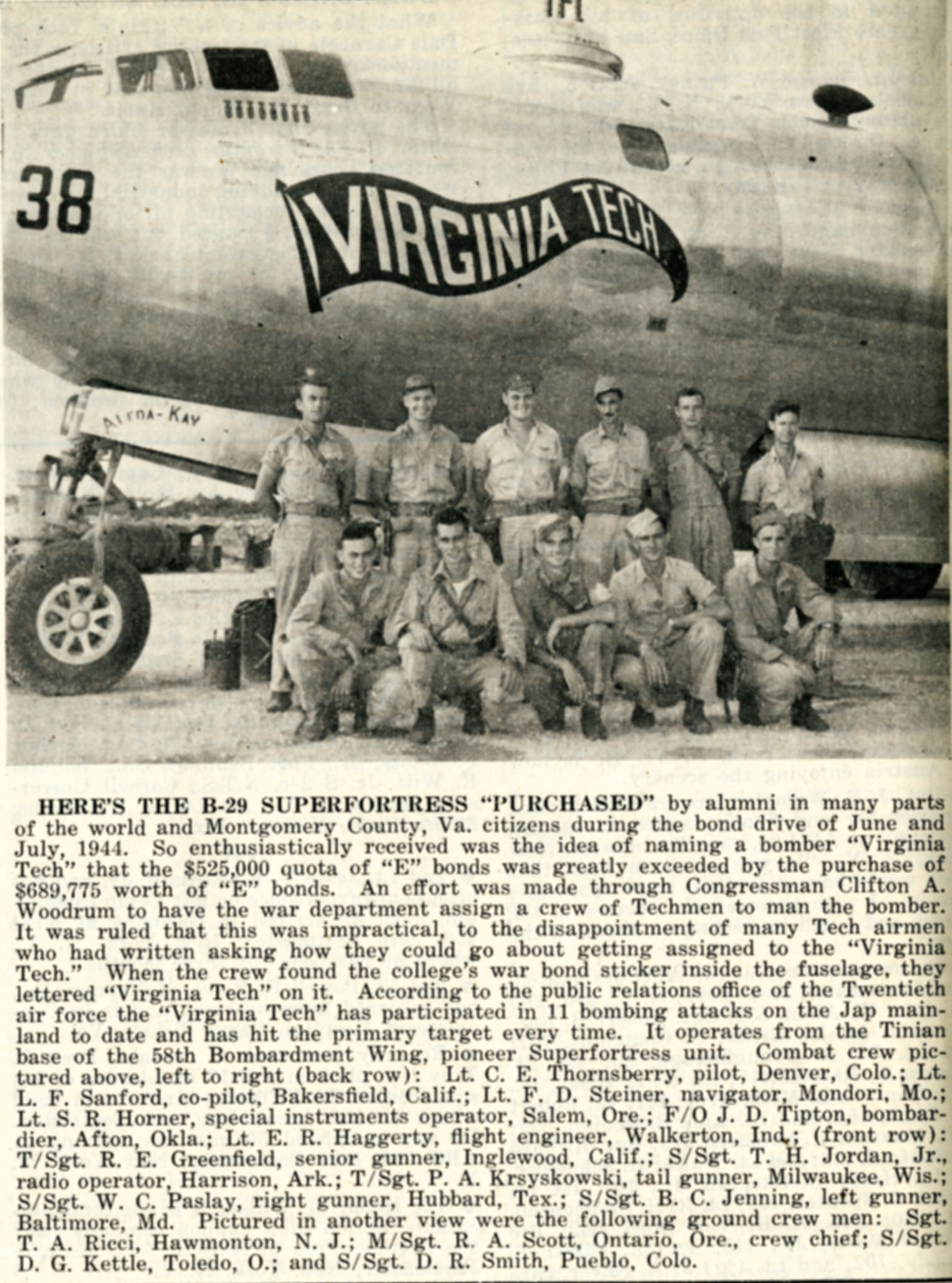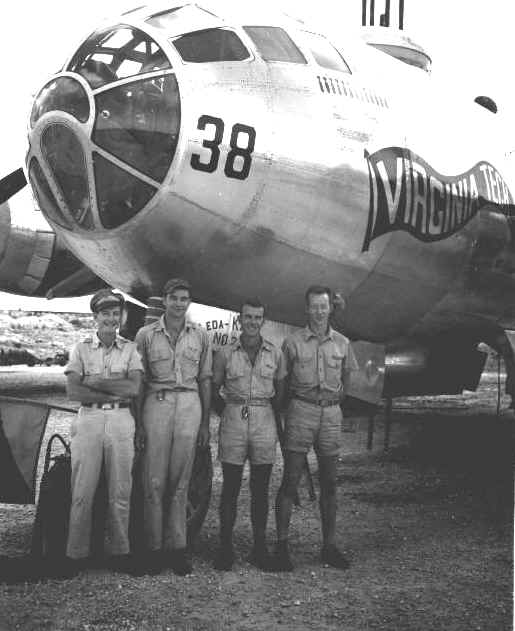 In May 1944, The Techgram, a V.P.I. publication, ran its first announcement for a war bond drive that, if successful, would result in a B-29 named "Virginia Tech." This effort was administered by the war bond committee of Montgomery County. It ran from 12 June to 8 July and was part of the fifth nationwide War Loan Drive. Over $500,000 in Series E bonds would have to be sold in or attributed to Montgomery County for the drive to be successful. (That's nearly $7 million in today's money!) The article also claimed that if the required total was reached, an attempt would be made to have the bomber's crew be made up entirely of Tech graduates.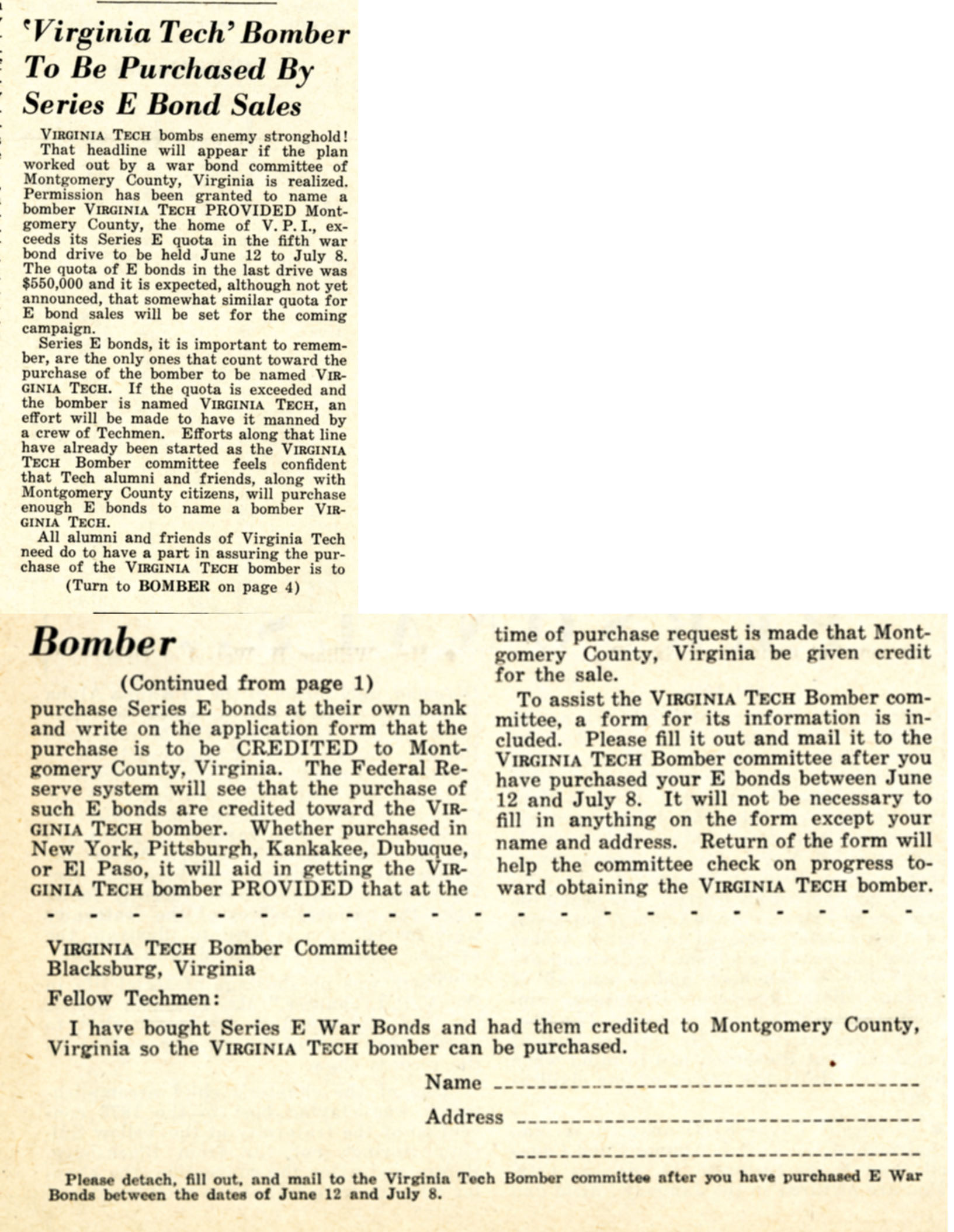 By 8 July, the drive was still $75,000 short, but purchases reported through 31 July could still be credited towards the necessary total. An article in the 15 July issue of The Techgram reminded readers that purchases from folks outside of Montgomery Countyespecially from university alumscould be counted towards that figure. The 15 August edition announced, "Soon a bomber named "Virginia Tech" will be flying against enemies of the U.S." The drive had been successful, though as later articles would announce, the plan to have only "Techmen" serve onboard the new airplane was not feisible.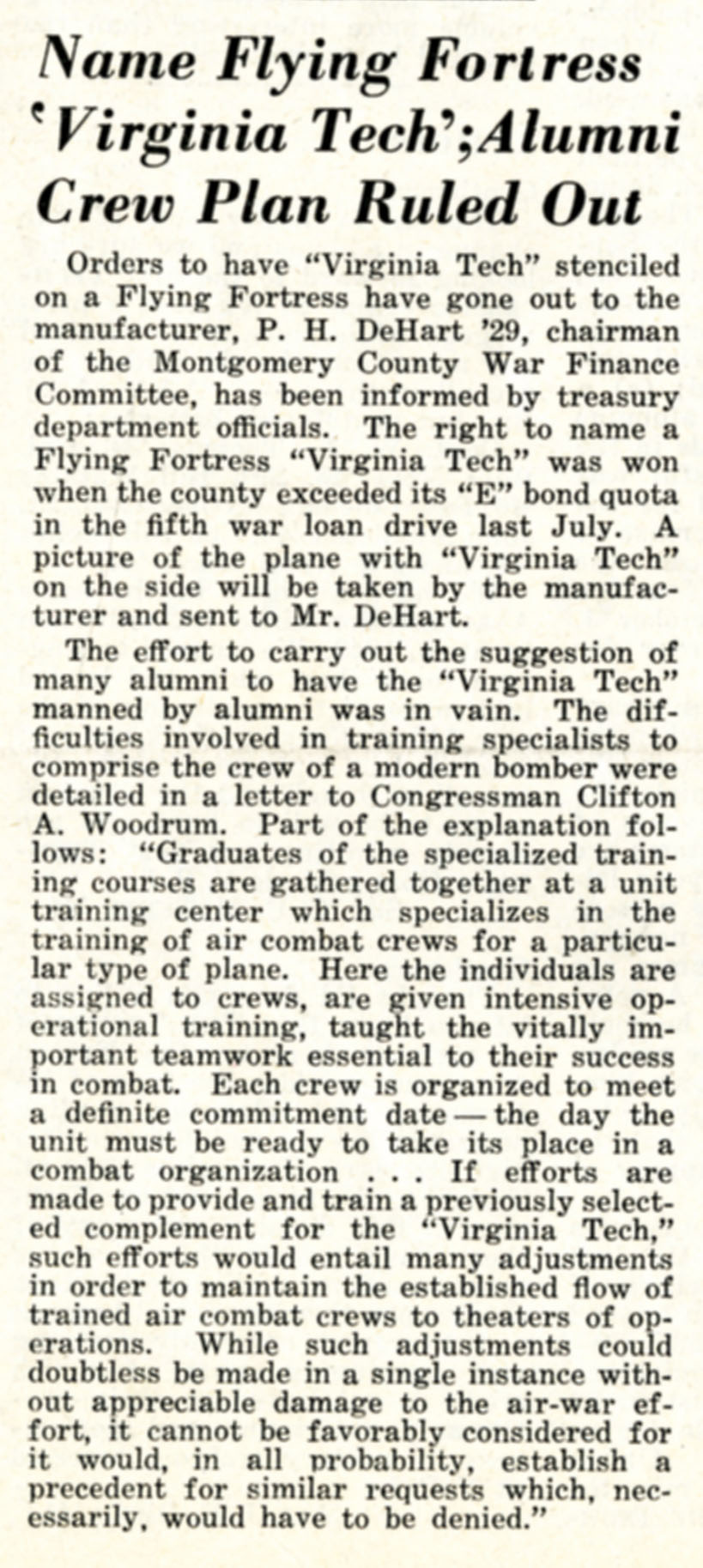 The "Virginia Tech" (serial number 44-61529) arrived on Tinian in the Pacific at the end of May 1945 as part of the 45th Bombardment Squadron, 40th Bombardment Group, 58th Bomber Wing, 21st Bomber Command. First Lieutenant C. Thornesberry was listed as the airplane commander. "Virginia Tech" was first deployed on 7 June on a mission over Osaka, Japan. It flew eight missions over Japan that month, each lasting approximately 15 hours. It continued to fly with a variety of crews until the war ended following the bombings of Hiroshima and Nagasaki on 6 and 9 August, respectively. (The only atomic bombs/nuclear weapons ever used during wartime were, of course, dropped by B-29s. That's where the potential ambivalence comes in.) On 8 October 1945, "Virginia Tech" received orders to return to the States via Kwajalein to Mather Field, California. Under the command of Captain John Mewha, it arrived home sometime around 14 October and by the end of November 1945 was assigned to March Field in southern California.
Whether or not the "Virginia Tech" flew missions in Korea is unclear, at least to me. How long it kept its name is also unclear. In the post-war era, nose art and named designations for individual aircraft started to become less common than they had been during World War II. We know that when B-29 serial #44-61529 met its end in 1951, it was part of 22nd Bomb Group, 19th Bomb Squadron, a unit that did serve in Korea. We also know, according to US Air Force accident reports, that on 2 April 1951, while stationed at March Field and under the command of Captain Max G. Thaete, the B-29 formerly(?) known as "Virginia Tech" crashed in the California desert, about 20 miles ENE of Desert Center. An engine fire was reportedly the cause of the accident. No one onboard was seriously injured, but the airplane was damaged beyond repair.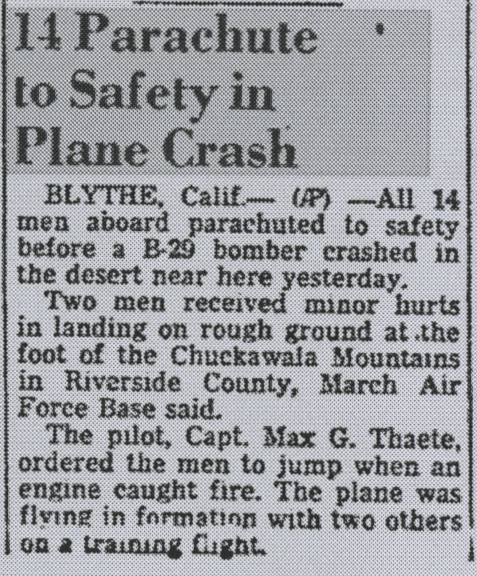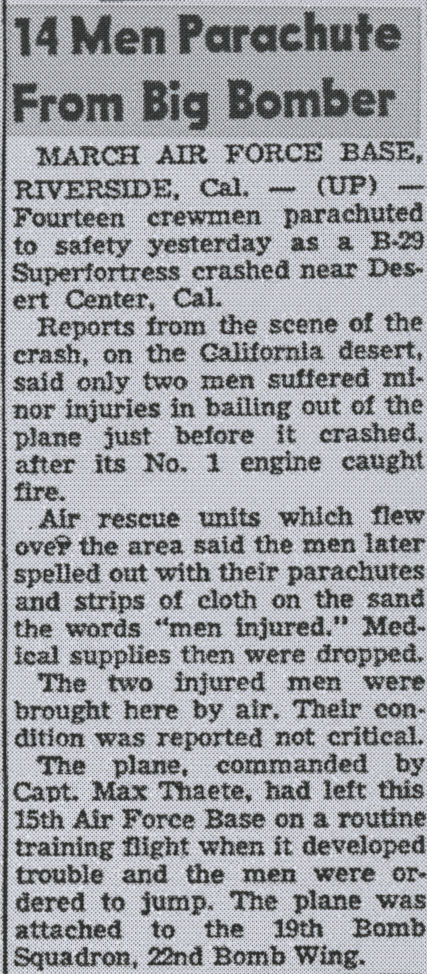 So, the next time you speak with your friends from some other university and you've unaccountably run out of things to say about Virginia Tech, you can ask whether their school has an airplane of the type that brought World War II to a close named after it.
And if you've never seen a B-29, there is only one still in flying condition (named Fifi, by the way) and it flew over Washington, D.C. just last week to commemorate the 70th anniversary of V-E Day along with over 50 other WWII warbirds.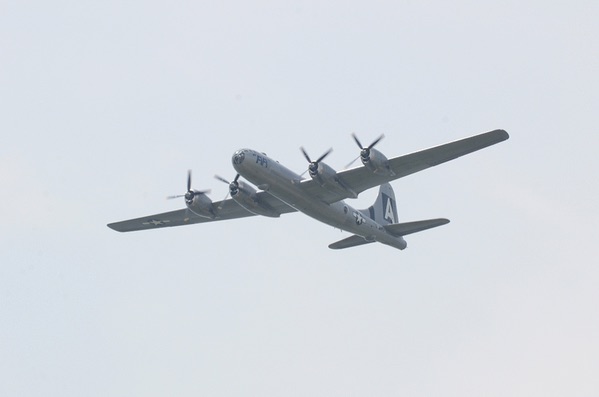 Or, if you're just needing to see a photograph of a Virginia Tech graduation . . .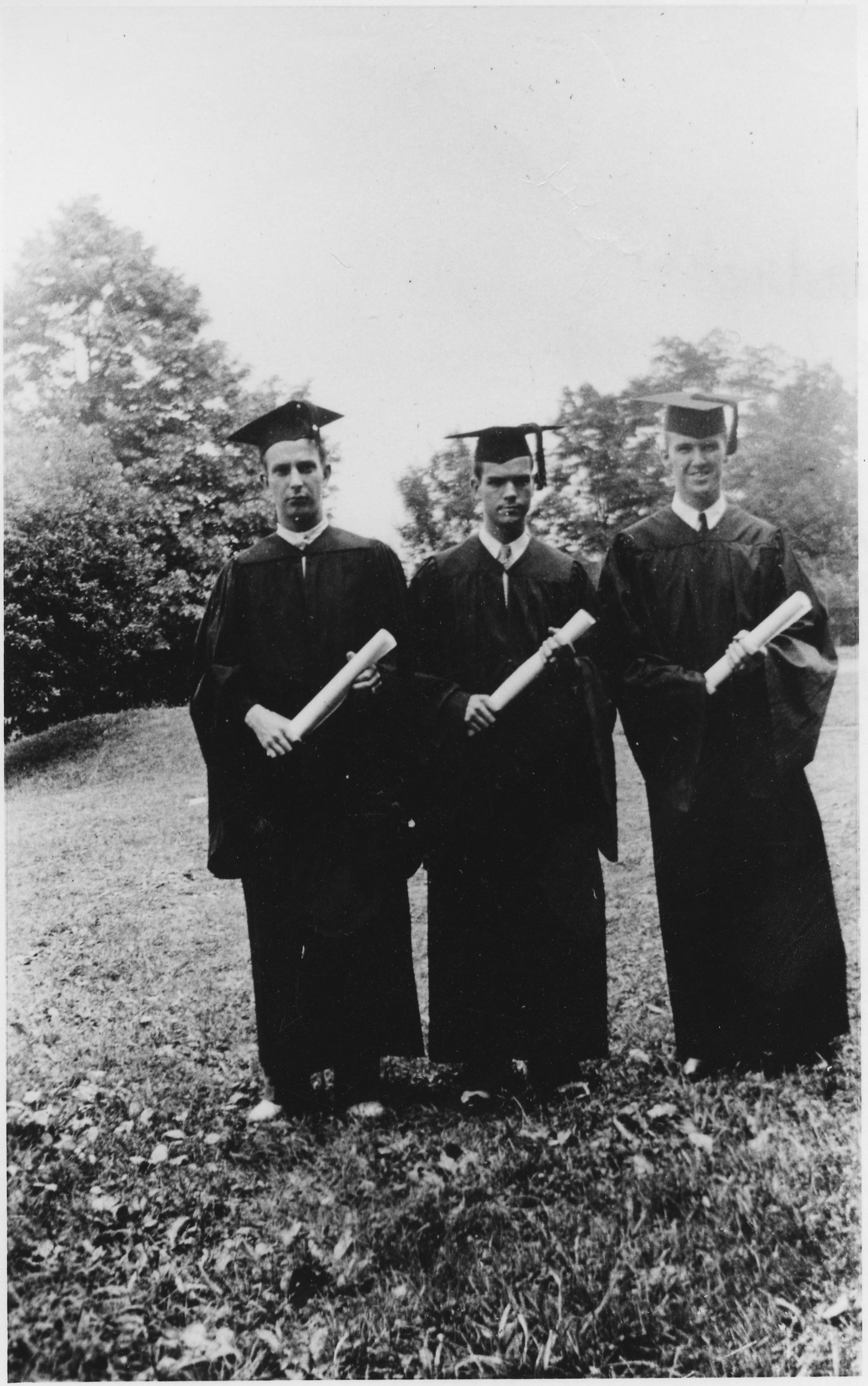 Congratulations!!