Marking the 100th Anniversary of D. W. Griffiths Controversial Landmark Film, The Birth of a Nation
While recently pulling materials for an exhibit on silent films, I happened upon a small promotional flyer, probably from Blacksburgs Lyric Theatre, for D. W. Griffiths Birth of a Nation, which saw its initial theatrical release on March 3, 1915.
Though Griffith's work is considered a watershed in cinematic history, few today can claim to have watched it in its entirety. The films relegation to a remote corner of public consciousness can be attributed to its silent film format (considered quaint or boring by most modern viewers) and to its treatment of a subject matter that is today widely seen as repugnant.
The Birth of a Nation purports to tell the story of Americas Civil War and the origin of the Ku Klux Klan during Reconstruction. In doing so, the film portrays the Klan as a noble organization devoted to protecting Southern society from marauding bands of brutish, lecherous Freedmen and their manipulative, hypocritical carpetbagger allies.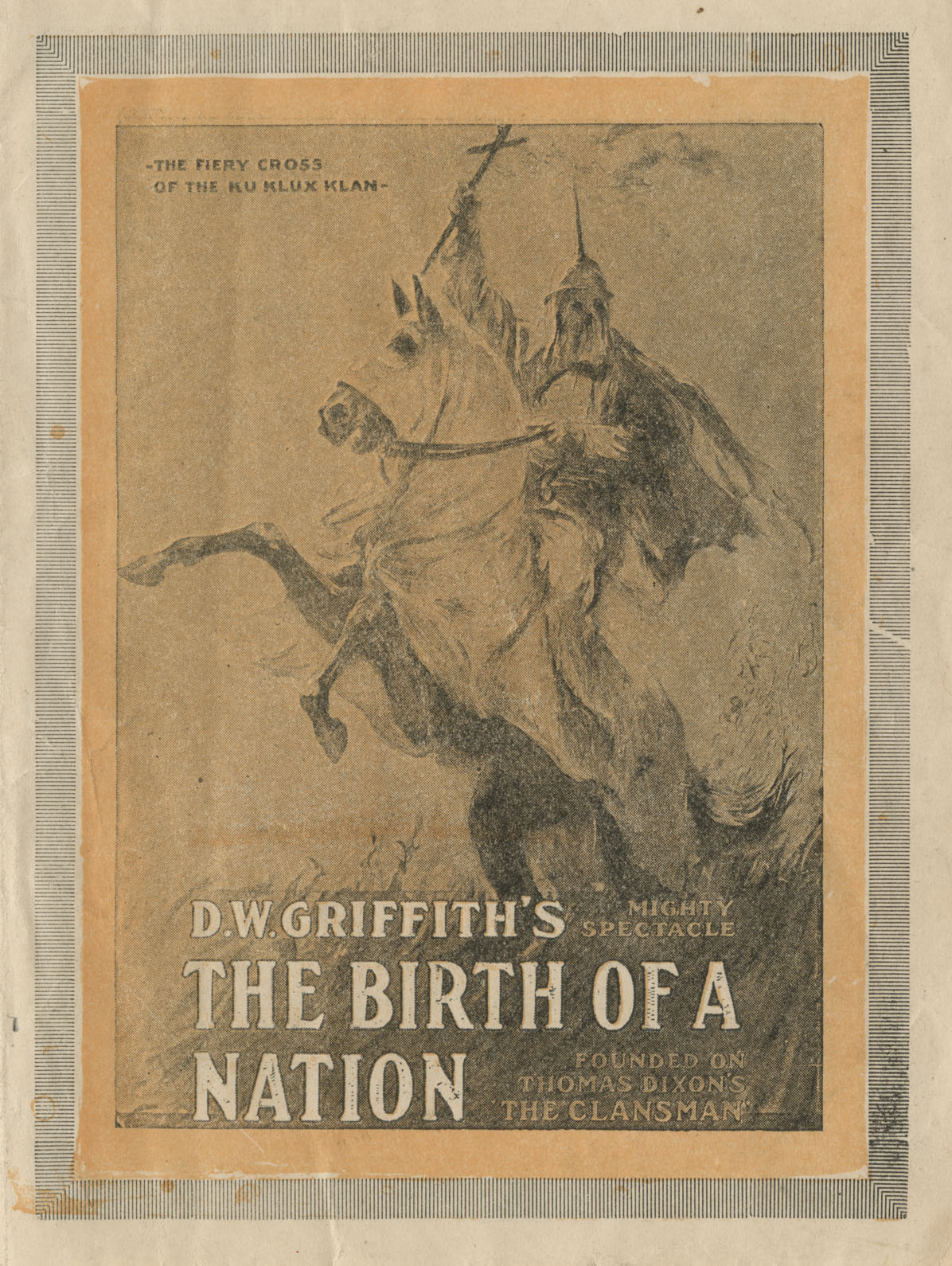 The plot for The Birth of a Nation was based on Thomas F. Dixon Jr.s novel The Clansman, the second volume in a trilogy about the Reconstruction South. A North Carolina Baptist minister, attorney, and state legislator, Dixon became a popular author around the turn of the 20th century, publishing more than 20 novels. The Clansman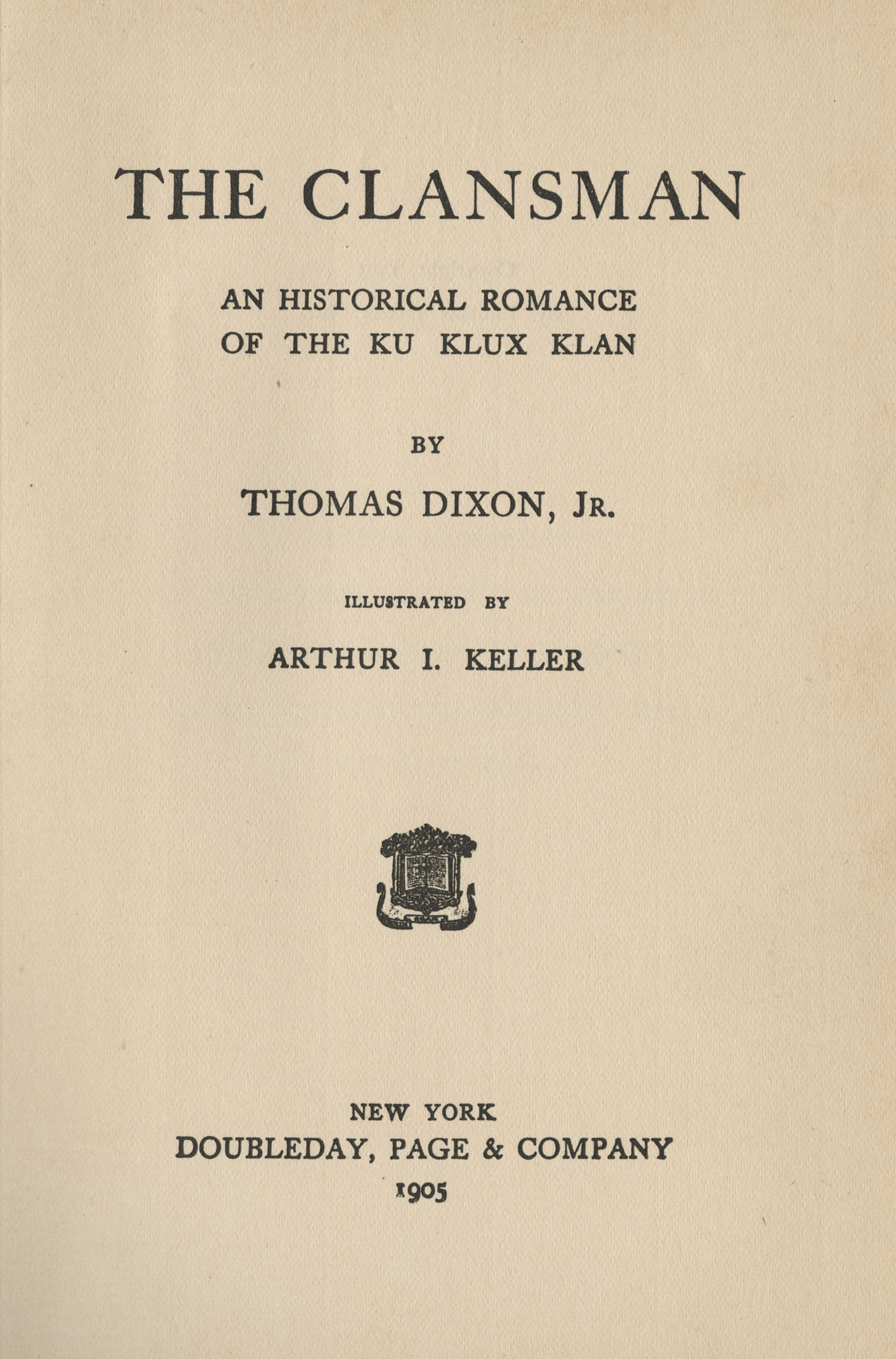 is today remembered as his most famous (or infamous) work, and from it was drawn the films Southern apologist version of the Klans origins.
In bringing Dixons tale to the screen, Griffith spared no expense and pioneered a number of moviemaking techniques and technologies: The Birth of a Nation is said to have been the first film to employ night photography, panning motion shots, the iris effect, the intercutting of parallel action sequences, and many more advances that would become mainstays of cinematic narrative. Griffith also employed hundreds of extras in staging epic Civil War battle scenes and interspersed his story with accurate tableaux of scenes from American history. The film was unlike anything that movie-going audiences had seen to that time.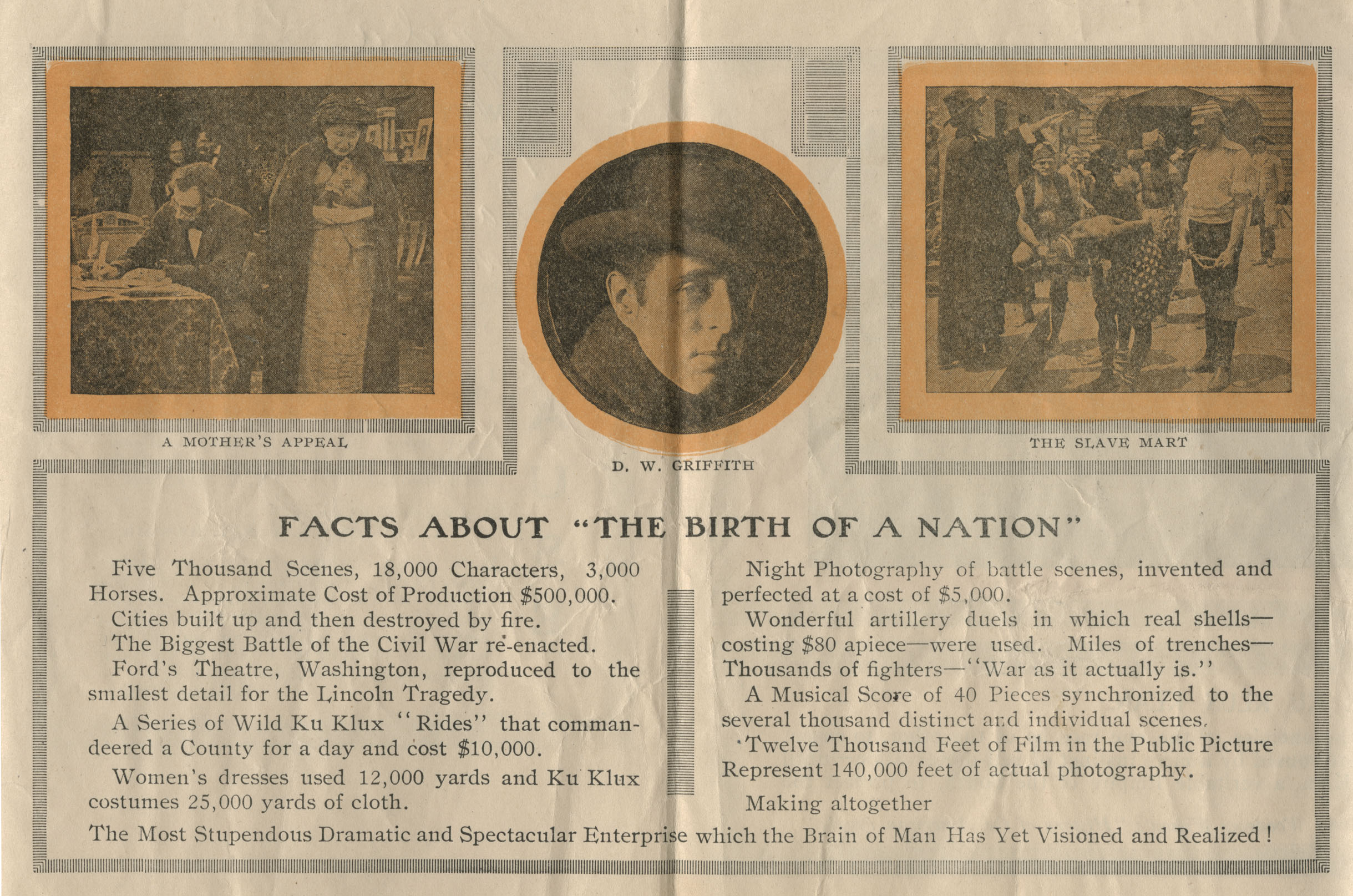 Griffiths accuracy and attention to detail exploited the publics willingness to take its history lessons from fictionalized accounts. An uninformed audience, seeing accurately portrayed historical scenes presented side-by-side with Dixons skewed view of events, might be partially forgiven for accepting all as fact. Even supposedly knowledgeable viewers, however, were enthralled by Griffiths prowess as a storyteller. The film is said to have been the first to be screened in the White House. After seeing it, President Wilson, himself a historian, reportedly said, It is like writing history with lightning. And my only regret is that it is all so terribly true. The films widespread popularity and its audience's impressionability are credited with being partially responsible for the KKKs resurgence and rise to political prominence during the 1910s and 1920s.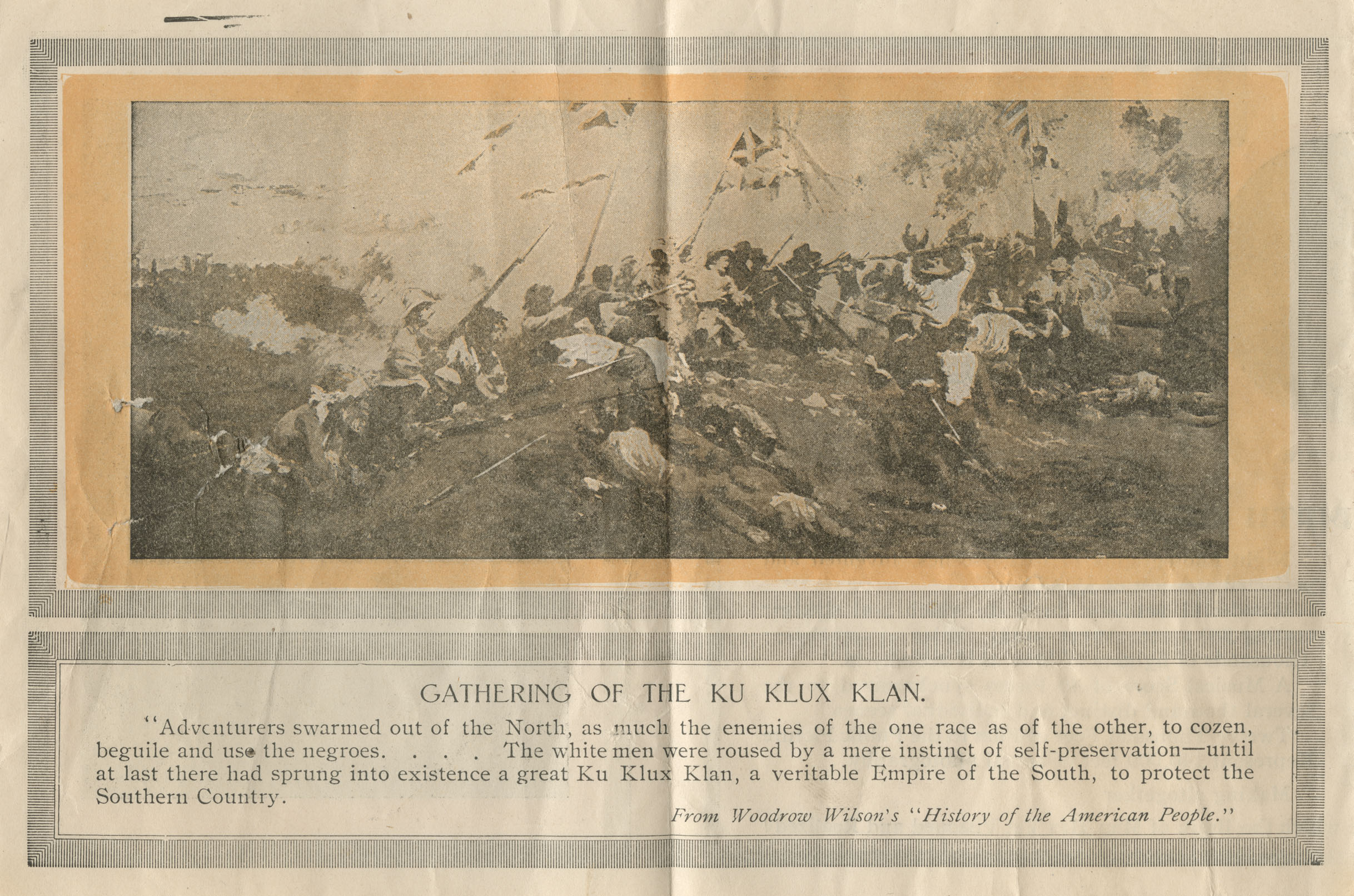 Even in 1915, however, the film spurred controversy. The NAACP staged protests in several major cities and made repeated efforts to have the film banned from theaters. Letter-writing campaigns sought to educate the public on the facts of Reconstruction and to warn of the films inflammatory nature, while boycotts attempted to provide economic deterrents against the film's release. Such efforts were in fact successful in having the film banned from the theatres of a handful of large cities but could not prevent its nationwide release.
Testimony to its immense popularity at the time, The Birth of a Nation continued to enjoy periodic revivals for years, and it is said to have remained Americas highest-grossing film until being toppled by another Civil War / Reconstruction epic, Gone with the Wind, more than twenty years later.
Despite his films overwhelming commercial success, Griffith was not immune to criticism. Partially in response to negative comments on his films racially intolerant themes, Griffith released his magnum opus, Intolerance, the following year. The three-and-a-half hour epic tells four parallel stories from different time periods of human history, each illustrating the catastrophic consequences of intolerance. Griffith would continue to make films throughout the silent era with varying degrees of success, but he never again matched the achievements of The Birth of a Nation and Intolerance.
Should The Birth of a Nation be considered an early cinematic masterpiece that is marred by its skewed interpretation of history and its outdated, hateful view of racial relations, or should any film (or other work of art) be considered a masterpiece when it advocates a point of view that is later almost universally abhorred as destructive and wrongheaded? In answering this question in his 2003 review of the film in 2003, critic Roger Ebert wrote: The Birth of a Nation is not a bad film because it argues for evil… [I]t is a great film that argues for evil. To understand how it does so is to learn a great deal about film, and even something about evil.