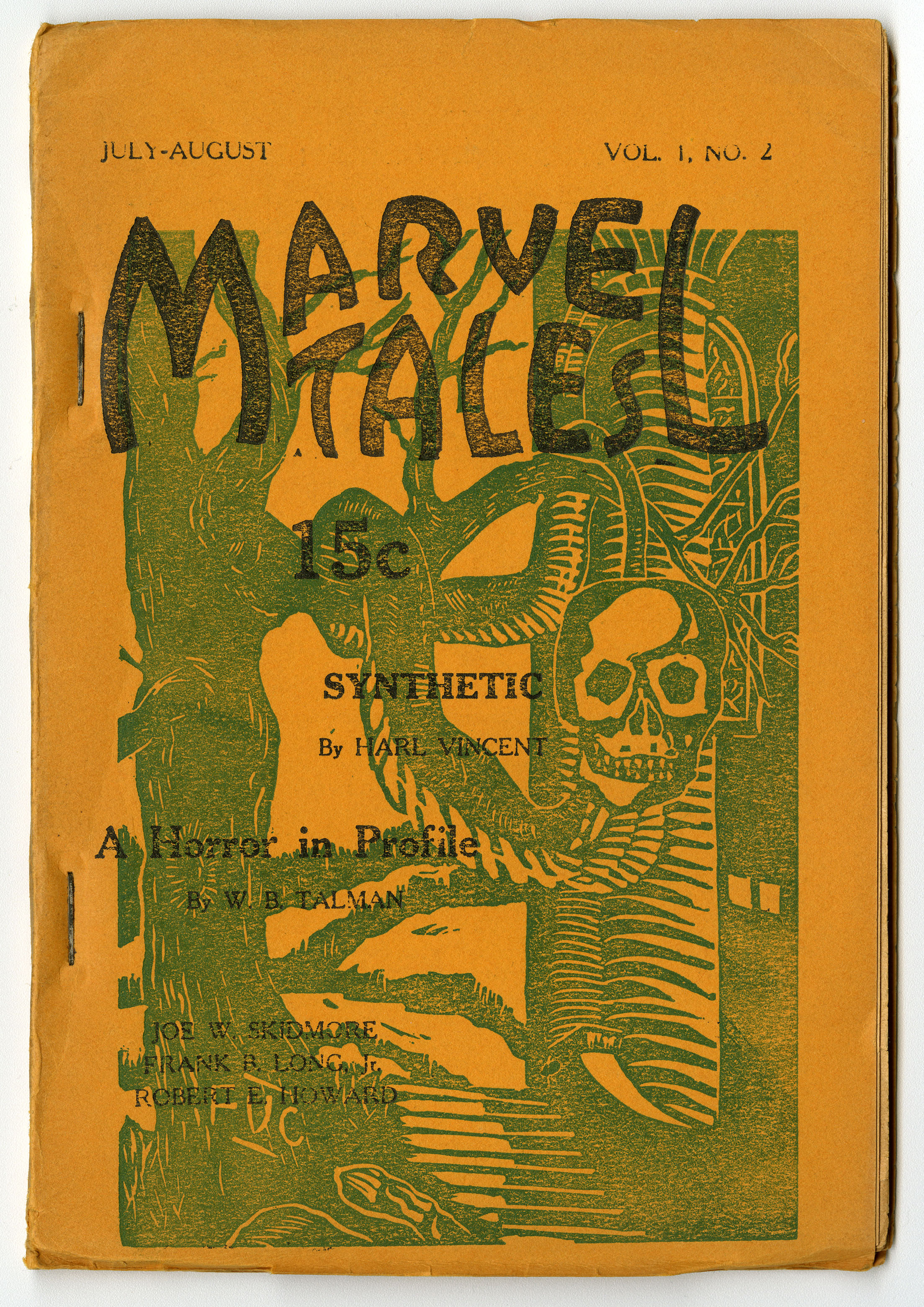 An Early Fannish Imprint
8. [Crawford, William L.]: MARVEL TALES Volume 1, Number 2. Everett, PA: Fantasy Publications, 1934. 60pp. Original paper wrappers, stapled; top and bottom edges worn, corners bumped. Internally clean. Very good.
Marvel Tales was semi-professional editor William L. Crawford's attempt to fill in the gap left during a brief, early Depression-era lull in the mass-market science fiction magazine marketplace. Crawford saw Marvel Tales as his own vehicle for publishing material too risky for editors at the helm of contemporary magazines such as Astounding Stories, Amazing Stories, and Wonder Stories. Serving simultaneously as publisher, editor, and typesetter, he produced five issues during 1934 and 1935, of which this is the second, notably featuring the first publication of Robert Howard's short story "The Garden of Fear". The present copy bears the yellow and green cover variant; the text does not include the printing errors found in the second, variant issue described by Miller and Contento. "Marvel Tales was a worthwhile and exciting experiment that could have had a significant impact on the development of SF had it succeeded . . . Crawford has been overlooked in the history of SF, but one day he will be accorded his place beside pioneers F. Orlin Tremaine and John W. Campbell, as an editor who tried to shape the future of SF" — Tymn. Nineteen copies located in OCLC. An attractive survival of 1930s SF fandom, and not common in the marketplace.
TYMN p.401. CLUTE-NICHOLLS p.782. MILLER-CONTENTO p.247.
Available at Virginia Tech Special Collections