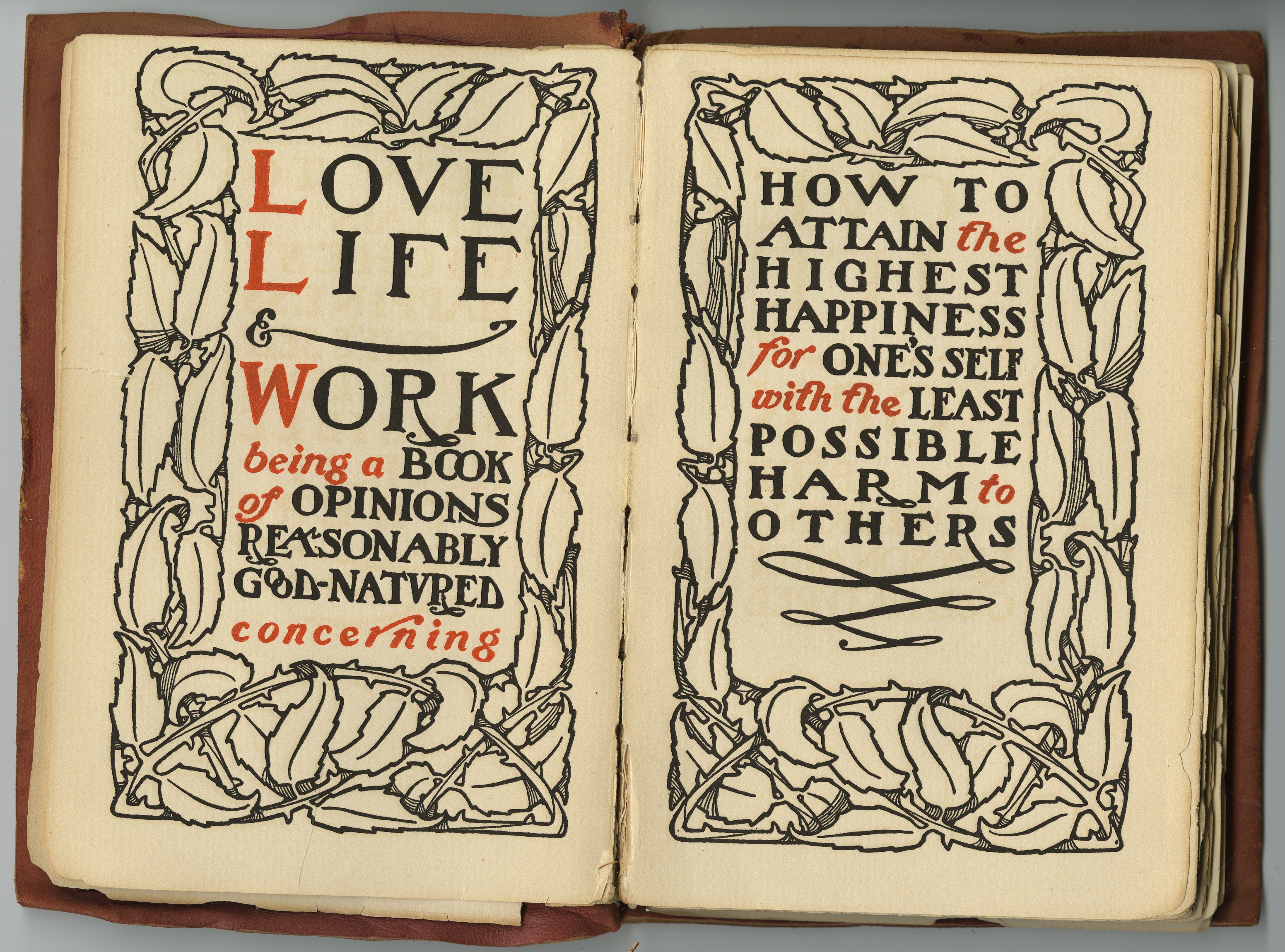 At the turn of the 20th century, America was in the throes of a remarkable transformation. The great agrarian society was quickly becoming a mechanically driven economy. Some, however, spoke out against the advances of industrialization, arguing that mass production subjugated workers to machines and that no machine could match the quality of craftsmanship that came from an artists hand. It was this reaction that gave rise to the Arts and Crafts Movement.
Elbert Green Hubbard (June 19, 1856 May 7, 1915) was an American writer, publisher, artist, and philosopher. Raised in Illinois, he met early success as a traveling salesman with a soap company but dropped out of this lucrative career to become a writer and soon discovered the idealized world of Arts and Crafts. Hubbard is most famous for founding the Roycroft artisan community in East Aurora, New York, an influential exponent of Arts and Crafts in the United States.
During his lifetime, Hubbard became well known throughout the nation as a writer, a philosopher and a lecturer. His eccentric and flamboyant style and seemingly non-conformist ideology endeared him to many readers. He was both a reflection of and a reaction to his times, taking center stage in American thought and becoming an icon of popular culture. Hubbard described himself as an anarchist and a socialist. He believed in social, economic, domestic, political, mental and spiritual freedom and his philosophies are clearly evident in his publication: Love, Life & Work; Being a Book of Opinions Reasonably Good-Natvred Concerning How to Attain the Highest Happiness for Ones Self with the Least Possible Harm to Others, a copy of which is held in Special Collections.
Although the text of this novella is readily available in ebook format, there is something special about examining the physical work. Virginia Tech is home to a first edition, published in 1906, bound in soft leather with the title embossed on the cover and representative of the simplified illustration style and handcrafted appearance that characterized the era.
Bookmaking played an important role in the Arts and Crafts Movement. Like other decorative arts, there was a rising concern over the detrimental effects of mass production on book design. Hubbard and his fellow Roycrofters sought to rectify this through their own private press, which emphasized high quality hand production: handmade papers, heavy inking, original typefaces, and designs that looked back to medieval illuminated manuscripts and incunabula and often included elaborate wood engravings.
The text itself is a compilation of thirty short essays on a variety of topics ranging from Mental Attitude to Love and Faith and although Hubbard makes many references to contemporary issues and personalities, a vast majority of his advice is still relevant in modern times. The following are just a few of the bits of wisdom and insight that Hubbard shares with readers:
Character is the result of two things, mental attitude, and the way we spend our time. It is what we think and what we do that make us what we are.
The world bestows its big prizes, both in money and honors, for but one thing. And that is Initiative. What is Initiative? Ill tell you: It is doing the right thing without being told.
To do your work well to-day, is the certain preparation for something better to-morrow. The past has gone from us forever; the future we cannot reach; the present alone is ours. Each day's work is a preparation for the next day's duties. Live in the present–the Day is here, the time is Now.
Members of the Virginia Tech community are invited to come visit us at Special Collections to examine Love, Life & Work, other influential texts by Elbert Hubbard, and additional examples of Arts and Crafts style printing and illustration.