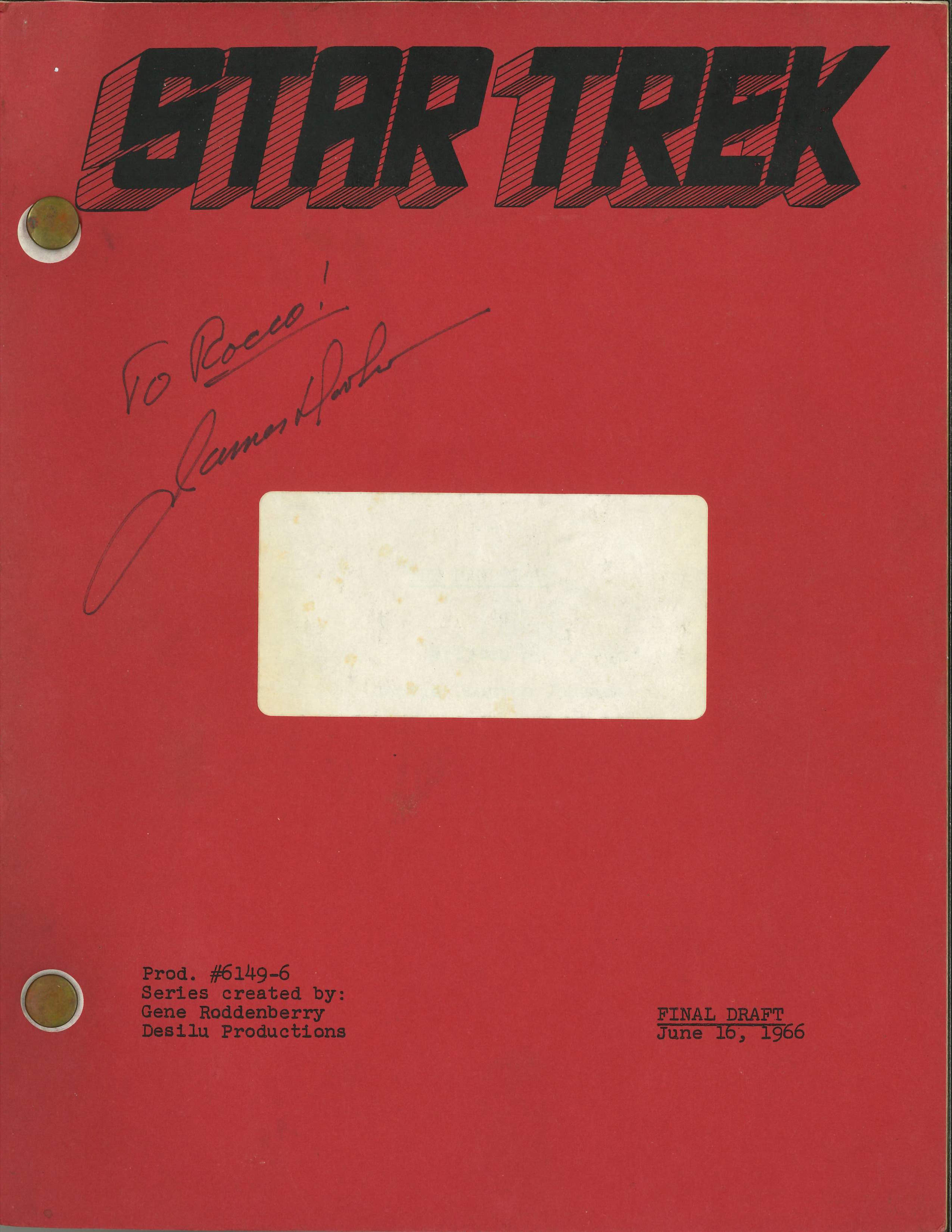 Cue Shatner's voice over. Done. Ready to bring up the music. (Maybe we can hear it already.) ". . . where no man has gone before." (Yes, he really did say that. It was 1966, after all.) On the 8th of September, a Thursday night, on NBC, and after Ron Ely had his premier appearance as Tarzan, William Shatner, an actor with 15 years experience in movies and television, including a turn in the Oscar-nominated Judgment at Nuremburg, said those first words, "Space, the final frontier" to a national audience. The voyages of the starship Enterprise began that evening with a broadcast of "The Man Trap," even though it was the sixth show Gene Roddenberry and the folks at Desilu had produced. Reportedly, NBC made the decision to begin the show's run with episode "number 6" because it had more action than did the other five available episodes. It also had a monster.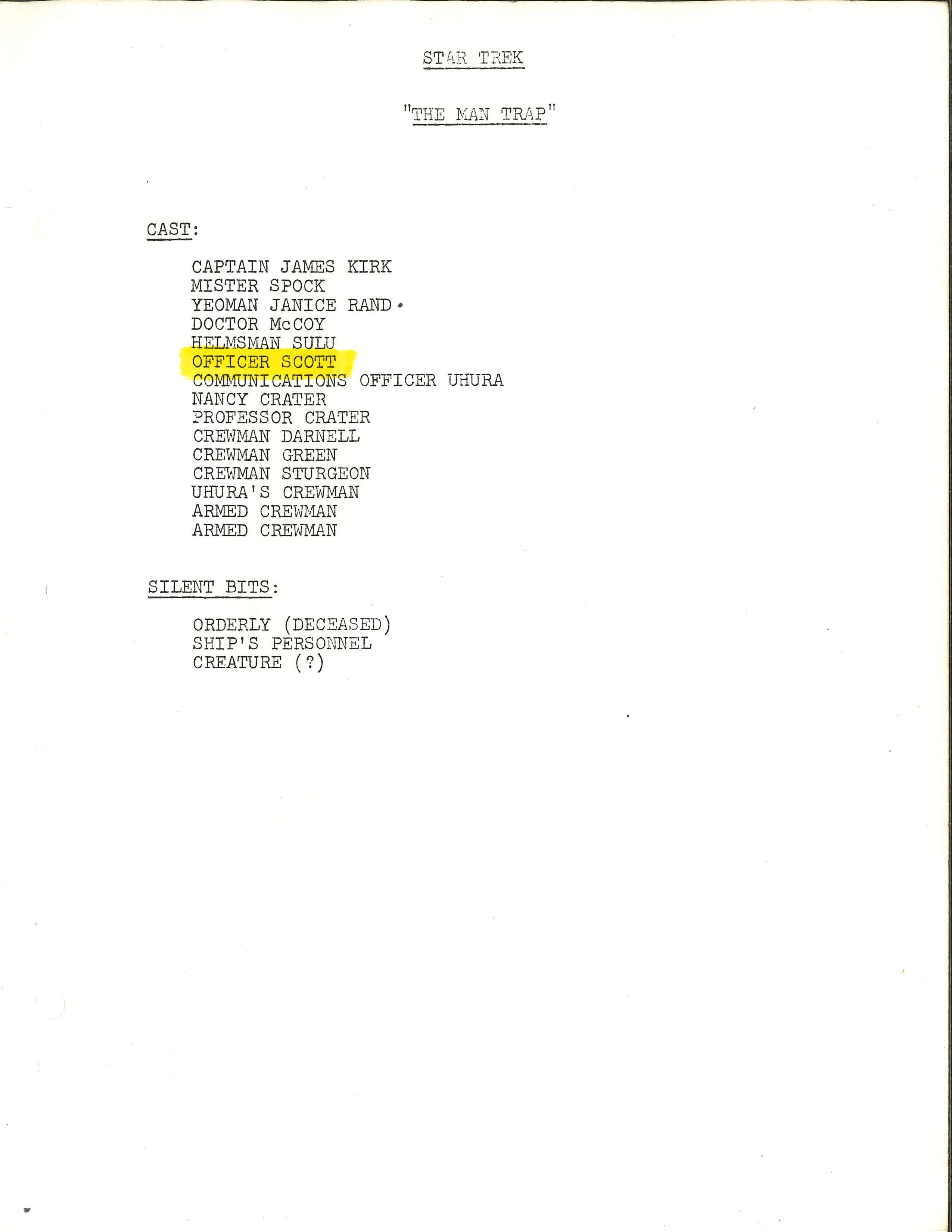 Among the new acquisitions at Special Collections is this final draft copy of "The Man Trap" signed by James Doohan, the actor who played "Scotty," Chief Engineer Montgomery Scott. "Officer Scott" is listed among the cast members for the episode, though Scotty doesn't actually appear in this episode, except as a disembodied voice heard over Kirk's communicator. Apparently, the audio clip of Mr. Doohan's brief lines were lifted from one of the other episodes already shot and inserted into this one. IMDB lists Doohan's contribution to "The Man Trap" as "Scott (voice) (uncredited)!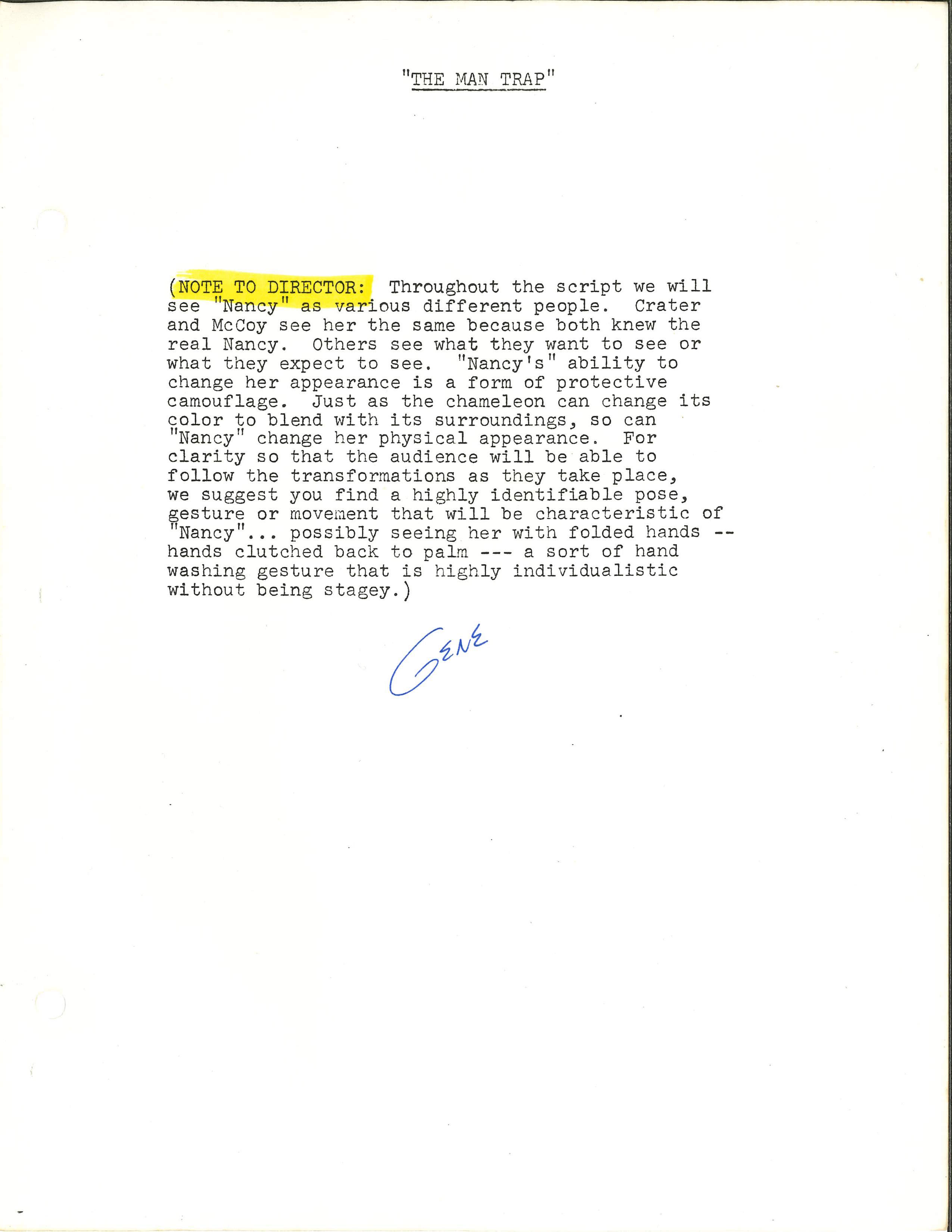 If you don't remember this particular episode or just need a reminder, this is the one in which Kirk, McCoy, and Darnell, a soon-to-be-deceased crewman, visit a planet to resupply and check in on an archaeological survey team working on what was thought to be an otherwise uninhabited world. The team consists of Robert Crater and his wife, Nancy, an old love of McCoy's. We know something is up when Nancy appears differently to each member of the landing party. This note to the director from Gene Roddenberry suggests just how the change in appearance might be indicated. Crater tells Kirk that they only want salt tablets and, otherwise, to be left alone.
It turns out that "Nancy" isn't really Nancy at all, but the shape-shifting last inhabitant of the planet, the last of a species that needs salt to survive. The planet, itself, is running out, and the creature will get the salt it needs wherever it can, from human beings, if necessary, even though doing so will kill them. Well, you can imagine what happens. Mayhem, death, regret, and resolve ensue. McCoy ends up having to kill the being, even as it changes one last time into the shape of his old flame, Nancy.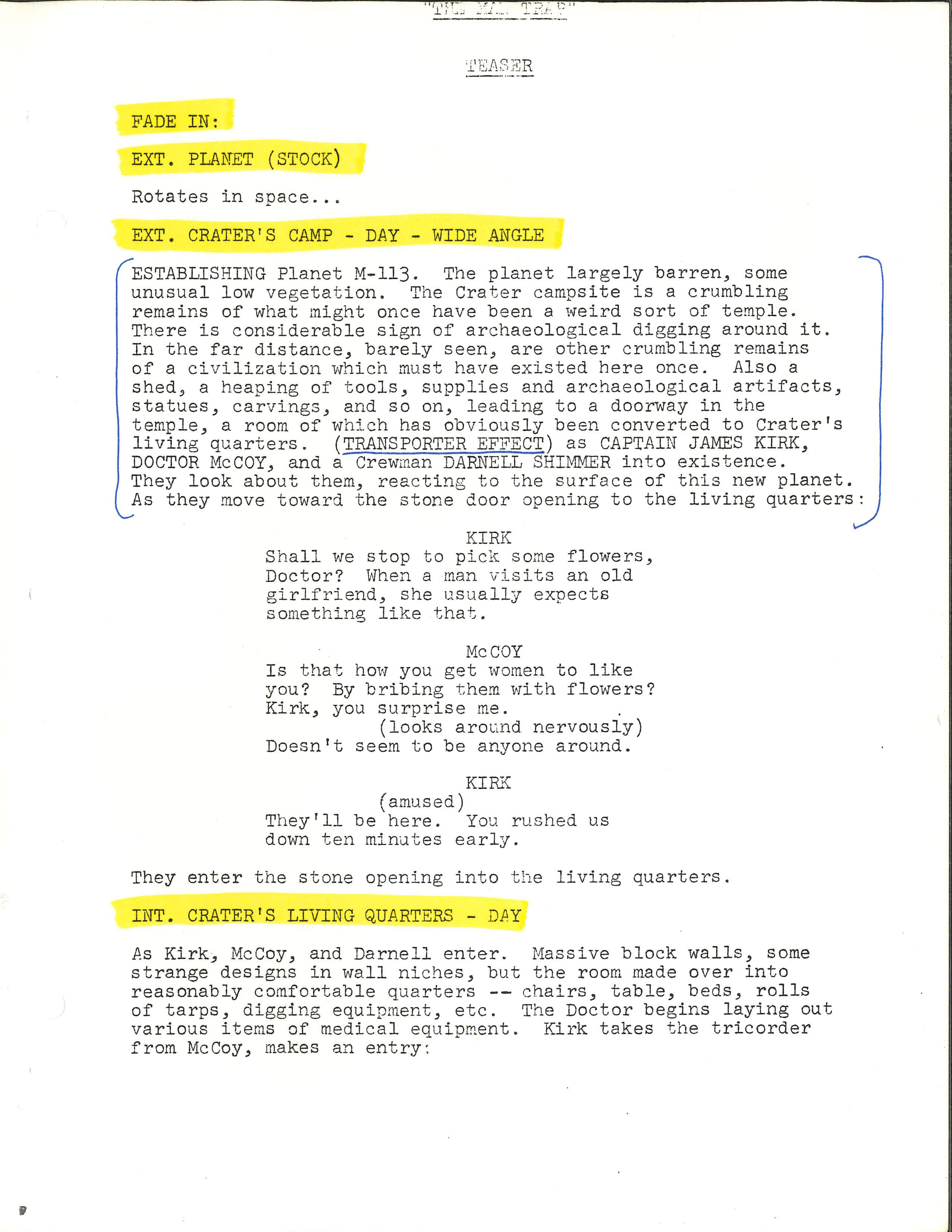 From such humble beginnings. . . . Shatner has become a caricature of himself (though not just that), some of James Doohan's ashes were rocketed into space (a couple of times), and Star Trek has become one of the most successful entertainment franchises ever!!
Why did Special Collection acquire this script? Science Fiction, as part of the broader classification of Speculative Fiction, is one of our collecting areas. And, really, how could we resist!! Come see any of the 4500 issues of science fiction and fantasy magazines on hand that date from the late 1920s through the mid-1990s. Some of them are currently on display, along with a remembrance of John Glenn (we collect "non-fictional" science-related materials, too!), and James Doohan's copy of his script of "The Man Trap" at Special Collections for the next few weeks in an exhibit titled, "Space . . . The Final Frontier."