This semester, I embarked on a new adventure: Teaching a Lifelong Learning Institute (LLI) class! From their website: "The Lifelong Learning Institute at Virginia Tech is a member-driven, volunteer organization that draws on the wealth of academic and community resources in the New River Valley to provide intellectual, cultural, and social experiences for curious adults 50 and older." My course is called "Finding Hidden Treasures in the Archives" and its goal is to introduce the students to Virginia Tech Special Collections and University Archives, as well as learn the basic of archives/special collections generally. Since much of our instruction in the department is based around 1 session with students (2, if we're lucky), this 5-session course with 9 students has given me a place to experiment and try out some crazy ideas! We started the first Monday in October and have one final session on the 29th. Each week, we've had a theme, a mini lecture on the theme & how it relates to our materials/how our materials represent the theme, learned about special collections resources, and gone hands-on with materials.
Here's what we've been up to (in short form–more details in a moment):
Week 1:An Introduction to Special Collections and Archives–Who we are; What we do and why we do it; What we collect
Week 2:War and Conflict–a look at the home fronts and the battlefields of the Civil War, World War I, and World War II
Week 3:Hidden and Silent Voices–documenting and discussing underrepresented communities
Week 4:History of Science–a crash course in engineering, flight, aerospace, and technological marvels
(and coming up on Monday, for Week 5:Society and Pop Culture–celebration through song, advertising, food and drink, andfun locations–essentially, what people do with leisure time)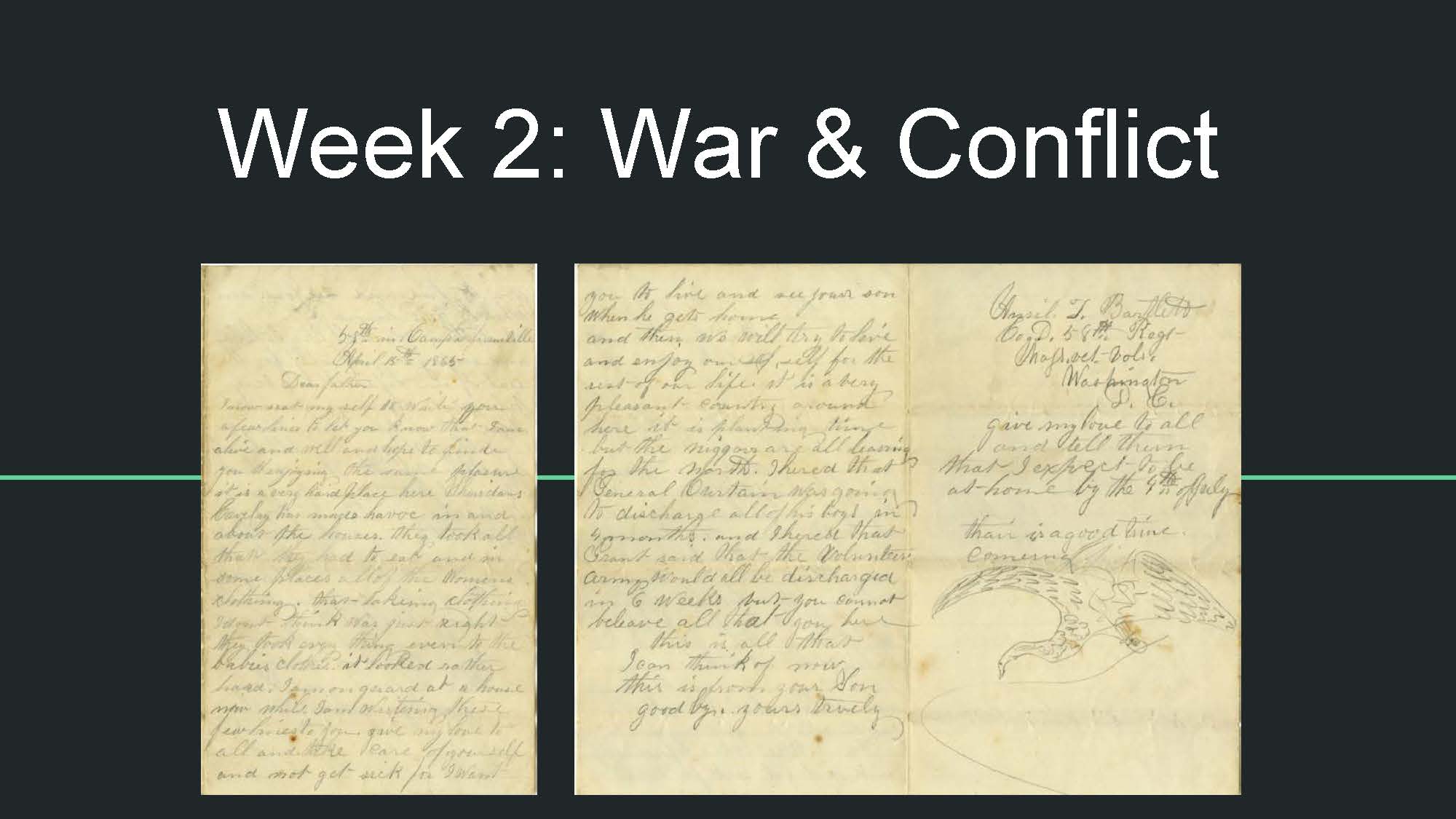 Although I had some plans at the outset, I've also tried to be proactive and flexible. So, if the students were interested in a particular topic or had particular questions, I've tried to visit and address those through the materials and themes. As a result, some recurring "bits" have evolved. Each week, we talk about challenges to collecting materials around the theme (from the archives perspective) and challenges to researching around that theme (from the researcher perspective). So, for example, when we talked about underrepresented and minority communities: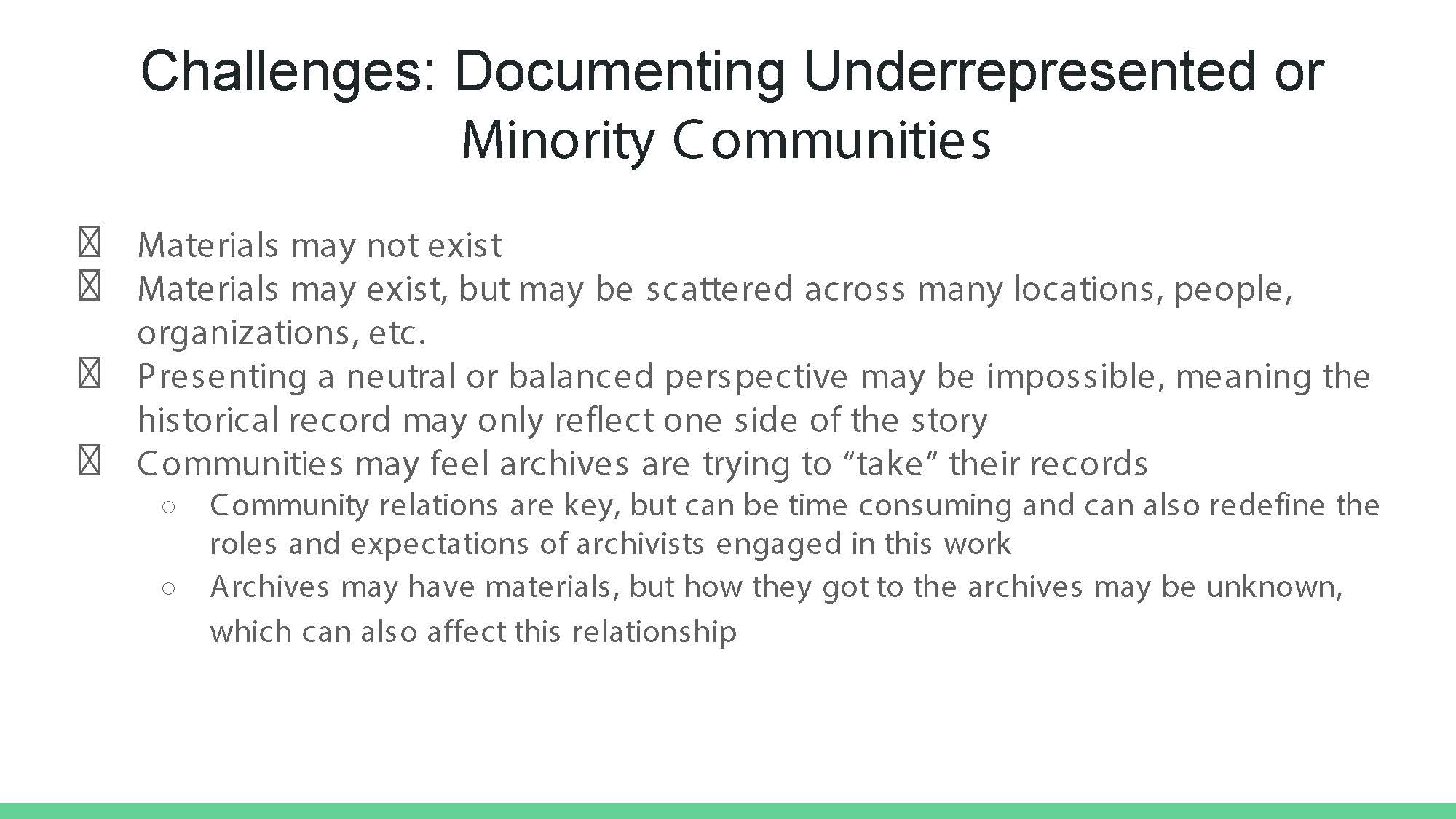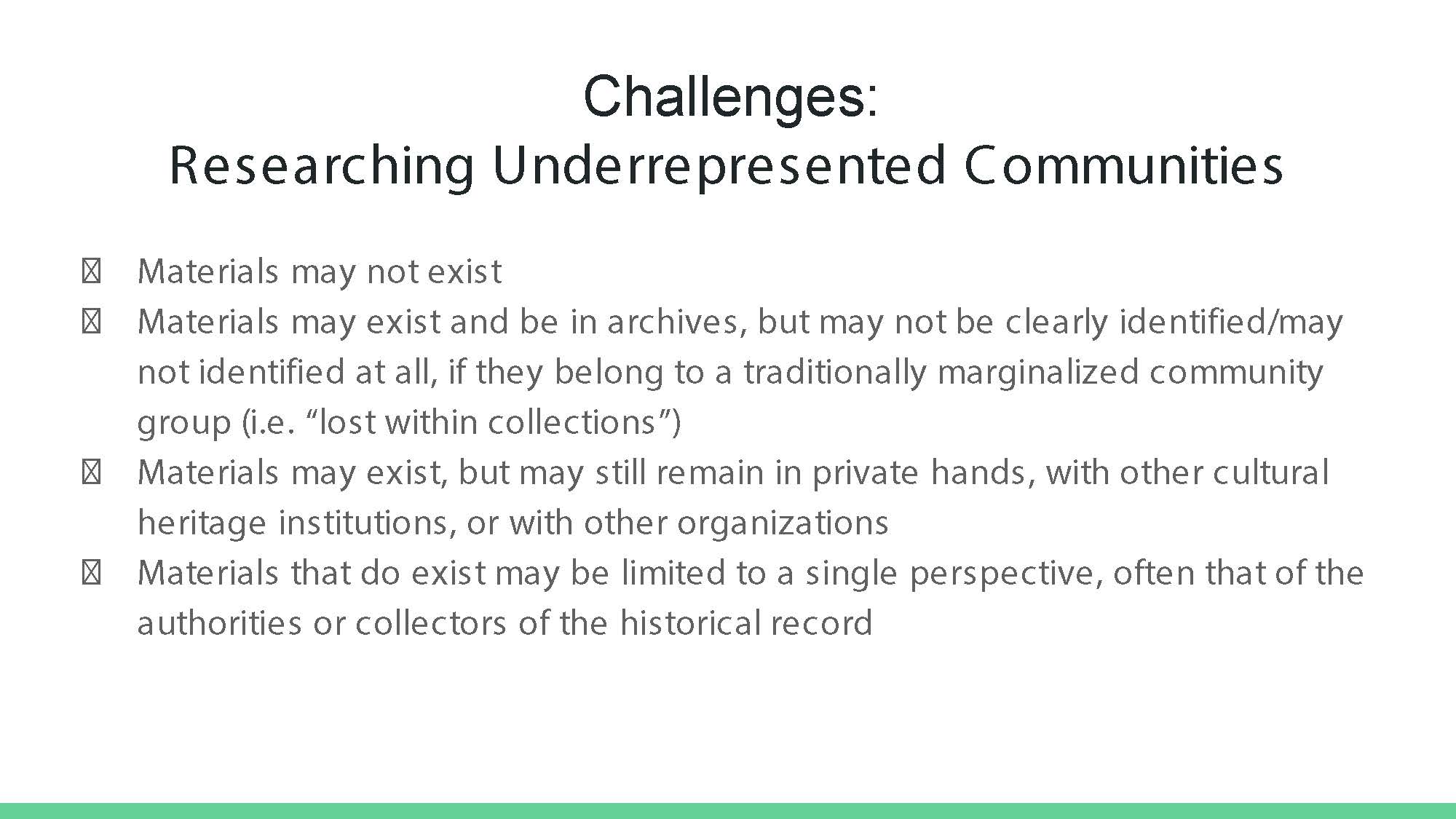 Each week, we've also talked about the kinds of materials in we have that include representation of the theme. Of course, that can vary, but it's allow us to talk about the wide range of formats we house in Special Collections. This past week, while talking about the history of science, technology, and science fiction, we looked at personal and professional manuscript materials, photographs, published books, secondary sources, maps, and even listened to part of recording of a 1969 "Face the Nation" interview with Buzz Aldrin, Neil Armstrong, and Michael Collins (digitized from reel-to-reel). Since the Michael Collins collection also includes artifacts and even a painting, it was also a great opportunity to talk about some 3-D objects like this statue and our 19th century stove: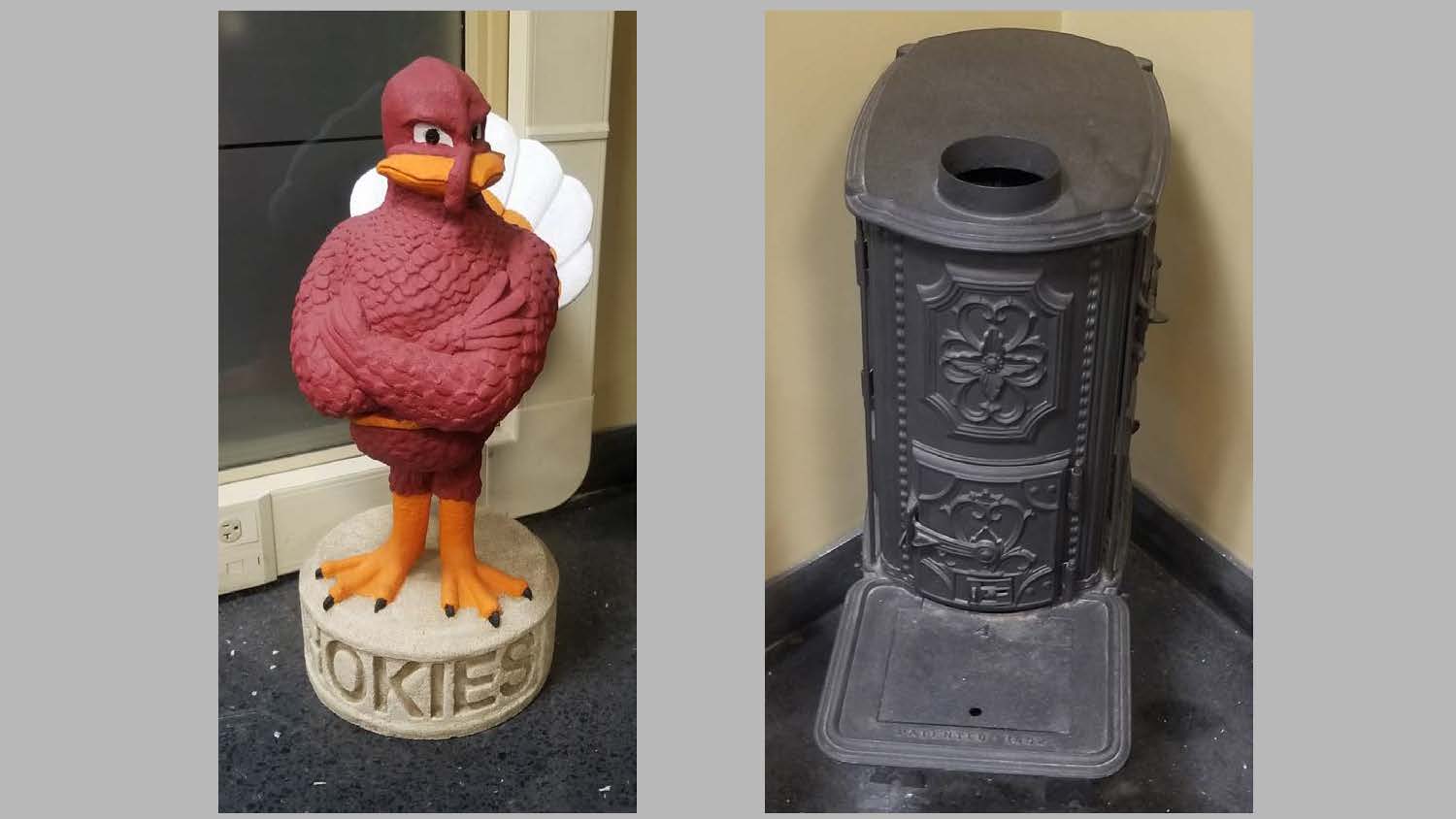 Each week, we've also talked about and looked at resources available through Special Collections: digital collections, finding aids, catalog records, and LibGuides. I've made up one "cheat sheet" for our resources and collections, and hope to have another done for our final session about locating materials online and at other archives and special collections. And as the final part of each week, we go hands-on with materials. Some of initial plans have gone out the window, but during our week on war and conflict, I tried something new. We had nine items (three from the Civil War, three from World War I, and three from World War II), one for each student. They had a few minutes to study their item and come up with some keywords. Using a whiteboard, we were able to list out some of those keywords and see where the similarities and differences emerged across and between conflicts.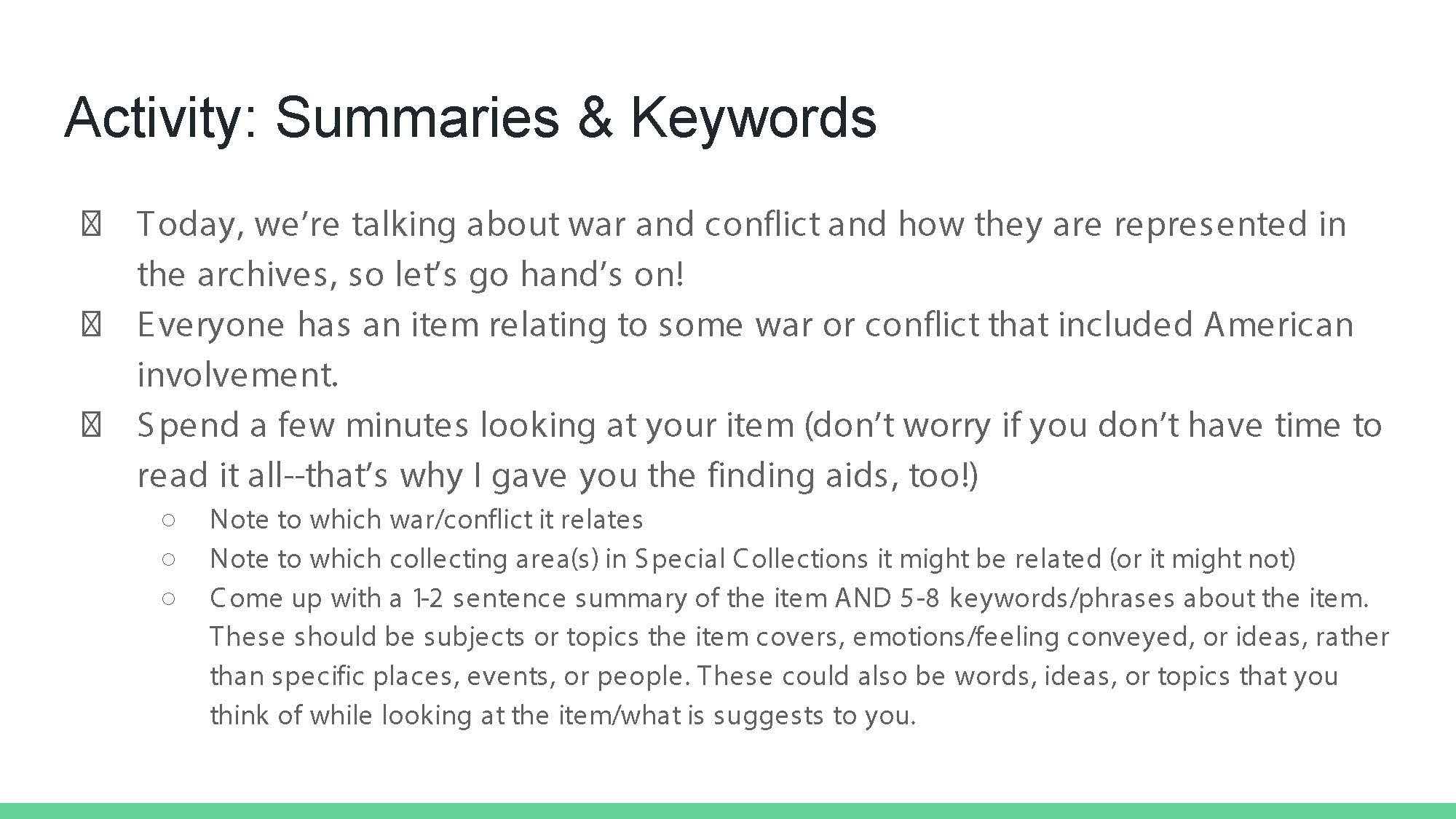 The nice thing about teaching around a theme is that I've been able to look for–and find–connections between our main subject areas that I might not have otherwise considered. So, for example, when we talked about the history of science/technology, I started thinking about transportation. I pulled together a picture of a mule-driven team for hauling coal, images of railroad engines, and pictures taken of the lunar module from Apollo XI. The idea of getting from one form of transport to another was something I had certainlythoughtabout, but never put together in this specific way to share with an audience. And the thing that has surprised me is how many questions the students have! (The "curious" part of the description of LLI is no lie!) There are lots of questions about the materials, but also many on the more practical, logistical, and functional aspects of archivists and archives (or what I lovingly call "how the sausage is made"). While I love to talk about these topics, when teaching a single 50 minute session, you don't usually have time to get into those kinds of details. The majority of my work is behind-the-scenes, with a focus on making materials accessible, so it's fun to able to talk about what I do in a day, show people the finished product, and share my enthusiasm forwhy I do it.
While we still have a week to go, I have had SO MUCH FUN teaching this course. I'm especially looking forward to our last week, when we'll look at diaries, sheet music, photographs, ephemera from social events, a scrapbook, and food & cocktail history (among other things). There is a lot we have historically done with our leisure time, but we don't often try to talk about all of it at once! So, I hope we get to talk about why we do them (what makes them "fun"), what these kinds of activities have in common, and how they differ. Instruction isn't something I do too often, but I love engaging with students of any age, when it gives me a chance to be an advocate for archives. I really enjoy sharing our collections and connecting students (and researchers) to materials. With this LLI class, I think we're all learning from each other….and having fun!