Working with the History of Food & Drink Collection for the last few years has helped me build up an interest in advertising. Since 2011, we've been acquiring materials for our Culinary Pamphlet Collection, which contains hundreds of pamphlets, booklets, and cards/card sets. Much of the collection consists of small recipes books that consumers would either have sent away for or received free, full of recipes that use a product or products and aimed at encouraging future purchasing. In 2013, we started building the Culinary Ephemera Collection, which contains things likelabels, broadsides, trade cards, puzzles, menus, and postcards. There are lots of great bites of culinary ephemera–just the kind of items you'll find me blogging about on "What's Cookin' @Special Collections?!" It's through food and food advertising history that I first got into trade cards, but that's not the only place you'll find them.
Which brings us toCoade's Lithodipyra or Artificial Manufactory Trade Card: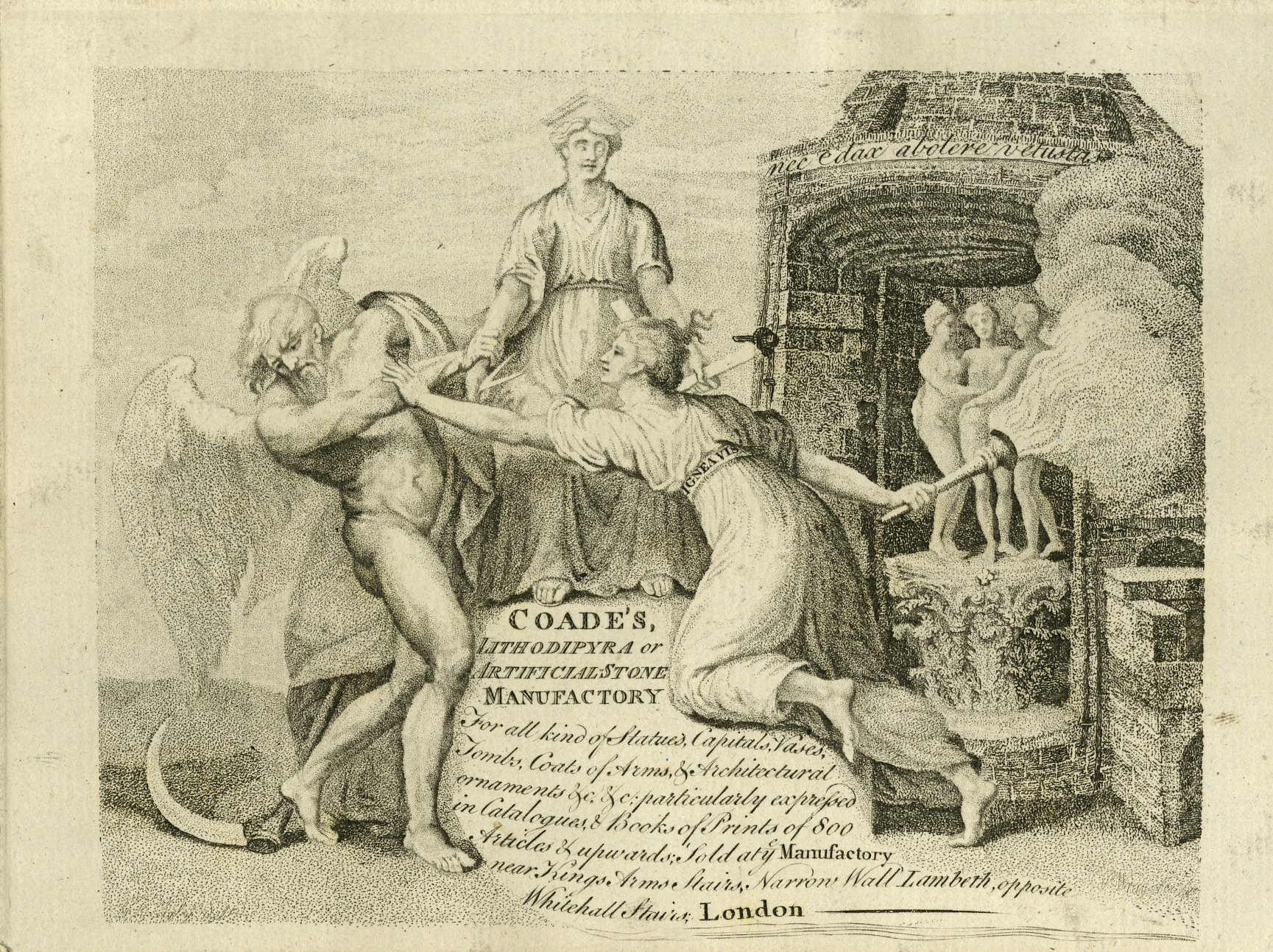 This collection is among what we call our "1-folder collections." The entire collection, in this case, consists of the single trade card, probably printed around 1784. But, there's a great deal of history to even a single small piece of paper. (In other words, don't let the size of a collection fool you!)
The image is believed to have been one carved above the door at the factory. The woman whose belt is labeled "Ignea Vis" (or, "Firey Force") appears to be overpowering a winged figure, who has both a tail and a trumpet, but we have no other clue to who or what he represents. The text reads:
Coade's Lithodipyra or Artificial Stone Manufactory For all kind of Statues, Capitals, Vases, Tombs, Coats of Arms & Architectural ornaments &c &c; particularly expressed in Catalogues, & Books of Prints of 800 Articles & upwards, Sold at ye Manufactory near Kings Arms Stairs, Narrow Wall Lambeth, opposite Whitehall Stairs, London
The Latin above the three women reads, "nec edax abolere vestusas." This is most likely the second half of the second of two lines from Ovid'sMetamorphosis:Iamque opus exegi, quod nec Iovis ira nec ignis/nec poterit ferrum nec edax abolere vetustas. Of, if you prefer: "And now my work is done, which neither the anger of Jupiter, nor fire,/nor sword, nor the gnawing tooth of time shall ever be able todestroy." It seems an obvious advertising suggestion at the timelessness of the artificial stone manufactured by the company. Which brings us toCoade's Lithodipyra or Artificial Stone Manufactory.
Coade's was a company run by Eleanor Coade (1733-1821). Her first business was as a linen-draper, but she eventually shifted to making artificial stone, referred to as "Coade stone." (Seeing a woman run any sort of business at time is only one of the reasons the trade card is such a stand-out item!) She ran the company from 1769 until her death in 1821, at which point her last business partner, William Croggon, continued the business until 1833. Coade produced stone for famous architects of the time, including John Nash. Nash's works using the stone included the Royal Pavilion, Brighton, andthe refurbishment of Buckingham Palace in the 1820s. Other sites using the stone wereSt. George's Chapel, Windsor and the Royal Naval College, Greenwich.
You can see the
finding aid for the collection
online. It offers a little more context to the trade card (designed by sculptor John Bacon, who studied at the Royal Academy). A trade card often seems like a simple thing, without much to do, other than advertise a company–but that isn't usually the case. There's a great deal of thought as to what goes into the design, what effect it might have, and what its real intention is. Certainly, Bacon probably thinking of this as a work of art, nor was Coade expecting it to last 231 and find its way to our collections, but it really is a work of art and it still has value over two centuries later. What that value is…well, art is in the eye of the beholder, just like research value. It's up to you and me to figure out what this small, but not insignificant collection can mean.