This week, I really wanted to do a post highlighting materials related to the various wintertime holy days and celebrations that happen during December. That didn't exactly work out. I did find some materials in our rare books collection that were Christmas related but I had trouble finding things for Hanukkah, Kwanzaa, Winter Solstice, Yule, and Eid (I would have included it even though it's not really the same and was in September this year).So, I shelved that post for another year when we've made better progress increasing the representation in our collections.
As I searched for something else to post about, I saw them: Wood and Metal book covers. They were just my style and I had to share them.The wood-bound (and metal housed) books I've chosen today are from our History of Food and Drink Collectionand focus on Southern cuisine, Astrology/Mixology, and general cookery.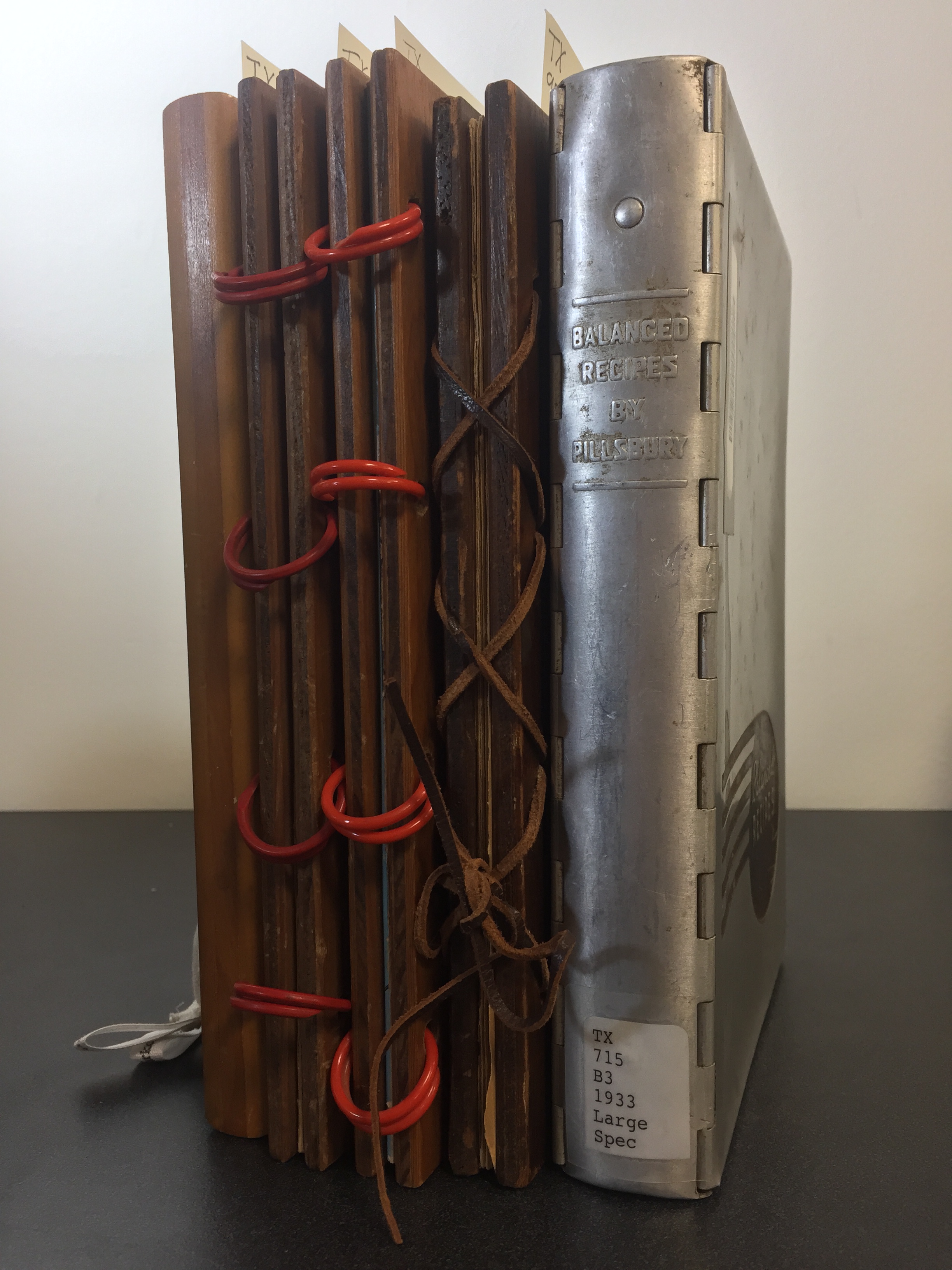 First, a little bit about wood book covers in general. If you take a moment and do a quick Internet search (I'll wait…), you will likely discover that there are hundreds upon hundreds of sites providing instructions on how to make your own wood book cover. Wood has been a popular material for electronics cases and other applications for a few years now (I've personally watched as the number of products in this space has increased exponentially). Not surprisingly, this is a phenomenon that falls squarely into the category "everything old is new again". The covers from our rare books collection are not freshly made. They mostly hail from the late 1930's (one is on a book from the 1970's – another period where wood was exceedingly popular on everything from cars to walls). Going back a few centuriesfurther, the Copts of North Africa lent their name to the technique of binding with wooden covers sewn togetheraround pages. So, that hip new trend is actually ancient – – and still amazingly beautiful (if you can get past the problematic racial issues raised by the illustrations).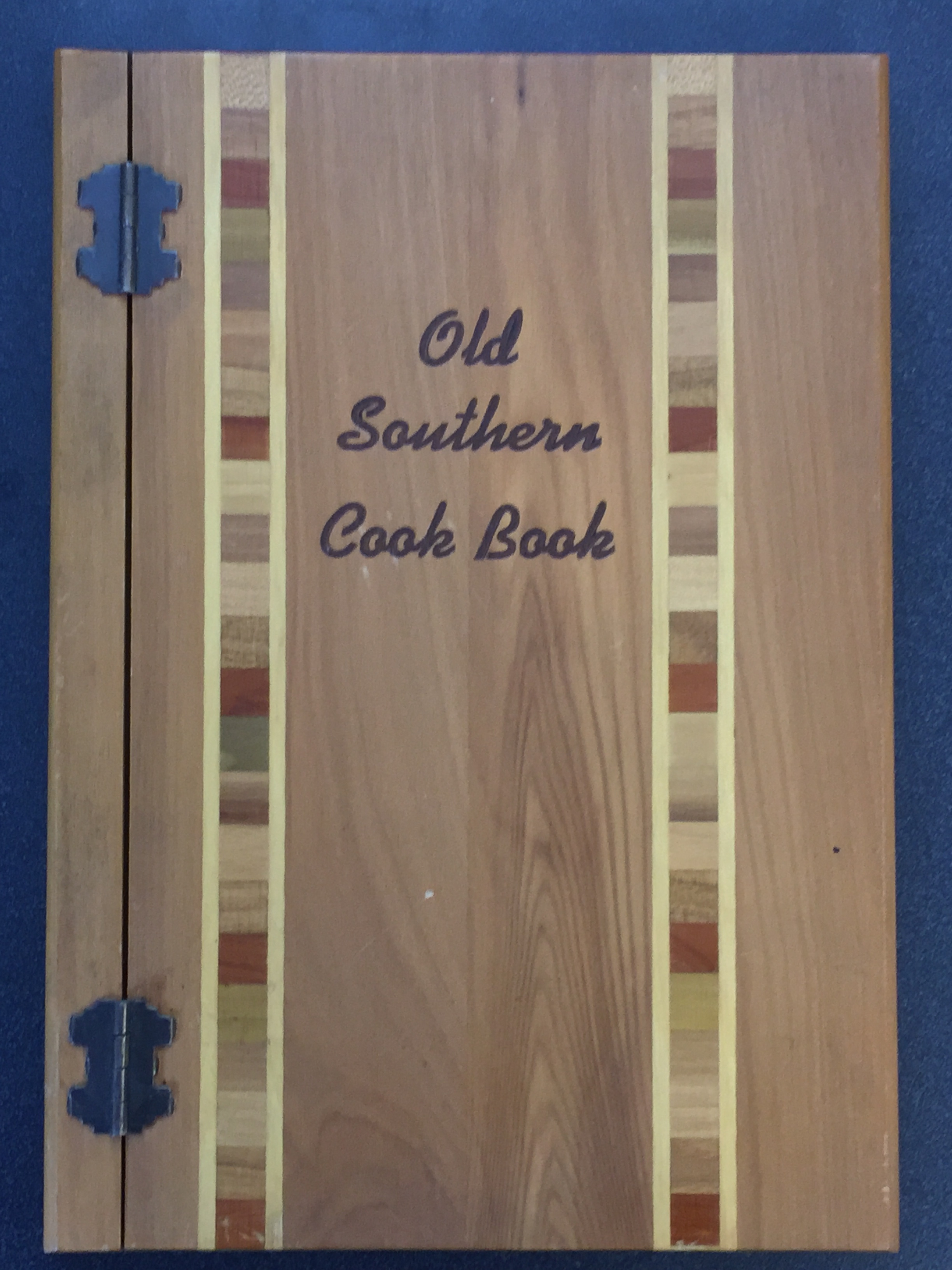 Our firsttwo examples both focus on Southern style cuisine. They also rely on the Jim Crow mammie caricature. The introduction from the 1930's volume reads"The very name 'Southern Cookery' seems to conjure up the vision of the old mammy, head tied with a red bandanna, a jovial, stoutish, wholesome personage . . ."
Yikes! That alone makes me want to avoid this book. For more on the history of the mammie caricature, head on over to the Jim Crow Museum of Racist Memorabilia page.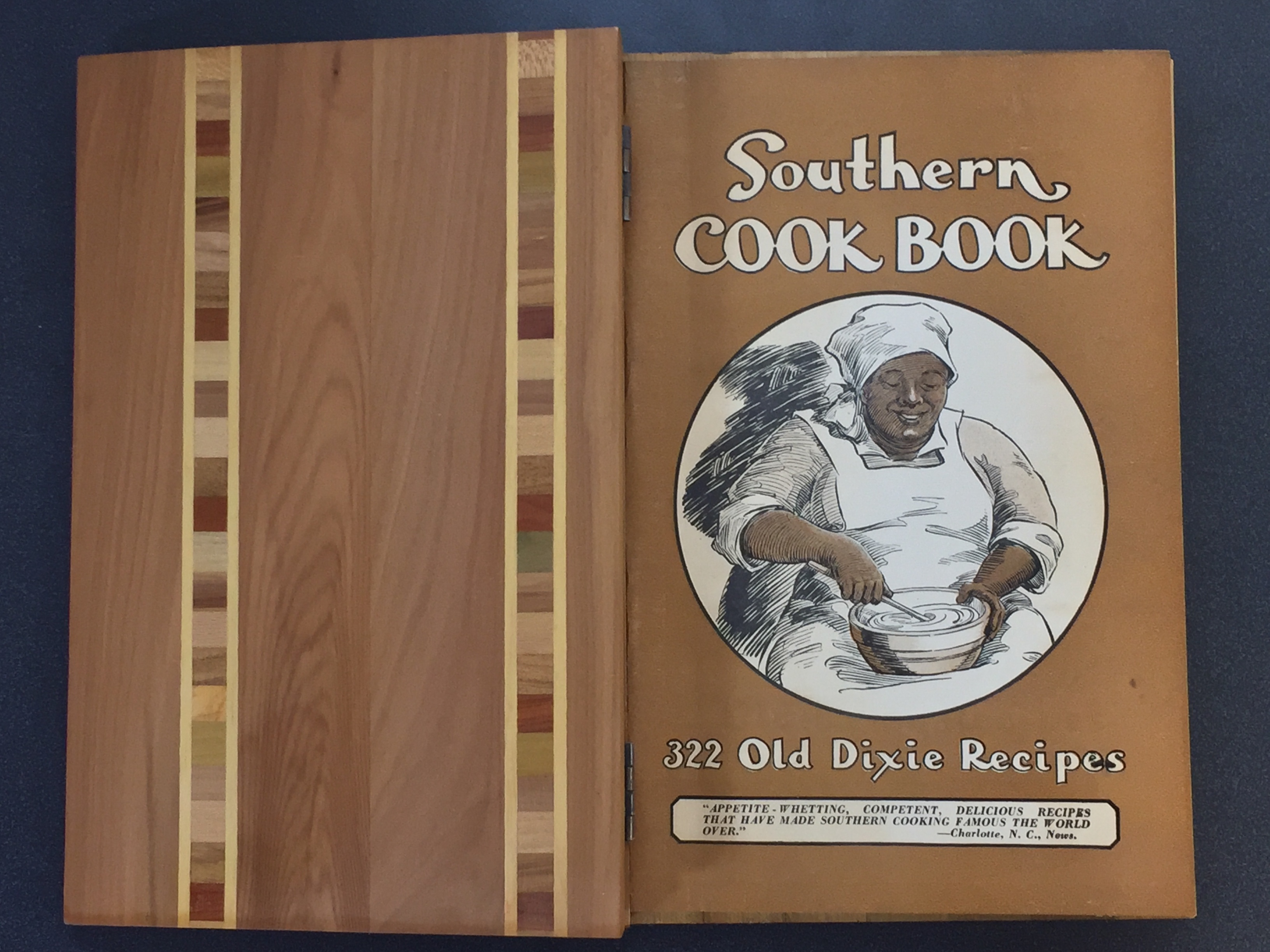 Clearly that Jim Crow era attitude was still around in the 1970's when the mammy image cover was placed around this cookbook with the '70s dinner party cover.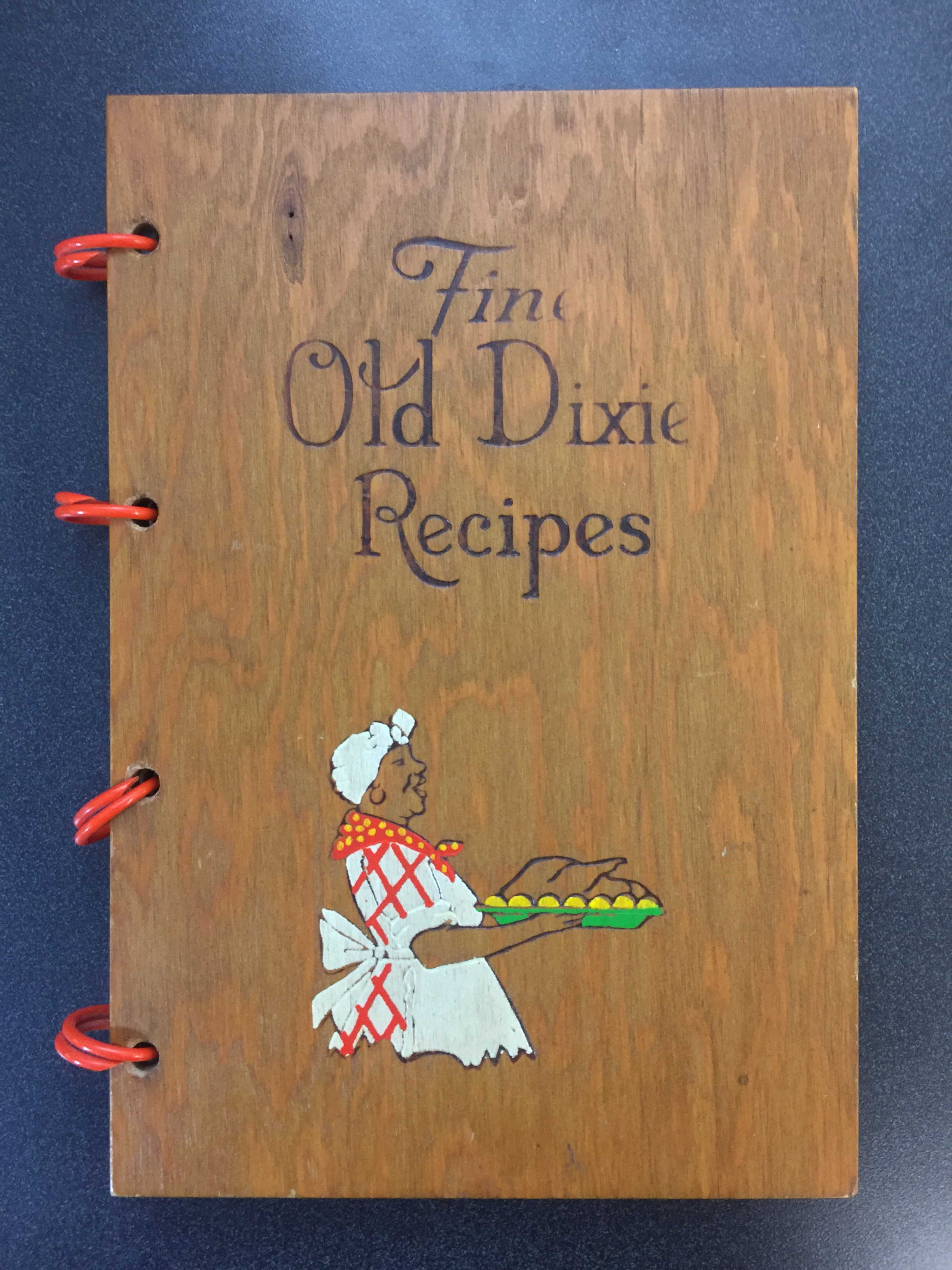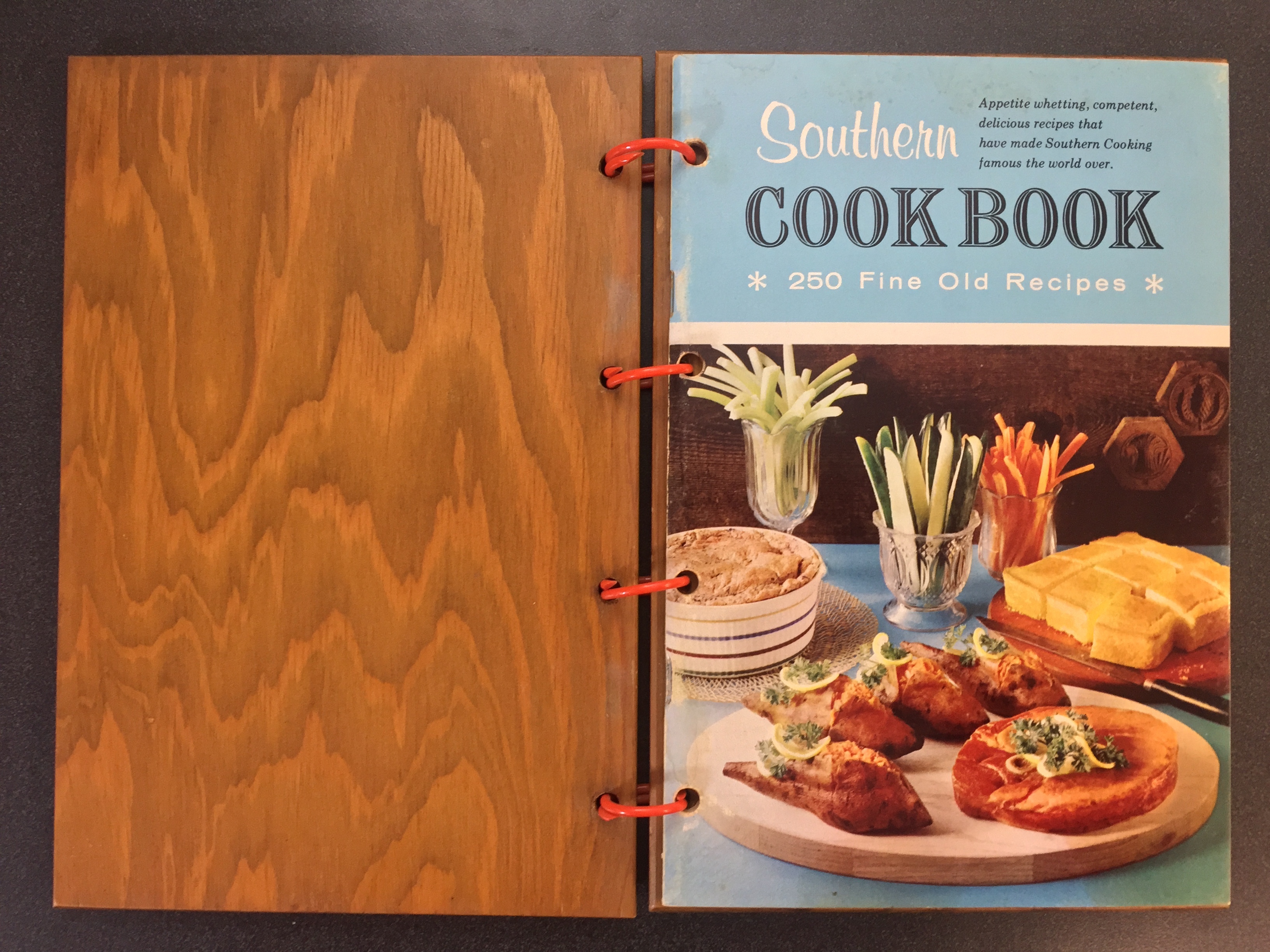 Our next two offerings both focus on astrology and mixology, or the fine art of combiningcocktails with mysterious planetary influences on our destinies. I ask you: What could go wrong?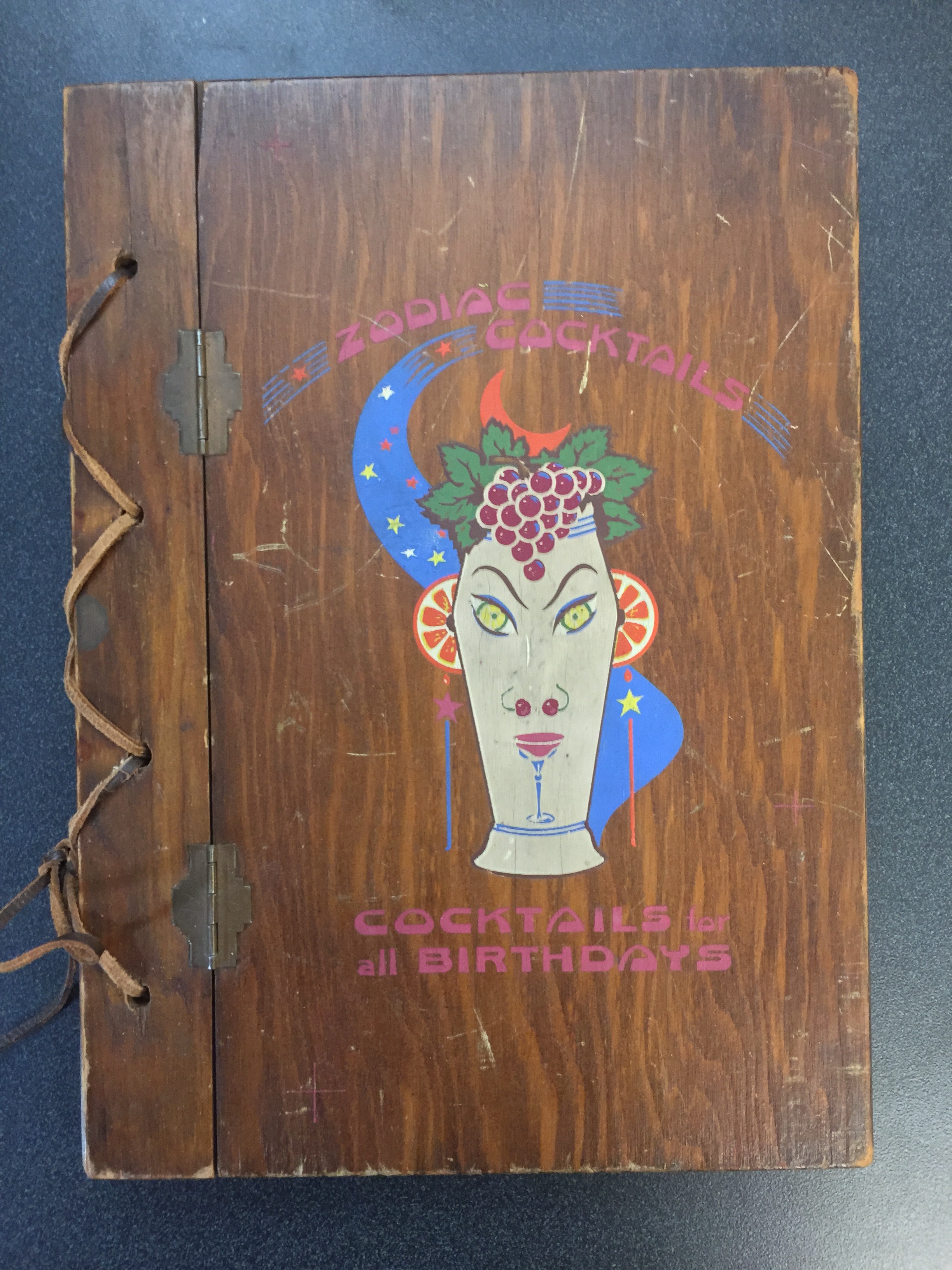 Well, to start, how about this cover from Zodiac Cocktails (1940). The artwork, while creatively using the tools of the bartender's trade, manages to evoke racial and religious stereotypes about Caribbean Islanders and Voodoo priestesses. Surprisingly, once past the cover, the illustrations are more referential toward medieval British conceptions of the mystical.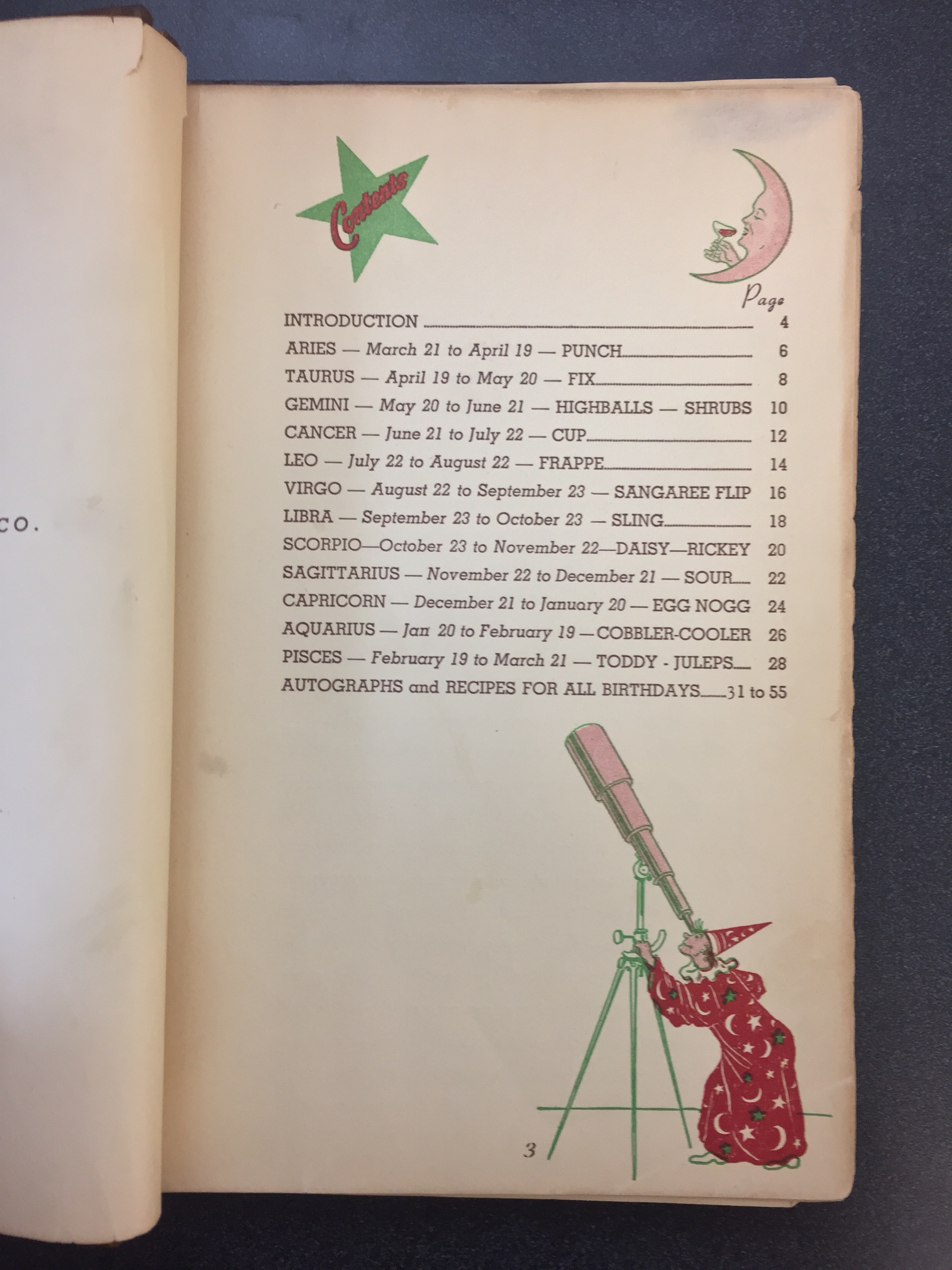 The content of this volume is as it would be with any book of cocktail recipes: useful in making cocktails. Still, it's hard to take the author seriously in his attempt to ". . .demonstrate that people born under one sign of the zodiac are capable of drinking one or more combinations of liquor without ill-effect, whereas other combinations bring less pleasing results." He has formulated a cocktail for each sign that he believes is the ideal cocktail for anyone born under that sign. Since we are currently under Sagittarius, I share with you the ideal cocktail for that sign:
1 Lump Sugar
2 Dashes Cocktail Bitters
1 Glass Rye or Whiskey
Crush sugar and bitters together, add lump of ice, decorate with twist of lemon peel and slice of orange, using medium glass, and stir well.
This cocktail can be made with Brandy, Gin, Rum, etc., instead of Rye Whiskey.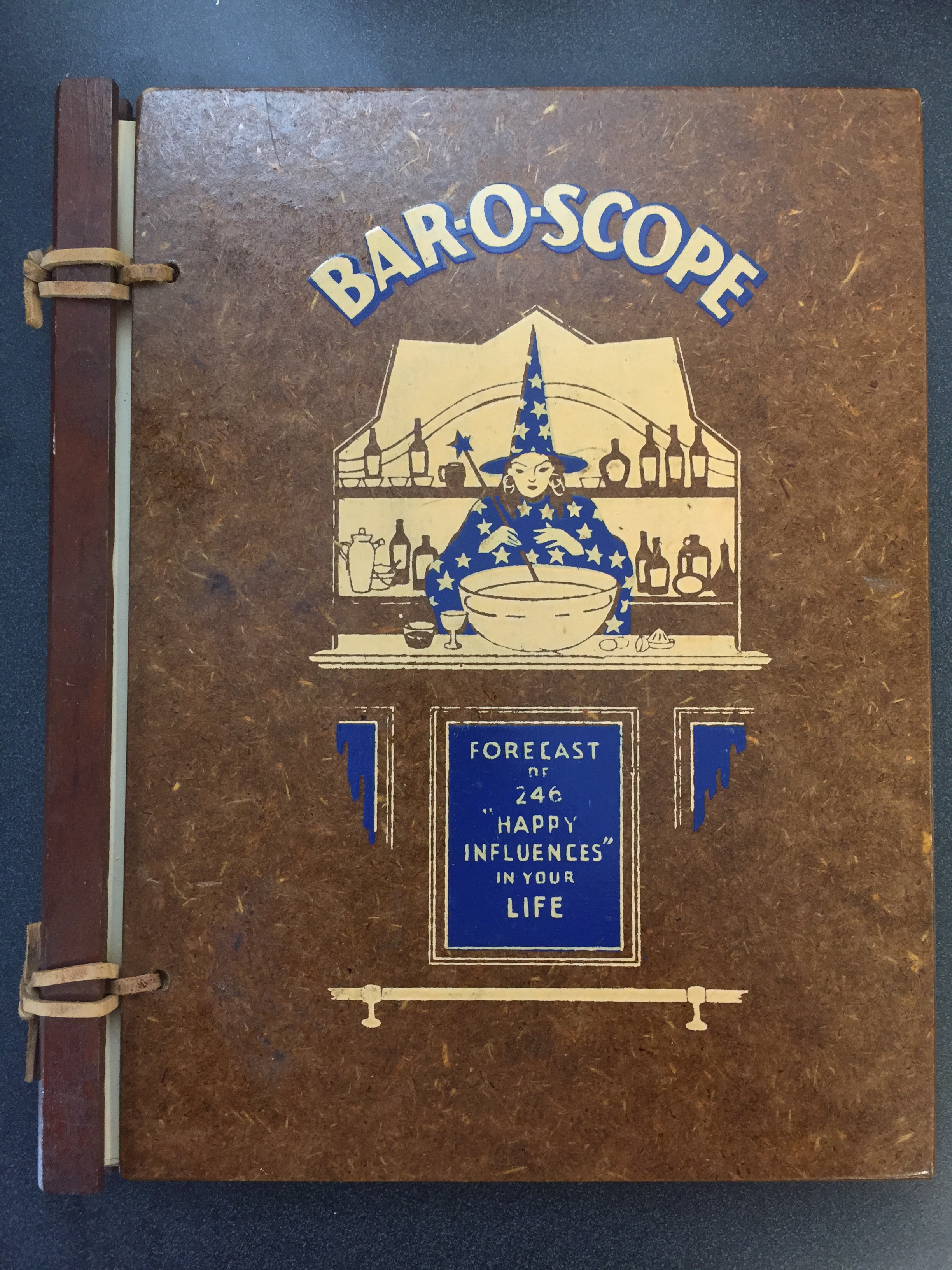 The next item from 1939 will tell you your Bar-o-scope. This one is definitely not taking itself too seriously. It is described as:
Spiced with "Astro-illogical" guidance in rhyme + pictures for those REborn under the different signs of the Baroscope.
The cocktails are arranged in chapters by type and each chapter contains a little poem about a zodiacal sign: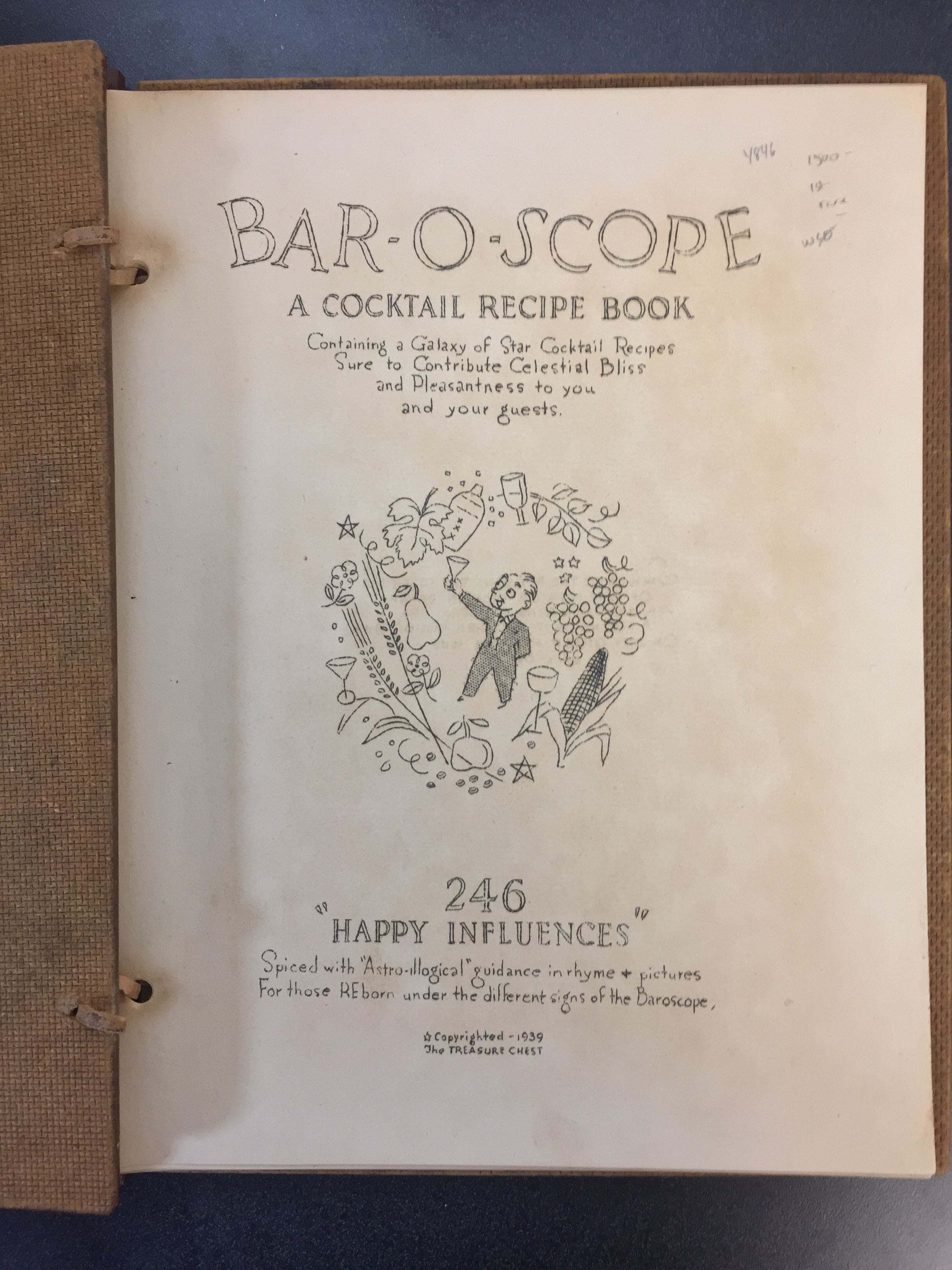 Sagittarius
Nov. 23 to Dec. 23

The SAGGITTARIUS-born
Are idealists at heart
And to parties and functions
Good spirits impart.
It's a fun little book, but it's actually not bound in wood. It's really press board (sometimes called particle board). It's tied with leather thongs and is very similar to the traditional coptic binding style but has a spine added where one would not normally be present in coptic style.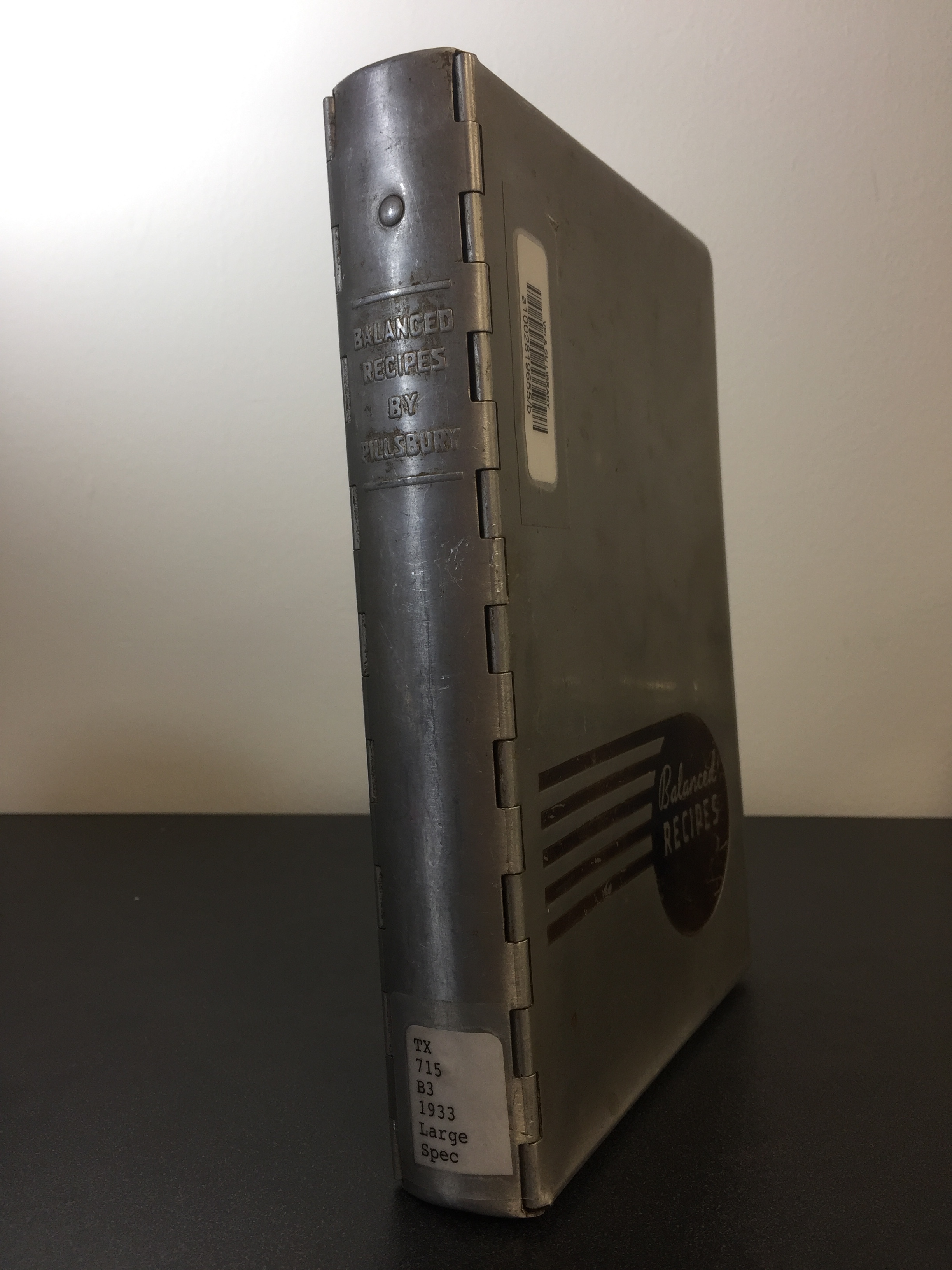 Finally, there is a glorious metal "bound" cookbook from Pillsbury (1933). Right in the heart of the Art Deco period, this book incorporates elements of that iconic style into a housewife's reference book titled Balanced Recipes.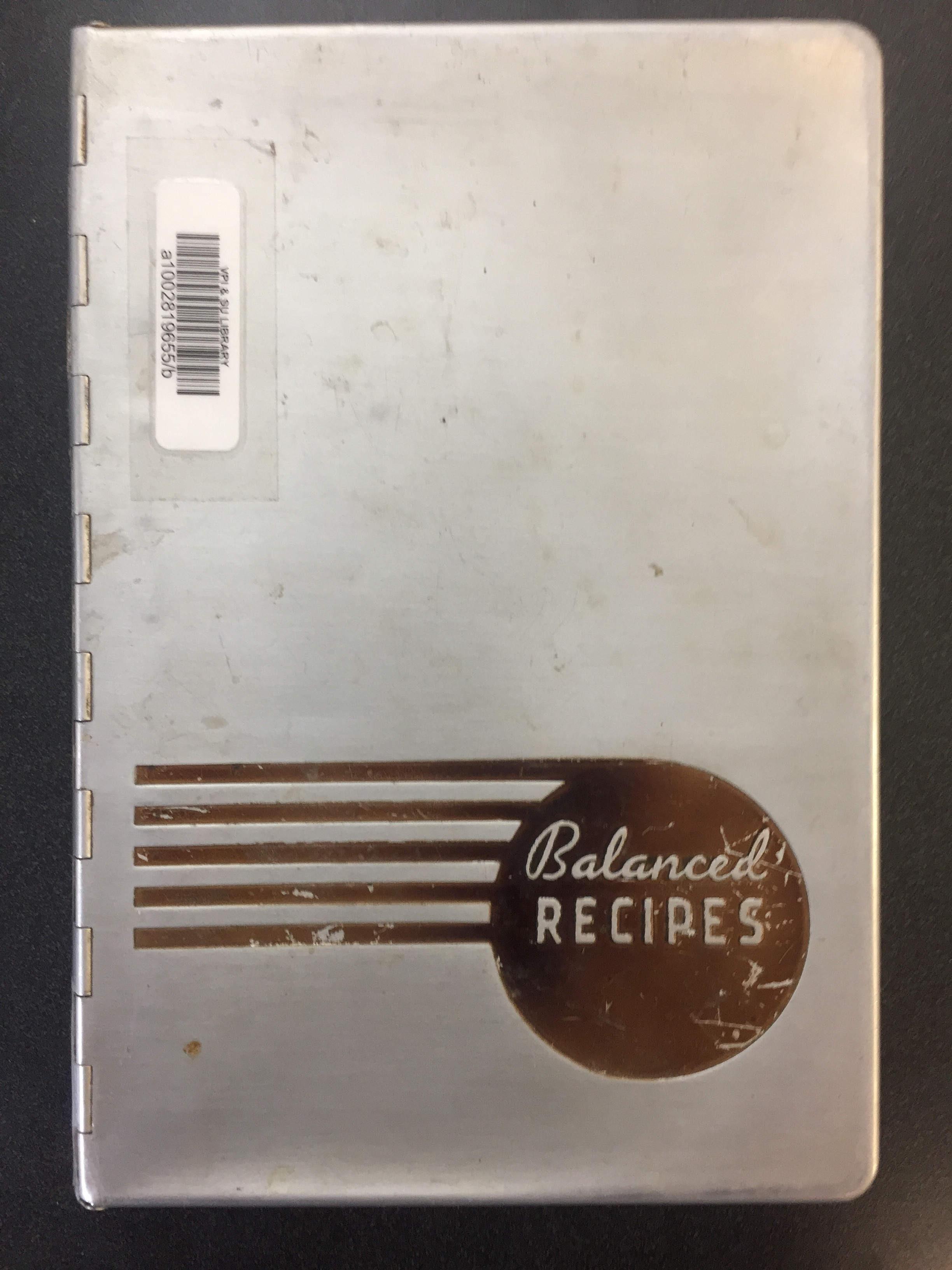 The book includes sections for bread, cakes, cookies, desserts, luncheon and supper dinners, macaroni and spaghetti, meat and fish, pies, salads, soups and sauces, vegetables, and menus. The recipes included were developed in Pillsbury's "home-type experimental kitchen" in Minneapolis, Minnesota.
Of all these books, this one is by far my favorite. It avoids the caricatures and racial issues of the others while being really cool to look at. It also has a connection to Minneapolis (my favorite big city). Plus, when I was flipping through, it gave me a holiday surprise and landed on a recipe for that perennial holiday favorite: fruit cake. Enjoy!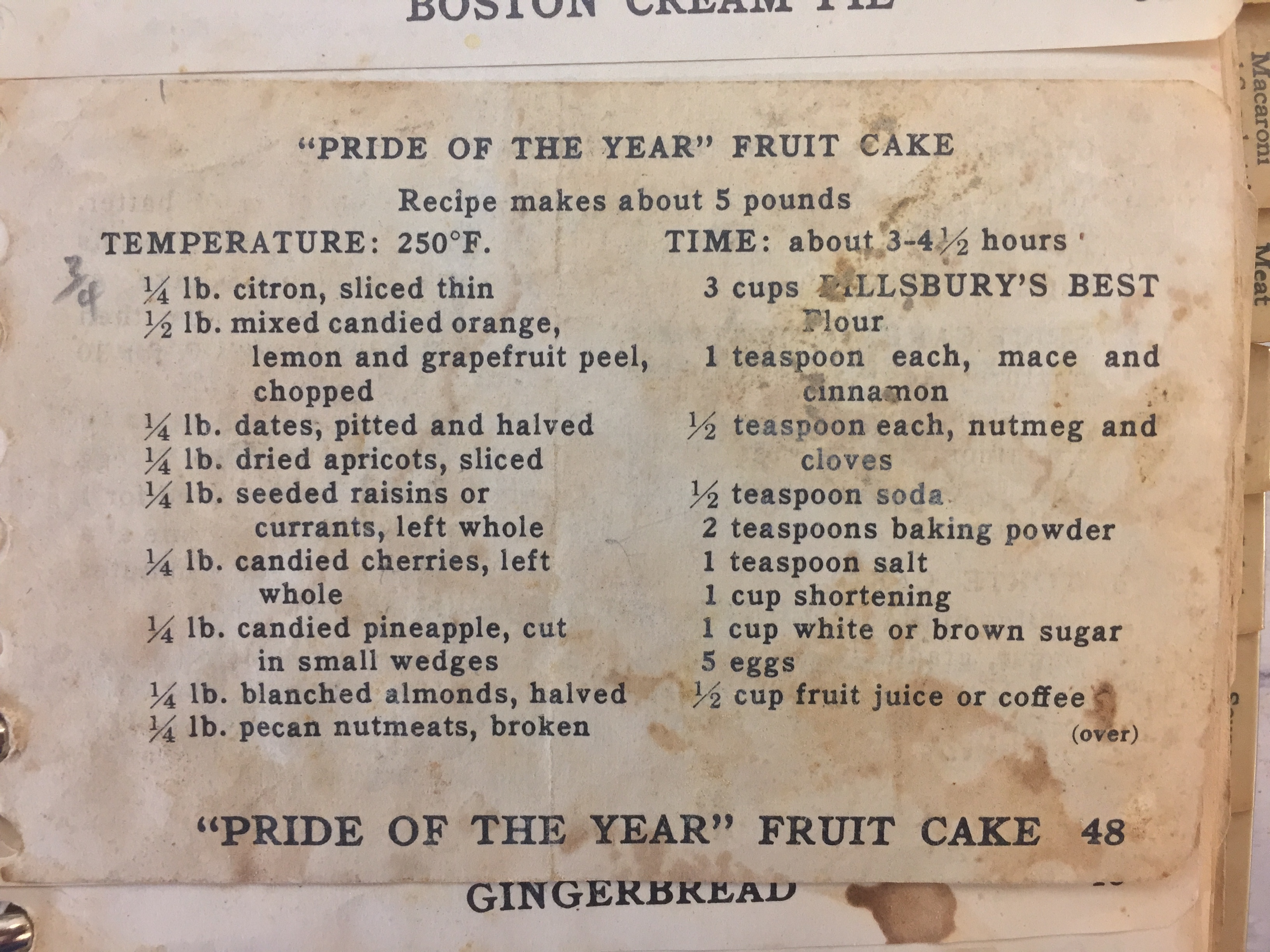 For more about theHistory of Food and Drink Collectionat Virginia Tech, check out the dedicated blog: What's Cookin' @ Special Collections?!