Charles Taylor Adams Played the Provocateur as Both Student and Alumnus
The title of the Herman Bruce Hawkins Papers (Ms1974-014) is a little misleading. While the materials in the one-box collection do relate to Hawkins (who graduated from Virginia Polytechnic Institute in 1910, had a successful 50-year career in the power industry, remained actively involved in Virginia Techs alumni association, and was awarded Virginia Techs Distinguished Alumni Citation in 1961), the overwhelming focus is on Hawkins VPI classmate, Charles Taylor Adams.
A native of Richmond, Adams entered VPI as a sophomore in the schools horticultural program in 1908. Adams became known on campus for his verbose and iconoclastic nature and his relative lack of interest in the discipline and protocol of a military school. The blurb below his picture in the 1910 Bugle sums up Adams (known more familiarly by his middle name) in this way: Taylor has the hot-air supply of Montgomery County cornered, trussed up and stored away. And that isnt the worst of it. If hed keep it where hes got it, we would not object so strenuously. But he always has it on tap and you never can tell what is and what isnt true. Taylor also seems to have had a reputation for excessive idealisism and was sometimes known to friends as Quix, short for Quixote.
In 1909, Adams was named editor-in-chief of The Virginia Tech, forerunner of todays Collegiate Times. Taylor presented a number of tongue-in-cheek editorials and soon began running a regular feature, Asbestographs, so-called because the column was intended to cover red-hot matter, too incendiary to print on paper. Not quite living up to its stated purpose, the column usually featured gripes about mundane aspects of campus life: the stench from campus incinerators, the inefficient laundry service, and the lack of heat in the dorms being among the many grievances aired. Adams' diatribes were often directed against his classmates, whom he castigated for their lack of enthusiasm and involvement.
The papers editorials took on a more weighty subject on January 26, 1910, when Adams addressed a local issue. Some students had taken a dislike to a local Italian immigrant who had been peddling peanuts and popcorn (and, according to some, anarchism) and had pelted him with firecrackers. According to Adams (in language not politically correct), the Blacksburg mayor had paid an African-American Blacksburg resident to act as witness against two innocent cadets against whom the mayor held a grudge. The case was ultimately thrown out by the grand jury, but it came at a time when other issues were straining town-gown relations, and Adams editorial apparently received some negative attention from school authorities. In protest, Adams published the following week a Spotless Edition of The Virginia Tech. The issue contained only advertising. The sections that would have held news stories and editorials were intentionally left blank.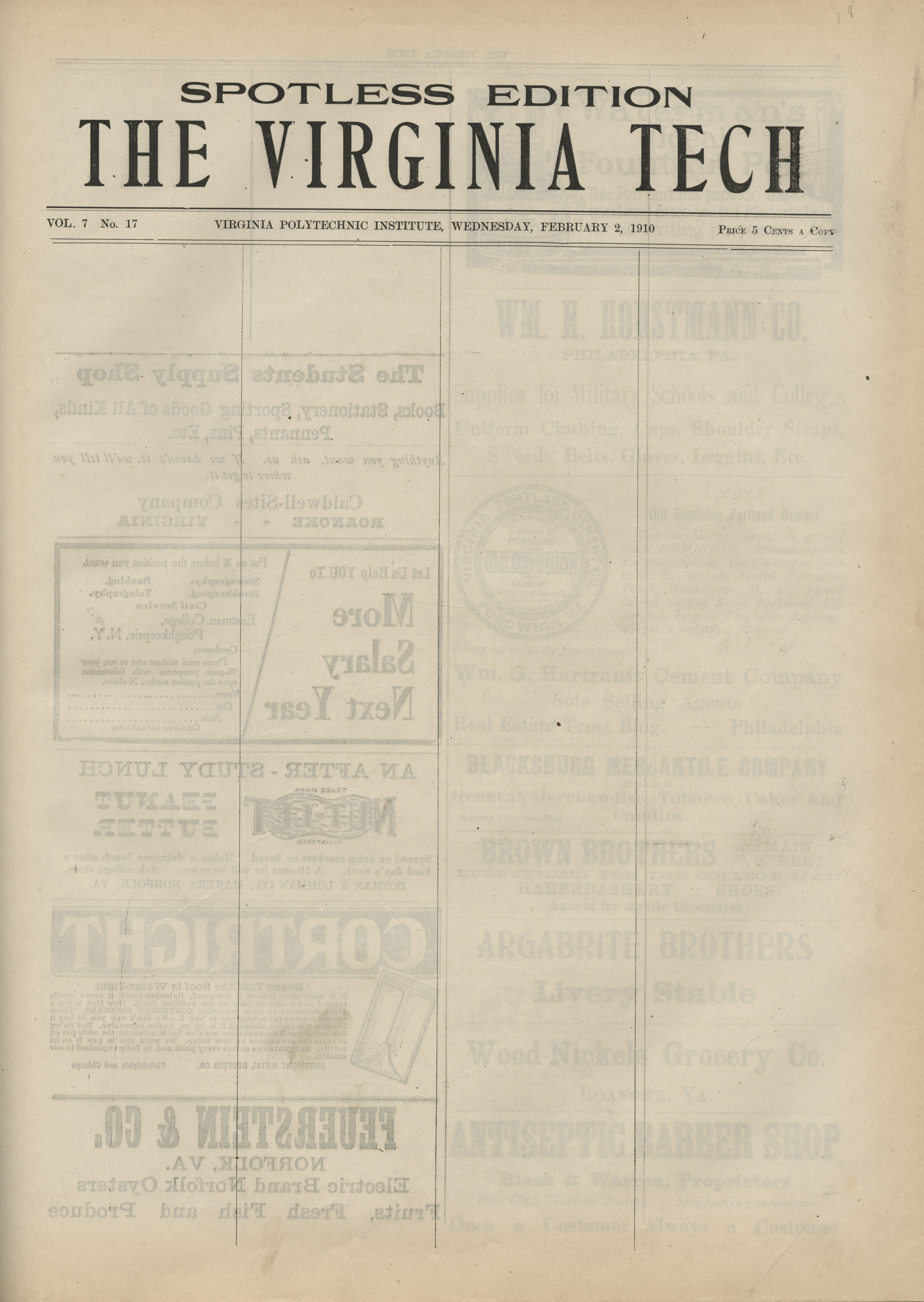 Adams remained editor-in-chief and seems to have completed the school year, but records indicate that he never graduated from VPI. He did, however, go on to a successful career, working for several prestigious New York advertising firms.
In 1959, classmates Adams and Hawkins reconnected through correspondence. The letters between the two served as an outlet for Adams views, and he wrote of his great regret for having spent his years in advertising, rather than being a communist activist:
Did I ever tell you that I once met John Reed [the American journalist who chronicled Russias Bolshevik Revolution] and talked with him? (and how shamed I am now that his words moved me not, and I put him down as a wild eyed young radical). It was in 1914, I think, in some smoke-filled bistro in Greenwich Village, and I was down there with some of my friends, and Reed came over to greet one of them … and not long thereafter he went over and was in the October Revolution When I think that I might have done that, or something like it, I am shamed and deeply sick in spirit. For what have I done, in the seventy years I have had? Advertising to make people buy things they do not need, at prices far beyond their true worth
Remembering with fondness their time as classmates, Hawkins saw Adams as a frustrated idealist:
Your unhappiness though is, I suspect, that of so many intellectuals who expect too much of people. And with the people being what they are throughout the world, I wonder just where you might go to find happiness. In thinking back over the years I can recall now that you were a revolutionary from the start during our early years when we roamed the campus together at Blacksburg … You are though my favorite revolutionary and though it would have been thrilling to say, I knew him well he was one of my dearest friends Im really glad that you didnt distinguish yourself in the same way that John Reed and Lenin and Castro did.
Taylor Adams (left) and Herman Hawkins are pictured as classmates in the 1910 Bugle.
During the next few years, the two men occasionally exchanged letters that present in microcosm the contrast of opinions on the overarching issues of the daycivil rights, nuclear arms, and the Vietnam WarAdams espousing views that at the time were considered fairly radical and often sharing printed materials from such organizations as the NAACP and the Congress for Racial Equality, while Hawkins held on to prevailing conservative opinions, such as his take on Adams activities as a speech-writer for the NAACP:
I do believe that you are being unrealistic for the highest hurdle the Negro has to clear is that of prejudice[,] and what you are doing through the N.A.A.C.P. the writing of speeches for the traveling educators being sent through the plague ridden Southern States will do nothing more than harden and heighten this barrier of prejudice.
Hawkins abruptly cut off correspondence in 1962, though Adams apparently made at least one more attempt at contact. Adams, having retired from advertising, continued to use much of his free time in sharing his opinions with whomever would listen. The Hawkins collection contains several opinion pieces that Adams contributed to publications both large and small.
In 1969, perhaps recalling the reaction that hed been able to provoke as editor of the student newspaper 60 years earlier, Adams placed three advertisements in The Virginia Tech. In the first, he exhorted students and their parents to protest a raise in the schools room and board rates. In another ad, Adams offered a five-dollar reward to the first person answering two questions: How many Negroes are on the academic (not sports, dance, or Home Ec.) faculty of VPI? and Give name and brief description of all academic courses in Negro History, Culture and related specifically Negro subjects. It was Adams third ad, however, that caused a stir.
Learning that U.S. Army Chief of Staff General William Westmoreland would be delivering an address at Virginia Techs ROTC commissioning ceremony on June 7, Adams place an ad in the Tech calling for recruits for a guerilla battalion to protest the event. The ad generated a brief firestorm of controversy, and the Hawkins collection contains a number of opinion pieces against Adams specifically and school protests generally. In the end, Adams claimed that the ad was a joke. According to a May 22 article in the Richmond Times-Dispatch: He said he ran it because he wanted to stick a pin in the people at VPI, a school which he contends is behind the times. Citing poor health, the 80-year-old Adams did not leave his home in New York to attend the event. A small, peaceful protest was, however, staged at the ceremony. (You can see footage of it in this Youtube video.)

Adams continued writing about issues of the day into his 90s and died in 1981; Hawkins died that same year.
The Hawkins papers would of course be of interest to anybody researching Hawkins, and especially his involvement in the alumni association, but much more importantly, the papers provide a small glimpse into the private, conflicting opinions of two Virginia Tech alumni on some of the bigger questions confronting the United States during the 1950s and 1960s.