On July 30, 2015, the Lyric Theatre presejtedLiLiA!, a one-woman show performed by actress/playwright Libby Skala from the Groundlings Theatre in Los Angeles and the Arclight Theatre Off-Broadway to festivals in Seattle, London, Toronto, Vancouver, Edinburgh, Berlin, Dresden, and beyond. Reviewers have called it absolutely dazzling magical and alchemical, a unique and spellbinding production at once appealing and a privilege to view, and a thoughtful piece of history – political, theatrical and personal. Although the Lyric is no stranger to great performances, you might find yourself wondering how such a prestigious production came to tread the Blacksburg boards.
In 2003, Special Collections added a portfolio of architectural drawings by a woman named Lilia Skala to the International Archives of Women in Architecture. The collection (Ms2003-015) primarily comprises her work as a student of architecture at the University of Dresden from 1915 to 1920. Her student work includes architectural drawings, ink and charcoal sketches, and watercolor paintings. The collection also includes copies of her academic records, printed material about the architectural program at the University of Dresden at the turn of the century, articles by and about Lilia, and press material forLiLiA!
[Learn more about the Lila Sofer Skala Student Portfolio in Special Collections]
[Learn more about the donation, from Skalas sons Peter and Martin]
Special Collectionsjoined the cast in 2003, but thereal story – Lilias story – begins much earlier.
In 1896, Lilia Sofer Skala was born in Vienna, Austria. Although she had an early passion for the performing arts, Lilias family wanted her to have a more respectable career. Having graduated Summa cum Laude with a degree in architecture from the University of Dresden, Lilia became the first woman member of the Austrian Association of Engineers and Architects. She practiced professionally in Vienna for a time and, with the encouragement of her husband, began performing with the Max Reinhardt Repertory Theatre. Lilia gained wide acclaim in Europe for her stage and screen roles, but continued to claim her title, Frau-Diplom Ingenieur.
When her Jewish husband was arrested in the wake of the Anschluss – the annexation of Austria by Nazi Germany – Lilia secured his release from a Viennese prison and fled with her family to the United States. Her portfolio of student work was among the personal belongings with which she escaped. As a political refugee in New York, Lilia attended night school to learn English and worked in a Queens zipper factory for her first two years in America.
Lilia returned to the stage as a housekeeper in the 1941 Broadway production Letters to Lucerne. She continued to work steadily on and off Broadway, with occasional television roles. In 1963, Lilia earned an Oscar nomination for Best Supporting Actress as Mother Maria opposite Sidney Poitier in Lilies of the Field. She later received a Golden Globe nomination for her role in 1977s Roseland. An industrious performer, Lilia continued to work in film, television, and theatre throughout the 1980s. Among her many accolades was the Western Heritage Wrangler Award from the National Cowboy Hall of Fame, which she received in 1981 for her role in Heartlands. Lilias final stage appearance was in Lorraine Hansberry's Broadway showLes Blancs (1989), at the age of 94.
In December 1994, Lilia passed away from natural causes in her New York home. Her granddaughter, Elizabeth Libby Skala, is also an accomplished actress and playwright. She began developing LiLiA!, a one-woman show based on her grandmothers phenomenal life, in 1995. Libby Skala was invited to perform this show during the 18th Congress of the International Union of Women Architects (UIFA), which was jointly hosted by the IAWA in July 2015. Her audience included Blacksburg locals and women architects from Argentina, Eastern Europe, Germany, Israel, Japan, Mongolia, Spain, and beyond. Many of the architects recounted that the performance was a highlight of the conference.
Special Collections currently has an exhibit on display featuring selections from Lilias portfolio and materials advertising the LiLiA! play.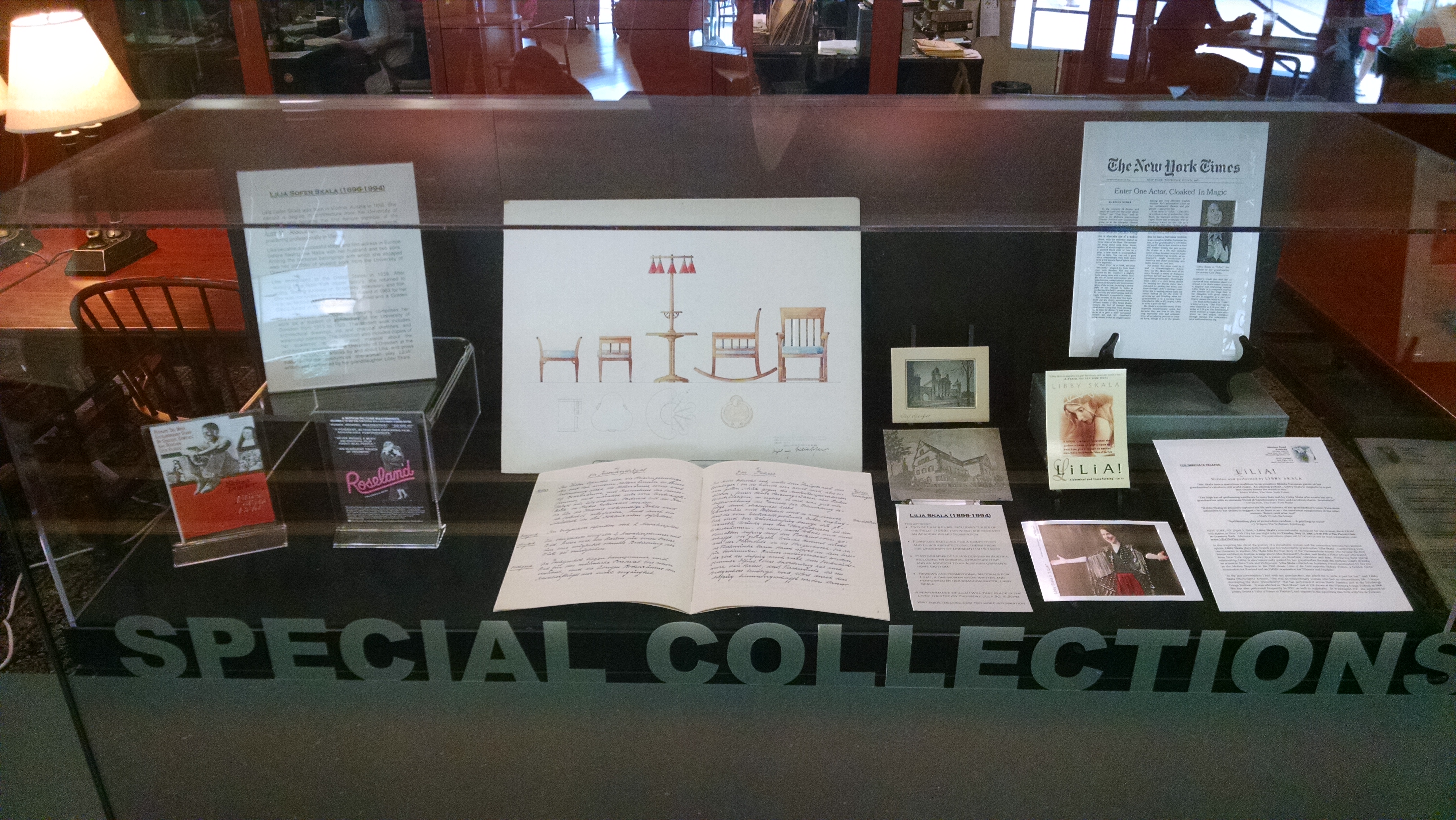 More selections from the SkalaPortfolio,Special Collections: