The first thing I did when I started my very first desk shift in Special Collections was grab a mid-1980s copy of The Bugle from the shelf by the door, where you can find almost every copy that was ever published.
My mission — like that of many other visitors to this same shelf — was to find pictures of my parents, who met at Virginia Tech. My mom, then Vicki Higginbotham the engineering, baton-twirling majorette, worked at a Hallmark store in the University Mall with my dads sister, Dori Williams, who kept insisting that Vicki simply had to meet her younger brother, who was on the basketball team. Vicki Higginbotham and Philip Williams had their first date on December 26, 1983, a fact that my brother and I are always reminded of during the car ride back from our annual Christmas visit with our grandparents (oh, its the nth anniversary of our first date!). We pretend that its gross that they remember this and systematically mention it every year, but its not. Theyre lucky to still be so in love after all this time, and my brother and I are even luckier to be a part of it.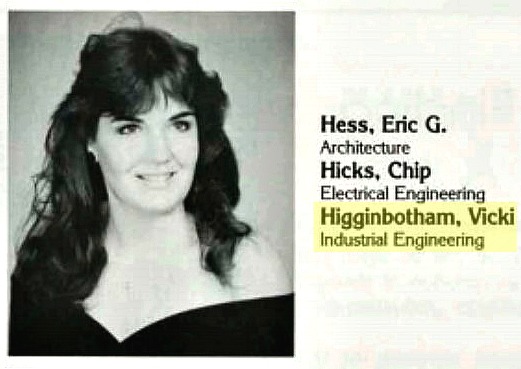 I found my parents' pictures in the yearbooks, as expected, but I got a special thrillfromthe action shots of my dad on the basketball court. He played during the yearsfrom 1983 to 1987, when Dell Curry was the talk of the town, the players shorts woulddismally fail our modern-day public-school index-card tests, and all-white Converse All-Stars were still considered acceptable and safe sports footwear. At six-foot-six, Dad, in most of these shots, looks like he barely had to jump to get his hands above the rim for a rebound; in fact, a 1985 yearbook writer asserted that he, as a sophomore, demonstrated the teams best fundamental rebounding technique. In many of the pictures, any given number of his fingers are taped together; perpetually broken or jammed. We have a couple of these photos at home, on the fridge and framed in my brothers childhood bedroom.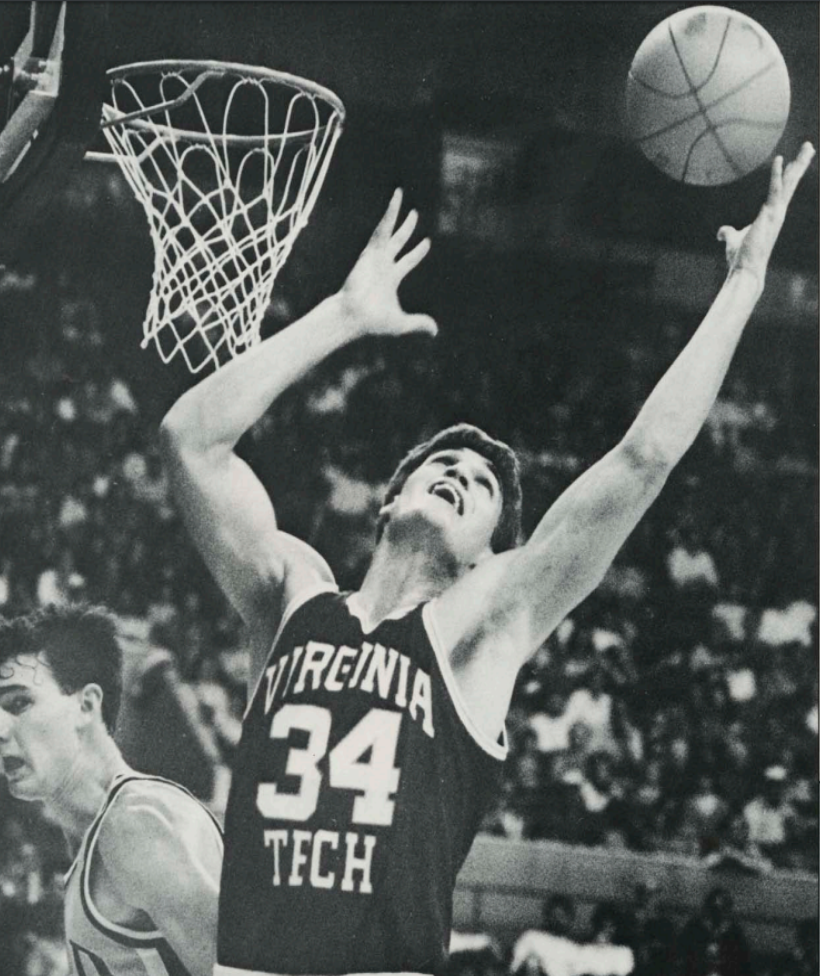 Most of my work here in Special Collections over the past two-and-a-half years has involved projects on either side of the timeline around the 1980s. Ive spent a good deal of time transcribing and digitizing letters from the Civil War, World War I, and the years in between. I also spent some months working on an exhibit for the anniversary of the April 16th, 2007 tragedy. A Womens History Month exhibit in the library inspired me to contribute information on the lives and work of female science fiction writers from the late 1800s to the 1940s and 1950s. Somehow, most of my archives work has neatly danced around my parents time at Virginia Tech, and I never really got into the era of big hair and Benatar in Blacksburg through my projects.
That is, until I started re-labelling the University Archives room.
Working in an archive pays off for me personally because I know that all of the preservation and conservation work being done here will pay off in the long run. For example, we have boxes upon boxes of wartime letters that are still in good shape after a century and a half and, not only that, we allow anyone to come in and hold, read, and examine them with their own two hands. If you think about it, its a lot of the same stuff youd find in a museum without the DO NOT TOUCH signs. The people who work here make this happen through a meticulous system of steps and protocol that impose order on the collections and allow us to provide this experience for patrons. Some of these steps are more tedious and less thrilling than others, but all of them are equally important in keeping our system up and running. One of my current assignments is to assist in the reorganization of the record groups (RGs) in the University Archives, which requires moving a lot of boxes around which requires that every box is labelled accurately and legibly. Most of the boxes are labelled, but the labels are either decades old, written in pencil, or both. My job is to check the contents of each box and replace each label with a more up-to-date and legible label so the boxes can be rearranged. As it turned out, this routine process turned up one of my favorite discoveries in all my time at Special Collections.
In the sports section of the University Archives, I found a box labelled simply Basketball Programs. My first thought was huh, Dad did that. I opened the box to check what the date range on the programs was so that I could create a more descriptive label and, lo and behold, the programs were from 1984 through 1986.
As I had been going through these boxes, Id been taking the time to examine the contents partly out of necessity and partly out of curiosity. This time, Id easily located the date range that I needed to include on the label, but I took the box and sat down in the middle of the aisle on the footstool Id been using so I could look through the programs. Dad in his #34 jersey was on the cover of two of them — one by himself, taking a jump shot, and the other with Dell Curry, the Cassell Coliseum-banner legend whose son Steph we now see in every other commercial on ESPN.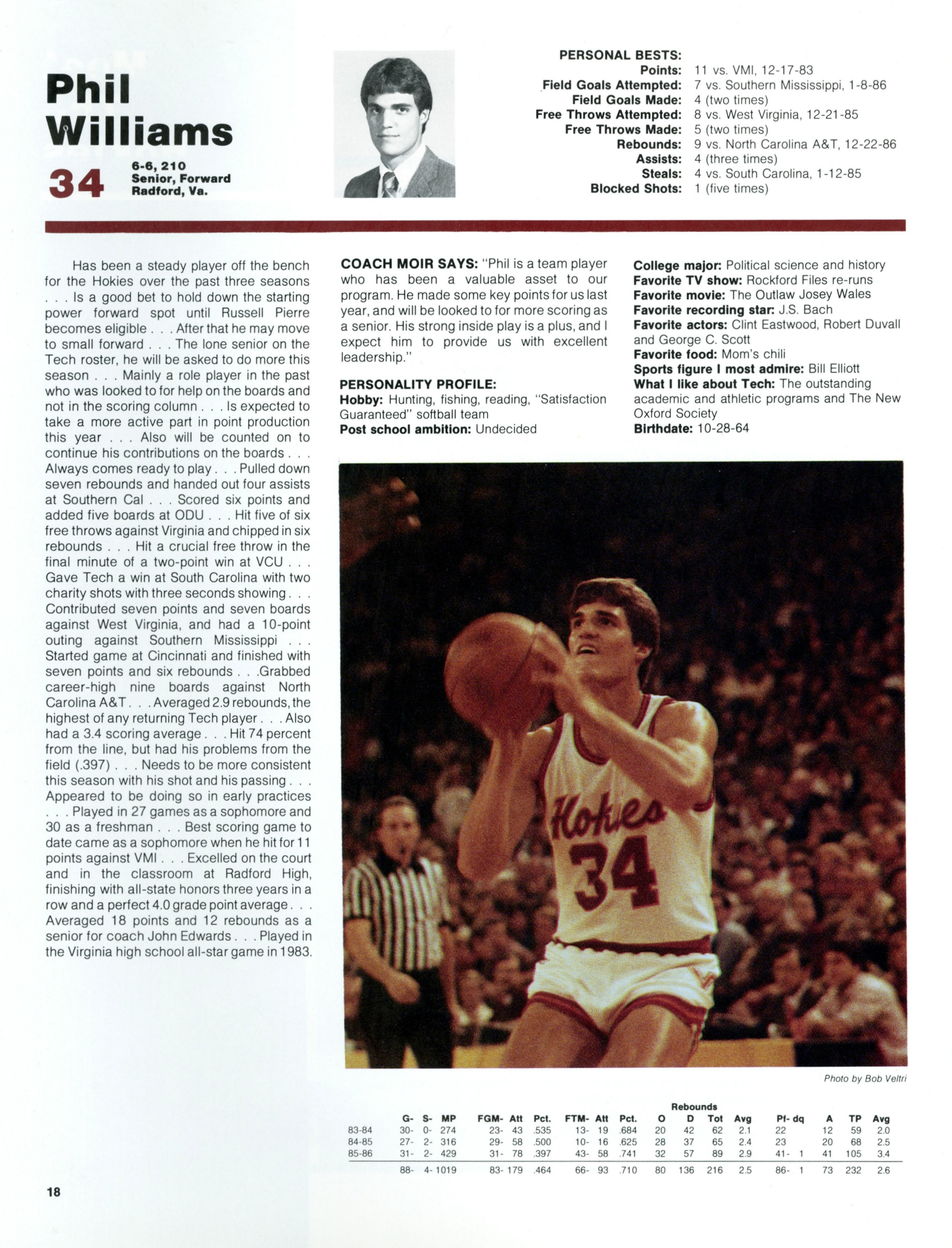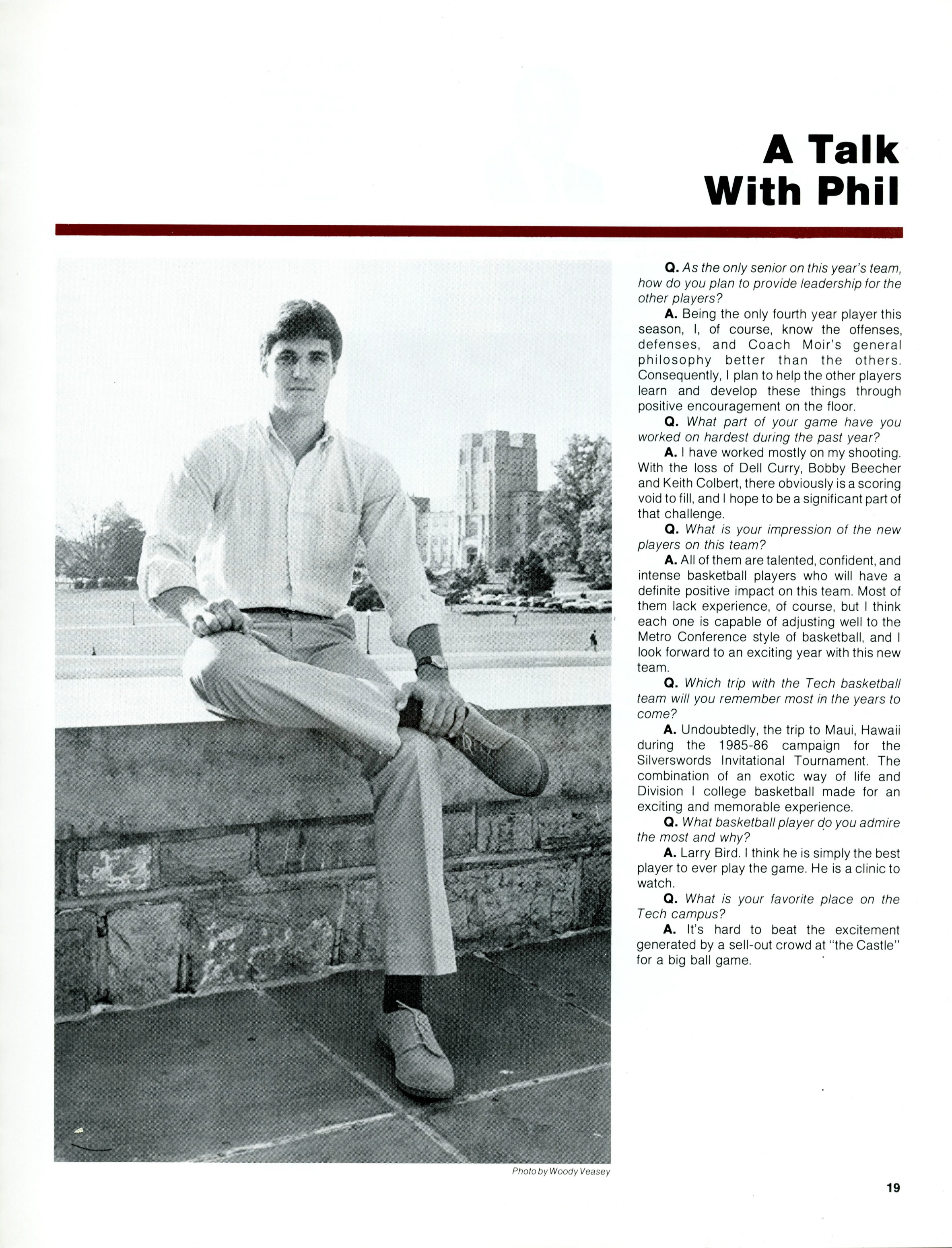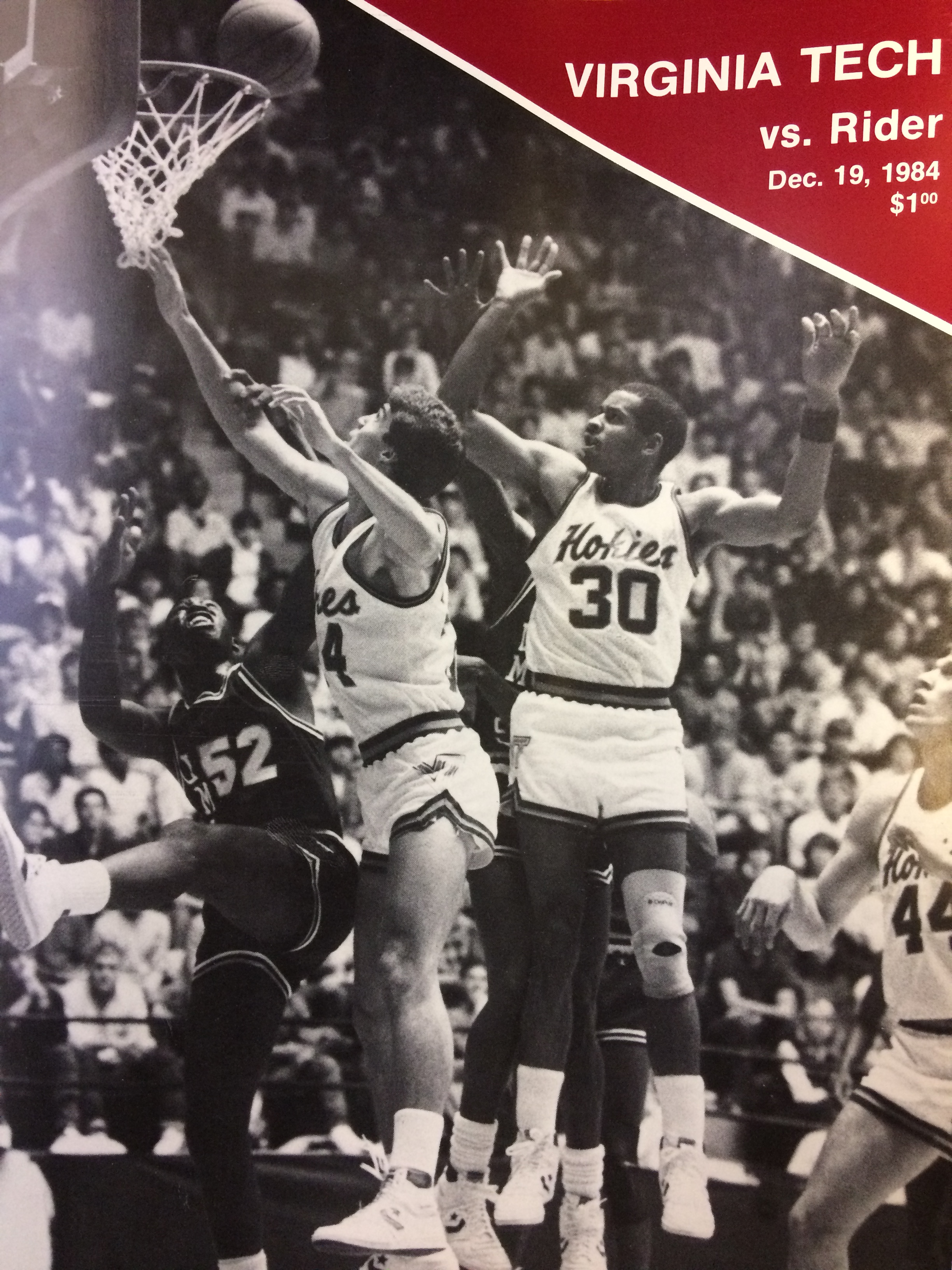 The programs not only brought back my memories of attending games and matching the players below on the floor with their stats which I held in my head, it also brought back the entertaining and often hilarious stories that Dad always told about his basketball days. My most recent memory of this comes from a morning during Thanksgiving weekend, when I sat with my family and some of our close friends around my grandfathers table, trying desperately not to choke on our breakfast from laughter as my dad told the story of the time he accidentally dislocated Dells shoulder, the remainder of practice was cancelled, and it was as if the whole world of sports had abruptly ended. Id see the the names on the roster and recall the stories Id heard that went with each name — big moments in big games, hijinks that went on in the after-hours at away games, and the individual quirks and camaraderie among and between teammates. I picked up these programs and proceeded to walk around the entirety of Special Collections, stopping into offices and tugging on sleeves of coworkers to show them what Id found.
This was a very specific and personal instance of discovery in Special Collections for me, but I know that this has happened at least once for each of us working here, and even for patrons who come in out of curiosity and walk out with a new research project in mind. I showed the programs to one of our full-time archivists, and she revealed that a bookseller who had arrived that morning happened to have a copy of her mothers book in his collection. Even when Im working in unfamiliar collections, I find that Im surprised by the connections I can make based on my own experiences and the relationships that I form with people who are long gone. Thats the joy of working in Special Collections: even the most rudimentary tasks have the potential to lead to the greatest discoveries.
By Rebecca Williams