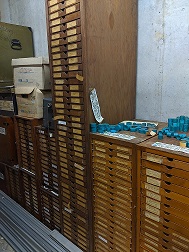 I began work on processing the Avery-Abex Metallurgical Collection at the beginning of November 2019, and boy has it been a rollercoaster so far. This collection, which spans 248 cubic feet, consists of case files, general company records and correspondence, photo negatives, glass plate negatives, photographic prints, and some 40,000 metal samples encased in resin plugs (more on these later). The collection has largely been languishing in Special Collections since it was acquired in the mid-1990s.
Over the years, several student employees have chipped away meaningfully at portions of the collection, but the majority of the boxes remained untouched. Because my time to process this collection is limited, I will need to strike a comfortable balance between getting all the work done on the remaining boxes before the end of July- a high priority- and processing the materials to the highest useful level- also a high priority. (Note that I did not say to the highest possible level. There is a point of diminishing returns to optimizing arrangement and description, and archival resources are scarce enough that frequently this equation must favor a more rough-and-ready processing style in order to reduce backlog and make more collections accessible faster.)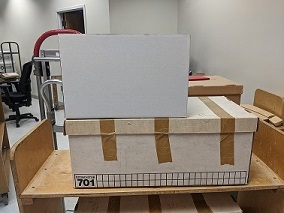 This balance is especially important to consider, given the large size of the collection. The boxes that much of the material arrived in are significantly bigger than the standard sized archival record carton, which necessitates a certain amount of space planning for both pre-and post-processed containers. The increased volume makes them very heavy and awkward to handle, and so much more prone to accidents when retrieving them from shelves.
I havent dropped any yet, but hauling them around really makes me appreciate the elegantly dainty standard sized boxes Im moving the records into. This is infinitely more so the case with the boxes of glass plate negatives, which are substantially heavier than their paper-holding counterparts and have the additional challenge of being very fragile. Let no one tell you that the life of an archivist is boring or sedentary.
Another quirk of this particular collection is that the boxes were more or less put where they would fit in the offsite storage facility when they were first acquired about 25 years ago, without recording their shelf locations, which makes finding the boxes a bit of a scavenger hunt. Pictured is one of three aisles of shelves at the storage facility. Attempting to process the boxes in any particular order would be a waste of time as a result, and so Ive had to change my approach to arranging this collection.
Instead of refoldering and replacing the records into their final resting places, I am processing box by box, keeping careful track of what ends up where, so that I can rearrange things as needed once I finish and have a better idea of what order best suits the materials. This way is much faster on the frontend than doing the boxes in order, and the surprise of not knowing whats going to be in the next box has proved a lovely diversion from the occasionally tedious tasks of pulling boxes, refoldering, relabelling, and filling in spreadsheets.
My favorite part of the collection so far has definitely been the metal samples. There are approximately 40,000 squat resin plugs, each with a small chunk of metal embedded in it with one surface exposed for testing, and a serial number etched on the outside. They are quite unique, in my experience, and are an instant point of interest for anyone who sees them. Their quantity, their different sizes and shapes, and the complete obscurity of their purpose to the uninitiated, makes them a valuable showpiece for the collection. However, these characteristics also make them a challenging processing project. Several have sprouted highly colorful oxidation growths over the years, which are fascinating and delicate. I have not yet decided whether they are more valuable remaining intact, or if I should attempt to clean off this reaction residue, knowing full well that it will likely grow back in time, as the fresh metal is exposed to air and humidity.
Another slight wrinkle in processing that Ive encountered was the significant presence of mold on the cabinets housing the metal samples in the basement storage room used for some Special Collections and University Archives materials. The samples themselves were not in immediate danger, because resin and metals do not tend to support mold growth, but the mold would need to be killed and the plugs cleaned before they could be moved into appropriate archival boxes and placed near other, more vulnerable materials. I had planned to process the plugs first, but this had to be put on hold until the mold issue was dealt with. Luckily, we managed to employ a company specializing in mold remediation fairly quickly, and the problem was taken care of before it could spread to other collections being stored in this space. Now, the work of cleaning and boxing up the sample plugs can commence.